Have you been searching for best free apps to control anxiety and stress?
Sometimes stress can be overwhelming. And when your mind is plagued by anxiety, it becomes difficult to relax and perform a given task. This is where certain apps might be helpful that can help you to calm your mind and align your thoughts. There are many apps available that can take your mind away from the stressors, but most of them are paid. But there are a few apps that are absolutely free and are a great service to people who suffer from stress and anxiety attacks.
Here is a list of 5 tried and tested apps that help in managing stress:
Tangle by Humble Kid Creation
Status: Free, In app purchases
Tangle app is good for people who love patterns and colors. It can be used to release stress, relax, calm anxiety, meditate and to get some 'me time'. There are many patterns that can be customized in terms of speed, frequency, size of the elements, etc. Very beautiful patterns that mesmerize and relax the mind.
Relaxing music plays in the background. You can switch off the music if you want. But no control over the choice of music.
Paint By Number by Better Life
Status: Free, In-app purchases
Paint By Number app let's you paint with the added bonus of playing relaxing music in the background while you finish the painting with the tap of your fingers. Only drawback is that you have no control over the type of music playing in the background. Still, it is useful as the app takes your mind off from the stressors and gives a boost to your mood with creativity and positivity.
You can choose from categories like animals, love, jigsaw, wallpapers, quotes, characters, florals, mandalas among others. In addition to solid colours, you can also colour the pages in gradient colours. The colours and the music give you a chance to relax and destress.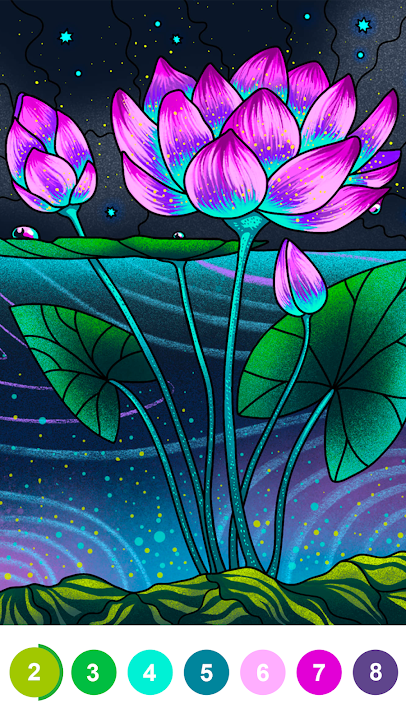 There is another app called the Polygon which helps you colour pages of your choice. It is much more complex in terms of images divided into several polygons. This makes it a lengthy activity. Moreover, you need to finish 10 images to unlock 1 sound. That becomes tedious and the same music playing in the background becomes boring. Though, visually both are extremely engaging.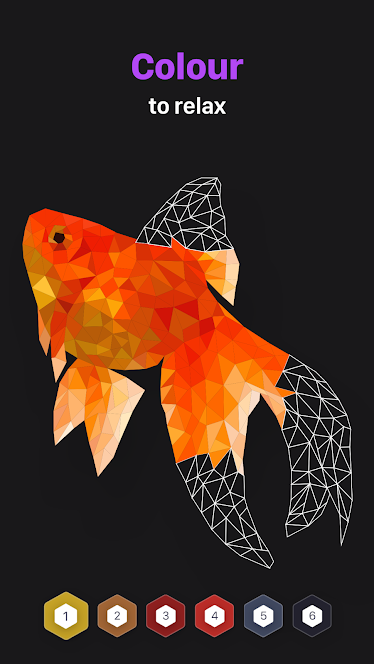 Virtual Slime by Cider Software LLC
Status: Free, In app purchases
Virtual Slime is the best slime simulation apps I have seen for mobile devices. Strange it may seem, but this app is oddly satisfying and immensely relaxing. You can create your own slime by mixing up various available ingredients and also get to label them. It features 3D decorations, glow in the dark slime, clear slime, crunchy slime, butter slime, glossy slime, glitter slime, ice slime, holographic slime, jelly slime, fluffy slime, fishbowl slime, cloud slime, rainbow slime with real ASMR sound effects.
The app provides some fantastic visuals which are bright and colorful. The sound effects are pretty impressive too.
Atomus by SungLab Entertainment
Status: Free
Atomus is a beautiful interactive visualizer where you can see bright and colorful particles forming shapes with the touch on the screen and dispersing when you remove your fingers from the screen. You can use 4 or 6 fingers to unfold impressive and colorful patterns. The background music is soothing and relaxing. You can play with the particles for as long as you wish, that can help to reduce your anxiety and stress.
You can increase and decrease the number of particles, particle size and length, and color of the particles. You can create a live wallpaper and switch off the sound if it gets monotonous. I absolutely love this app.
There is another app called Particle Play where you can play with the colorful particles but without any background music. The colors and particle size can be changed. You can also create a live wallpaper.
Meditation Drum by Plastic Apps
Status: Free, In app purchases
This musical app delivers soothing Tongue Drum and Hang Drum sounds. You can create your own music on-the-go and record it too (paid feature). The app contains in-app purchases but most of the features are free to use. You can also unlock features after watching a 30 second advertisement.
You can use this app for meditation. Playing the drum you heal your soul, you harmonize your chakras, you clean and repair your body's energy balance. The app features beautiful background, and skins on the drum can be changed from the available list. You can add various ambience sounds like water flowing, twigs burning, wind, etc to your music.
It can be enjoyed by anyone who loves the sound of drums and can help lower your anxiety and stress. Though sound quality could have been better.
Hope, this list was helpful. If you have any other app in mind that helps you to manage anxiety, then do drop your suggestions in the comment section below. To have a healthy mind, it is important to relax. I hope you will benefit from these apps.
For more such articles, please subscribe.
You can also check best fashion apps for fashionistas to plan you OOTD.