Have you been searching for the best sunscreens with iron oxide in India?
Well, your search ends here as I am going to list the top 5 sunscreens with the most efficient mineral 'iron oxide' that protects are skin from harmful UVA & UVB rays of the sun as well as HEV light.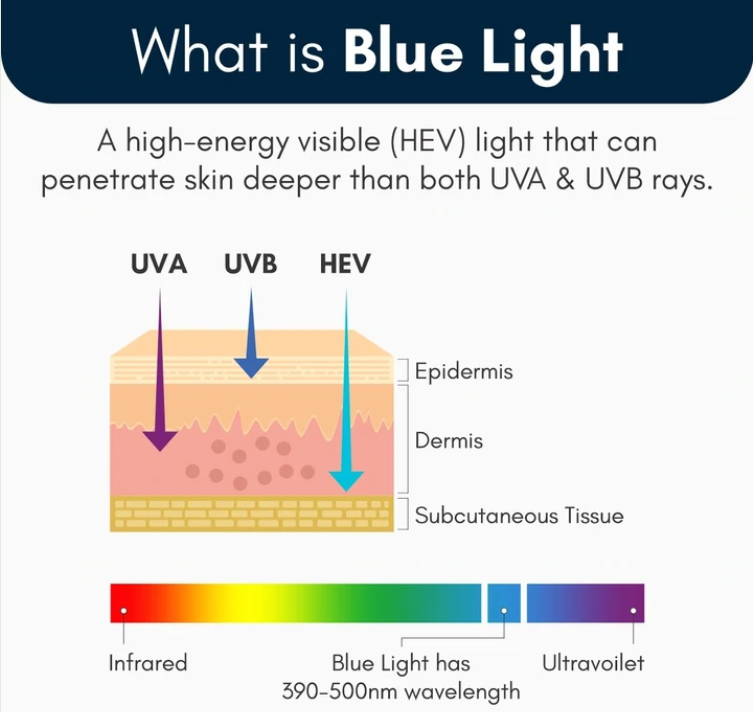 Skin not only tolerates sun damage, but with increased use of screen time, electronic gadets and led lights, it also bears the brunt of the HEV light. Quoting Pubmed here, "Ultraviolet (UV) radiation is a main cause of aging of sun-exposed skin, but greater attention is being focused on the damaging effects of high-energy visible (HEV) light (400 and 500 nm). HEV light exposure has increased with expanding use of consumer electronics, such as smartphones, which have a peak emission in the 400-490 nm range. Sunscreens containing titanium dioxide and zinc oxide protect against UVA and UVB radiation but provide limited protection against HEV light."
This is where Sunscreens with iron oxide prove to be a better product. Sunscreens formulated with iron oxides provide enhanced protection against blue light, especially when combined with zinc oxide.

What is iron oxide and why is it used in the suncreens?
Iron oxides are cosmetic pigments that are derived from naturally occuring mineral deposits. Red, yellow and black iron oxides are used to create many make up products like foundation, pressed powder, concealer among others. When these are used in the suncreens, they provide a tint to the formula. Most of the sunscreens protect us from Sun's UVA and UVB lights which are harmful for our skin. But not many suncreens use iron oxide in their formula. Iron oxide reflects visible light from our laptop and phone screens, and its inclusion in skincare products may help mitigate conditions like melasma, hyperpigmentation, etc.
Benefits of wearing sunscreen:
Sunscreen protects, moisturizes, and nourishes skin, helps prevent sunburn, redness, irritation, inflammation, sun spots, and reduce the appearance of early signs of aging due to sun exposure like pigmentations, light wrinkles, fine lines, age spots.
5 best sunscreens with iron oxide in India
Here is a list of 5 best sunscreens with iron oxide in India that you can use instead of your regular sunscreens.
Pilgrim White Lotus Day Cream with SPF 50++
The Korean brand Pilgrim has a range of wonderful skin care products including Pilgrim White Lotus Day Cream with SPF 50. This cream has a smooth texture that is non sticky. You need to apply a very thin layer on your skin as it might leave a white cast on dusky complexion. This mildly fragrant sunscreen is effective sunscreen to help lighten the sunspots or freckles. It is also 100% vegan product with no parabens or sulphate.
Price Rs 500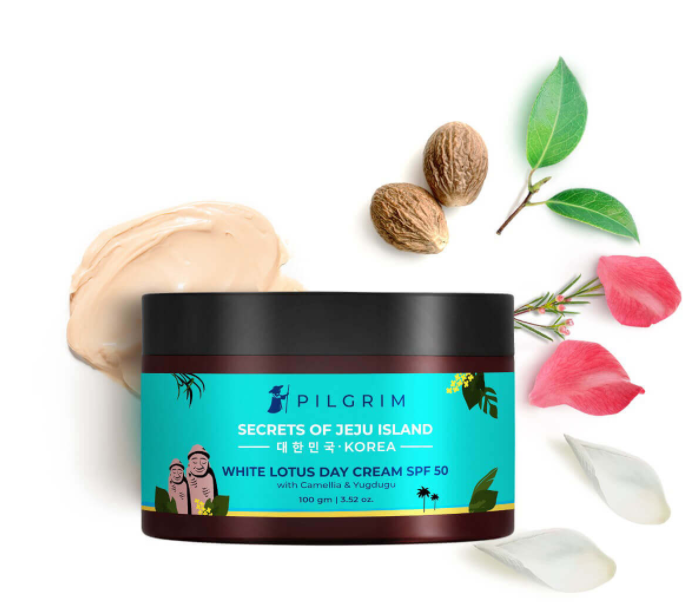 Sandiva One & Done Tinted Sunscreen SPF 35+
Sandiva has a sublime sandalwood fragrance, is vegan and free from parabens and sulphate. The SANDIVA One & Done Tinted Sunblock With Sandalwood, Creamy Liquid, SPF 35+ And PA+++ (22) is also gentle on the acne prone skin. It has Zinc oxide that acts as a physical shield, blocks both UVA and UVB rays from penetrating your skin.; Iron oxides give tint and enhanced protection against blue light such as laptop screens & indoor lights. It comes in 4 different shades, so that you can pick the one closer to your skin tone.
Price Rs 750
You can also use the SPF loose powder to make your skin look fresh for longer. Here is the duo of sunscreen and loose powder.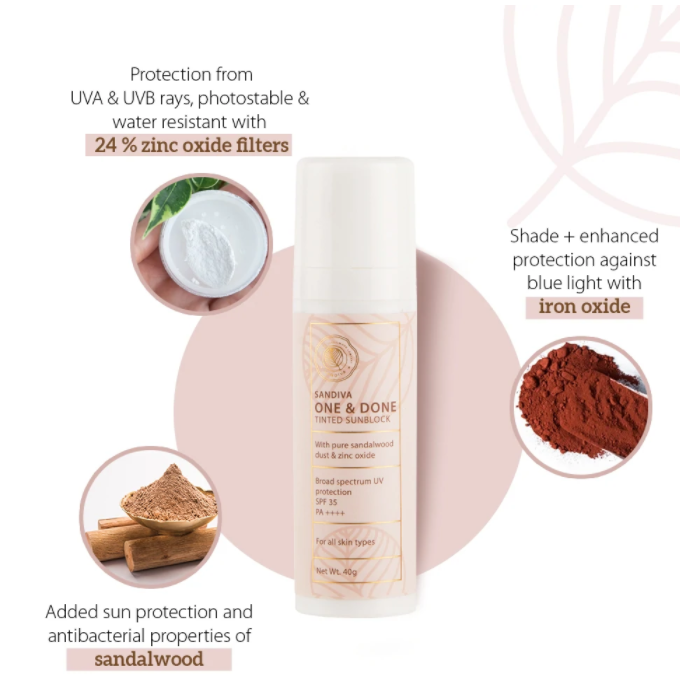 Rivela Lite SPF 50 by Cipla
Rivela Lite SPF 50 by Cipla is a brown tinted sunscreen that is alcohol, fragrance and essential oil free. It is a mix of chemical and mineral elements and has been used to treat melasma, skin pigmentation, sunspots, etc. by dermatologists in India since long. It has both Titanium Dioxide and Iron Oxides to give you a broad spectrum coverage for complete protection. It is also water resistant. SPF 50 which blocks 97% of UVB rays and protects from sunburn, PA provides high UVA protection and prevents tanning and premature ageing of the skin and water resistant product does not wash away easily or allow water to pass through.
Price Rs 970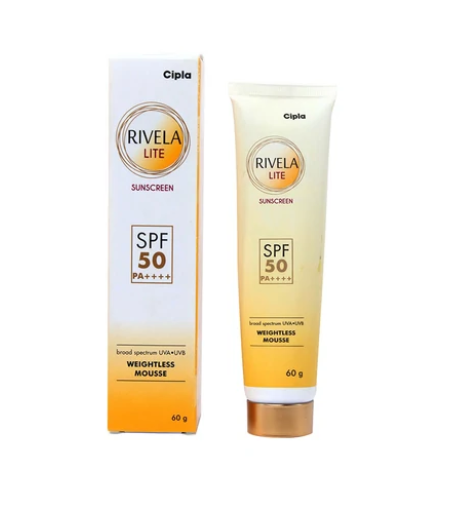 Just Herbs Skin Tint Broad Spectrum Sun Protection
Just Herbs Skin Tint Broad Spectrum Sun Protection contains Iron oxides (CI 77491), (CI 77492), (CI 77499). It is available in 12 shades which are perfect for Indian skin tone and can be used as a sunscreen as well as BB cream. This sunscreen gives a sheer coverage and reduces the appearance of imperfections such as fine lines, blemishes and pores on your skin giving a flawless 'no-makeup' look. It is a herbal product and is safe for your skin.
Price Rs 1295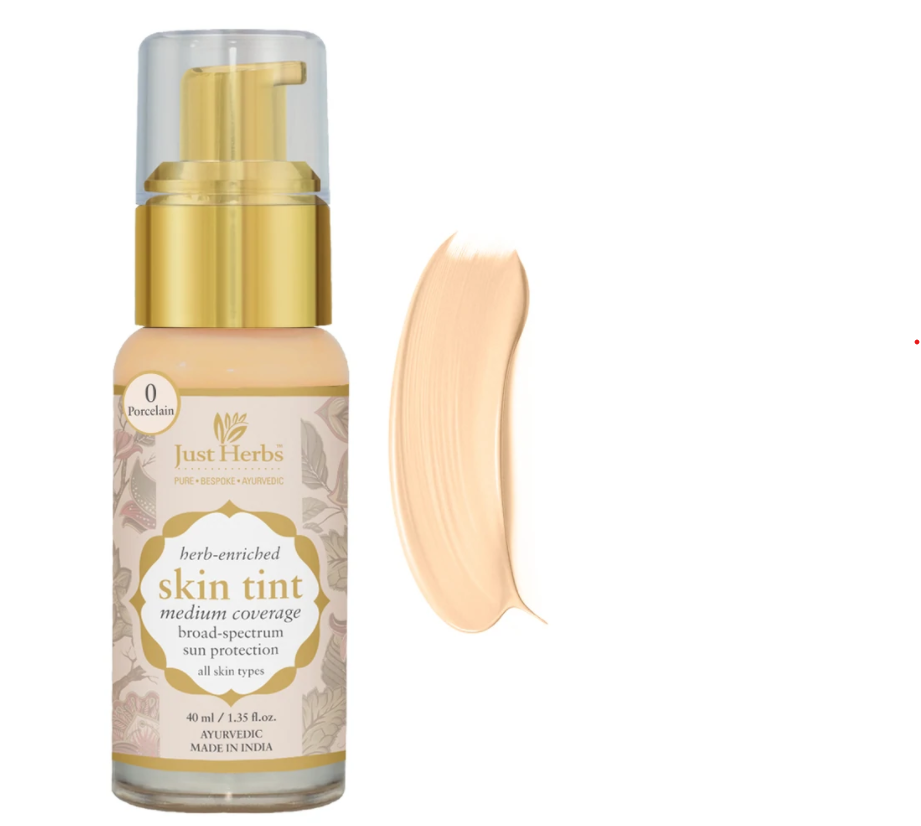 Uniqaya Tinted Sunscreen for Long Wear UV Protection, Spf 50 / Pa+++
Uniqaya Tinted Sunscreen for Long Wear UV Protection, Spf 50 / Pa+++ uses iron oxides to protect the skin from HEV light. This fruity smelling, moisturizing sunscreen feels light and non greasy on the skin. It is infused with a high concentration of skin-nourishing plant-based natural actives ingredients with Artichoke extract, Avocado oil, Carrot Seeds, Lycopene, and Vitamin E. It is non-comedogenic, and has no paraben, sulfate, or phthalates.
Price Rs 799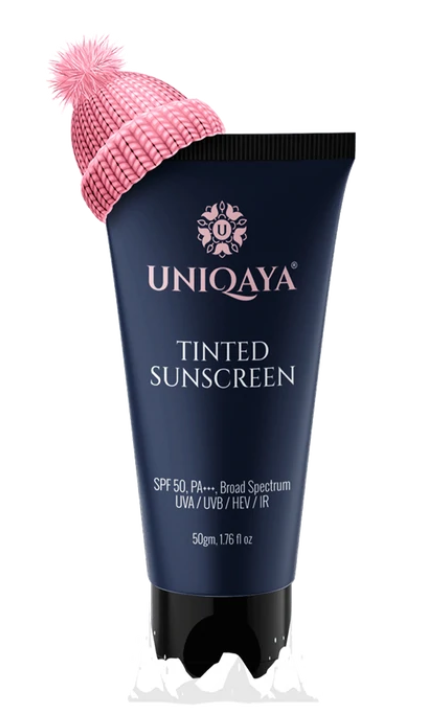 Here are the best sunscreens with iron oxide in India that will give complete protection to your skin along with a flawless look. Hope you will include sunscreens in your daily skin care routine for better skin health.
You can also read about skin care tips during summers here.
If you have any questions, please leave it in the comment section and I will try to reply at the earliest.