Indian Navy pilot Abhilash Tomy little knew that he would be sailing around the world solo when he joined the armed forces. His aspirations took him to the skies but his destiny took him around the world and that too sailing in the most roughest waters that you can imagine. At times, the waves were as high as a 7 storey building. He is the first Indian to hoist the Indian flag at Cape Horn on Republic Day. He was received back on land by our president Pranab Mukherjee and the Indian Navy Chief on 31 March, 2013 with a grand reception.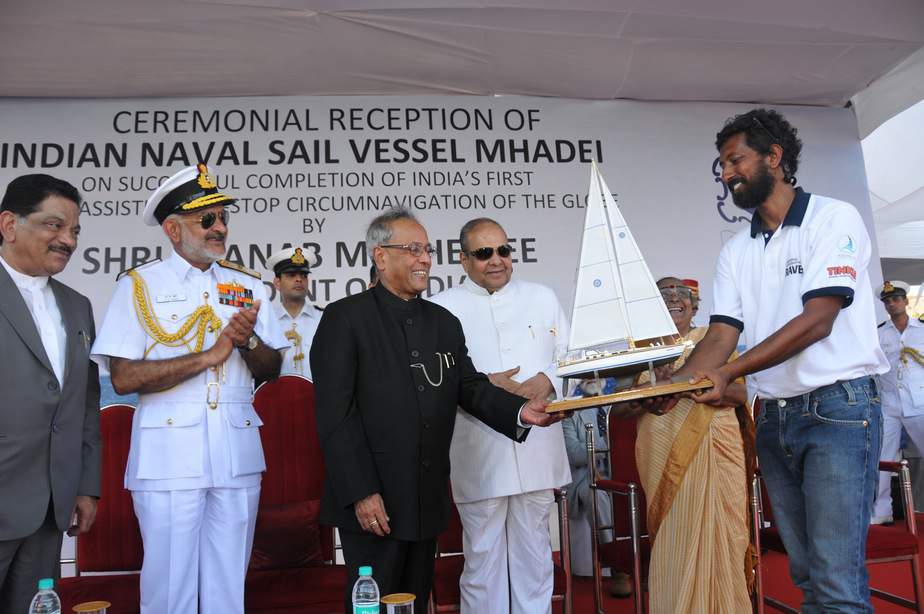 He is the the first Indian, the second Asian and the 79th person in the world to perform a solo, non stop and unassisted circumnavigation of the planet. He has been awarded the Kirti Chakra and the Tenzing Norgay National Adventure Award for this feat by the Govt. of India. Definitely, as an Indian I feel proud that he has created a mark in the International Adventure sports by achieving this difficult task. The brave soul is humble to the core, as I saw him talk about his adventures in the oceans. His presentation had glimpses of his true experiences including videos and images taken live during his journey and mind it, those were no less thrilling than a Hollywood movie. To read his adventure details visit his blog Sagarparikrama 2.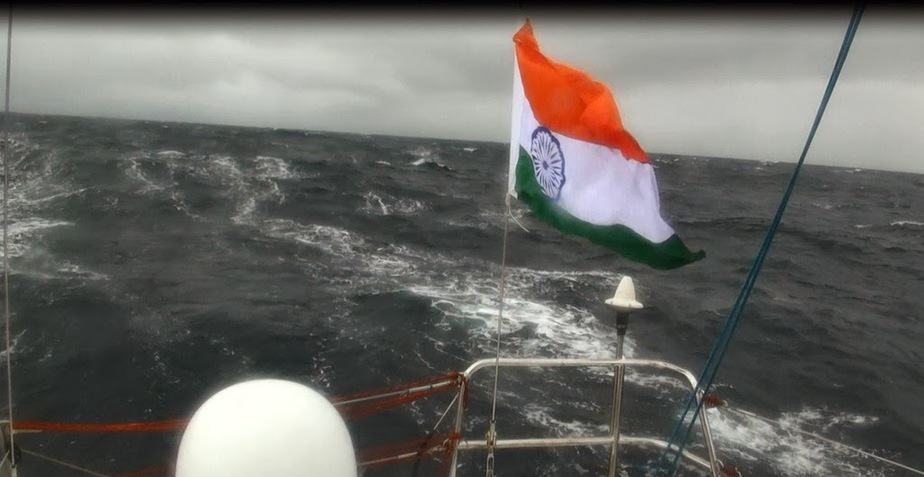 See this video which was made using clippings from his voyage.
If you are still not awed by his adventures, then at least be appreciative of the fact that he was alone, all by himself, in the vast oceans for 151 days. Only seagulls, bugs, sea creatures and dolphins to give him company! Can you stay alone for a month? A week? Or even for a day? May be not. But Abhilash had no human contact for almost 5 months. He was the sailor, the cook, the cleaner, the technician, the communication specialist, the photographer, the writer, the singer and everything on his boat INSV Mhadei (Mhadei is the name of deity of seafarers). His 'Made in India' boat has created history along with him.
He has also authored a book along with Lynn De Souza which is a compilation of pictures shot during the voyage and excerpts from the blog. It is called "151 Solitary Days at Sea, Sailing Non Stop Around the World" and costs Rs. 1500. The proceeds from the sale will go into a fund to encourage Adventure Sports in India. Anyone interested to buy the book can write to him at 151.the.book@gmail.com . (I personally urge you all to buy this book. It will be definitely one for the collectors.)
So let's find out more about this courageous Indian solider and his adventures in this brief interview.
MG: Thank you Abhilash for talking to us about your adventure during Sagarparikrama 2. Did you ever know that you will be sailing around the world when you joined Navy?
Abhilash: No, but I always knew that I wanted to be in the Navy. I have grown up around the coast line as my father was also in the Indian Navy. Since, childhood sea/oceans have been a part of my life and I read many stories relating to sea adventures which firmed up my decision to join the navy when I grew up. Also,  paternal uncle was a diver and a maternal uncle too had been in the Navy. Perhaps that was one of the reasons that I joined the navy; this despite the fact that I had cleared engineering and medicine entrance tests.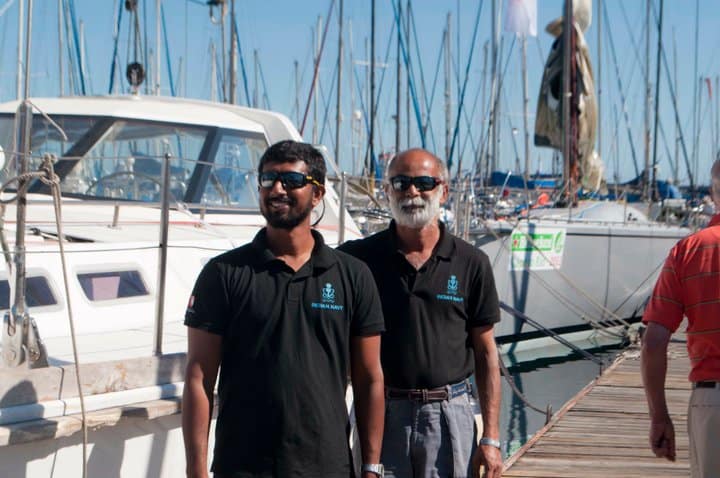 MG: Well, that shows how passionate you are about your choice of career. But when you chose to circumnavigate the planet alone, how did your family and friends react?
Abhilash: My family was very concerned initially but eventually they turned around. This took a couple of years of work because, I am sure, like any other family my parents too did not want to see a son take such a huge physical risk. Friends tried to dissuade me because they did not understand what I was up to. I am a pilot in the navy, and rather than build flying hours and look for a plum job in civil aviation, I was sailing the oceans and coming back badly tanned and much desiccated.
MG: Indeed, they didn't realise how serious you were about this. But did you ever fear death on this voyage? Did you ever feel that you wanted to leave this trip mid-way due to any setbacks? 
Abhilash: I had to fear! But never wanted to give up. Honestly, I have had many difficult days but no setbacks.
MG: How did you mentally prepare yourself for the voyage?
Abhilash: Through meditation. Also, I had complete faith in Mhadei.
MG: What preparations were done on board?
Abhilash: I could only carry so much in the boat. So whatever little I had, had to be conserved. I fitted a wind generator and solar panels to reduce consumption of diesel. These equipment worked very well, and thanks to this I was able to increase the endurance of the boat to unto 600 days. Meaning that the boat could be out at sea for 600 days without refuelling . The boat's navigational lights, internal lighting etc were LED which helped reduce the consumption of electricity. Besides, I changed the generator with a more fuel efficient one. The engine was rarely used for producing electricity. In addition, the boat was fitted with an RO plan that converts sea water into fresh water. Other than cooking and drinking, all water requirements were met with sea water. That includes bathing, brushing, doing the dishes, washing clothes, etc.
I carried a mix of fresh food (which lasted for about a month), tinned food and ready to eat food (which last about six months) and freeze dry food (which can last up to 5 years). There was no refrigeration onboard due to electricity issues. And then was rice and dal and dry fish and pickles and all that which can almost last indefinitely. There was a cooking gas with 2 cylinders.
MG: What is your comfort food? Which is the easiest dish to cook at the sea?
Abhilash: Popcorn. Boiled potatoes in sea water are the easiest. Its simple. Try it. Remember not to add salt.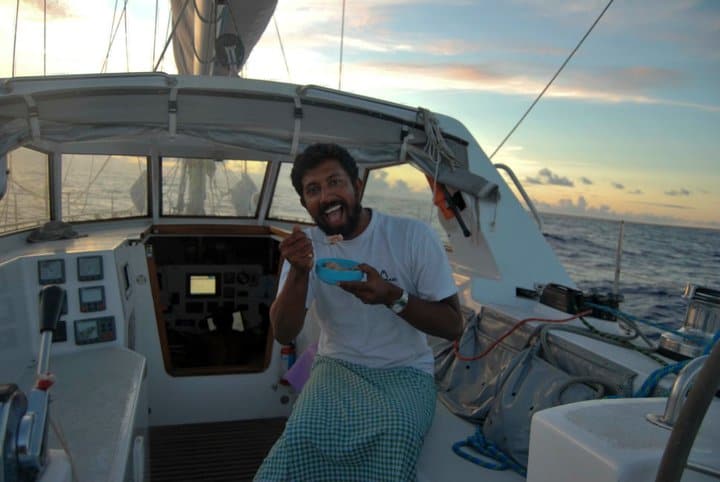 MG: When did you sleep if you were sailing solo?
Abhilash: I was sailing in the nights as well as the days. I was trained to sleep in brief intervals like work for an hour, sleep for half an hour, again wake up to do a few tasks for 2 hours and then rest for 1 hour. I didn't sleep at a stretch but in spurts. Therefore, was able to sail continuously.
MG: What advise would you like to give to the sailors who are planning to sail solo around the world?
Abhilash: Stay single!
MG: Are you planning anything else on the same lines?
Abhilash: Will announce as and when it is ready.
MG: Any message for Mumbaigloss readers?
Abhilash: Start sailing!
It was a pleasure talking to you Abhilash. May you have many more such feats  in the coming future.
I enjoyed working on this interview and I hope that Mumbaigloss readers enjoy this article too and get inspired to do something adventures soon.
(All images via Abhilash Tomy.)
You can also ready about a day spent on an Indian navy ship INS Tabar.
For more such articles, please subscribe to the blog.