Planning to wear beautiful & stylish wedding masks? We will sort that out for you. Indian weddings are big and boisterous. Unfortunately, they have been cut short due to Covid 19 pandemic. Many weddings were cancelled due to the lockdown and government rule of no social gathering. Now that the lockdown has been relaxed, the couples who had postponed their weddings are getting married in a very private ceremony, following all the necessary precautions. People are going for home weddings or smaller gatherings. Handful of friends and relatives are being invited for the wedding. But one thing that has grown big is the interest in the wedding masks.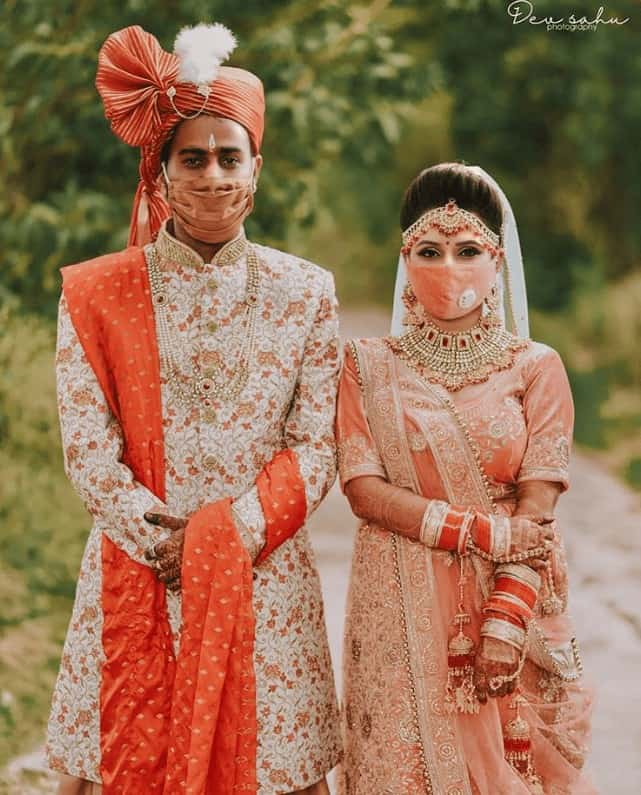 The engagement of Bahubali fame Rana Duggabati and his finace Miheeka Bajaj during the pandemic saw them take all necessary precautions, including beautifully embellished masks. Celebrities using such face masks is another reason that people are showing more interest in the wedding masks.
The look of grandeur on the wedding masks
Fortunately, Indian wedding market is full of bright and colourful face mask options. From diamond studded masks to silk handloom masks to hand embroidered masks, you name it and its there. These masks have been designed to compliment the Indian wedding jewellery and ensembles for men, women and children. Many would complain that such masks are not comfortable. For them cotton masks with embellishments are also available.
Diamond studded wedding masks
A couple in Surat went to a jeweller and demanded for diamond studded masks. And that's when the jeweller saw the demand and created diamond studded wedding masks for the bride, groom and the family members. If you are one of those who need a little sparkle on their face, then you can opt for these diamond studded wedding masks.
Stones and crystal studded wedding masks
If you are one of those people who would love to have a sparkle on their masks but do not wish to spend a bomb on their wedding masks then you can go for american diamond or artificial stone studded wedding masks. It will give you the shine minus the pain of having spent a lot on the wedding mask.
Woven silk and handloom wedding masks
An Assamese couple garnered a lot of praise recently as they wore traditional looking designer masks made from silk. The reusable masks, made of Assam's Paat silk, were designed by Guwahati-based fashion and textiles designer Nandini Borkakati. "The idea was to leave the surgical approved protective masks for the medical staff, and encourage the population to wear more fabric-made masks with unique and creative designs," Borkakati told the Indian Express. If you are into traditional looks, then you can never go wrong with handloom designs.
Intricate hand-woven embellished and embroidered wedding masks
With brides adding their own twists to their D-day outfits, a few brands are creating embellished, hand-embroidered masks using traditional designs that will add a festive look on their masks. Few of these masks are hand washable and can be reused. The beautiful embroidery and embellishments give these masks their uniqueness. Well, call it pandemic style!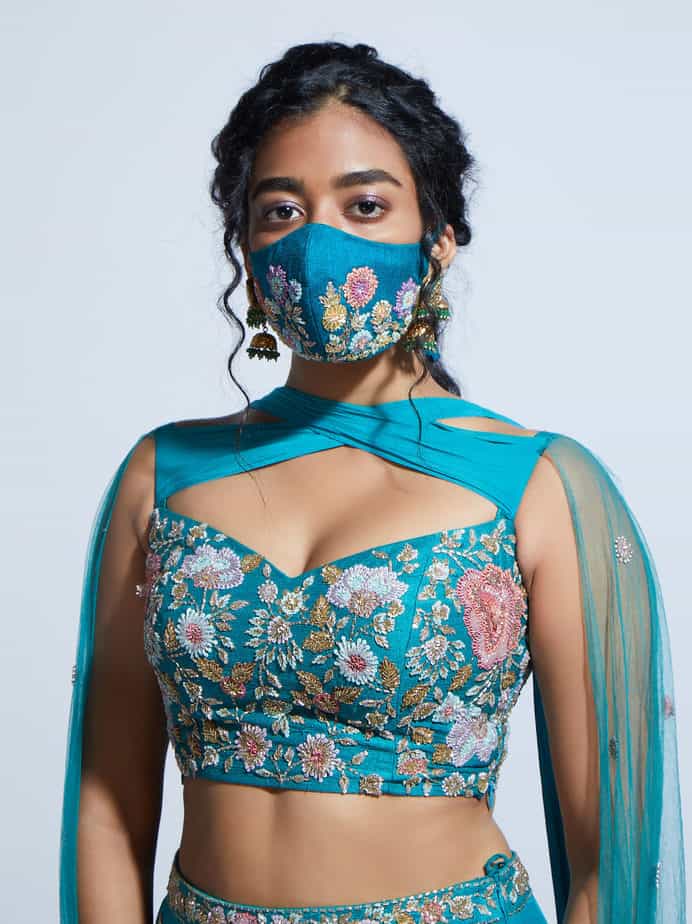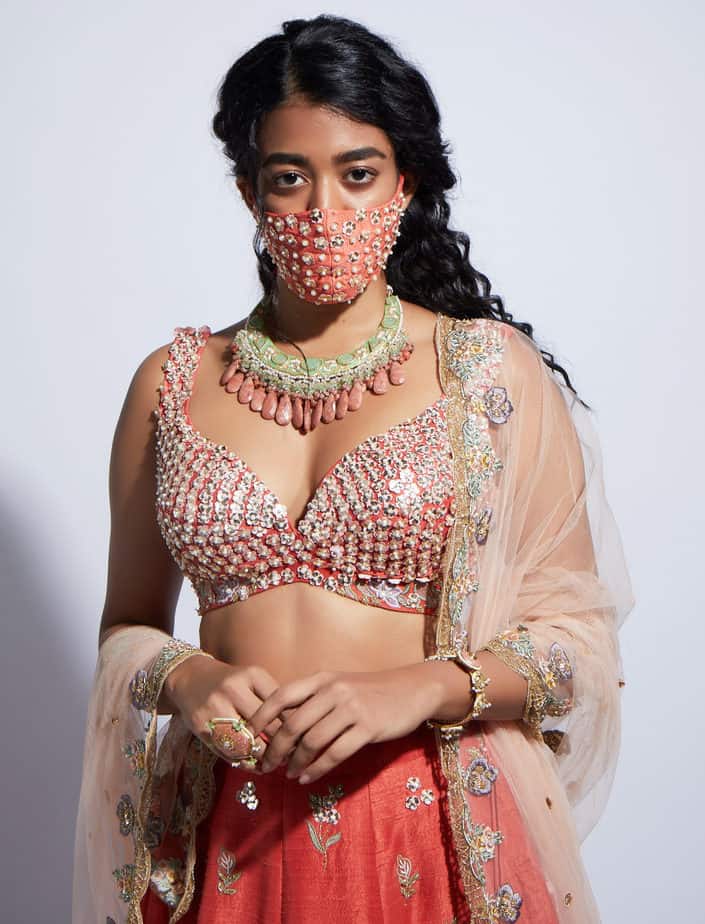 Sequence wedding masks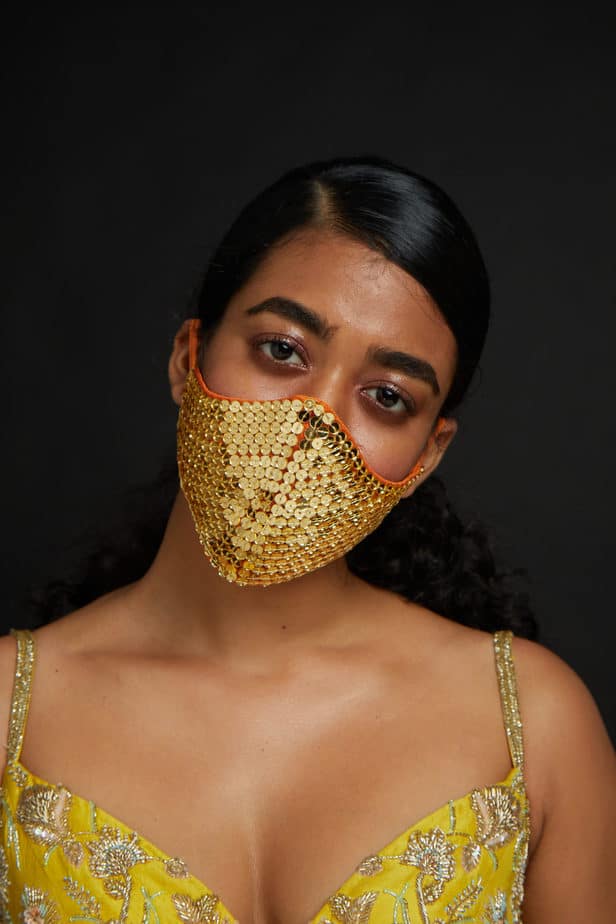 Heavy sequence masks can glam up any face. The double layer of cloth ensures that its comfortable on the inside. Though, it can't be washed as often as we would like (the sequence might fall off), but still it is a great accessory for any bride-to-be.
Hand painted cotton wedding masks
Apart from illustrated and printed designer cotton masks like these. You can also opt for hand painted cotton masks. These masks are created by local artisans who are trying to keep the art alive. These are washable and reusable. Also, look vibrant and very trendy.
View this post on Instagram
Unique wedding masks
Many are opting for wedding masks that stand out in the crowd. It might be giving out a message like eat greens or save earth or something completely personal. It could also show your favorite character. It is more to do with not blending in and wearing your heart on your sleeves, err I mean lips! There are many people who are choosing masks which look pretty different.
To conclude, I can say that the trend of wedding masks is going to stay for a few years, till we have completely defeated the pandemic. Till then life won't stop, weddings won't stop and face masks will become the new normal.
If you have any other suggestions, do leave your comments below.
For more such articles, please subscribe to our blog.