Fitness on your mind? Read how fittest men over 50 in India keep fit through fitness and diet tips from Suneil Shetty, Milind Soman and R Madhavan's routine.
Suniel Shetty, yester year Bollywood actor and entrepreneur, R Madhavan yesteryear's heartthrob and Milind Soman, India's yesteryear's super model and actor have crossed 50 years of age, an age which is notorious for people to let go off their fitness goals and go soft on their efforts, but are considered icons of Indian fitness industry.
They have managed to keep a healthy and fit body with simple eating and discipled life.
Suniel Shetty, Milind Soman and R Madhavan prove that fitness and athletic physique can be achieved at any age.
Many wonder, what do they eat to maintain such enviable body.
Suniel Shetty diet and fitness tips
Suniel Shetty believes that a lifestyle change is required to sustain fitness. He wants people to understand that change of lifestyle means to adapt habits that they can sustain for a lifetime.
Getting fit is like running a marathon. You need to go slow but you need to go strong. Your diet and exercise play an important role in the way you look and feel.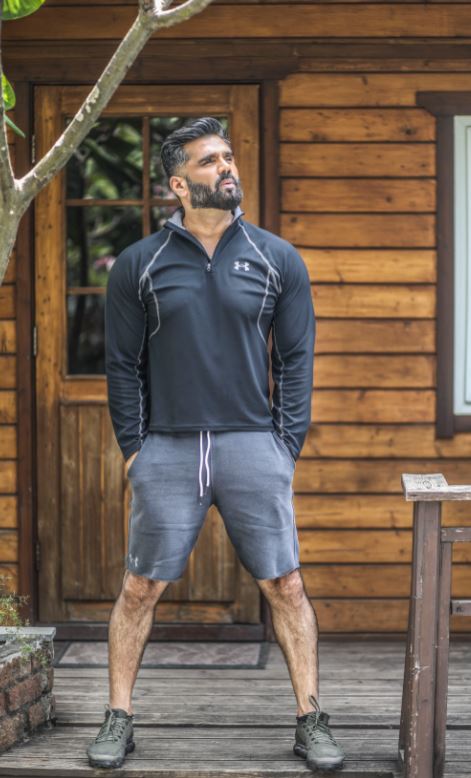 Suniel told a very reputed online magazine that there's a lot of science that goes into fitness. It wasn't like that when he was young. He started understanding the role of DNA, the difference between food intolerance and allergy and personalized diet and most importantly he took up yoga.
His approach towards exercise has changed as well. He wakes up very early and does almost 2 hours of exercise daily. The first hour is dedicated to yoga and the next 45 minutes into strength training. He tries to lift light but with more repetitions. He tries to do three to four sets of various exercises targeting each muscle group.
His meal plan is simple. He eats five egg whites in breakfast. Avoids bread. Eats quinoa flour roti. Lunch is mainly brown rice with fish/chicken, and for snacks he prefers fruits and peanut butter. Dinner is usually chicken/any other protein and a soup. He cheats on Saturdays and satisfies his sweet tooth with one date after every meal. Sometimes he also eats sweet potatoes.
He had a hard time cutting out the sugar from his diet. On top of it the hidden sugar in sauces, processed and packaged food, cereals, yogurts and various other products makes it tough to avoid sugar from the diet.
Milind Soman diet and fitness tips
Milind Soman, super model and youth icon since the 90s can still give many youngsters a major envy with his fit body. Recently, he shared his diet tips on social media confirming that simple eating and healthy living can keep your mind and body agile for many years.
Milind is a triathlon. He made India proud by competing the Ironman Triathlon in Zurich which included 42.2km run, 3.8 km swim and 180.2 km cycle ride in 15 hours and 9 minutes, in 2018.
He's often found cycling, running bare foot, hiking, swimming and inspiring others to remain fit. No wonder he earned the title 'Iron Man of India'.
On his post he shared that he always drinks room temperature water, no soft drinks and indulges in hard drinks, not more than twice a year. He stays away from refined, processed and packaged food. He doesn't take supplements and extra vitamins.
If he ever eats desserts, it is sweetened with jaggery.
He likes to eat nuts and fruits. He eats rice, daal khichadi, with lots of season vegetables. He eats a piece of mutton, chicken or egg rarely. May be once a month.
R Madhavan diet and fitness tips
R Mahdavan or Maddy is a multi lingual actor who debuted in Bollywood in 2001 and since then has been popular for his cute looks and next-door-boy appeal. He turned 50 last year.
In 2016, he completely transformed his image to a boxing coach with Saala Khadoos and has managed to sculpt a strong physique since then.
Many will be surprised to know that R Madhavan is a vegetarian and he attained his fit body without any supplements. He likes to eat organic vegetables grown in his own balcony. His balcony garden boasts of a wide variety of vegetables and fruits ' ladies finger, aubergine, broccoli, tomatoes and cucumber among others.
He follows intermittent fasting. He doesn't eat anything post 6 pm. He likes to keep a gap of 5 hours between meals.
He strength trains and loves to do boxing.
These are the diet and fitness tips from three of the most fit men over 50 in India.
Let me know how you liked this article. Do you leave your comments below.
You can read how to sustain a low carb diet on a budget and how to manage low carb lifestyle here.
You can also read about how not to give up on a diet and fitness plan and are health foods really healthy here.
You can read about Fitness Bakery in Mumbai that create protein rich desserts for people on a strict diet.
*Some links included in this post might be affiliate links. If you purchase a product through one of them, I will receive a commission (at no additional cost to you). I truly appreciate your support of my blog.
Please subscribe to this blog to read more such articles.