Are you planning a south Goa trip? Are you planning to stay in Holiday Inn Goa with Kids?
Goa is enchanting, rich in natural beauty and lots of local charm. When I was younger, Goa meant party, booze, fun, getting high. But with the kids, I have explored a very different side of Goa and I don't regret a tiny bit about it.
I revisited Mobor beach with the kids in April. My first visit to this peaceful destination was a couple of years back when it was just the two of us.
But this time I planned my holiday at Mobor Beach, partly because my infant son and pre-schooler daughter were accompanying us and partly because I wanted a peaceful holiday instead of a party destination.

I think age is catching up that's why this change in perspective. But majorly I wanted a place where the kids could have a comfortable and a good time.

Why did I choose Holiday Inn at Cavelossim for my Goa vacation with my kids?
Holiday Inn Goa was shortlisted when we were travelling with children because of the following reasons:
1. Bang on the beach, yet near to emergency services
Number one reason being its a prime property with all the amenities and also it is bang on the beach. This gave me confidence that if something happens to my children they will be taken care of properly.
The property is just an hour drive from the airport. The drive is beautiful among fields and villages. Having said that it isn't very far from hospitals and medical stores. So all in I was sure that my children will get emergency services if required. They have hotel transport on demand.
2. Spacious rooms and children's park
The rooms are spacious made in old bungalow style. When you have two little human beings running around, you don't want them to bump into each other or into other things for sure. We ordered for an extra bed for my 4 year old daughter and all of us slept peacefully in the room.
Their was a tiny dining table in one corner which was used while feeding them and a balcony which gave us ample of fresh air early mornings. The kids were delighted to spot cranes and other birds from the balcony.
The rooms are not noisy and their was a children's park with swings and slides near to our room.
3. Children's play room and swimming pool
Holiday Inn has an impressive and dedicated children's play room which has got pool table, foos ball, carom board, chess, video games and many other board games. There was a counter full of novels and books so that the adults can sit and read if its raining outside.
It also had an activity counter for the kids where the staff helped the kids to prepare craft material like tile painting, terracotta paiting, shell decoration, etc. Of course a small fee is applied while making these but the kids are constructively busy and very happy doing these activities.
Moreover, the children make friends with other kids who come to the play room and later connect instantly in the pool area or at the beach.
I was amazed at how easily children make friends. The swimming pool is big and has a kid's section as well. The lifeguard is always present near the swimming pool.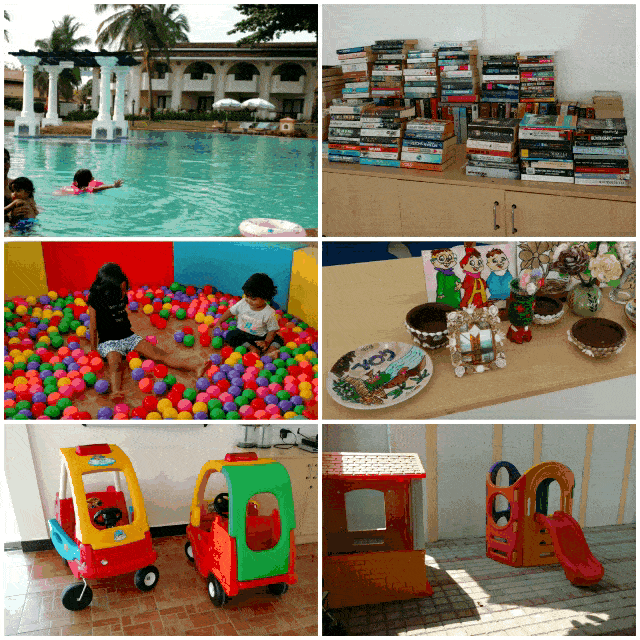 4. Just 450m away from the Fisherman's Wharf
You can walk down to the Fisherman's Wharf or avail complimentary car shuttle between the hotel and the Fisherman's Wharf. The best thing about this part of Goa is that you can sit on the beach side as well as on the river side.
River Sal flows through the Cavelossim area and merges in the Arabian Sea.
The Fisherman's Wharf offers amazing food as well as you can witness local fishermen going on their boats with their fresh catch from the sea.
They can also arrange for a boat ride if you want to sail in the sea. The kids were happy to be at the Fisherman's Wharf.
They played around looking at the passing boats. Though it became very hot during afternoon but evenings were pleasant. Their is a small kids park so that mom's can feed the whining kids without much hassle.
5. Walk on the beach
Early mornings or late evenings, during low tide I used to take my son on a stroller and go for a long seaside/beach walk. The wet sand is good for the stroller to roll and I took every opportunity to walk till the tip of the beach where the river meets the sea.
On my way I used to collect shiny sea shells for my daughter. Saw very beautiful shells like silver and purple.
Thankfully the beach is clean compared to other beaches and there aren't many tourists in this area. Enjoyed complete solitude in the sound of the waves.
Pure bliss! The baby enjoyed the cool breeze. I used to sing rhymes while walking so that he was assured that mommy was around. The tip of the beach is beautiful. You can witness it right here.
6. The breakfast is lavish
Do not, I repeat do not miss the breakfast at the Holiday Inn, Goa. The breakfast is lavish and lengthy. I had no problem with my son and daughter.
My baby son ate yummy oats, yogurt, banana, boiled eggs and my daughter loved her share of fish, eggs, cakes, muffins, dosa, etc.
You don't have to worry what you are going to feed the children. Even their restaurants are very accommodating. I asked them to make khichdi one day and porridge the other day for the baby and they were more than happy to serve.
With a one year old, food was not a concern at all. Their breakfast is value for money if you have a good appetite. Even in room service was quick to deliver warm milk in a baby bottle. The staff is alert and humble.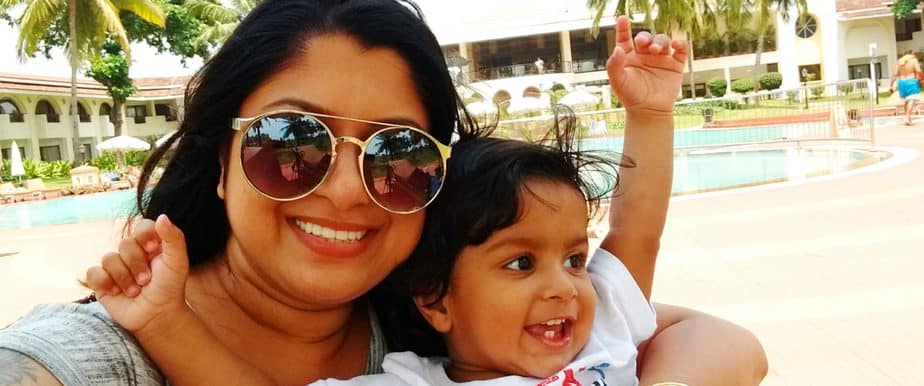 7. Quick service
With babies, poo and puke are very common. Disposing the soiled diapers are another problem. Keeping them in open dustbin is an absolute no for obvious reasons. But the Holiday Inn staff was quick to respond every time we put out such random requests across them.
From changing the wet beddings (son decided to open his baby bottle and spill water on the bedding), to cleaning sand particles from the room (each beach visit would get the room some sand particles…like in kgs from the stuffed pockets or baby bottoms and shoes.
Diapers are sand magnets I discovered) , to ordering food at wee hours when daughter became hungry in the middle of the night. These guys helped us whenever we cried for help.
8. Nearby shacks
If you love to dine is shacks then there are a few open next to the Holiday Inn Resorts beach restaurant. Sam's Shack arranges occasional parties where fire acrobats perform, their is live music, dance and lot of good food and drinks.
Most of the expats, especially Russians throng this shack in the middle of the week; usually Wednesday night. The best part is that kids are welcome to the party as well. So old and young, all can dance to the Abba songs, Boney M and some more retro tunes.
I had an awesome time at the Holiday Inn resorts this monsoon. Three nights were over in a blink.
Have you ever been to this property or do you have any other suggestions for properties near Mobor beach? Do leave your comments below.
You can also read about Holiday Street in Calangute, North Goa if you are looking to stay in an economical accommodation, near to the beach.
For more articles like this, please subscribe to the blog.