Are you looking for best place to stay in North Goa? If yes, then choose Holiday Street Calangute that will be your ideal holiday destination?
North Goa is full of beautiful properties right at the beach. I prefer to stay at the properties in and around Calangute, especially on the Holiday Street.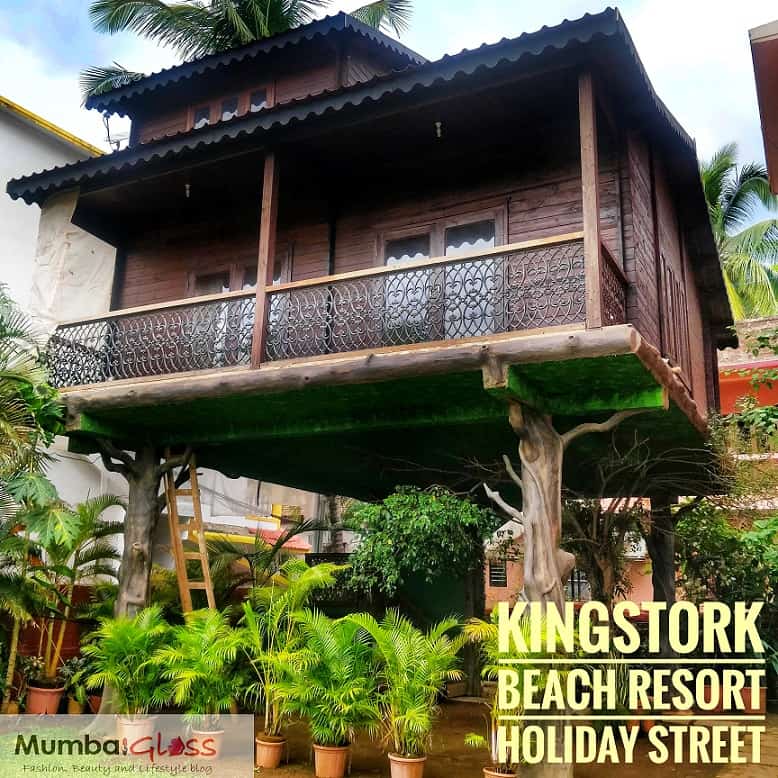 If you are trying to avoid overly crowded Baga area and want a decent place to crash, then Calangute has some beautiful properties which won't drill a hole in your pocket.
A few are near to the beach and others are nearby a beach. Even when you are inside the hotel, you will get the best of hospitality and comfort through these boutique properties.
Why Holiday Street is the best place to stay?
Holiday Street in Calangute, Goa is my favorite. It is a perfect holiday getaway due to its proximity to all the major attractions, yet being aloof from the maddening crowd which throngs Goa in the peak season. Every time, I visit this place, I know I can relax and still have fun.
We usually stay in one of the numerous hotels on Holiday Street and have never been disappointed. The most popular mid-range hotels in this area are:
Kingstork Beach Resort, Holiday Street, with a rating of 4.4
The Park, Calangute, Holiday Street with a rating of 4
More on that later.
There are several other properties in the vicinity that caters to all types of tastes and pockets. Ondas Do Maar Beach Resort is one of those no-frills properties that doesn't cost a lot but is just a few metres away from the beach.
You can just walk down to the beach shacks and stay there till late without worrying to get back in time.
Let me first start describing the street so that you will know what to expect.
Shopping at the Holiday Street
As soon as you enter the street, there is a small Tibetan market where you can find fashion jewelry, silverware, silver jewelry and a lot of other interesting stuff. You will also find various street side stalls selling fruits, vegetables, swim wear, beach apparels, beach footwear, floating tubes, fashion jewelry, etc.
The street also has shops selling artifacts, Indian fine jewelry made from semi-precious stones, tattoo parlors, massage and spa centers, etc.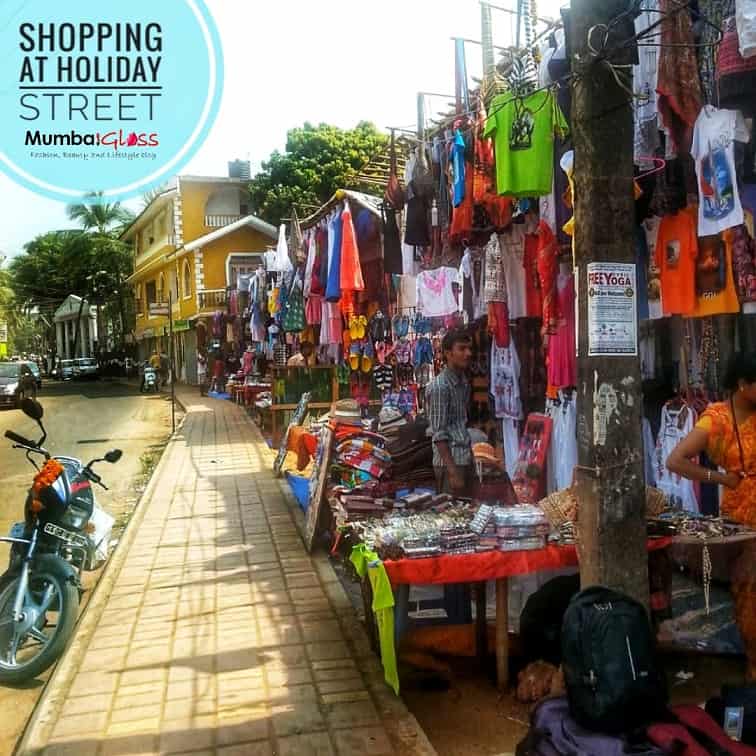 The street has an art gallery which showcases modern art and metal forms. It's called Kerkar's Art Gallery that also has an attached restaurant. The restaurant arranges live performances by the local dancers and musicians every evening. So, you can easily say that it is the art and culture center of the street.
Eating at the Holiday Street
There are various restaurants serving different cuisines on this street. Oriental Thai Restaurant, Little Italy, Dolphin Restaurant, Abracadabra – Persian food, Maggie's – English pies, Kingstork, Au Reverie, Le Jardin, Nirvana to name a few. All these places are a mix of the posh and the pocket friendly. You need to research a bit before you go for your meals to one of these places.
Maggie's is a decent place, which is pocket friendly and serves pie's and local delicacies. We always visit them for their excellent home cooked pies. Nirvana and Golden eye, near the beach and Flying Dolphin on the beach are the other good places which offer some promising food at a great price.
Convenient location from the beach
The best part about staying in any of the hotels near Holiday Street is that you can simply walk down to the beach. The beach from our hotel was at a distance of 700 meters. The beach is clean; less crowded than the actual Calangute or Baga beach and has all the attractions like shacks, water sports, rides, etc.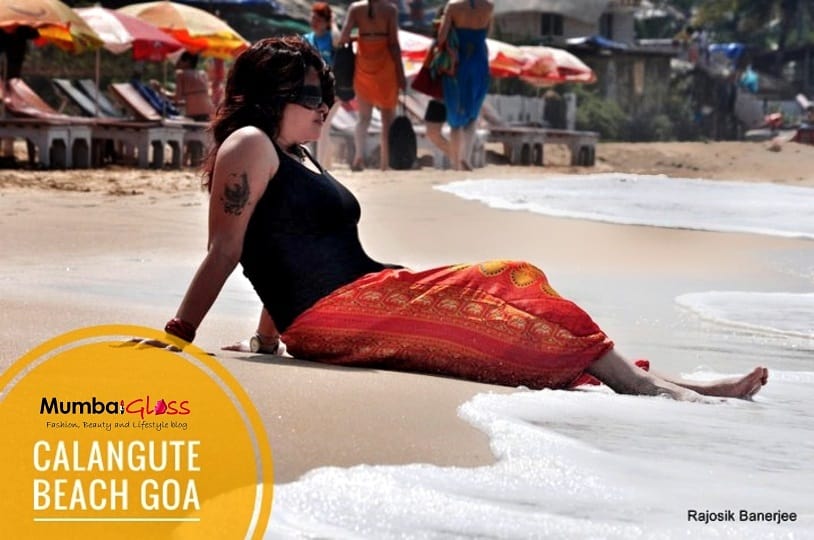 We always walk down to the beach and enjoy a good beer accompanied by some calamari cooked in goan sauce. It's called Recheado sauce. Very tangy, very spicy and absolutely tasty! We always visit the second from the left shack. It has some good food with very reasonable prices.
Supermarkets, medicine shops and malls nearby
Once you go out of the street, you can easily find ATM's, souvenir shops and super markets to buy your day-to-day necessities. We bought a lot of Recheado masala and Vindaloo masala packets and homemade smoked pork sausages from the super-market. Goan sausage is another thing you shouldn't miss.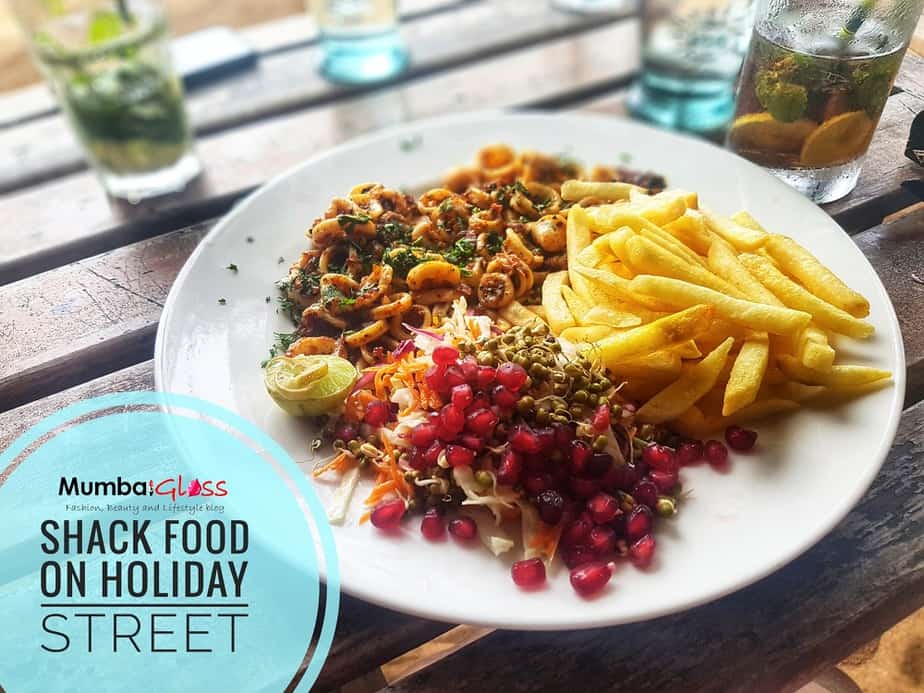 Nearby attractions from Holiday Street
Main Calangute beach is approximately a kilometer away. If you have time and the energy then you can walk down to the Calangute beach from the Holiday street beach.
Just walk along the shore-line and in 20-25 minutes you can reach Calangute beach. It is very fulfilling to walk all the way to Calangute beach and then have a hearty meal at Souza Lobo's.
Baga is not very far either. Tito's on Baga is one of our favorites. It's always packed and is little pricey. But definitely has excellent food.
Easy car and scooter rentals
You can hire scooties and bikes on Holiday street easily if you wish to travel far and check out other beaches.
A few hiccups at the Holiday Street
The major problem is regular power cuts in this area. Though, most of the restaurants and hotels have power back-up but if you are on the street and all of a sudden the power goes off then it surely isn't convenient. I suggest that you should carry a small torch or may be use your mobile torches.
Secondly, many strangers on a two-wheeler would try to stop you to give you a free pass to a club or a casino. They will pester you till you agree to come.
On the beach, you will be flustered answering to hawkers selling plastic things or jute bags, etc. Apart from these nuisances the place is very entertaining as well as relaxing.
You can also read about south Goa's serene Mobor beach and stay at Holiday Inn Goa with the kids if you are planning for a south Goa trip.
A holiday in Goa is always good, but holidaying on the Holiday Street is brilliant. Which place would you like to recommend in Goa?
For more such articles, please subscribe!