Imagica House of Stars, a Bollywood theme attraction featuring life size silicon figures of actors like Ranbir Kapoor, Kareena Kapoor, Anil Kapoor, Sonam Kapoor, Arjun Kapoor, etc. They could have easily named it as House of Kapoors :P. No really, as if they got together and sponsored this attraction at the theme park.
Jokes apart, other than one or two movie sets, rest are just about ok. The best of the lot is from the movie Mughal-e-Azam where Madhubala is standing tall as Anarkali in her full form. The re-creation of the shiny mirrored Mughal court set is beautiful. I realized that iconic beauty Madhubala was just as tall as I am. I always thought she was taller than me. At least our height is similar, if not smile 😉
Imagica House of Stars highlight: Mughal-e-Azam set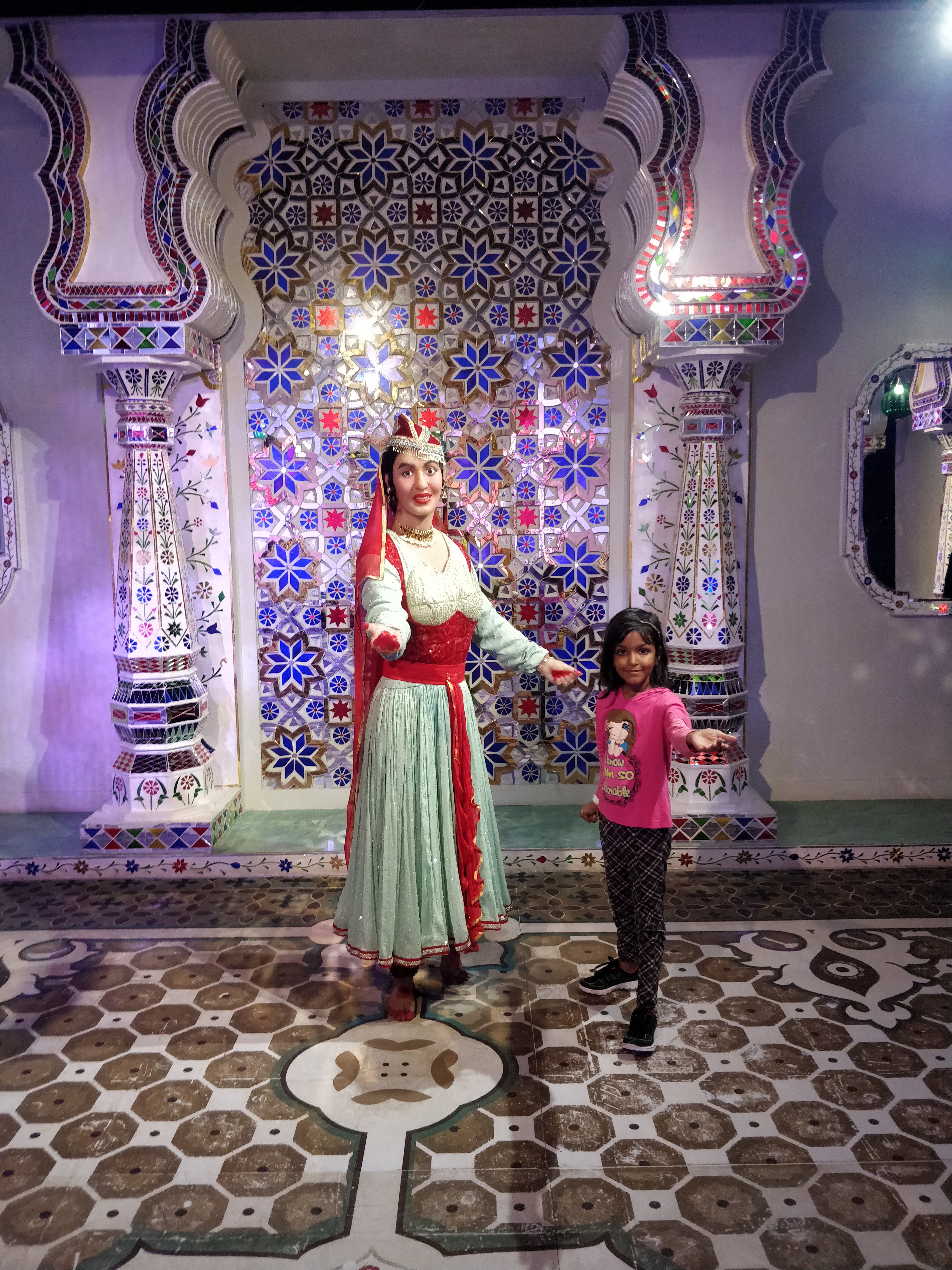 Entrance fee and other details
We paid Rs 148 plus taxes per person to enter the House of Stars. It was an introductory price and might change in future. They have created recent popular movie sets from Jolly LLB 2, Neeraja, Badri Ki Dulhaniya, Pari-not a fairytale, Bahubali, etc.
Wear the costumes
The idea is to let the visitors experience the sets, wear the costumes and get clicked with the silicon figurines. Each of the sets plays a related background music (songs or other music from the movie) which results in a cacophony. The wax figurines of Kareena and Arjun resembled the real actors.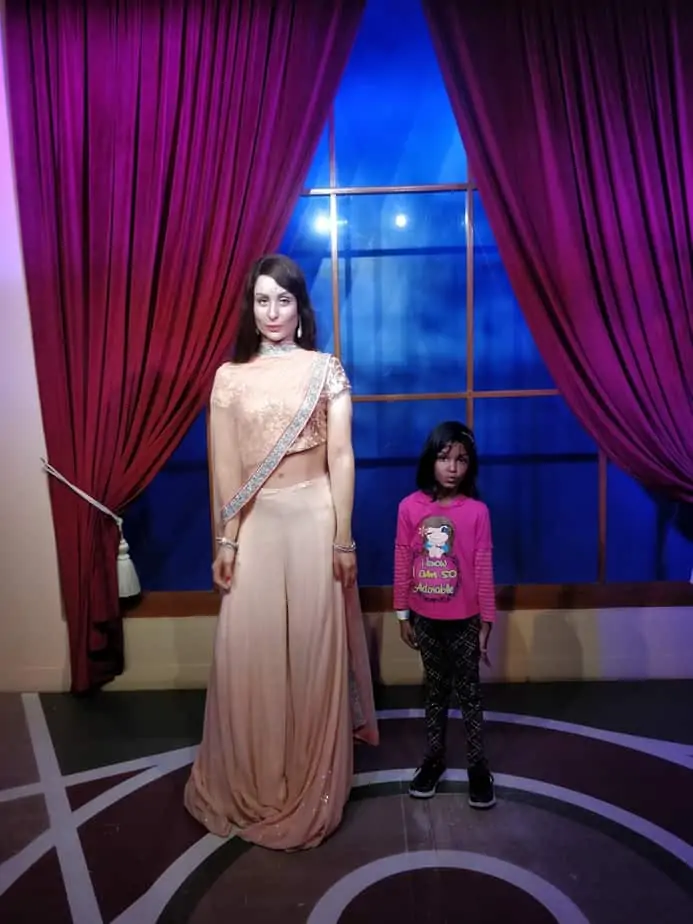 The resemblance for the other actors featured here are poor. The sets are ok. You might enjoy the experience of Bahubali set where you will find miniature re-creation of the Mahismati city, Bahubali figure and the throne with a sword. You can sit on the throne and get clicked.
Imagica House of Stars: the paraphernalia
A photographer will try to click your pictures at every place so that they can sell you the pictures at Rs 350 per print. You can also get a 3D image created for yourself at Rs 50 with 3D Photos right at the exit. They send you a link in 15 minutes. Though, I was not able to download the image to my phone but the link is shareable through social media channels.
You just need 15 minutes to discover the entire place. The giant figure of Anushka Sharma from the movie Pari, looks rather odd.
So if you are a diehard bollywood fan then only you should visit Imagica House of Stars. If you have visited wax museums in other parts of the world then you might feel disappointed with this hall of fame with silicon figures. Also, I am not sure how do they plan to keep the content (figures plus sets) relevant as every year we have so many releases and many successful movies. The space remains a constraint, else they will have to expand the experience zone further.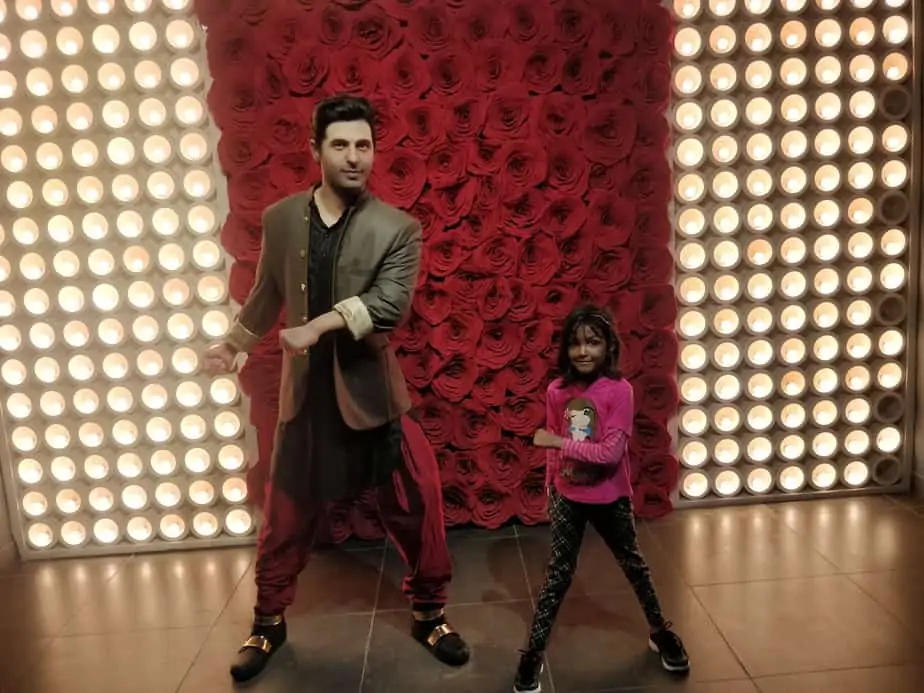 Imagica House of Stars conclusion
Only for diehard bollywood fans. In comparison to other wax and silicon museums, the experience was just average. Though, they have put immense efforts to make the sets look authentic but the shabby work in certain statues did kill the visit.
You can also check out the review of Eyelusion, AR based 3D photography attraction at adlabs Imagica here.
You can read about the best rides for children between 5 to 10 years at Adlabs Imagica as well as Tubby's Secret Party for the kids here. Read about Snomagica, the snow park at Adlabs Imagica and resorts near theme parks around Mumbai.
For more such articles, please subscribe to our blog.