Are you looking for a safe and hygienic place to stay in Mumbai? Urbanpod (pod hotel Mumbai) is a good option that you can explore.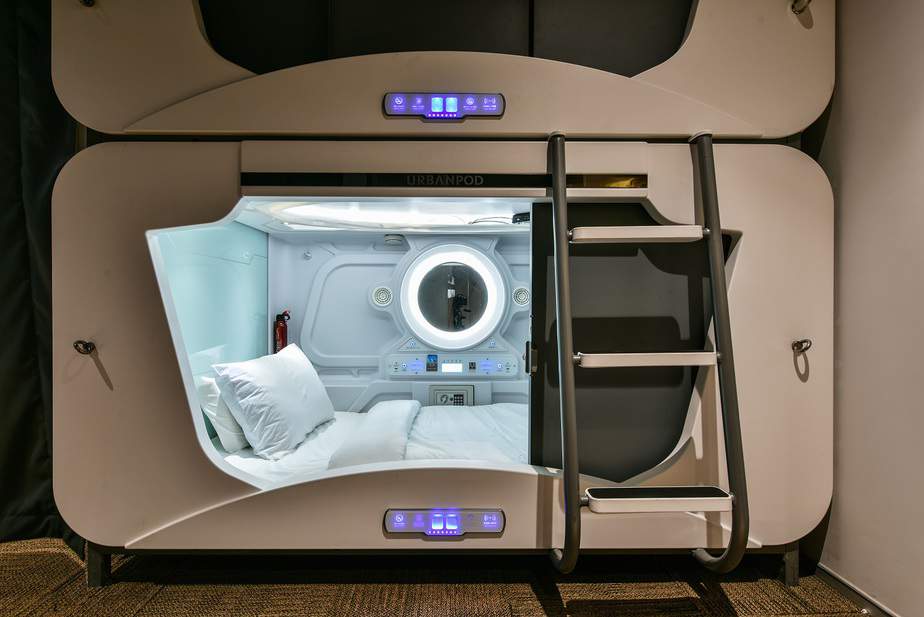 What is a pod hotel?
A pod hotel is hotel where the traveler gets a small room that is good for resting, sleeping and keeping the luggage.
The concept of a pod hotel is not unique to an avid traveler. Many parts of the world have such hotels that provide a comfortable and secure place to sleep, charge the electronic devices and provide with bare minimum necessities to help you stay on a budget.
We have a pod hotel in Mumbai called Urbanpod, located in Andheri East which is India's first pod hotel. It is a modern capsule hotel with a cafe. It has 4 variants of pods – classic, private, suite and women only. All the pods offer complimentary breakfast. They also have a Quick Nap package for Rs 500 where you can book the pod for 3 hours and sleep or Shower Only package for Rs 250 where you can use the hotel to take a quick shower before you go for your meeting.
You can book the pods here.
How was Urbanpod started?
During a business trip to Singapore, the owners Shaibal Mittal and Hiren Gandhi stayed at one of the popular pod hotels and loved the experience. They decided to create a similar experience for people traveling to India. They felt that the product and service quality were exemplary while keeping the prices affordable and not compromising on quality, hygiene and safety. So they collaborated with Berlin Lee, who has vast experience in running pod hotels in Singapore.
With the launch of Urbanpod in 2017, India witnessed a 'new category called pod hotel' in the hospitality segment. It is best for solo female travellers as well as anyone traveling on a budget. It has a separate female only section as well. A single pod for female starts at Rs 1000 per night.
Where is Urbanpod located?
The Urbanpod hotel is located in Andheri East. Opus Park Plot F-21, First Floor MIDC Central Road Andheri(East) Mumbai 400093. +91 7400486116, +91 22 28366116, reservation.mumbai@theurbanpod.com It is near to both domestic and the international airport. A 15 minutes drive will get you to the hotel from both the airport terminals. It is 2.7 kms away from Chhatrapati Shivaji International Airport and is a hit with the foreign tourists. You can also check the post on best places to visit for a layover in Mumbai if you are planning to see the Mumbai city during your stay.
You can get a visual tour of the pods here.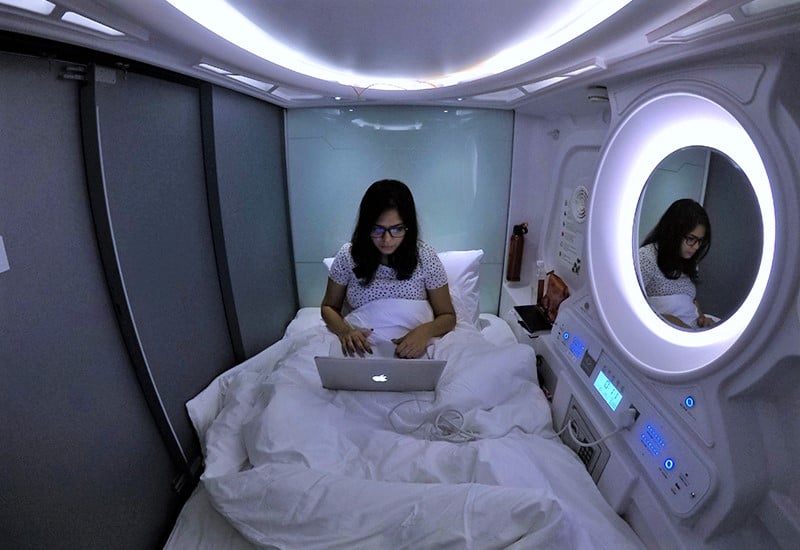 Can couples stay in Urbanpod?
Though it is more popular with solo travelers but couples can book the suite pod that allows two people to sleep in a single pod area. It is a couple–friendly property, hence it is absolutely safe for unmarried couples to stay here.
Can kids stay in Urbanpod?
People can book Urbanpod only if they are 18 years or above. Kids can stay with their parents only in the suite pod.
What are the facilities at Urbanpod?
When you book a pod, you get complimentary breakfast, toiletries, towel and bottled water. The futuristic looking pods come with a TV and a mirror. Free wifi is available throughout the hotel. You need to use a common toilet. You can also avail the facility of free locker and ironing board during your stay. They also have a business area where you can meet your guests.
How is the quality of hospitality in Urbandpod?
Urbanpod has been rated 4.5 by the travelers in Tripadvisor. It received the Tripadvisor Travelor's Choice Award in 2020.The service is prompt and you get what you pay for. It is economical and for the traveler on the go.
Have you ever stayed in a pod hotel. Do leave your experience in the comments section.
Buy your travel bags and accessories here.
*Some links included in this post might be affiliate links. If you purchase a product through one of them, I will receive a commission (at no additional cost to you). I truly appreciate your support of my blog.
For more travel related posts, please join our newsletter.