Are you planning to visit Japalouppe Equestrian Center in Talegaon near Pune? Then read the review here.
The visit to Japalouppe Equestrian Centre in Talegaon was the most awaited one. My kids were excited to meet different kind of animals and birds. Though, people from Mumbai do drive down for a day trip but we thought it will be too strenuous for the grandparents and the babies. So while we booked ourselves in Marriot Chakan, we decided to do a day trip to Japalouppe from the hotel. We reached Japalouppe in half an hour from the hotel.
Charges and inclusions
For day picnic, they charged Rs. 1000 per adult and Rs 600 for a child. That included a visit to the petting farm, a treat bucket for the animals so that your little ones can feed the animals and meals for the visitors (lunch plus snacks). The pony rides were charged separately at Rs 470 per ride which lasted for about 15 to 20 minutes.
Animals inside Japalouppe
We were greeted by a gentle giant Great Dane and a lazy Rottweiler. These were really big dogs but very comfortable around strangers. A white cockatoo and a grey parakeet were nibbling on some seeds. My daughter was thrilled to feed them. My son was too young to understand all this, so he chased a few ducks and decided to spend his time on the trampoline and the swings. The environment is like any farm with natural breeze, a few places where you can sit, and rest is all open area. They have many horses of different breeds. The tallest being the Black Stallion. Really majestic!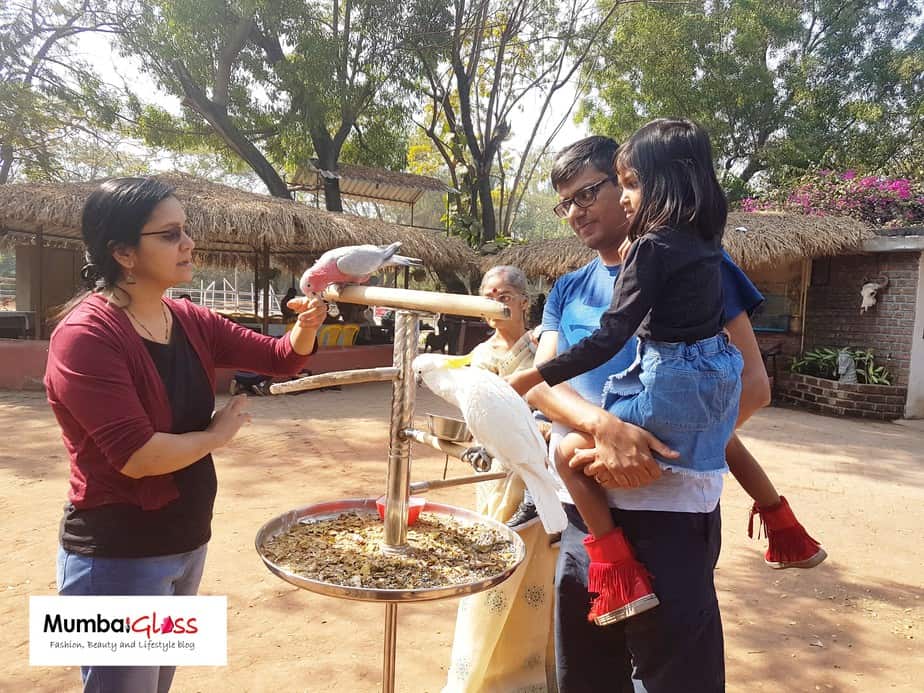 Horse rides for the kids
The pony rides, are between 11 am to 1 pm and from 4 pm to 6 pm, so plan your visit accordingly. You can also go for a 2-hour visit if you don't want to spend the whole day in Japalouppe. In fact, we realized that 2 hours was more than enough for experiencing the petting farm and a pony ride. Though there were a few families who had come in a group for birthday celebrations and stayed for the entire day.
After the petting session, my daughter took a pony ride on Lucy, the light brown cream mid-size horse. My son was equally thrilled during the horse ride activity. He loves adventure as well as speed. You can read about his go karting experience at the age of 4 here.
Children who train at Japalouppe for horse riding, help with these pony rides. I found that a bit risky as they themselves are learning to manage a horse so how will they be able to control the horse if it decides to go wild. Though, I am sure, these horses have been trained multiple times and are safe to ride.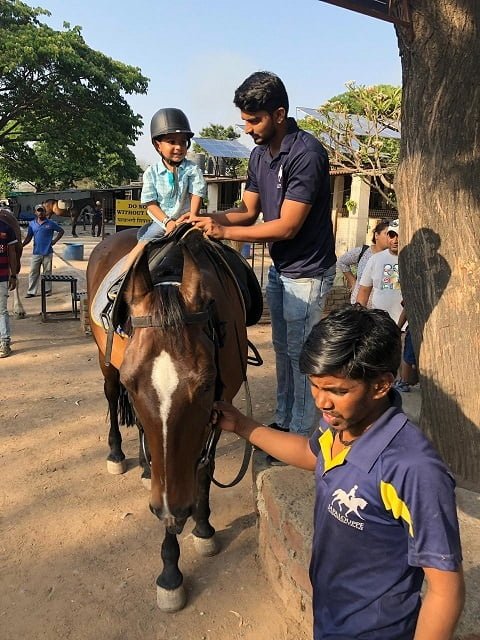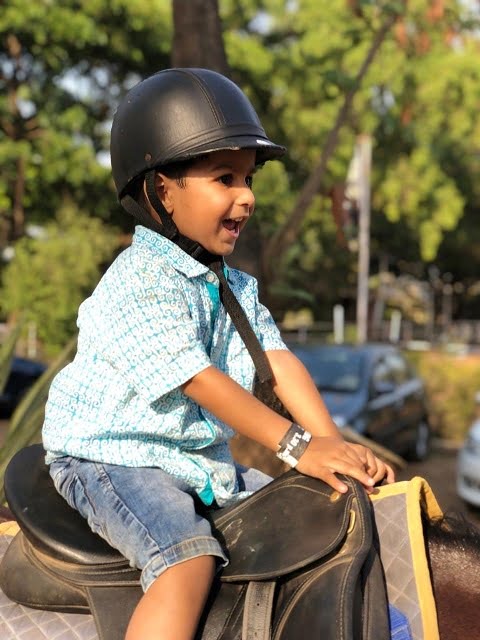 Quality of food
The food was just ok. (Wada pav, jam pav, dal, sabji, rice, roti, salad, pasta, noodles, etc.) It is home cooked food made by local women who work at the farm. Moreover, the food got over really quickly so make sure that you line up right after they start serving. Else you might not get everything and have to make do with whatever is left. And they charge you Rs 200 extra if you want non-veg as an option. (a bowl of chicken curry) which I thought was too expensive.
Petting farm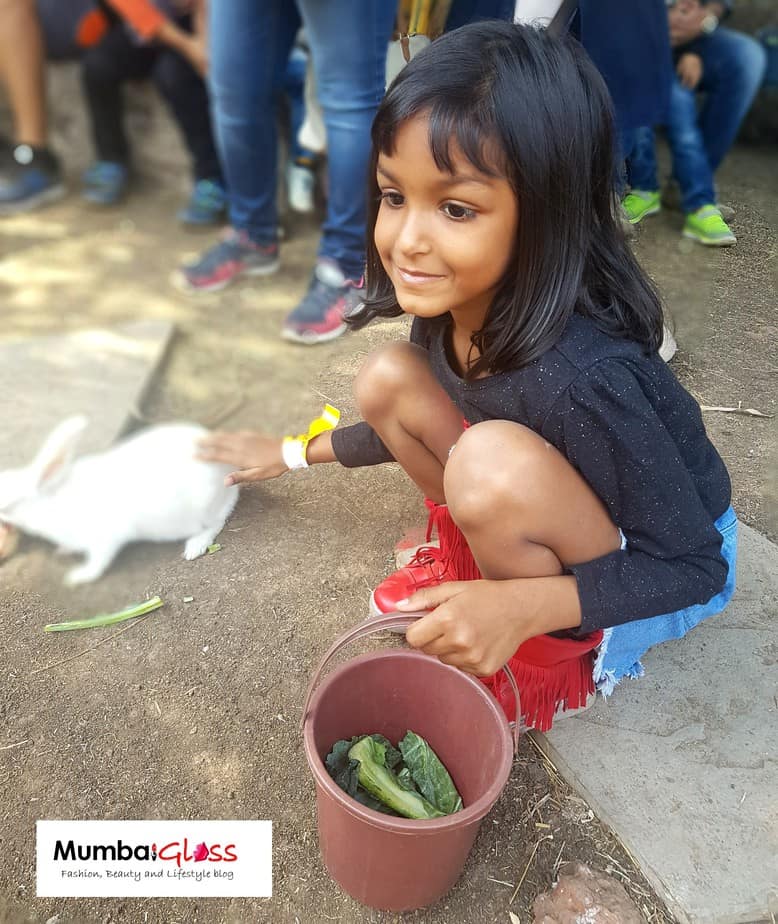 After a small induction by the owner of the farm Ms Lorraine and her son Rohan, the kids were given a bucket of goodies for the animals (cabbage leaves, carrots, bread, etc.) Feeding life size horses, pigs, ducks, turkeys, rabbits, emus, cow, turtle, parrot, cockatoo, etc. was very thrilling for the kids. Rabbit feeding being the most popular activity was crowded throughout. There was a white lamb and a guinea pig too.
With all the dust, heat and sweat, I still believe it was a great outing for the kids as they could be near to nature and could experience animals out of their text books.
Quick tip for mothers traveling with children
Carry a hand sanitizer and wet wipes for the kids so that they can disinfect themselves after touching the animals or after playing in the mud. They do have bathrooms where you can wash hands. Carry enough water. They do not serve bottled water and aerated drinks. They do have one can of water dispenser from where you can refill your bottles.
About Marriot in Chakan, Pune
Courtyard by Marriot in Chakan, Pune was a perfect long weekend break. With Japalouppe Equestrian Centre thrown in as a day picnic was even better. The grandparents, kids and us decided to spend our Republic Day long weekend at Pune. Given that it was a last minute booking, we still managed to get two Junior Suites that were spacious, with all the modern amenities. The village/industrial area view from the huge glass windows of the room were rather refreshing.
Mountains at the backdrop made the scene even more interesting. The food was decent, the service was great, though their kitchen was a mess as most of the food that was on the menu was either over or unavailable. That applied to the non-Indian cuisine. Though, whatever we ate was impressive. They have a good breakfast spread and the lobby has a few games (chess/carom/TT) to keep the guests, especially the kids, entertained.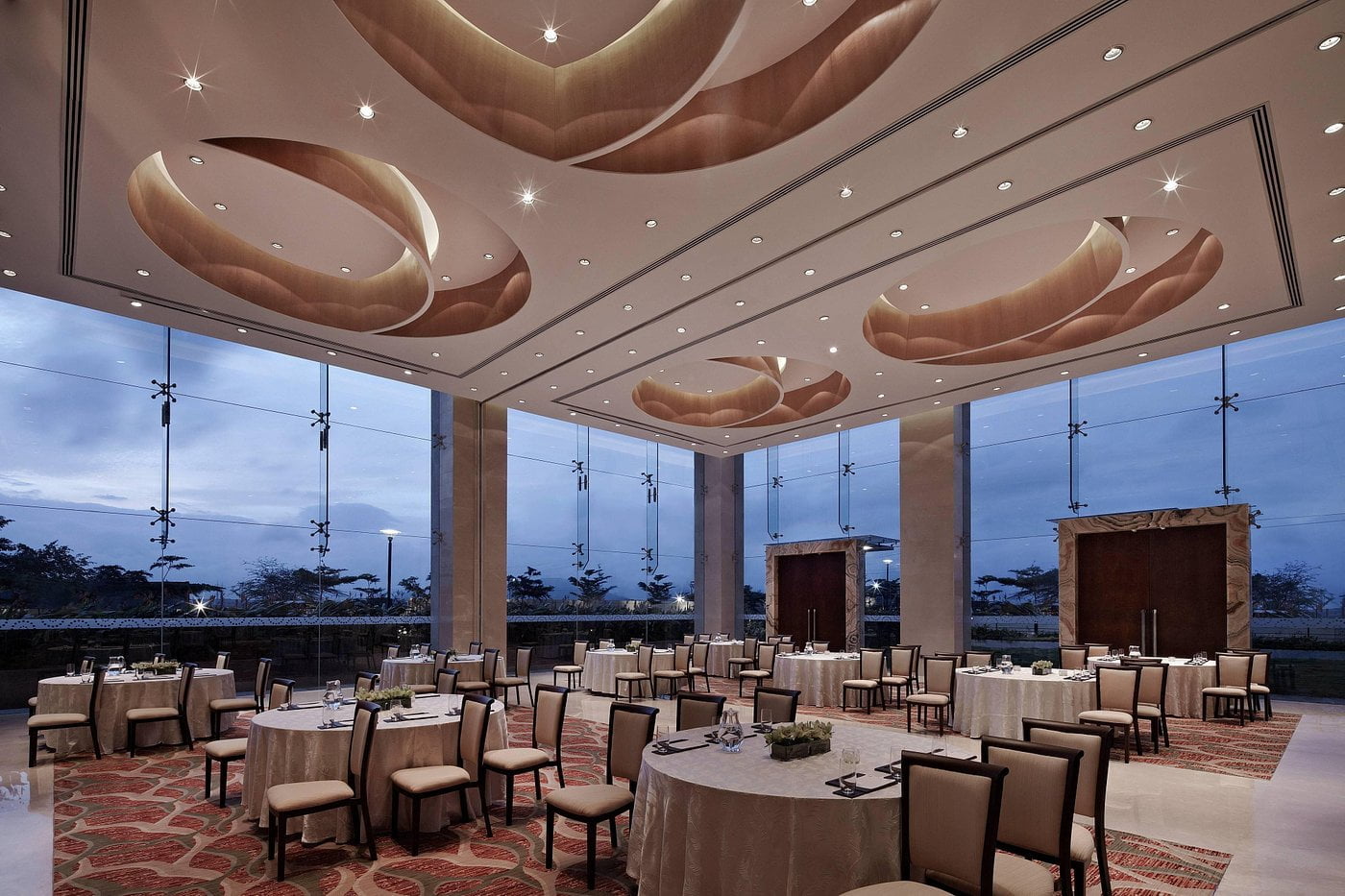 They also have a decent swimming pool and fitness centre. The staff is helpful and courteous. So as a hotel located in the industrial area of Chakan, it definitely takes care of its guests well. The road to reach the hotel is well-maintained. The check-in and check out was hassle-free. You can book with the hotel here.
You can read about Corinthians Club and Resort in Pune.
Read about best rides for children at Adlabs Imagica here.
Read about Hilton Shilim experience here.
For more articles like this, please subscribe to the blog.