Masaba Gupta, owner and fashion director of the House of Masaba is a household name in India. She launched her brand when she was just 19. Under the guidance of her mentor Wendell Rodricks, she showcased her collection at Lakme Fashion Week a decade ago and the rest is history. It might sound strange but Masaba has never spent on marketing her brand. Yet, she is one of the well-known fashion brands within our country and abroad.
So how did she achieve this massive reach and recall of her brand. It was through major collaborations with top brands from different market segments. Be it fashion or FMCG or beauty or automobiles or jewellery, she collaborated with all of them.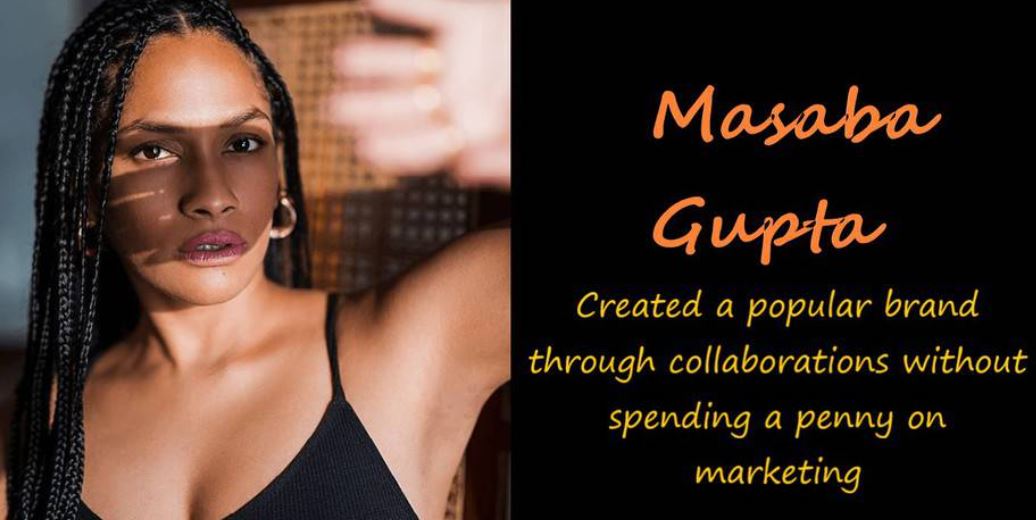 Masaba Gupta, the young achiever
Masaba was listed among 'Top 30 under 30' entrepreneurs in India by Forbes in 2017. Her brand is known to the masses and is appreciated for her unique sense of design and vibrant hues. Her pop art depicting Indian motifs has been a hit since its launch in 2009. Her designs are a blend of contemporary and traditional with unconventional prints. She printed Tamil script on to her sarees which became a rage. She creates feminine drapes and silhouettes by using fine fabric like silk, chiffon and cotton as well as rich embroidery work. Not only her apparels, even her house is aesthetically curated by her.
Masaba Gupta, was into sports
Don't be surprised if I tell you that she wanted to be a tennis player. She even played tennis at the state level but left it at the age of 16. She completed a diploma in Apparel Manufacture and Design from SNDT Women's University and decided to launch her own brand. Her brand designs apparels, jewellery as well as gadgets.
She is popular with the celebrities. Not just female actors but her designs are popular with male actors too like Ranveer Singh.
View this post on Instagram
Masaba Gupta is a social media queen
With her reach on social media like Instagram and Whatsapp she manages to sell her creations easily and doesn't have to depend on marketing at all.
House of Masaba is an 'anytime-anywhere' brand that knows the market gap for easy, comfortable garments that are neither luxury nor pret, but somewhere in between. Also, it is one of the few affordable brands in the market that do not just cater to a niche segment. With her collaborations, Masaba was able to penetrate much deeper into the society than her contemporaries.
Here is a list of the major recent collaborations with Masaba Gupta.
'Anytime-anywhere' brand that knows the market gap for easy, comfortable garments that are neither luxury nor pret, but somewhere in between.
Massive reach and recall of her brand through major collaborations with top brands from different market segments.
Puma India X Masaba Gupta
Puma India collaborated with Masaba to create exclusive hand painted sneakers by Masaba Gupta. German sportswear and lifestyle brand Puma has for the first time collaborated with an Indian fashion designer to launch a limited edition range of sneakers. Masaba has designed two lines in this collection addressing the growing emotional health concerns like anxiety in today's youngsters. Only 50 pairs of Gupta's hand-painted sneakers will be sold in India.
Rhea X Masaba Gupta
Stylist Rhea Kapoor, sister of Sonam Kapoor collaborated with Masaba to create a unique line of clothes. From old hand-written letters to vintage blossom prints to big checks, you will find lehengas, sarees and other apparels. The collection is designed for the curvaceous women. It has a vintage vibe and lot of muted and pastel hues.
Game Of Thrones X Masaba Gupta
Masaba launched a capsule collection in collaboration with Game of Thrones. The collection featured eighteen womenswear ensembles, five menswear outfits and up to twelve jewellery pieces, comes inscribed with graphic prints, symbolic motifs and popular quotes like 'Winter is here', from the show. Dedicated to the character Arya Stark from the show, the collection uses a palette of solely three colours—black, white and red—and unlike the clothes the characters wear in the period drama, these can easily be incorporated in your daily wear.
Fabrics like sheer, organza, silk and cotton have been used to create the line, which includes a variety of silhouettes like kaftans, kurtas, bustiers, jackets, trench coats, knotted skirts, lungis, pants, dhotis and even saris. It also features rings, charm pendants, chokers, long dangling earrings, bracelets and layered chokers in a beaten gold and silver texture. The jewellery comes embossed with motifs like the sigil storm, the seven kingdoms, a dragon caught in a flame and a flying raven.
Masaba X Tribe
Tribe by Amrapali, a well-known jewellery brand collaborated with Masaba to create unique jewellery pieces that depict the tribes of Ghana and India. Motifs like alligator, masks, etc. apart from the signature fish, cow, toffee and camera motifs marks this collection. Found it edgy and young.
UNEP (United Nations Environment Programme) X Masaba Gupta
For #IWillWearOutPlastic campaign, designer Masaba Gupta has collaborated with UNEP (United Nations Environment Programme) and Ogilvy to design clothes for the environment conscious consumer. She designed clothes that turn into bag when required. The collection consists of fashionable ensembles like a one-shoulder dress with a detachable sleeve that converts into a bag, a pantsuit where the hem can be detached to become a carry bag and so on. And the best part is that when you look at the garment, you can't tell that there's a bag attached to it. The entire agenda was to design a fashionable line that's both wearable and commercially viable.
Netflix X Masaba Masaba
Netflix is producing a series on Masaba that will feature her mother Neena Gupta as well. The series talks about her evolution as a fashion designer and also about her childhood.
MTV's Supermodel of the year X Masaba Gupta
She is part of the MTV's Super Model of the Year program as a judge and gets to show her fashion side to the upcoming models.
Raga X Masaba Gupta
Titan Raga, the well know timepiece brand collaborated with Masaba to create unique watches for women. They chose her for the collaboration as her striking motifs and bold designs resonate with the 'Young Woman' of today. For Masaba it was a perfect opportunity to add a quirk to Titan Raga's exquisite design philosophy. The fusion of the elegant and the quirky coming together is what made this collaboration unique.
Nykaa X Masaba Gupta
Masaba has collaborated with beauty and fashion e-tailer Nykaa.com to create products like lipsticks, nail polishes and perfumes. The lipstick and nail polish colours have been finalized keeping the Indian skin tone in mind. The packaging has been done in an eco-friendly cardboard. The prints include the tried and tested cow, camera, palm and firecracker etc. from older fashion collections. The perfume range has various fragnances, mix of flowery and spicey notes.
Lakme X Masaba Gupta
Masaba partnered with Lakme to create 10 matte lip crayons inspired by candies of the 90s – Mango Bite, Roll A Cola, Phantom ciggies, Melody, Coffee Bite etc. The packaging was again candy based, designed by Masaba.
Fiama Di Wills X Masaba Gupta
Masaba partnered with ITC Fiama di Wills to create an exclusive series of high-end bath products themed around gemstones like ruby, diamond and aquamarine to match ready-to-wear pieces with the scent and energy of these stones. She showcased this collaboration at the Wills Lifestyle India Fashion Week Spring-Summer 2015.
Tata Nano X Masaba Gupta
Masaba Gupta collaborated with Tata Nano to design Tata Nano on the opening day of the Wills Lifestyle India Fashion Week Spring/Summer 2014. Her quirky yet chic pop prints, made the small car stand out and celebrate the spirit of young achievers. The limited edition car had neon pink polka dots on the body and ikat interior with black and white stripes.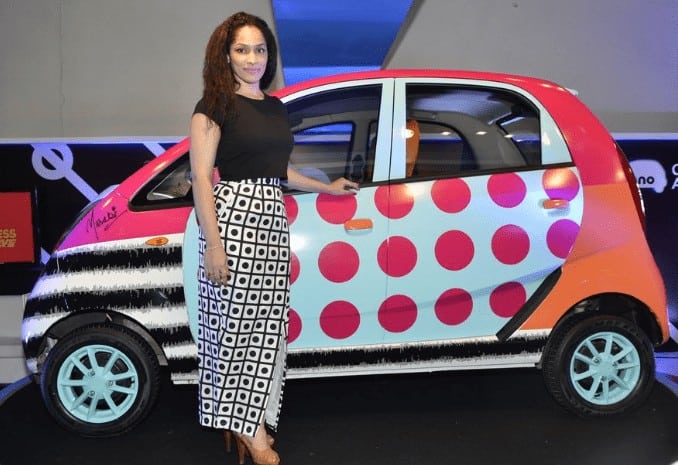 Ekaya X Masaba Gupta
Ekaya Banaras a benarasi saree brand decided to explore the possibility of quirk meeting quintessential, the collaboration between Ekaya and Masaba was born. Leaving behind the traditional designs and colours, Ekaya decided to embrace the modern and the youthful with the help of Masaba. A confluence of old and new in the true sense!
Not only that, she has collaborated with Oppo, Himalayan Orchard Pure, FabAlley, Levis, Budweiser and many other brands in the past.
Do you know any other fashion designer who is always game for collaborations? Do leave your suggestions in the comments below.
For more articles on fashion, please subscribe to the blog.