Geneva – Interlaken (Jungfraujoch) – Lucerne (Mt Titlis) – Zurich-Bern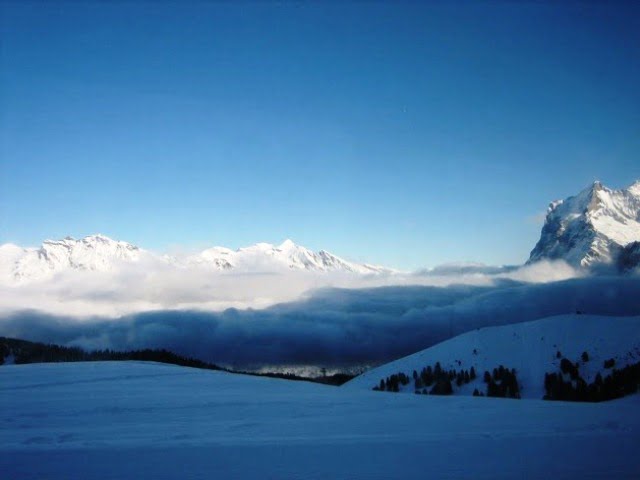 Recent demise of Mr Yash Chopra got a lot of media attention to Switzerland – his favorite destination to portray romance and seduction, Indian cinema style. He would have his leading ladies dance in chiffon sarees in snow laden Swiss mountains (brrrrrrr) and heroes do a somersault in the lush green hillocks. He captured through his lens, Switzerland's natural beauty in abundance and enthralled the movie masses with heart-warming stories set in exotic locales and covering most of the Switzerland's tourist attractions. So once upon a time when we used to stay in London, I and my husband decided to experience the beauty of Switzerland on our own.
We are not the kinds who are happy in arranged tour packages, where people move like herds of sheep thronging a tourist site without savoring the history, beauty or essence of the place. We like to explore the local market, try new cuisines rather than sticking to the set Indian menu, we enjoy getting off at an unknown train station to experience unlisted interesting places, know a new culture, rather than board a tourist bus where the time is restricted to just half an hour per stop.
Raj asked me, "Have you ever experienced knee deep snow?" "No!" I replied. "Let's go to Switzerland." He said. "What? In the peak of winters? Our blood will be crystalized by the time we come back." I shouted. With a gleam in his eyes, he said, "Let's plan, make bookings and pack our bags for 23rd". So, in the hope of having some good time in the harsh weathers of Mount Titlis and Jungfraujoch, we decided to visit Switzerland.
Switzerland has always triggered my imagination, a place like Narnia, a wonderland, where mountains of chocolates and rivers of milk are very much possible. I know, that sounds like a 6 year old chirping away her last night's dream. But I was excited. After online research, a travel plan was chalked out which covered both Titlis and Jungfraujoch and the major cities in Switzerland. Online hotel bookings were made and we were ready for the tour of a lifetime.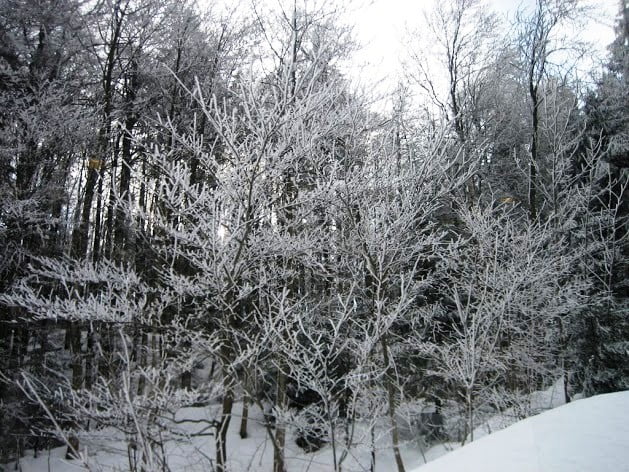 Plan: London -Geneva – Interlaken (Jungfraujoch) – Lucerne (Mt Titlis) – Zurich-Bern- Geneva-London – 8 days trip of Switzerland
Time: 23rd to 30th December, 2008 (London is closed for Christmas holidays, followed by Boxing day and New Year, so this was the perfect time for vacation.)
23rd December, Tuesday: Geneva
Early morning we took a flight from the London City Airport to Geneva. The taste of authentic Swiss chocolate on board the flight got me excited as to what was in store for us in the coming days. Reached Geneva around 9 am local time. It took us approximately 1 hour and 40 minutes on the flight. We had the entire day and evening with us. We got 8 day Swiss pass made which gives access to rail, road and waterway throughout Switzerland. We reached our hotel around mid-morning which was in the heart of the city. After a quick shower and some snacks we headed out to explore the city with a map. There was no sign of snow. Geneva is the 2nd most populated city after Zurich and we could feel the commotion. We went around to see a fraction of the crescent shaped Lake Geneva or Lake Léman (Geneva is the French speaking city in Switzerland. The other languages spoken are German, Italian and Romansh. As Switzerland is land locked so the culture and language of the different cities has been affected by the neighboring countries.) The Jet d'eau spouting 140 meters fountain was closed.
The air was crisp and very freezing; the giant Flower Clock in the English Garden was barren due to the extreme weather. We proceeded towards Saint Peter's Cathedral which is an architectural marvel and walked around the old town on the cobbled streets exploring local café's. In the evening we went out for a walk in and around our hotel and saw the city decked up in Christmas lights and festivities. Local church, shops (though closed), pubs and cafes, were all reflecting the festival festooning.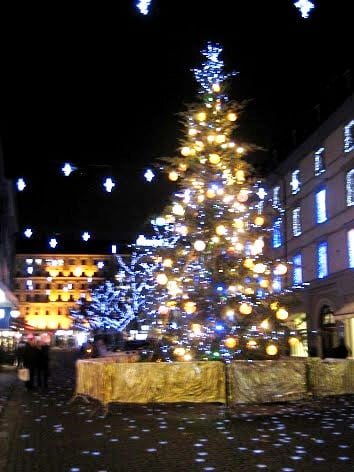 24th December, Wednesday: Interlaken Day 1
The central train station, Gare Cornavin is a beehive of activity in Geneva. We took a train to Interlaken next morning after check out. We saw little lumps of melted snow when we started from Geneva. Mid-way, we saw snow in its full glory. Trees, mountains, houses, all covered in snow, frozen lakes and little water bodies were dream like. It took around 2 hours to reach Interlaken, a quaint little city located between two Alpine rivers, Brienzsee and Thun. We got down at Interlaken east station and walked down to our hotel. Hotel Bellevue is a vintage property located next to the river Aare. A breathtakingly beautiful place with sumptuous breakfast (it was included in our stay). The room was comforting and our balcony opened next to the river and in the vicinity was a hillock.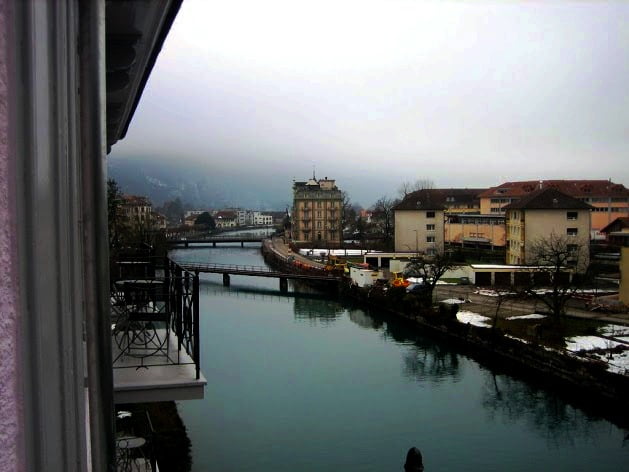 After some rest we headed out to explore the city. We wanted to visit the St. Beatus Caves – one kilometre of lit limestone caves with stalagmites, but dropped the idea as it was a very cold day. Later we took a train towards Grindelwald the door to the highest mountain peak in Europe. It took us 40 minutes to reach Grindelwald, a snow capped village on the foothill of big mountains. There were ski resorts, hotels, a few pubs, some odd shops selling souvenirs and horse pulled carriages taking people around. The village had an old-world charm that is unforgettable. The train journey itself was mesmerizing with tiny villages appearing after intervals, snowmen built by locals, river flowing beside the train line, mossed-up wooden bridges and trees full of snowflakes – as I imagined, just out of Narnia. We went to the information centre and visited the local history museum. We had heard about Belvédère, one of the priciest hotels in that region located next to the station that has an outdoor salt water Jacuzzi. But we decided to give it a pass in that extreme weather. We walked from Grindelwald to Grund station which is a kilometer apart. On our way, we met smiling strangers; saw neatly cut and cleared snow, houses laden with snowflakes and their backyards full of knee deep snow. Alright! We indulged in a bit of snow ball throwing and tried to have a soft landing on the snow. And then, we realized that the walking shoes that we were wearing weren't right for snow laden tracks, especially when the snow had grease or petrol over it. I will not like to spill the beans on who had a great fall. We got back to Interlaken late evening.
25th December, Thursday: Interlaken Day 2 (Jungfarujoch)
Next day, we got up early and again took a train to Grindelwald. From Grindelwald, we took a train to Kleine Scheidegg. Kleine Scheidegg is the base camp from where visitors board Jungfraubahn, a cog wheel train service for the continuation of the journey to the highest railway station in Europe at Jungfraujoch. It is also a popular hub for skiing and sledging. When we reached Kleine Scheidegg station, we realized that we were about to experience the first snow storm of our lives. The sky was clouded. Sun played peek-a-boo for a while and then everything went from dark to devilish. Snowflakes with stormy wind felt like shrapnel. We huddled together in one corner of the station to escape the strong wind.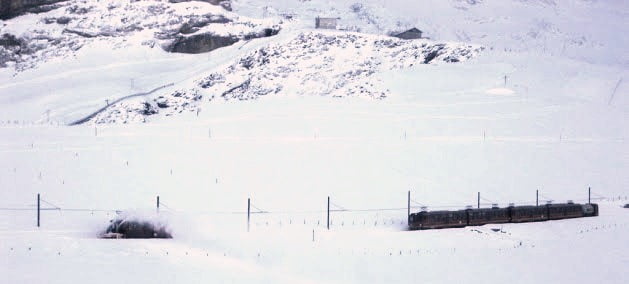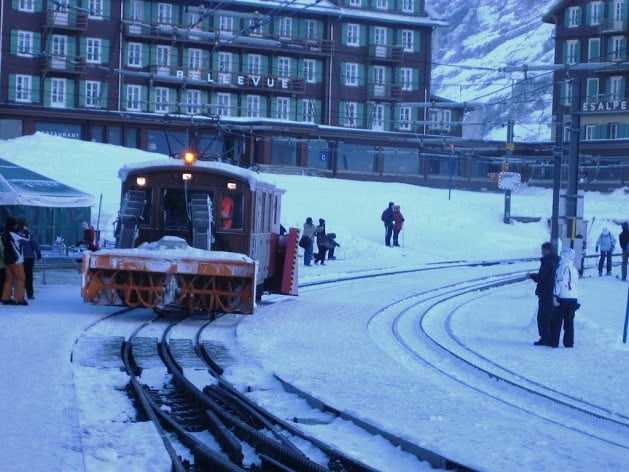 Eventually it subsided and we saw a silver lining in the cloud. No, I am not using a metaphor here. Within a few minutes, the weather became pleasant as if the storm never happened. And then we saw far away our little train emerging out of absolute white. A single engine cleared up the tracks for the train and very systematically it approached the station. We boarded the train and off we went to witness the highest peak in Europe. As the train graduated to a certain height we could see a fine distinction between the ether and earth, divided by grey clouds in the horizon.
The sun gleamed brightly; it blinded me for a while. We reached Jungfraujoch station and proceeded towards the attractions. We saw the Ice Palace, Sphinx observatory and Global Atmosphere Watch's atmospheric research station. Again, we experienced blizzard on the Sphinx deck. At -18 degrees, I felt my teeth chattering, my voice muffled, and my body shivering; even the facial muscles couldn't react to my expressions. I soothed my brittle nerves with some hot soup and potato fries. We decided to get back to -8 degrees in Kleine Scheidegg where another adventure waited for us. Inspired by our fellow travelers, (most of them were skiers), we decided to try sledging. Intermediate sledging involves use of plastic sledges which has a rope tied to your arm (so that you don't part ways before getting back the huge deposit).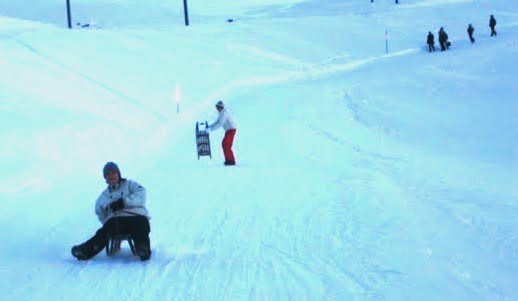 Also, few rules need to be followed – like controlling the speed with your feet, using beginners track and never getting in the way of professional skiers. Of course, one of us disregarded all the rules and almost jumped off to nothingness. After all the action, we decided to get back to our hotel via Lauterbrunnen. It was getting dark. We came across a village where people were using sleigh as local transport. Just imagine going to your friend's house on a sleigh and yelling where to park it.
26th December, Friday: Lucerne or Luzerne day 1
Next morning, we checked-out after breakfast and started walking towards the Interlaken west station. It was a beautiful walk as we saw river Aare in its full glory. Bright sun, melting snow, crystal clear water flowing below wooden bridges and fish huddled in one corner then moving away in harmony. We took a train from Interlaken to Lucerne. It took us roughly an hour. Train travel is a scenic marvel and absolutely comfortable. We checked-in to our city center hotel mid-morning. After lunch, we decided to go out and explore the city. The city has a vintage appeal with its half-timber structures across promenade and wooden bridges.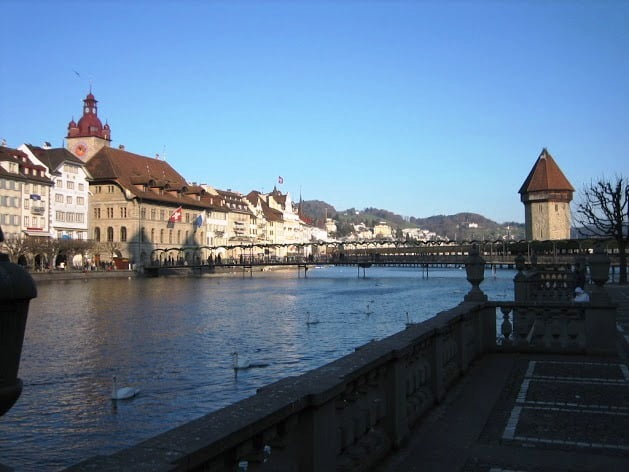 It still has wooden wheel-like structure to control flow of water on a dam built on river Reuss within the city. The walk across the promenade took us to dated shops, cafes, and eventually to remains of old town walls. I saw a domestic Yak for the first time. We also visited the twin needle towers of the Church of St. Leodegar and the Lion monument.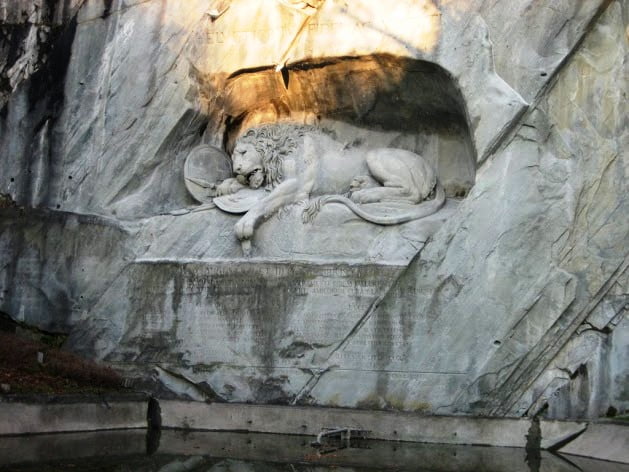 We explored the lake-side shops specializing in swiss watches and wooden music boxes. We got music boxes as souvenirs (not the wooden ones, they were expensive). Very unique and absolutely melodious! The sales person showed us the various types of music boxes available and how they differed from each other in producing symphonies of great musicians. Finally, we concluded the trip at a local cafe where we polished off big servings of hot chocolate and fish n chips as we were extremely hungry and tired with all the walking around. It was comforting in the biting cold.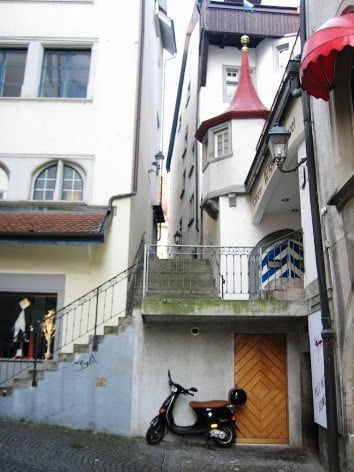 27th December, Saturday: Lucerne or Luzerne day 2 (Mt Titlis)
We started early morning for Engelberg, which is 40 minutes away by train from Lucerne. Engelberg has the Rotair Cableway or rotating cable car which takes you to Mt Titlis. Three different cable cars took us to the peak. The final one was Rotair. We boarded the rotating gondola which was packed with tourists from around the world. Once again, we were standing out in the crowd as we were not wearing any ski gear and equipment. The cable car gave us a 360 degree view of the glacier as it rotated once during the journey. Eventually we reached the peak.
There were a few souvenir shops and restaurants. And then we saw lots of snow once again in the bright sun. We both decided to make a small snowman of our own. The Titlis Walk and Glacier Cave were not opened yet. So we decided to take a ride on the Ice Flyer Chairlift to the return point i.e. the Glacier Park. Because of the weather condition, we found the chairlift empty, with no mad rush or serpentine queue. Just found a few skiers with ruddy faces trying to smile at us. It's an open air chairlift that takes you across the glacier where you can witness the glacier crevasses at more than 3'000 meters. It was spectacular and very adventurous. I felt my jaw froze and I couldn't utter a word. Fingers were numb even with Sherpa gloves and were unable to move to use camera functions. Raj looked crimson and then turned purple because of the extreme cold. We got down at The Titlis Glacier Park and found that it was closed. There was complete silence with an occasional swish-swoosh of the approaching skiers. It was getting dark so we decided to get back to the peak and again descend towards Engelberg. We took a train back to Lucerne.
28th December, Sunday: Zurich
Zurich the biggest city of Switzerland is an hour away from Lucerne by train. The journey was scenic and beautiful with lakes, tunnels and wooden houses at a distance. We reached the Zurich station which has underground shopping area and eating joints. After getting a city map we took a bus to our hotel. Zurich is like a regular city, very busy, good for conventions and business activities. We saw the FIFA headquarters and a museum. We did see buildings of historical importance which were an architectural delight like church Fraumünster, Grossmünster, Rathaus and riverside promenade. We went around the market which was half closed as it was a Sunday. Saw frozen fountains where the dripping water had formed into icicles. Bless my ignorance, but this is where I realized that Bata is a multinational company. And Raj almost named our daughter Bonita as it rhymed with my name. (She didn't exist then). We decided to retire early and rest at our hotel as we were exhausted and very cold.
29th December, Monday: Bern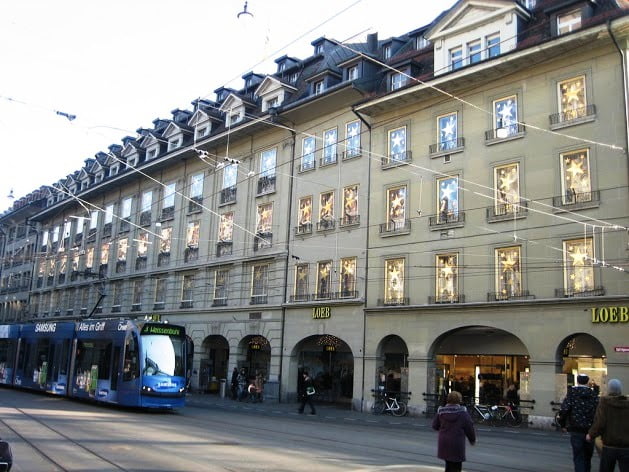 After a good night's sleep, we were ready to go to Bern, the capital of Switzerland. Took a double-decker train to Bern which is one and a half hours away from Zurich. We took a tram service to reach our hotel, Seminar. We went out immediately to see the attractions. It is a small city as we could walk down to most of the attractions or take a tram service to our destination.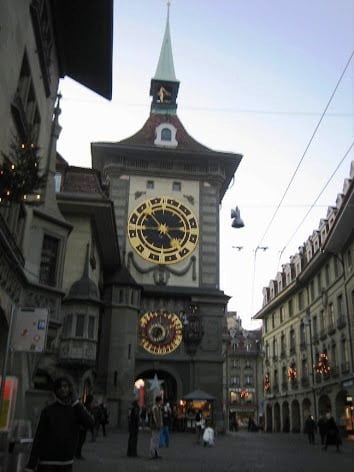 Very beautiful city with medieval structures, buildings, huge wall clocks, cobbled pavements and conical roofed houses. It seemed as if nothing had changed over the past 500 years. It has one of the longest shopping promenade with cafes and dining options of all kinds. We saw the parliament building located right in the heart of the city and then visited Muenster Cathedral, Tower Clock- an ornate astronomical calendar clock made in 1530 and the old town full of fountains. The day went by in a jiffy as we were mesmerized by the beauty of this old city. We got back to our hotel, late evening. I really miss the shampoo at hotel Seminar. One wash made my hair silky smooth with natural shine, as if I got a hair rebonding done the previous day. I wish I could get a similar product here.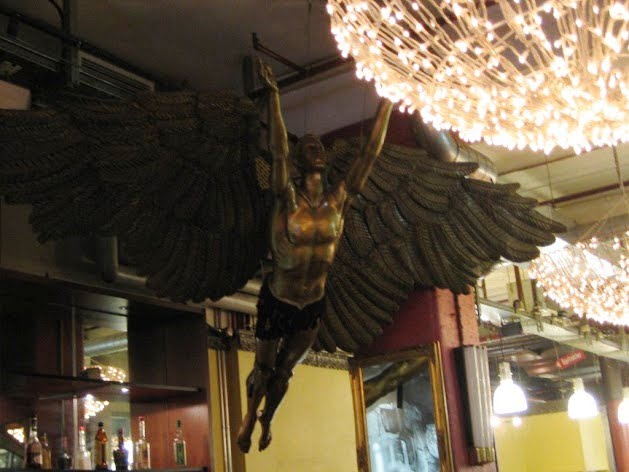 30th December, Tuesday: Geneva – London
After a lazy morning, we took a train to Geneva. Geneva was engulfed in biting cold waves as it was raining when we reached. We took a flight from Geneva airport and reached London the same evening. While landing, we got a bird's eye view of the London Millennium Dome which looked pretty interesting with evening lights. Our journey concluded but I still feel excited remembering those moments spent in Switzerland – as some say – the heaven on earth.