Are you looking for an amazing go karting Mumbai experience?
My son tried go karting in Mumbai at Indikarting Wadala. Yes, it came as a surprise to me when the booking manager at go karting track, Indikarting Mumbai, iLand Ajmera, told me that this sport can be undertaken by anyone between the age of 4 to 60 who are healthy and want to experience the thrill of racing. At first I was a little skeptical to allow my 4 year old son to participate, but then I saw a six year old speeding on his tiny, fully functional motor bike and a junior biking champion Raheesh Khatri doing laps on the tracks on his sports bike.
Raheesh Khatri, junior motocross racer at Indikarting, go karting Mumbai
He was in his complete motocross gear. He told me that he started to race when he was 6 years old. His father is also a renowned motocross racer. I thought to myself, when these kids can start early, then why not introduce my son to this sport. Like all the boys, he loves wheels. Be it cars, bikes, trucks, airplanes, the little one takes a keen interest. Therefore, we decided to let him try go-karting. Of course, with the required safety gear. Here is his experience. He naturally picked up driving across the tracks within minutes.
Process of registration at Indikarting, go karting Mumbai
First, they make you sign an agreement where you undertake whole and sole responsibility of all the risks of the motor sport and cannot hold India Karting liable in anyway. They charge Rs 500 for a 3 minute race. Students must carry their IDs to get discount on the price. Once you make a payment, they give you a token number and ask you to wait outside the tracks.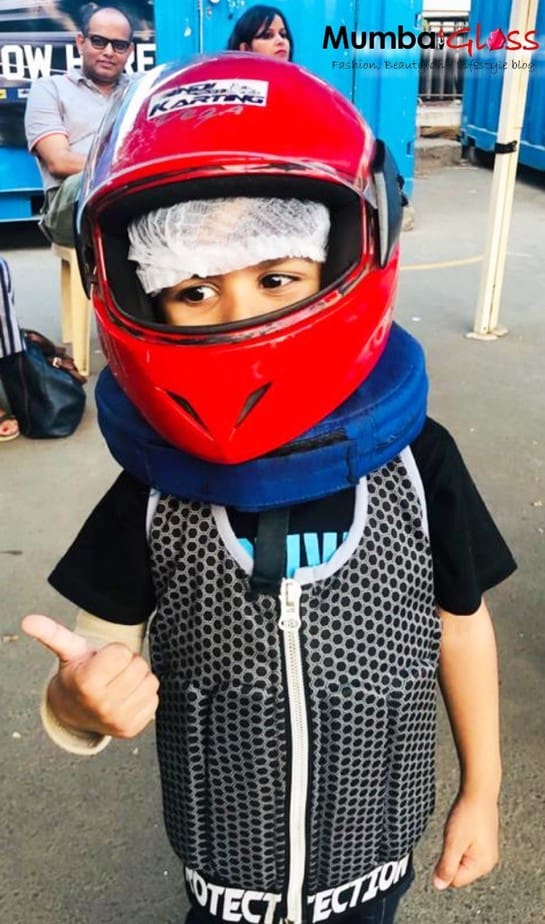 Safety gear provided at Indikarting, go karting Mumbai
Before your turn comes, they provide you with the safety gear. My son was provided with an arm band, hair cap, neck support, back support jacket and a helmet. Raheesh adjusted the neck support for him.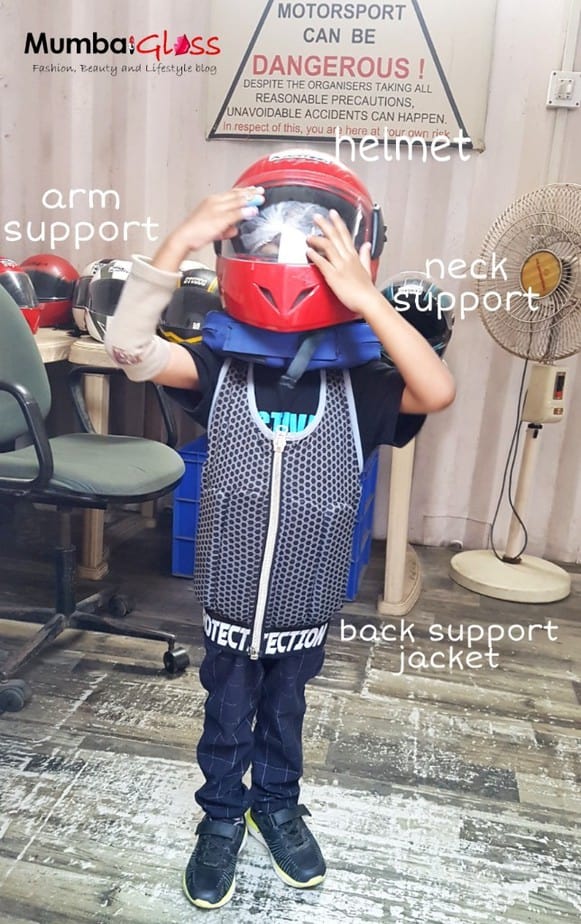 Instructions given for go karting to my son at Indikarting Mumbai
Once his turn came, he was quickly made to sit in a small kart and given instructions about how to accelerate and stop. Once the tracks were empty he was asked to go. Kids this young get a solo ride on the tracks for safety reasons. He took a few seconds to get a hang of his kart and the tracks. Post that it was a smooth ride for him. The attendants were constantly monitoring him across the track and helping him whenever he lost control.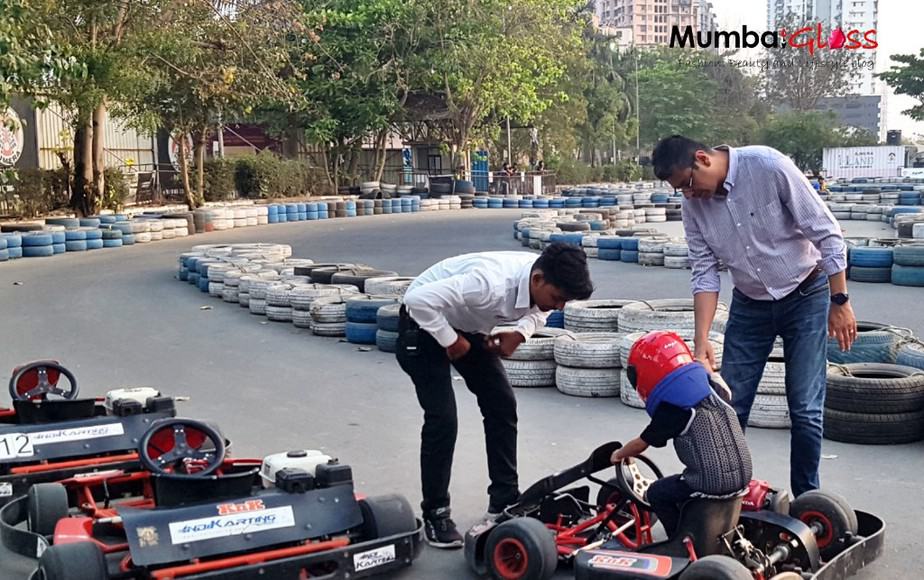 A happy child after go karting at Indikarting Mumbai
Post his ride, he came out like a winner. All excited and happy. He had experienced his mobile phone racing game in real life. He was super thrilled to tell us what he had done. I was so proud of my little boy. Not only him, even my 8 year old daughter and their 11 year old cousin enjoyed go karting in Mumbai. They were racing with their fathers on the same track and wore complete safety gear while on the karts. Indikarting Mumbai, the one in Wadala is an open air track, so we were happy that we went there during sunset. Else, it would have been very hot for the children.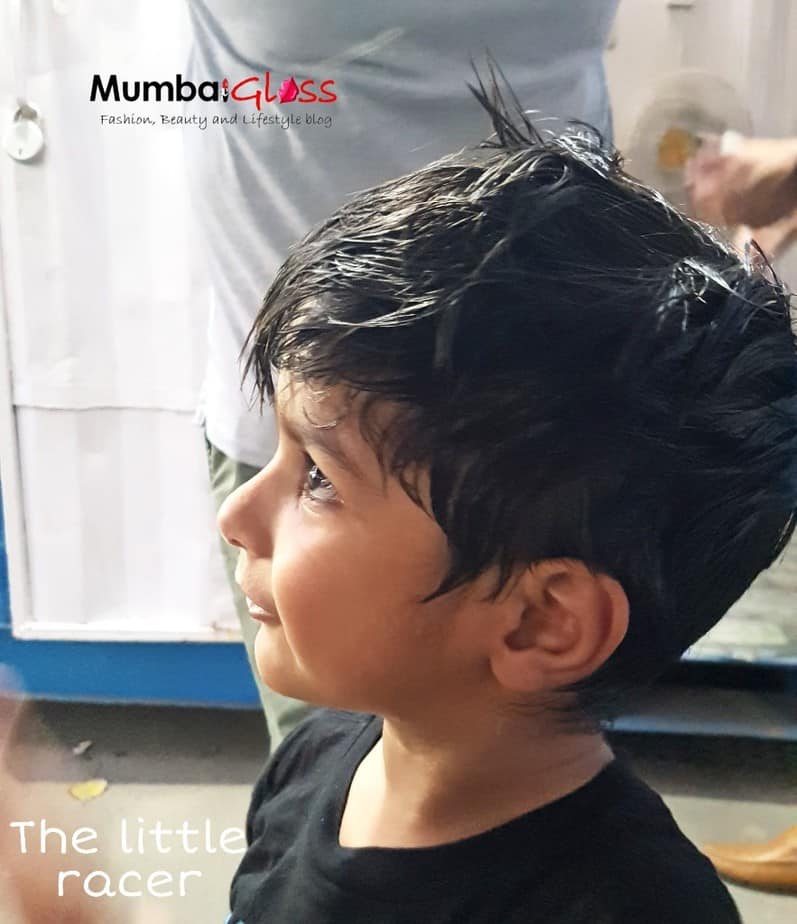 My son was crimson and completely drenched in sweat due to the heat and wearing helmet, jacket, etc. in the heat. But nevertheless, he was enthralled by his evening at Indikarting at iLand Ajmera, in Wadala. It was pre-lockdown and plans to go there post lockdown again.
Have you ever tried go-karting? If yes, how old were you when you got behind your kart wheels. Leave your answers in the comments section and please avoid spam as it doesn't get approved.
You can subscribe to the blog for more such articles.