Are you planning a day trip to Neemrana Fort Palace from Gurgaon?
Neemrana Fort Palace in Rajasthan is just 2 hours drive from Gurugram (erstwhile Gurgaon) and on my last visit to Gurugram I decided to visit this famous tourist destination.

About Neemrana Fort Palace
This fort turned heritage hotel was built in 1464.
Neemrana Fort Palace became the third capital of the descendants of Prithviraj Chauhan III, who had fled Delhi in 1192 after he was vanquished in battle by Muhammad Ghori. The royal affluence is evident in the restored ruins of this 15th century palace turned hotel.
This is a small palace fort which has now been turned into a 72 rooms and suites tourist attraction. It is also open to walk-in visitors.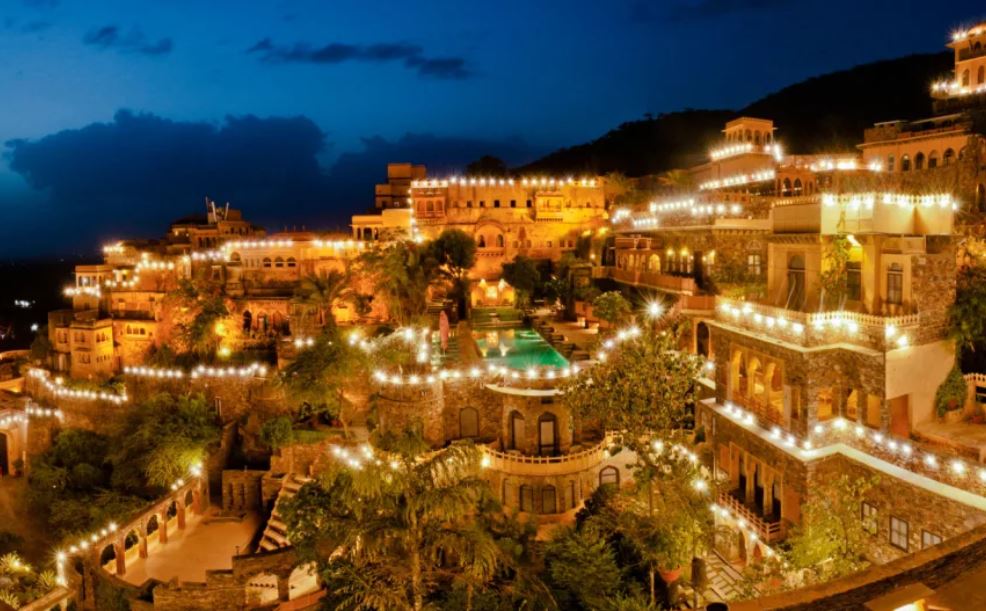 Many Bollywood movies like Qila, Major Saab, Dil Se and more had been shot at The Neemrana Fort-Palace.
Was it worth my time? Let's find out.
How to reach Neemrana Fort Palace from Gurugram?
You will need a car or a private taxi that can take you to the Neemrana Fort Palace. It is 90 kms away from old Gurugram and usually takes around 2 hours to reach the palace. You will need to drive down on Delhi-Jaipur Highway, NH8, follow NH 48 till Janaksinghpura and then take SH 111 A to Neemrana Fort Road.
We started from Gurugram around 9 am and reached the palace by 11 AM. The drive was beautiful with mustard fields and paddy fields on the way.
Parking at Neemrana Fort Palace
There is an open parking for vehicles outside the palace. It becomes full on most of the weekends as many tourists decide to visit the Neemrana Fort Palace.
Ticket price and timing for Neemrana Fort Palace
Upon reaching we bought tickets at the palace gate and went inside to see Neemrana Fort. Our ticket included entry and lunch per person.
On a weekday, the entry ticket is around Rs 1,700 between 9:00 AM and 2:30 PM, which includes a delicious lunch buffet (INR 1,416) and entry (INR 284) in the package.
On a weekend, Neemrana Fort Palace fees is for Rs 2,000 which includes your entry ticket for Rs 584 & lunch for Rs 1,416 between 12:00 PM to 2:30 PM.
The timings to visit the fort palace are between 9 AM to 3 PM for a day trip.
Ambience at Neemrana Fort Palace
The fort is very peaceful.
The fort has lot of steep climbing and stairs. So people who are unfit or disabled will not be able to access the hotel grounds.
The fort is divided into sections where outsiders are not allowed. But still we got to see a large portion of the restored property.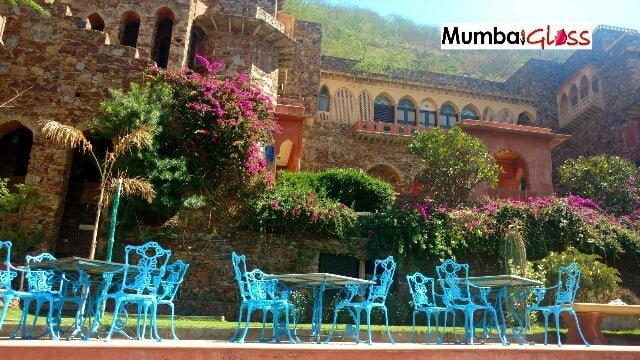 The management has retained the vintage vibe of the palace. Moss laden walls, sooted chimneys, chipped wall paintings, old iron furniture in the garden, rocky stairs, give the hotel its raw appeal.
The palace hotel is small comparatively and is surrounded by a village. You can get a birds eye view of its surroundings perched high on its jharokhas.
Best time to visit Neemrana Fort Palace
You should visit the palace between October to February. Cooler months are better.
The Neemrana Fort Palace is full of natural light and breeze. It was pleasant walking around the open area in March afternoon.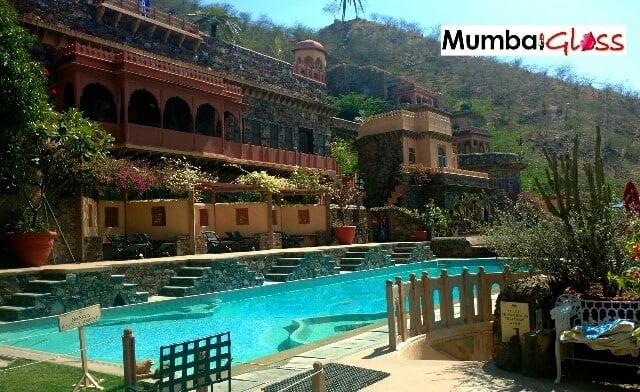 Jalgiri Mahal restaurant at Neemrana Fort Palace
We roamed around the palace and were done within an hour.
By 12 pm we were sitting in the Mukut Bagh waiting for the restaurant Jalgiri Mahal to open.
The restaurant opens by 12:30 pm and closes by 3:00 pm. Jalgiri Mahal is next to Raj Kund (swimming pool) and is a beautiful restaurant with vintage furniture and chandeliers.
The staff is alert and helpful. Though, the food was average.
The menu consisted of soups, main course and dessert (no starters). It had both popular Indian and Asian options. But the large scale cooking was definitely half hearted.
The drinks and water were charged separately. We finished our meal and left for Gurugram by 2 pm. We were home by 4 pm.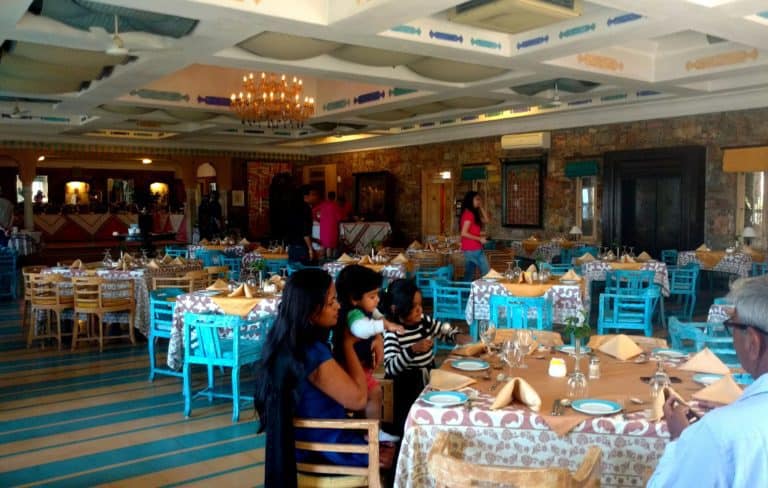 Activities at Neemrana Fort Palace
The hotel has an Ayurvedic spa as well as an old amphitheater.
If you are an adrenaline junkie then you can try zip-lining over the village and the fort giving you a much better view from the top.
You can take a ride around the village seated in a vintage car for Rs 1300. Your visit can be as adventurous as you like or as peaceful as it can get here.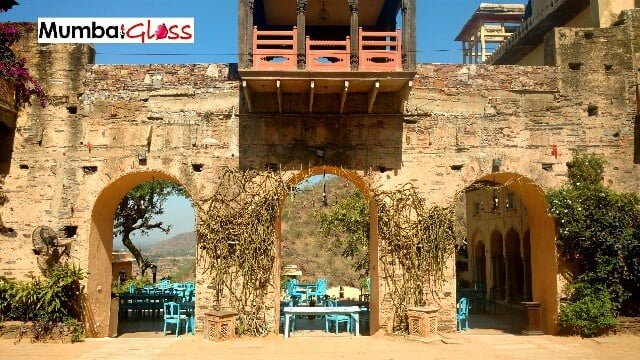 Walk around the property. My favourite part of the property was the Holi Kund. It is a beautiful setting with blue garden furniture adorns a small pond in the middle of a porch. The walls are naturally beautified with creepers and the plants and trees in the compound add to its natural beauty.
View from Mukut Bagh and public area just at the entrance is great. You get a panoramic view of the village as well as the hotel from these points.
It was as beautiful as a postcard.
Better experience can be created
They can do better in terms of adding bonus features in the ticket price like may be adding a cultural performance or showing a video about its history and how it was developed from the ruins into a beautiful hotel.
They definitely need to improve the food quality.
You can also book rooms with them to experience the royal life.
You can book rooms at Neemrana Fort Palace here.
Hope this post was helpful. Please let me know if I should add any additional information, in the comments below.
You can read about road trip from Mumbai to Gurugram via Rajasthan here.
For more such articles, please subscribe to the blog.