In India, women love to wear jewellery. Few of them love to style their cotton sarees and suits with silver jewellery. And they are always on the look out for brands that sell silver jewellery online. After all most of us like the convenience of online shopping. Whenever we talk about buying silver jewellery, we turn to more famous brands like Amrapali, Jaypore, Sangeeta Boochra, Sumit Sawhney, etc. No doubts, they have the most exclusive collection. But there are more brands which have some extraordinary designs and are much more affordable. So without much ado, let me list these brands that I have gathered looking at their unique patterns and style.
1. Silver jewellery from Ahilya Jewels
Vidya Balan is a regular customer of Ahilya Jewels. So is Candice Pinto, Lisa Ray, Shruti Hasan and others. Owner Kajal Kapadia Jain , always adored Silver Jewellery – rummaging through her mother's treasure chest, finding old pieces and creating something out of them. She continued her passion of creating traditional silver jewellery through her brand Ahilya. Each piece is individually Hallmarked and comes along with a BIS-Hallmarking certificate guaranteeing 92.5 % silver. Ahilya is the only brand that does this in India. They have some drool worthy collection.
View this post on Instagram
2. Silver jewellery from Shaya by Caratlane
Shaya has some wonderful designs. From modern and delicate to traditional and antique, they cater to all. Unique jooda pins, ear cuffs, toe rings to elaborate rani haars, you will find everything in stamped 925 Oxidised Silver. A piece of blackened or oxidized silver is true sterling silver, but it's surface has been intentionally darkened through chemical process. It is just a surface treatment and does not change the internal color or properties of the metal. Moreover, these are handcrafted by the silversmiths so these are unique. There silver is cadmium free which is a big relief for people who are concerned about purity.
3. Silver jewellery by Silberuh
If you are like me who love gemstones and simple designs then this brand is like a candy shop for you. You will find tiny mid rings, thumb rings, ear climbers, faceted gemstone rings, studs, delicate danglers made in handcrafted .925 pure silver. The designs are light weight, young and trendy. Owned by Ruhi Mehta, who has studied design in the UK, it is no surprise that the designs are intended for both Indian and international clients. I totally love this brand and own quite a few silver jewellery from them.
4. Silver jewellery by Flying Fish accessories
Flying Fish Accessories have some amazing nose pin/ring collection. Not only that, you will find brooches, hair pins, toe adornments and massive statement rings. Owned by Nitika Bose, a NIFT graduate, this brand has a bohemian vibe. Colorful enameled drop earrings, to gold plated silver jewellery with gemstones and pearls, Nitika has kept her designs fresh and unique. Every piece is a conversation starter.
5. Silver jewellery by Bauble Love
I was totally intrigued by the brand Bauble Love who source silver jewellery from the artisans across the country, especially tribal women. You will find Lambhani, Afgani and Purani style silver jewellery on their online store. If you are looking for vintage silver jewellery, this is where you go. Apart from silver, they also sell jewellery in brass and glass which is affordable but no less beautiful than their silver jewellery. Owned by Akanksha Chauhan, this brand has many unique patterns that will stand out in the crowd.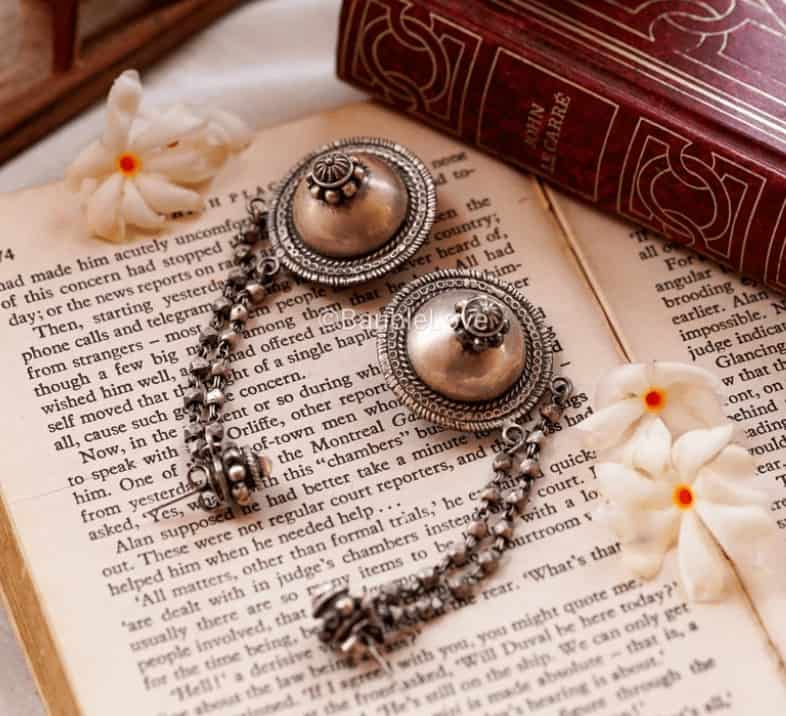 6. Silver jewellery from Shyle by Astha
Shyle as a brand is both innovative and enamoring, creating sterling silver jewellery. The beauty of the silver is translated into unique designs like the telephone ear cuff (btw the dial rotates) or kettle finger ring. She also designs massive danglers and statement rings as big as the saucers. May be, I am exaggerating but her store has some amazing stuff. From bird cage jhumkas, to septum rings, to beautiful ear cuffs. I am in love with the variety of ear cuffs she has in her store.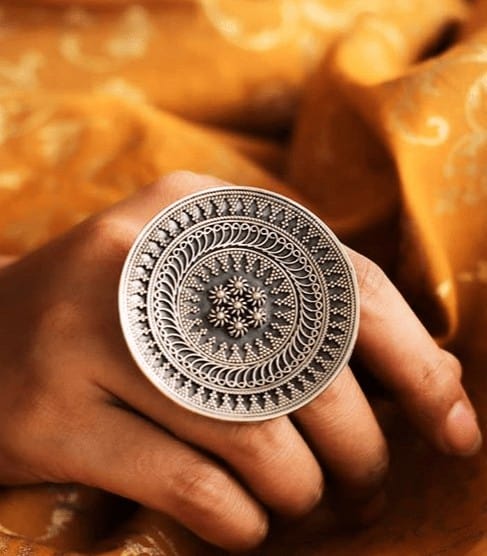 7. Silver jewellery from Moha by Geetanjali
Geetanjali is a well known brand in the gold jewellery category. But not many know that they also create beautiful jewellery in silver under the brand name Moha. From traditional jewellery like Bugadi (jewellery worn at the upper rim of the ear) to beautiful modern earrings. They have a massive collection that you can view and order online.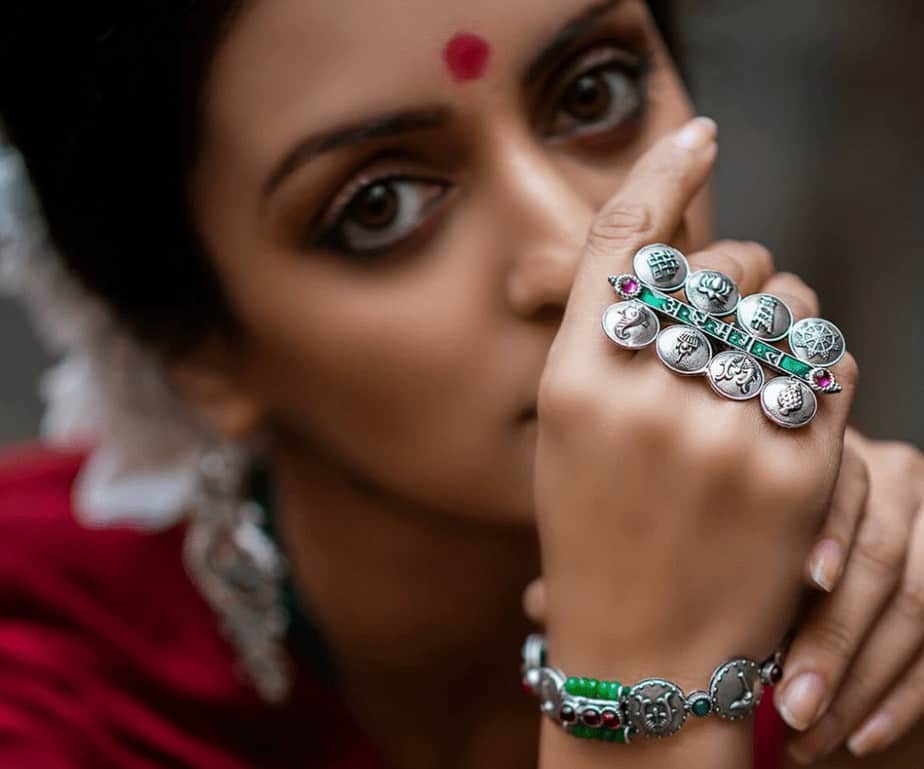 These are a few brands from whom you can order online easily. They promise great design and good quality. And don't worry this post has not been sponsored by any of these brands. I buy from a few myself and therefore thought of sharing this information with you after thorough research and shortlisting.
If you would like to list any other brands in this list, do leave your suggestions in the comments section below. And if you like my posts, then do subscribe to my blog.
Please subscribe to my blog to get more articles like this.