Are you planning a day trip to Lake Como from Milan? Then read on.
Milan, the fashion capital of Italy was always on my bucket list. And when I heard that I could do a day trip to Lake Como from Milan, I was more than happy.
This tourist location has been made popular by the industrialists and celebrities like the Ambani's and Priyanka Chopra.
Many tourists complain that there is not much to see in and around the city of Milan. But it is not true.
Apart from the 'The Last Supper' by Leonardo Da Vinci, there are many interesting things to explore in Milan. But the highlight of the trip was our visit to a small town called Bellagio on Lake Como which is an hour away from Milan.
Where is Lake Como?
Lake Como is a Y shaped lake surrounded by massive and beautiful villas of the rich and the famous. It is located at the foothills of the Alps and has Italy's most scenic destinations and old towns like Bellagio, Mennagio and Varrena. You can spend the day wandering in the cobbled streets, narrow lanes, churches, beautifully landscaped gardens, shopping and dinning at the restaurants beside the lake.
How to reach Lake Como from Milan?
To reach Lake Como, you will have to take a train from Milan to Varrena Esino.

I travelled with my 5-year old daughter on a bright summer day to Varrena in a train and then to Bellagio in a ferry. This trip will be listed as one of the best mother-daughter travel stories in my book of memories.
We were staying next to a hotel called Michelangelo near Milan Centrale. It is the biggest train station in Milan that easily connects to other cities and the underground Metro. They have self service booking counters and it is easy to book a ticket from those counters. I decided to reach Varenna from Milan and booked my train tickets in advance online. The return trip costs for both me and my daughter was 21 euros. We took an hour to reach Varenna (Esino) from Milan. The small station at Varenna Esino has just two train lines and limited time for a train back to Milan.
How to reach Bellagio from Varrena?
To reach Bellagio from Varenna you will have to take a ferry from the Varrena bank. Varenna bank is a walking distance from the train station. From Varenna you have to take a 15 minutes ferry that takes you to Bellagio. The ticket costs us 7 euro per person.
Bellagio is also called the Pearl of Lake Como as it is the most beautiful town in that region. The ferry leaves every 15 to 20 minutes from Varenna to Bellagio and you can purchase tickets at the counter right on the bank. If you wish to look at the ferry schedule to plan your visit better then go to this link. You can also call them on 0039031579211 for more details.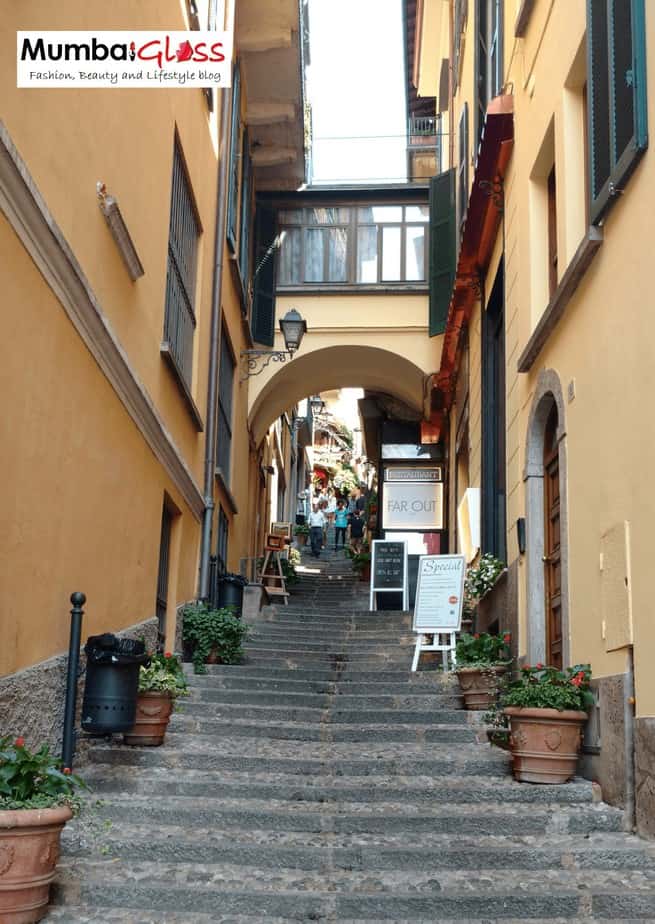 My daughter was thrilled during the ferry ride. I suggest you to keep your cameras ready as the ferry leaves the bank. You will get beautiful views of the Varenna town while leaving the bank. Colorful houses dot the hilly town. Tall trees waving you goodbye. The mammoth hill at the background makes you wonder if it is the end of the world.
During the ferry ride, the imagination runs wild as you witness blue waters splashing against the ferry making a beautiful sound. The breeze is cool and strong. We reached Bellagio in no time. At the very first sight, I fell in love with the town.
Varrena and Bellagio are the most beautiful towns on Lake Como and a must visit for all.
How is Lake Como and the beautiful towns of Bellagio and Varrena?
Varrena
Varenna has the untouched raw beauty. It is a hilly town with beautiful villas.
If you like trekking, then you can walk up the hill from the station through pedestrian pathways.
Places of interest in Varenna are Church of San Giorgio and Castello di Vezio. There are small pathways created for pedestrians to go up the hill top or the square near Church of San Giorgio.
The Church of San Giorgio was built over a temple, therefore, it has a lot of historical value. Though I would advise to take a cab from the station to reach the top, if you are not used to walking uphill. It can be very exhausting. It is only a 10 minutes ride. But don't miss it as you will get some of the best views of Lake Como from the top.
You can also visit Castello di Vezio, an 11 century castle, if you have more time. The castle is open from 10 am to 6 pm.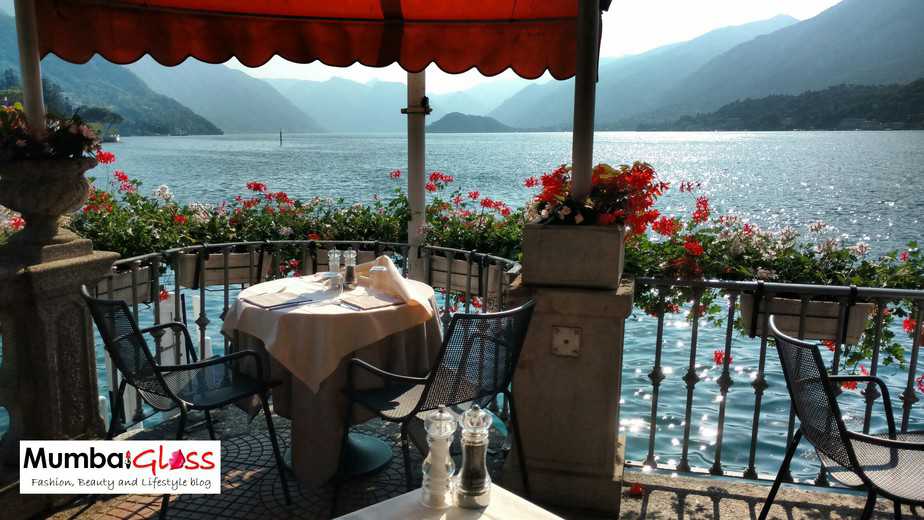 Bellagio
Bellagio has life. You see happy tourists lazing around the lake side restaurants eating and drinking the finest Italian food and wine.
Gelato shops are thronged by people looking for a sweet treat and respite from heat. We went up the stairs to reach the San Giacomo church square. The stairs are full of shops from where you can buy local goods like pasta, bruschetta toppings, lemoncello, glass figurines, lace, woven mats, leather articles, jewelry, etc.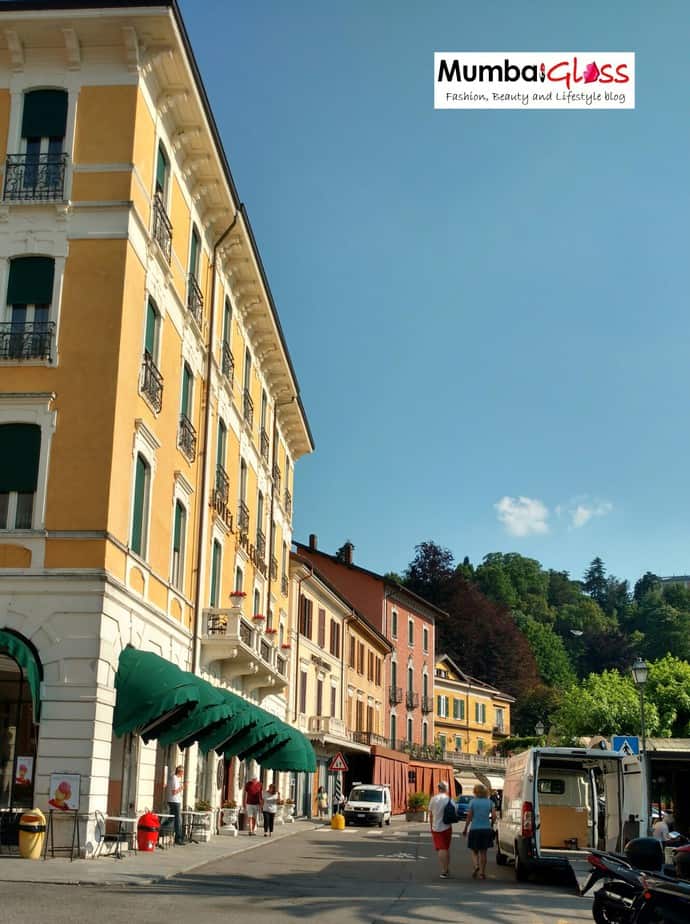 Also, walked along the lake side promenade which offers some amazing views of the town as well as the lake.
Garden Di Villa Melzi is a must visit if you love greenery and landscaping. There is a fee to enter the garden but it is worth every penny. It is free for the kids. The day just went by so quickly. Though the summer heat did make us a little uncomfortable but overall it was fun and a wonderful experience.
We tried pasta and gelato and it was so fulfilling to the foodie in me. The best part was my daughter walked for almost 20 km with me throughout the day, without complaining! What else could I ask for?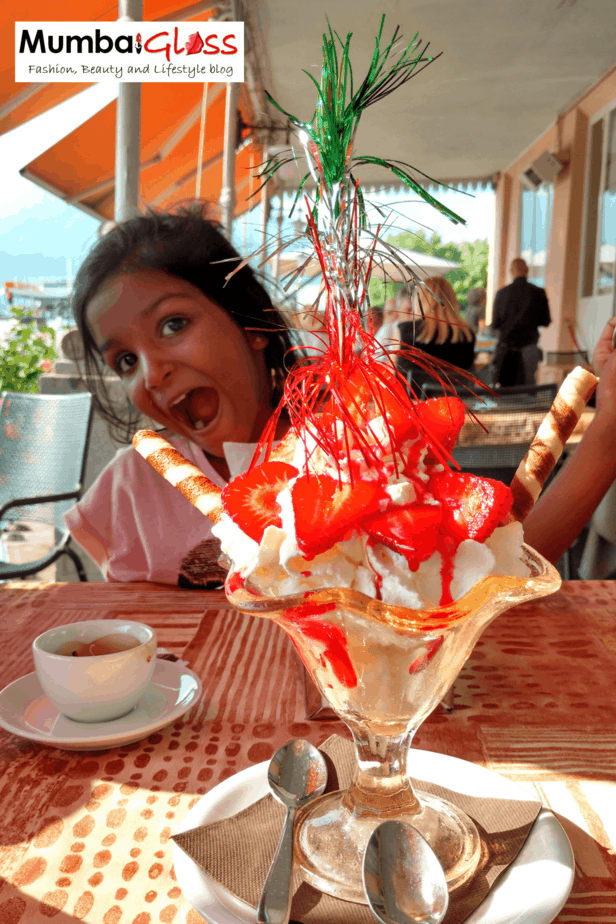 Recommendation
From Milan go to Varrena and from their Bellagio. Do not try to cover the city of Como. It will be too much to cover in a day. The most picturesque and Instagram worthy place is Bellagio. And it is easy to travel from Varenna to Bellagio.
Also, pay attention to your train timings. As it is a small station, not many trains stop by. I had to run with my 5 year old daughter from the ferry spot in Varenna to the train station as I would have missed the train. Plan the ferry timings accordingly.
Try to go in cooler months. We went in May and it was very hot. Though, their peak season start from June till September.
Did you like my post? Have you visited Lake Como? Please leave your suggestions in the comments section.
You can read about the train travel from Amsterdam to Salzburg via Munich here. You can also check list of places to visit in Amsterdam.
Buy travel gear for kids here.
Buy travel bags, adapter, neck pillow, and other travel essentials here.
*Some links included in this post might be affiliate links. If you purchase a product through one of them, I will receive a commission (at no additional cost to you). I truly appreciate your support of my blog.
For more such articles, please subscribe to the blog.