Planning a road trip from Mumbai to Delhi?
Driver and Photographer: Rajosik Banerjee;  Story teller and Navigator: Parimita Chakravorty
Human mind is capable of extreme feats; it derives a sense of pleasure and achievement in adventures like sky diving, bounty hunting or may be a road trip. The very first reaction of all our family, friends and well-wishers who heard that we were doing a road trip from Mumbai to Delhi via Rajasthan was, "R u guys crazy?" "YES!" we knew we are crazy enough to test our mettle on the roads of India. Not many are like us, but a few have already proven that the road trips are enriching experiences that leave a lifelong mark on your psyche.
This trip has been a test of our companionship. As a couple we feel more attuned and in sync with each other. Sometimes the roads were rough, sometimes scary and other times beautiful. I just got to know my partner better. On rough roads, he was patient and vigilant. Night driving really gets your goat. In such situations, he never left his presence of mind, watchful eyes and focus from the road. The only aim was to reach the destination, safe and sound. I being the navigator took a few bad decisions and the rest good. But we both suffered or enjoyed, together! And this togetherness was the essence of this road trip.
Before I start with the details, a few observations: Truck drivers aren't all bad (especially before you reach Haryana). They try to help you out on a highway and are camera friendly. They are the lifeline of our country, transporting all the necessary and perishable goods on time. Out of thousands of truck drivers whom we met on our way, only two were 'ass***' who tried to run over our car.
1. People look at women drivers like aliens except in Jodhpur where ladies in lehngas, suits and even sarees were seen riding a bike or driving a car. Jodhpur looks progressive. It's a different issue that they still had to cover their heads.
2. When extremely hungry, even onion rings with lemon juice and some salt feels like a delicacy. Dhaba food is tastier than posh restaurants.
3. GPS navigation cannot be trusted all the time, though Google-map was our humsafar during the entire trip. It might be wrong suggesting routes in the middle of nowhere.
4. Sign language is the universal language. We might not understand the local languages but still asked for directions from the local people. Many didn't know Hindi but were happy to help us in their own language.
5. Don't drink and drive. That applies to water as well. Otherwise all your time will go in finding a suitable place to relieve yourself. This is an issue of the woman kind. Men have urinals wherever they please. Clean toilets are rare.
6. State Highways are deceiving. They might become so narrow at a few places that you start doubting if you would end up in someone's courtyard.
7. Shortcuts aren't smooth. Be it roads or life.
8. It was awkward to ask for 'Shrinagar' in Rajasthan. Yes, we did travel over 'Shrinagar' while going to Chittorgarh.
9. Hiring a guide is not a bad idea, only if you are interested in history.
Details:
Initial route plan for this road trip was Mumbai-Udaipur-Jodhpur-Pushkar-Gurgaon-Chittorgarh-Mumbai. Expected distance: 3000 kms. Time: 9 days.
30th October, Saturday: Raj has a busy day with client meetings and presentations. I did all the packing for the trip so that we could leave early morning the next day. Raj calls up at 5 pm and says he will be home soon and then we can leave for the trip. In a jiffy, everything is put into order and we leave around 6:30 pm on Saturday itself.
Mumbai traffic held us back for over two hours before we could hit the highway. Left Mumbai by 9 pm and drove till 2 am. Covered 320 kms that day. Raj was all drained out because of the long day and needed rest. We took a halt at Swagat Guest house, a motel near the toll gate just after crossing Surat on the way towards Bharuch. It is a decent place to stay for Rs 650 for an AC room.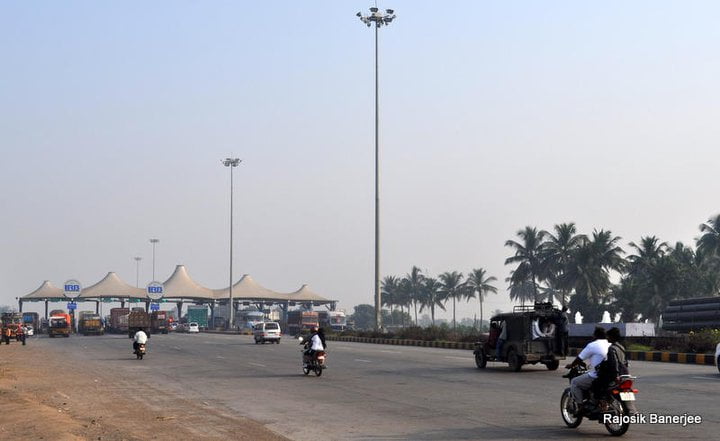 31st October, Sunday: We woke up early morning, had breakfast and left for Udaipur at 9am. I started driving from the Surat toll gate towards Udaipur on NH8. Unfortunately, we got stuck in a huge traffic near Bharuch. A narrow bridge merges three lane traffic into one, creating a bottle neck. Raj clicked a few pictures of the truck drivers and then one of them suggested that we should take the muddy side road if we wanted to get out of the jam before sunset.
1.5 hours wasted in the jam, we decide to do some mud cruising. Raj took over. He couldn't trust me with such stuff with his car. After crossing Bharuch, we decided to take the shortest route to Udaipur. It is SH 59 via Modasa-kapadganj-Shyamalji. Nh8 seemed longer via Ahmedabad and as we had already lost time in the jam, so decided to take a short cut.
I saw a route going to Modasa, surprisingly nobody looked that way. All the cars zoomed past that road. Raj and me decided to take the road less travelled. And the experience was a complete tear breaker. We met a corrupt policewala who tried to bully us into shelling out money for no good reason. Finally we moved on. And the road got bumpier with each passing minute. We moved at a snail's pace. The car's base was getting scratched and thumped at every move.
We were just cursing our fate for taking this short cut. Couldn't go back, as the road that we left wasn't smooth either. We were stuck in the middle of nowhere, trying to drive through a 'shattered potholed once upon a time road'. We used to get elated if we found a patch of smooth surface in between those craters. Raj was worried that in this situation if the car broke down then all our trip plans would be stalled.
Slowly, steadily and grumblingly…Raj pulled ahead to a smoother route. We again lost about an hour in this. On our way, we passed by Shyamalji, and saw boards indicating "Tropic of Cancer passes by here". We couldn't take a picture as we didn't have the time to stop.
Before entering Udaipur we saw a huge jam as a truck had overturned in the middle of the road. All the traffic was diverted on the opposite (coming) route. It was a complete chaos. We got stuck in a jam for a very long time. All of a sudden the closed (going) route opened and the other side traffic cleared up faster than the road we were stuck in.
We couldn't move ahead or take any other alternative turn as it was a slope and hilly two way road. All of a sudden Raj skilfully took an about turn and drove back to a point where we could enter the correct road. We zoom passed all the others who were still stuck there, waiting for the mess to clear up. We entered Udaipur at 8 pm. We covered approximately 500 kms that day.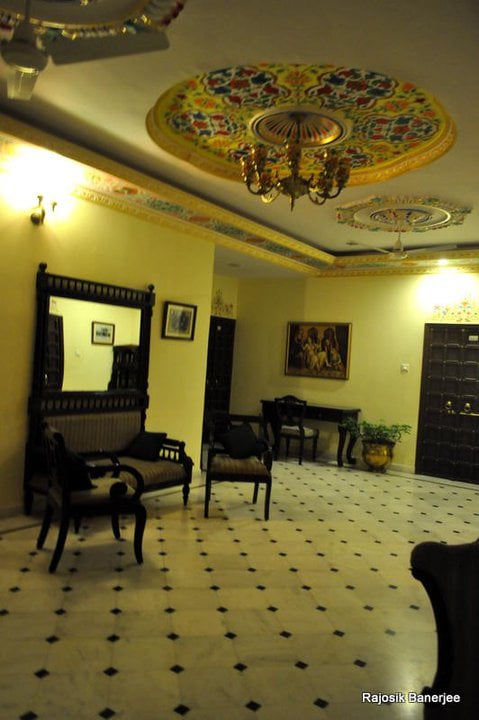 We stayed at Hotel Inderprakash. It is a quaint little place beside Lake Fateh sagar. Beautiful and vintage decor made us feel like a royalty. We forgot about all the problems faced during the travel and started enjoying the comforts. Had a sumptuous dinner and a quite walk beside the lake. The city was lit up on the occasion of Diwali. It felt serene.
1st November, Monday: We looked around the city, stopping over at all the major city points. Visited Vintage car collection of the king. We loved the cars and various vintage models, especially Buick. The Vintage car tour guide was very knowledgeable person. He told us the history behind Rolls Royce logo. Rolls and Royce were two partners. The logo had RR in red till both of them were alive. In 1910, one of the partners's died, so the logo got one red and one black R. When the other partner expired in 1933, since then the colour of both the Rs has become black and it continues still.
We hired a guide who was more interested to take us to semi-precious stone and antique shops. So beware! We took a boat ride at Lake Pichola and admired the beauty of Lake Palace and Udaivilas. Udaivilas hotel is grand and reminds of some fairytale. The city palace is moderately big as most of it has been converted into hotel.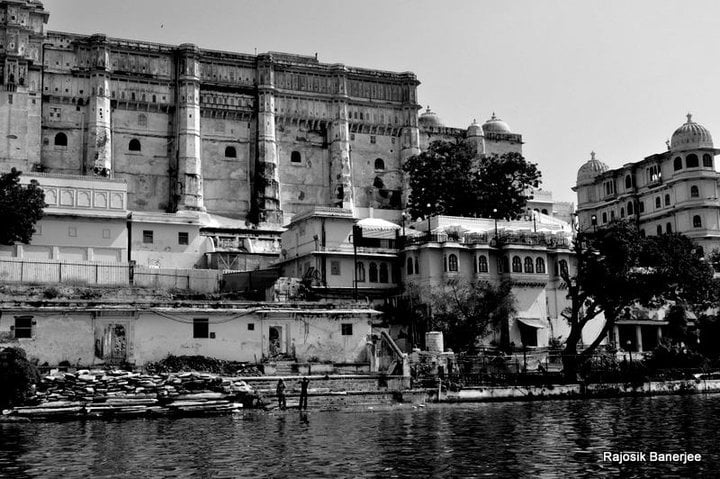 The roads in Udaipur are narrow and it's a task driving in those lanes with huge traffic. Nobody follows traffic rules so you are at the mercy of God. We left Udaipur at 5pm for Jodhpur which is around 325 kms away and expected to reach there within 4 hrs. We managed to reach NH79 out of Udaipur but kept on going up and down the highway for the next one hour as we couldn't find our way to NH8 towards Nathdwara-Jodhpur. Once we hit NH8 after a lot of missed exits and turns, we speeded towards our destination.
I called up the Bishnoi Village owner who gave us the route plan to reach Jodhpur. He mentioned to take a left turn from Gomti Chauraha while coming from NH8. We also decided to refer to Google map. We reached Gomti chauraha but as it was not marked and the left turn seemed as if it ended up in someone's courtyard, we decided to stick to Google. Google indicated to take a left at 'Dewair' 20 kms from that chauraha. At night, we just prayed that the road ahead was alright.
We kept moving in the same direction and all of a sudden GPS dot showed we crossed Dewair but for some good reason there was no left turn and no marking with the name mentioned in Google. We felt dejected. No human kind around, only trucks passing us by after a few intervals and that too at a high speed. Whom do we ask? Raj already started feeling the heat but didn't let it show. We took a 'U' turn and caught hold of a police van who guided us to Gomti Chauraha.
In pitch dark, we could only see a distance few feet away from our car. We saw a truck taking the unassuming left turn that we missed. We followed. Now we headed towards Sadri-Sanderav-Pali-Rohat bypass-Jodhpur. It was already 10pm but felt like midnight. Sadri has again an unmarked and unassuming right turn.
Luckily, we found a night guard who told us to take the route and cautioned to go safely. It was a ghaat area and we were driving at night, pitch dark, unknown roads and the guard mentioned that we might find leopards in that area. I felt goose bumps. Raj had read somewhere that this area had 'Daakus' at one point of time. It was us and our Linea, trying to make our way out safely. I was tensed throughout the journey.
We stopped at a local dhaba for dinner. The spiciest daal tadka and aaluu matar were served to us. Daal looked orange because of the amount of red chilli powder put into it. And in aaluu matar, it was difficult to differentiate between matar and green chilly bits. The repercussions were felt next morning. Finally we reached Sanderav –Pali-Rohat bypass and our destination, Bishnoi village after midnight.
Bishnoi village is a cluster of few tents and huts located in the outskirts of Jodhpur. We took a right turn from the Kakani village while coming from the bypass. We saw a big flock of black bucks, but the minute we stopped our car to take a picture, they all ran away. It was spooky to see so many of them together. Moreover we realised that if we used camera flash then they might have got scared.
So we didn't take any pictures. We were completely tired. Just snoozed away the minute we hit the bed. A special thanks to the Bishnoi village owner, who was awake and guided us for our route, till we reached there safely after midnight.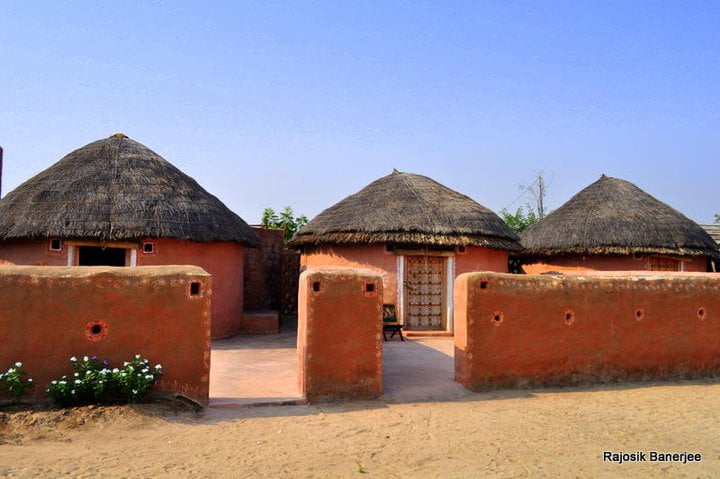 November 2nd, Tuesday: We looked around the city. No guides this time. Mehrangarh fort is huge and very beautiful. Umaid Bhawan Palace is mindblowing, though we could only see 10% of the total palace. Rest has been converted into a hotel. Jaswant Thada was built in remembrance of the king after his death, by his queen. Really beautiful! Day well spent, we returned to Bishnoi Village in the evening.
Enjoyed folk song; tried our hands on the musical instrument called 'Rondta'. It is made up of bamboo, coconut shell, metal strings and horse hair. The musician took 'Afeem' to keep himself energetic. We checked out a few khanjars and talwars of the owner. Ate local dishes as dinner, Sangri ki sabji, Daal bati Choorma, Bajra ka rotla etc. We went off to sleep. A relaxed day compared to others.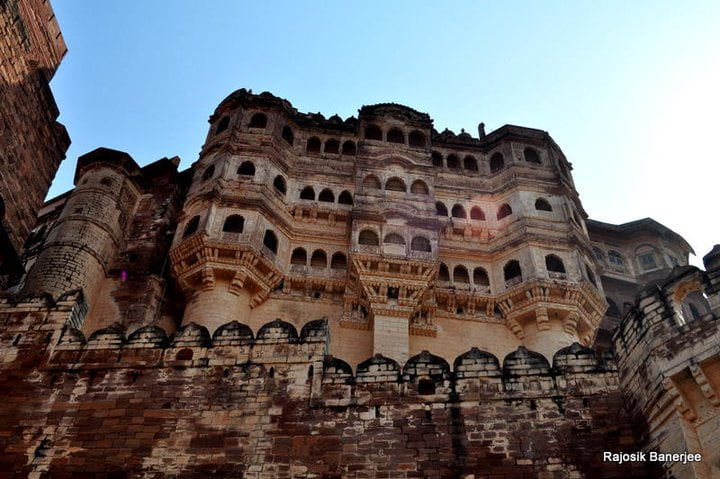 November 3rd, Wednesday: Next morning we started early to see Guda village where Bishnois stay. The name Bishnoi comes from 'Bees + nau' ie. 29 rules that they follow. According to Subhash, our friend at Bishnoi village, in earlier times people didn't know to count more than 20. They used to count in frequency tables. After counting the rules till 20, they started to count again. That is how this name came into existence. After that we headed straight towards the highway which took us to Gurgaon.
We had plans to take a detour from Ajmer towards Pushkar but as we were pressed for time, we kept going straight towards Delhi on NH8. Found traffic near Kothputli and Manesar. Raj was very unhappy with Delhi-Jaipur highway. But was in love with the Haryana roadways buses.
He admired their art of crossing opposite roads over the divider. Their speed matched our speeding car. Roadways buses are superfast. We reached Gurgaon at 8:30 pm. Was so happy to reach home and meet my family. Raj was looking tired to the core. The traffic sucked up his energy levels. Covered approximately 580 kms that day.
November 4th, Thursday: Visited 'Kingdom of Dreams' in Gurgaon. Beautiful place! A must visit, at least once. The Culture gully is value for money.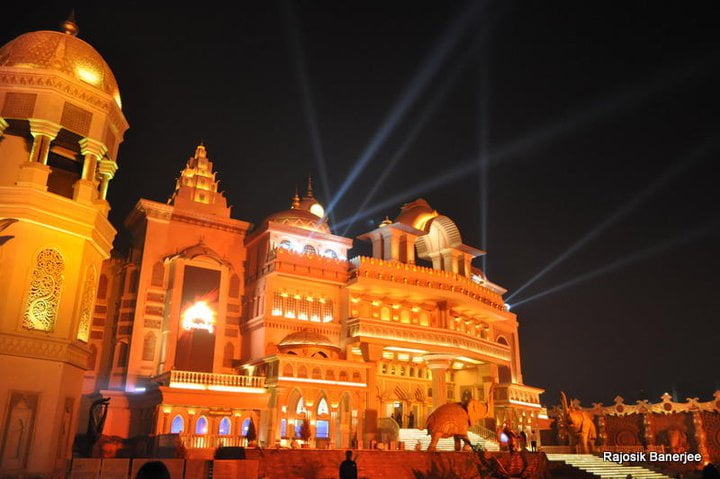 November 5th, Friday: Enjoyed Diwali with family. Shopping at Ambience mall, crackers and lights filled up the whole day.
November 6th, Saturday: We left Gurgaon at 7 am for Chittorgarh. Fearing that we might face the same amount of traffic on Delhi-Jaipur highway, we decided to start early. We crossed Jaipur by 11:30 am which was a big achievement. From there we headed straight towards Chittorgarh via Kishangarh and Bhilwara. We took NH79 but got lost after Kishangarh. We tried to find our way by targeting to find the nearest small town, which happened to be Shrinagar.
Finally, reached Chittorgarh by 3:30 pm and saw the huge fort. We were chased by the so called 'Fort guides' on their bikes. A few were ready to risk their lives just to grab our attention and get business. One got scolded by me as I felt that he might have met with an accident with our car. Finally we hired a licensed guide Mr Sharma to show us the fort and tell us the history related to the fort.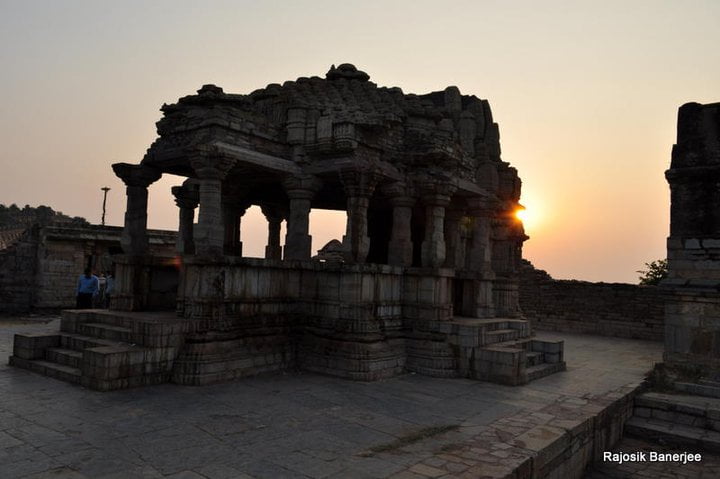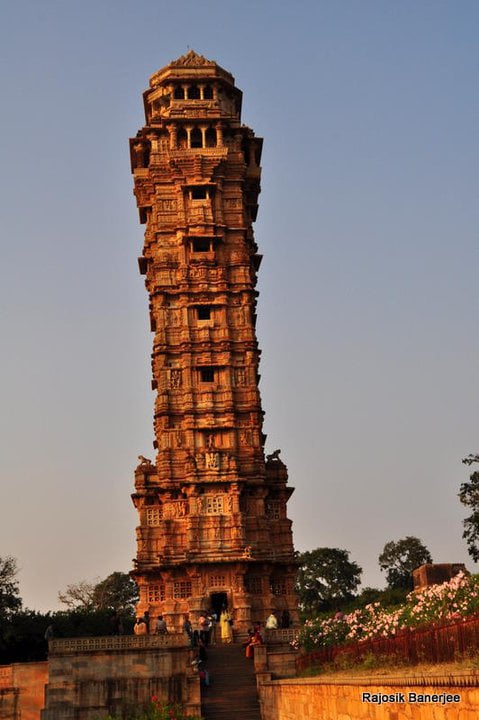 By the time we left Chittorgarh fort, it was already dark. We headed towards 'Bassi' on NH76, where we had booked our night halt. We had booked a royal suite in the Welcome heritage Bassi Fort palace. It looked more of a big haveli than a palace; a vintage house which was peaceful and reflected a great decor. Most of the furniture used was 'vintage' and the royal suite made us feel like a royal couple.
The owners were very friendly and hospitable. They discussed the history and beauty of their area and family. We enjoyed a beautiful candle light dinner in the portico and later relaxed completely at the suite. We covered 550 kms that day.
7th November, 2010: Woke up in the morning to see what was around the fort. But could gather that outside the fort there was nothing much of interest. We were in the middle of a village and the fort attracts guest for the experience that it offers than anything else. We left for Mumbai at 10:30 am. Mumbai was around 950 kms away and we had plans to take a break midway and continue our journey the next day. We took NH76 till Udaipur and from there took NH 8.
We decided not to venture out anymore as we already had our share of adventure while going to Gurgaon. When Raj crossed Ahmedabad he decided to stretch the journey and reach Mumbai the same day, even if that meant driving over 14 hours and reaching after midnight. We took one lunch and one tea break but managed to reach home by 1 am. The journey was over but the memories will be alive forever.
If you want to explore another beautiful property in Rajasthan, near Delhi and Gurgaon, then read here.
If you like this post then do subscribe to our newsletter for some interesting articles!