Are you planning a Nepal trip from India, especially from Mumbai?
We travelled to Nepal during the Christmas holidays. The schools were closed for more than a week and it was a perfect time to plan a quick holiday with the kids. We covered Kathmandu, Pokhra and Nagarkot during our week long stay.
Nepal has a crisp weather in December, with clear sky and better visibility. It has a lot of history, culture and natural beauty that can be enjoyed in a cooler weather. So, I highly recommend that you visit Nepal in November-December.
Visa requirement
For Indian citizens, there is no visa requirement. You have to travel with your passport to exit India. In Nepal, they stamp a visa upon arrival.
As per the Nepalese Immigration, Indian Nationals traveling to Nepal by air must possess any one of the following documents.
-Passport
-Election Commission Card
Flight Booking for Nepal
Earlier, there was a direct flight by Jetairways. But not anymore. There are no direct flights from Mumbai to Tribhuvan International Airport, Kathmandu, Nepal. Airlines like Vistara, Air India, Air Asia, Malindo and Etihad offer flights with a layover in Delhi, Bengaluru, Hyderabad, Kuala Lumpur and Abu Dhabi. The cheapest fares are from Vistara.
Local flights
To travel internally, you can book your flights with Yeti Airlines, Buddha Air or Simrik Airlines. We used Yeti Airlines to travel to Pokhara from Kathmandu. You need to book your flight for a visit to Annapurna Base Camp, Everest Base Camp in a glider or helicopter with a local travel company.
Average price range is:
Air fare: Kathmandu Pokhara Kathmamndu
-For Adults: Inr 5980 per person
-For child: Inr 4225
-For Infant : Inr 650
Calling from Nepal
International plans activated on your phone give you the opportunity to connect with people at home without any trouble. Most of the restaurants and hotels have wifi that enables you to check your mails or call online.
Local site seeing with a local company
It is a good idea to connect with a local company who can arrange a taxi and a guide for your site seeing. Local buses are rickety and the city of Kathmandu is full of traffic. Driving in those conditions is not easy. The lanes are narrow that results in heavy traffic during busy hours. It is best to go with a local driver who can help with your local site seeing and drive you around, especially when you are traveling with the kids.
Traveling with the kids to Nepal
Traveling with children isn't easy. Especially, with very young children. But in our case, we are blessed with two little troopers who love to travel and are not fussy about food at all. Our kids walked 10 stories down the Gupteshwor Mahadev Cave in Pokhara, which was challenging for their tiny feet. Yet, they had more energy and excitement than us.
But here are a few things that you can keep in mind while traveling with the kids:
In case your child gets a tummy upset easily, please carry all possible medicines from India. Many pharmacy shops sell medicine in Kathmandu, but it might not be available in the remote locations or villages where you might be visiting.
Plan your travel ahead and keep your itinerary simple. Do not try to cover too much in one day. Pace it out.
Children might feel tired and sick due to excessive traveling. Encourage them to nap whenever they are in a car/bus so that they can regain their energy.
Carry their favourite snacks and bottled water everywhere. It comes handy when they refuse to eat. It is ok if they decide to skip a meal. Sometimes, their little bodies can't take a lot of change and need rest more than food.
Wet wipes and hand sanitizers are a must, where ever you travel.
An extra pair of clothes comes handy if it gets soiled in anyway. No wonder mom's always travel with a tote bag or a weekender bag.
Though hotels arrange for taxis but remember that you will have to walk a lot and climb stairs at many places. So it will be a good idea to wear comfortable shoes and leave the baby prams at home. You hardly get to use them.
Their 5 star hotels are as good as our 3 star hotels. They are trying to preserve old heritage properties and culture, so do not expect a plush property, except for a few new ones.
We stayed in Shangri-La Hotel, one of the best hotels in Kathmandu and the services, food and amenities were just about average.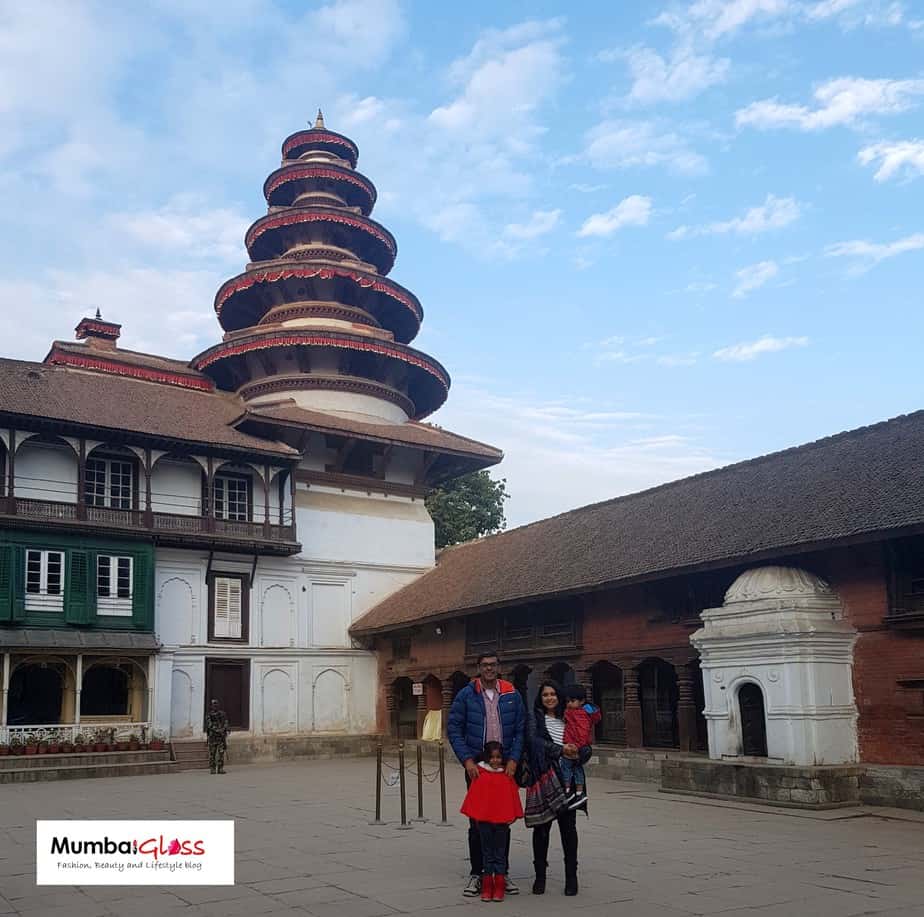 Things to do in Nepal
We planned to visit the three major and beautiful cities in Nepal – Kathmandu, Pokhra and Nagarkot. It was good for a week long trip to Nepal. Nagarkot is a hill station famous for magnificent views of mid and eastern mountain ranges of Nepal and sun rise view of the Himalayas. The natural beauty of Pokhra is mesmerizing. And Kathmandu itself, gives a contrasting view of the modern world and the old world charm through shrines across the city.
Kathmandu
Kathmandu is like any other busy city, full of traffic and dust but it does give you a flavor of what has to come next with heritage buildings and monuments all over. The airport is small and for Indian citizens there is no visa requirement. There are not many screens to check the flight status and you need to be alert with the announcements.
When we reached Kathmandu, I felt that I moved 20 years back in time. The electric pole wires hanging in heaps on the sides of the roads, the dug up roads reminded me of the gone by era in India.
Durbar Squares, UNESCO World Heritage Sites
Kathmandu Durbar Square or the Basantpur Durbar square is good, but Patan and Bhaktapur Durbar Square fare much better than Kathmandu square. Patan is half an hour away from Kathmandu. Bhaktapur is a little over 45 minutes away from the Kathmandu city centre. A lot was destroyed during the 2015 earthquake. But still the ancient buildings, architecture, wood carvings attract you and depict a glorified past that was lost with time.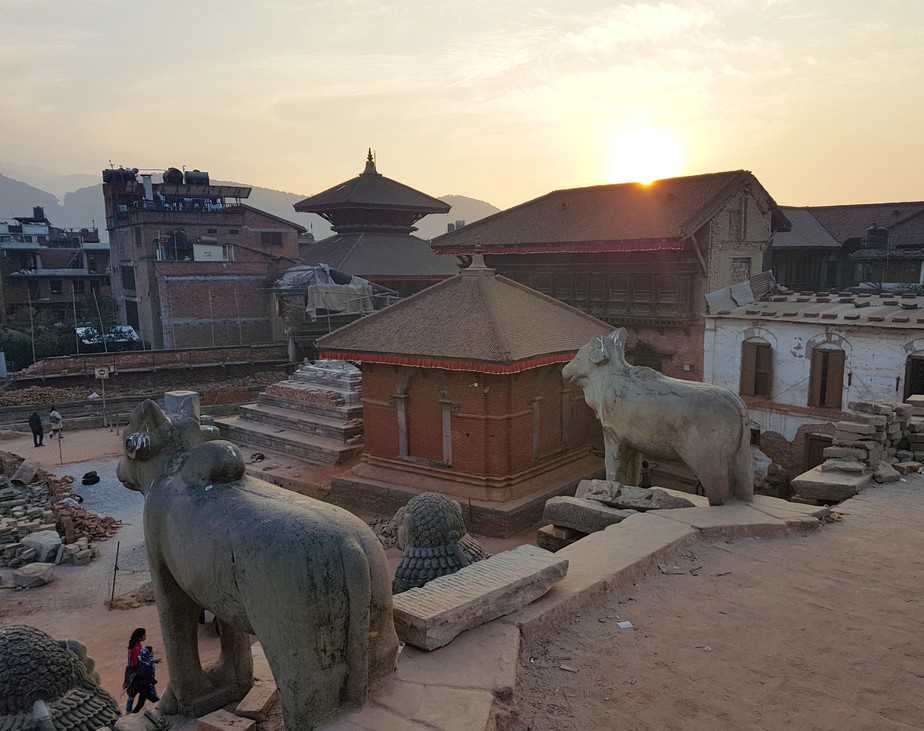 All three squares showcase spectacular architecture and the skills of the Newar artists and craftsmen over several centuries and are a must visit. All three durbar squares are UNESCO World Heritage Sites. Day trip can be organized from Kathmandu to these places. Take a guide who can explain to you the value and significance of the various structures. Kathmandu city is dotted with temples, shrines and monasteries.
Swayambhunath Temple
Swayambhunath temple, in Kathmandu is also a famous tourist spot. You have to climb a flight of stairs and it is full of monkeys. These monkeys are used to humans. Even their off springs are very comfortable around humans.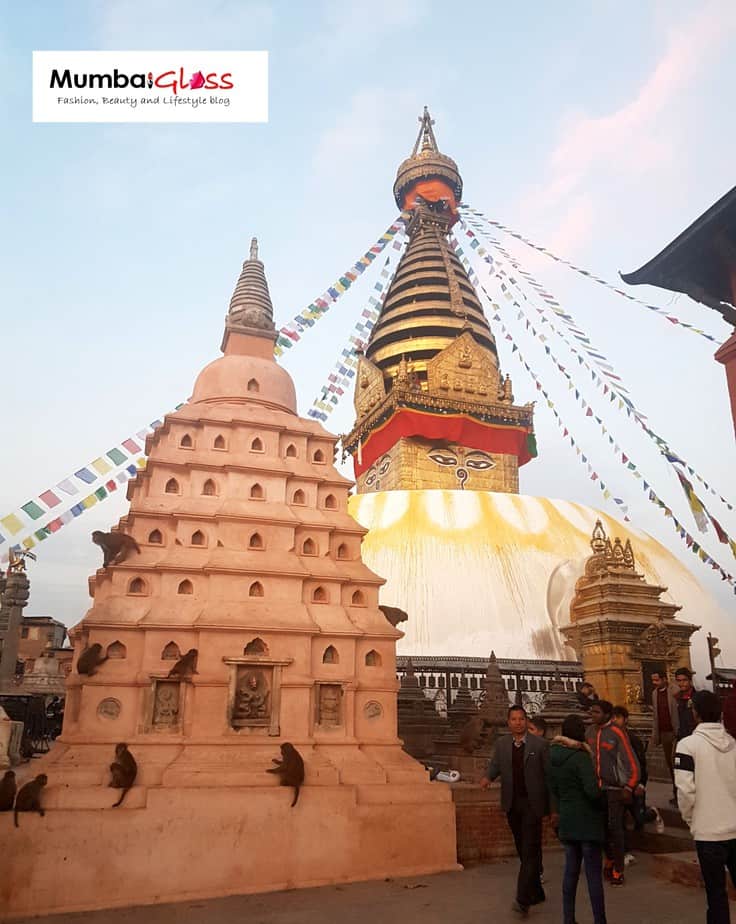 Buy a Thangka
If you are planning to buy a souvenir then go for authentic Thangka, hand painted spiritual illustrations depicting stories of Buddha made by the Lamas or the art students who are learning to paint Thangka. Tibetan markets also offer some exclusive gifts, especially very vibrant and beautiful handwoven carpets. You can also buy a pair of Nepalese Bride Groom Dolls or sound therapy bowls, etc.
Home stay at Panauti
A day trip to Panauti (32 kms away from Kathmandu) was planned. We were encouraged to explore Panauti on foot, a historic Newari city untouched by modernization. The Panauti temple square is also very beautiful. If you are planning to spend some time with the locals, then do try out the Panauti Home Stay.
The local villagers invite you to their home for a simple lunch but you can sit with them, chit-chat, drink tea and learn a lot about their lives. Not only in Panauti, these home-stays are available in many other cities. Here is a link to their website Community Home Stays for more information.
What to eat?
We ate amazing food at Nanglo and Brick Café in Kathmandu. Brick Café offers some remarkable local performances in the evening. The spicy vegetable and mushroom Choila is a must try. The Nepalese cuisine varies and has influences of Tibetian food as well.
Momos are available everywhere, though they prefer an orange coloured tomato based chutney instead of the fiery red chili chutney that is served in India. Thukpa, Yamori, Juju Dhau, Nepali Thali, Sel Roti and other Tibetan dishes are eaten throughout the day. The Newari food is pretty different. We tried a few dishes on our visit to Nanglo.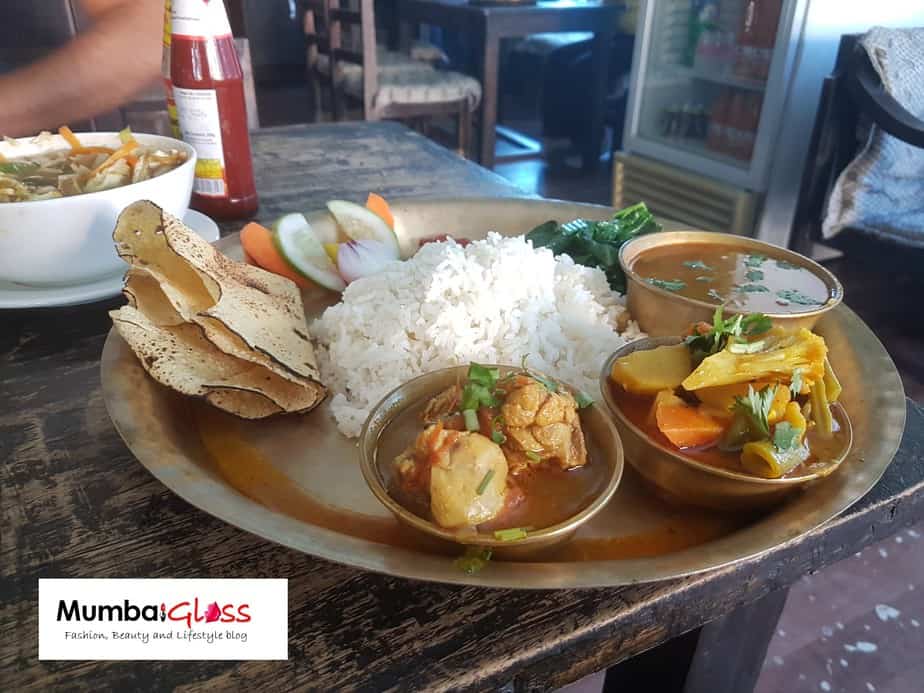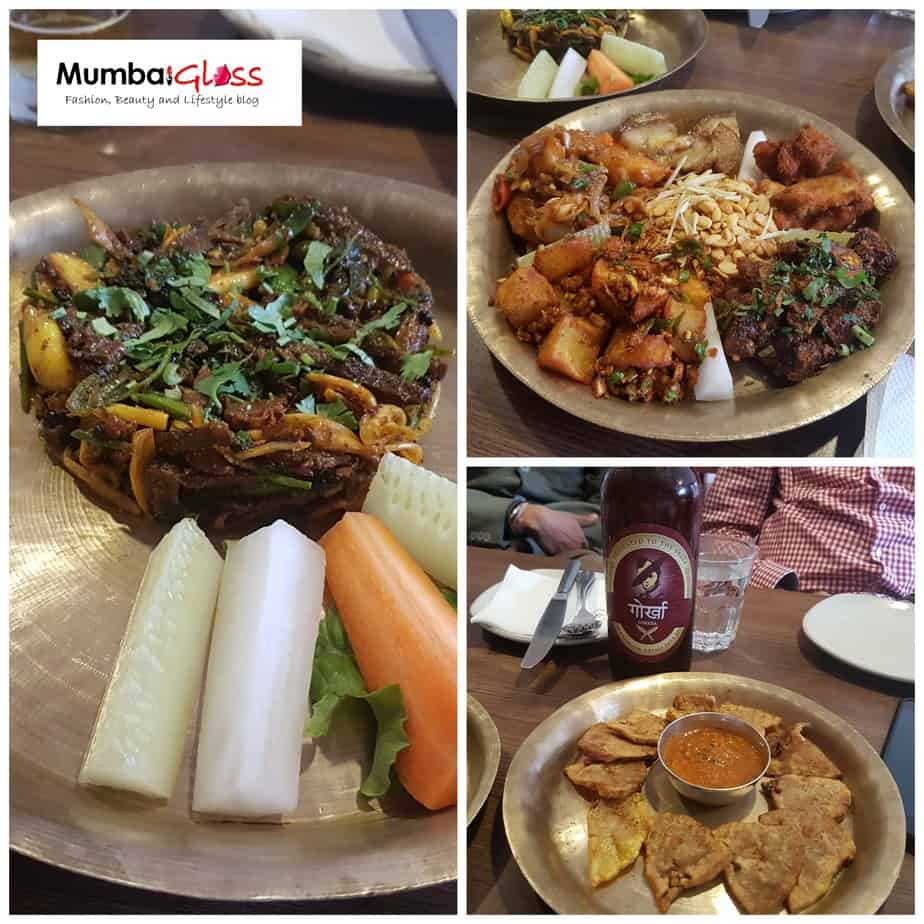 Pokhara
A little piece of heaven – quiet, beautiful and serene. – Needless to say, it was our favourite among all the places we visited in Nepal. I recommend that you take a flight to Pokhara from Kathmandu. It is a 15 minute flight in a lightweight, 40 seater Yeti Airlines which is an experience in itself. If possible try to get the right side seats for an Amazing Himalayas snowcapped peaks.
The Kathmandu domestic airport is chaotic, but on the other hand Pokhara airport is just beautiful and a tiny little gem. You actually climb down from the aircraft and walk to the arrivals where your baggage is given.
The city looks lazy but is pollution free. We stayed in Shangri-La Village Hotel which is a decent property with sprawling lawns for the kids to run around.
You get a clear view of the Himalayas from the rooms located on the first floor. In the evenings, local musicians play for the guests and you can do an outdoor dinner in their only restaurant. The fish pond mesmerizes the kids. The hammocks look inviting.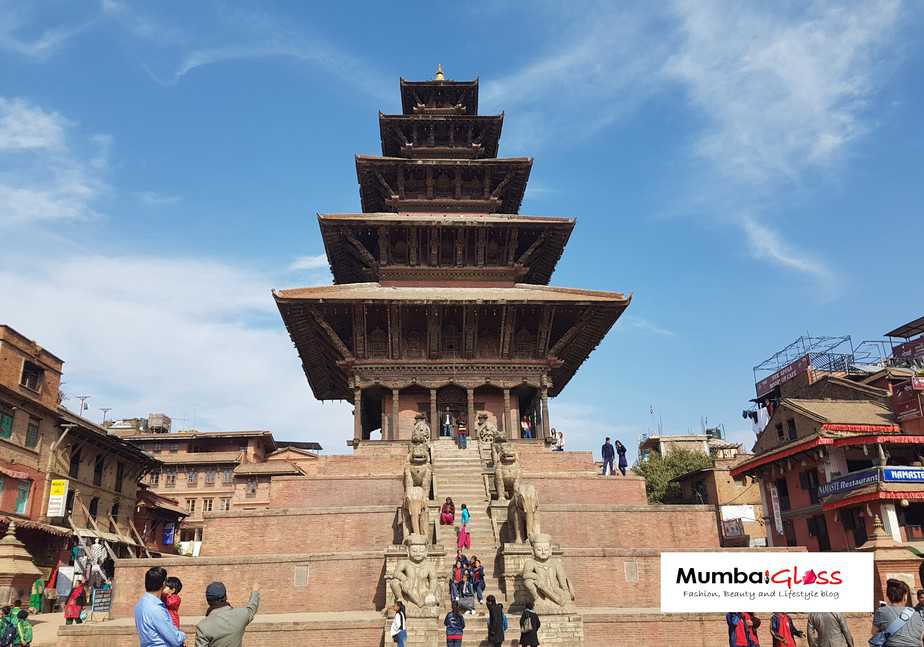 Gupteshwor Mahadev Cave and Davis Falls
This small town has some impressive sights. Visit to Gupteshwor Cave was thrilling. We climbed down 10 storeys, struggled through wet stairs, narrow passages, very low ceilings and power cuts. But the end result was the bottom of the cave where water fall from Davis Falls finds its way.
There is a 1000 year old Shiva temple where so many tourists come while chanting Har Har Mahadev. Small children to old citizens, people throng this cave in huge numbers. Be careful with the kids as the floor is wet and slippery and the place is dense with people.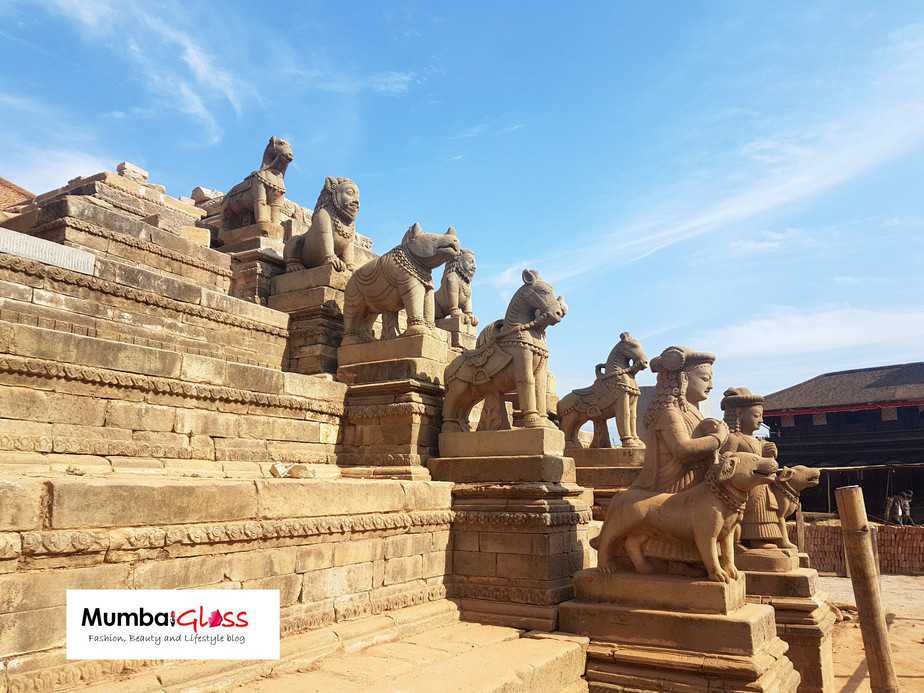 Lake Phewa
Lake Phewa is beautiful and changes colours with the sunlight. There is a temple in the middle of the lake and local boatsmen help you reach the temple, as well as take you around the lake. You can go fishing on the other side or arrange a jungle trekking opposite the lake. Though our boat man warned us that there were leopards in the jungle.
Be prepared for some cardio if you take the paddle boat, but they looked much safer than the tiny dinghies. Life jackets are a must. But the lake gives you some amazing views of the mountains in the background.
Again my two year old freaked out the minute he got on the boat. If he could, he would have jumped off the boat. But later grudgingly settled for a nap while we enjoyed our sail across the lake.
Our guide suggested that we should take a flight (glider/helicopter) to Annapurna Base Camp. I so wished to do this. But then I thought that my kid would be traumatized in an open glider or a helicopter so we kept this for our next visit.
Shanti Stupa
Pokhara also has a World Peace/ Shanti Stupa on Ananda Hill where you have to climb quite a lot of steps. It was tiring. But once at the top, you can see beautiful views of the Himalayas and the Phewa lake.
View this post on Instagram
Buddhist monastery near the stupa was abuzz with chants and drum beats. The phrase no pain, no gain was apt for this location. We also had a locally grown, roasted and brewed Himalayan coffee at a shop on our way down. It gave us wonderful view of the Pokhara valley.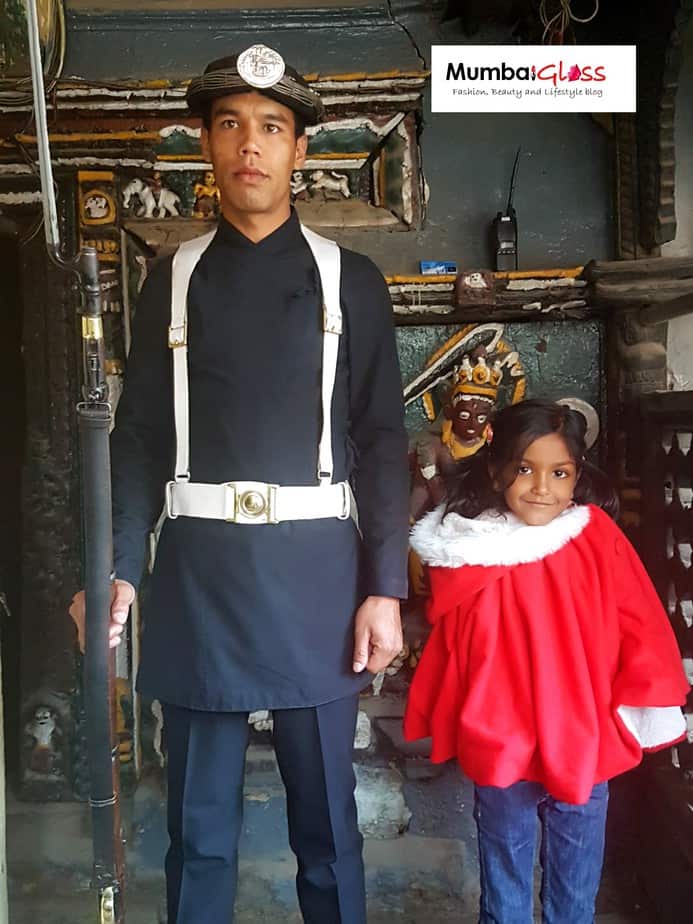 We also went for the Sunrise, on one of the days and felt it was over hyped. Not recommended.
Where to eat?
We dined at the Harbor restaurant near Lake Phewa and the food didn't disappoint us, neither did the ambience. If you can, visit here. There are many eating joints in front of Davis Fall that serve local Nepali Thali, tea and momo. To calm your nerves after the Gupteshwor cave visit, a small bite here is worth it.
Nagarkot
We saw exceptional views of the Himlayas from the hotel Mystic Mountain. Crystal clear snow peaks and lush green valleys. That's Nagarkot for you. The rooms are spacious and decent in Mystic Mountain. There are no major sight-seeing places so technically you sit in your room and do nothing. And that is what we wanted to do on a holiday. You can go for small treks around the hotel but beyond that nothing else.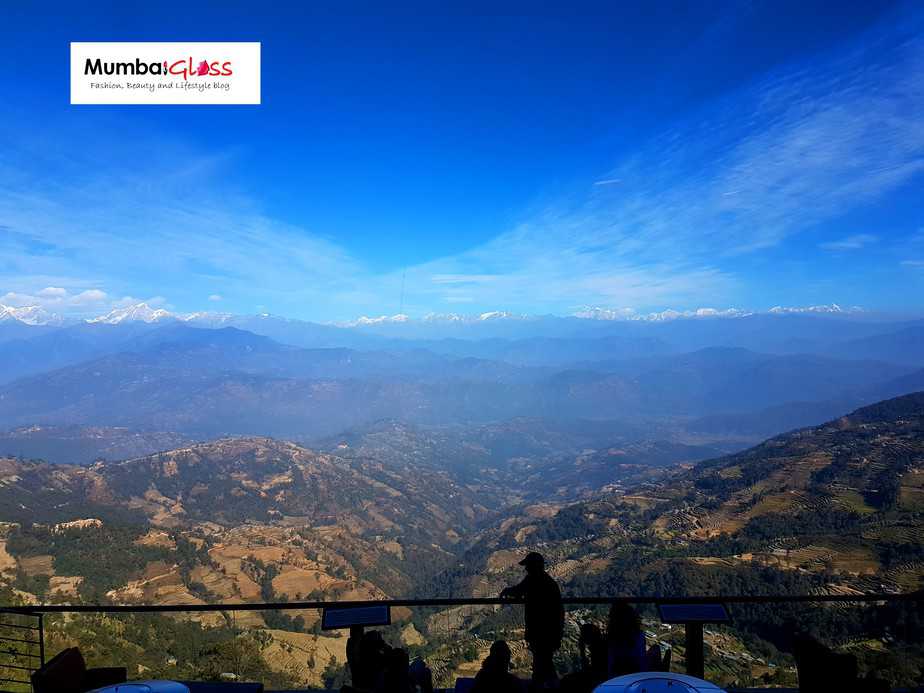 The road to reach Nagarkot is seriously broken. It took us almost 2 hours to reach Mystic Mountain from Kathmandu. But the view was breath taking. Their restaurant is fantastic and offers some finger licking food. We wished to stay there for another day but it was completely sold out. Nagarkot is for people who love peace and tranquility. And I would highly recommend this hotel.
Where to eat?
Local stalls. Try Sel Roti and Samosa.
How did you like this post? Do you have any suggestions for Nepal visit for the readers? Do leave your suggestions in the comments section below.
If you are looking for holidays in the hills then try visiting Rishikesh. Here is a blog about places to visit in Rishikesh with the kids. You can also check out the blog on places to visit around Rishikesh and where to eat in Rishikesh here.
For more such articles, please subscribe to the blog.