Are you thinking about Rishikesh places to visit that you can explore with your kids?
Our family of 4 travelled to Rishikesh recently and figured out places to visit in Rishikesh with kids. We had traveled to Nepal last year with the kids. It is very much doable and extremely fun.
We took a direct flight from Mumbai to Dehradun which is the nearest airport. Though, it's called Jolly Grant Airport Dehradun, but it is closer to Rishikesh. A beautiful 40 minutes drive through the forest will take you to the city centre in Rishikesh.
Here are the places to visit in Rishikesh with kids:
1. Walk on the promenade next to river Ganga: Rishikesh places to visit
Children can take a walk on the promenade next to river Ganga. It's a beautiful walk where they can experience the beauty of the river, the locals passing by, selling balloons and cotton candy. They can witness locals singing religious songs next to the river, mountain birds chirping, white water rafters passing by on their rafts and cheering. Promenade next to Dayananda Ashram is beautiful and one can see the intensity of the river water there. One of the best places to visit in Rishikesh with the kids.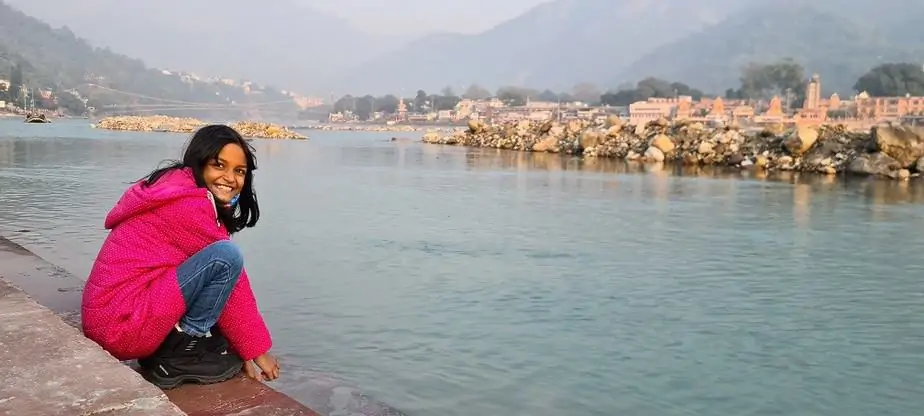 2. Play on the white sand beach next to Laxman and Ram Jhula: Rishikesh places to visit
Children can play on the white beaches scattered across Rishikesh. I got this idea from the blog Travelynn Family. If you are around city centre then there are beaches around Laxman Jhula and Ram Jhula. We crossed the Laxman Jhula, took a right and took to a narrow lane 200 metres away which went towards Manmouji Ghat. The beach was good enough to build sandcastles, even dipping the feet in water with an adult was also possible. Though, danger signs were put around the shoreline so that people do not venture deep inside the water. There is also a good sandy beach a Ganga Beach, just 300m East of Ram Jhula near Gita Bhawan.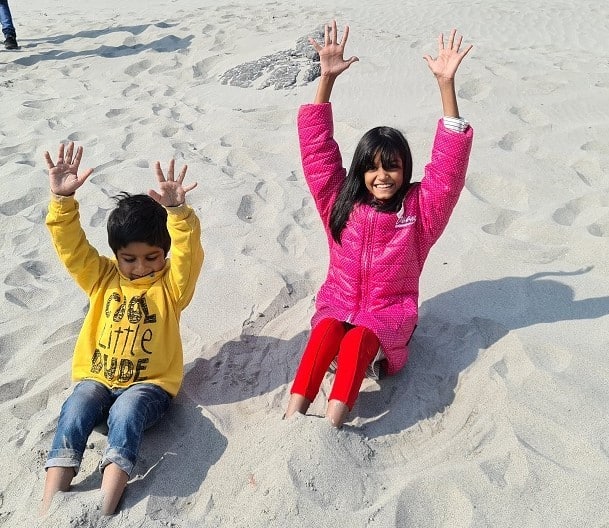 3. Boat ride across river Ganga: Rishikesh places to visit
Children love the boat ride across the river. There is a local ferry that charges Rs 10 to go across one shore to the other near Ram Jhula. To book an entire boat you need to pay Rs 350 one way. Due to Covid, we decided to book an entire boat and took it across to Gita Bhawan.
The next day we booked a wobbly speed boat on Manmouji Ghat, near Laxman Jhula, which took us on a river tour and photo op for around 30 minutes. It was absolutely thrilling for the kids. We were given life jackets on this one. This one cost us Rs 3500 for a 30 min trip. The tour guide kept on giving us local information about the beautiful properties on the shoreline.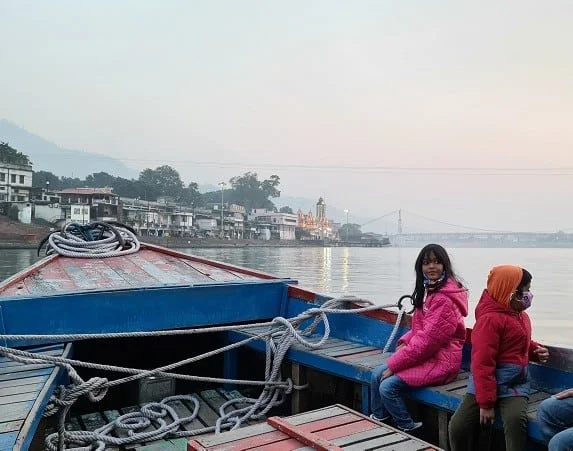 4. Eat at Chotiwala near Ram Jhula: Rishikesh places to visit
We ate at a multicuisine local restaurant called Chotiwala. The original Chotiwala restaurant is located near Ram Jhula. There are two adjacent restaurants with the same name. Don't go to the first one. The second restaurant is the original restaurant serving vegetarian food since 1950's. There used to be a cartoon character named after Chotiwala in a regional language cartoon book.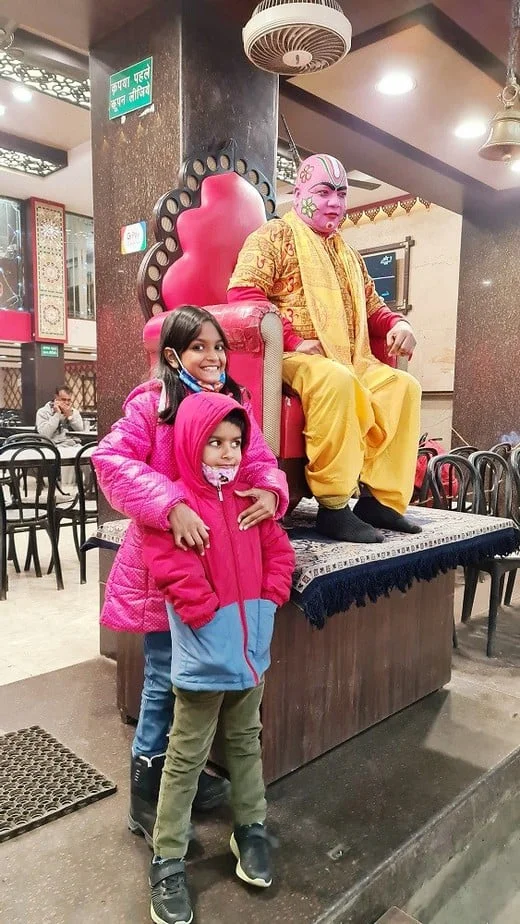 Kids were amazed to see a potbellied man seated in front of a restaurant with painted face. His 'Choti', pigtail defied gravity and he greeted his guests with a hand gesture called 'ashirwad'. You will find north Indian and south Indian delicacies on their menu. Don't bother to try other food like white pasta. It was horrible. For good pasta and pizzas, you can go to 'Kaafe', a quaint little café on the river side above the shops. It is on the lane that takes you to Parmarth Niketan once you cross Ram Jhula.
5. Experience Indian spirituality at Parmarth Niketan Ashram's daily Ganga Aarti
Rishikesh is an ideal place where kids can experience and learn about Indian spirituality. We took the kids to Parmarth Niketan where massive arrangements are made every evening for Ganga aarti. Monks with large fire diyas, singing mantras and kirtan songs can be seen at the river front.
The property has a beautiful large idol of Shiva meditating and Arjuna getting practical advice from Krishna on a chariot. Every evening the aarti starts at 6 pm so it is a good idea to settle down on the podium next to the Shiva idol or the stairs on either side of the entrance before that. It is free but there is security scanners and a place to keep your shoes. We sat with the kids, far from the crowd on the stairs.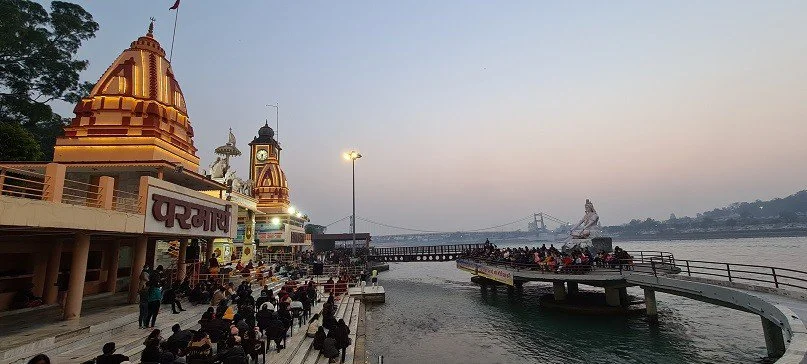 Many people had bought bouquets of flower and pooja material to pray during aarti. Once the aarti finishes, they burned the diyas and floated the flowers in the river water. The entire place was smelling of sandalwood and incense sticks. It was a beautiful experience for my kids.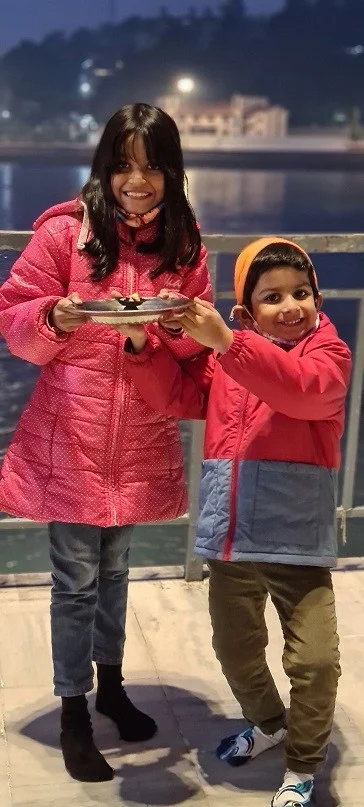 There are several other fond memories that I will be sharing in the coming weeks on posts about Rishikesh. You can check places to visit around Rishikesh with kids here. You can also check out the popular places to eat in Rishikesh on my other post. You can check the shopping guide about Rishikesh to buy best gifts for your friends and family.
You can also check the 10 day Vedanta classes in Rishikesh at Dayananda Ashram.
If you have recently visited Rishikesh with kids then do not forget to comment what did you do on your trip.
Buy kids winter wear here.
Buy kids travel gear here.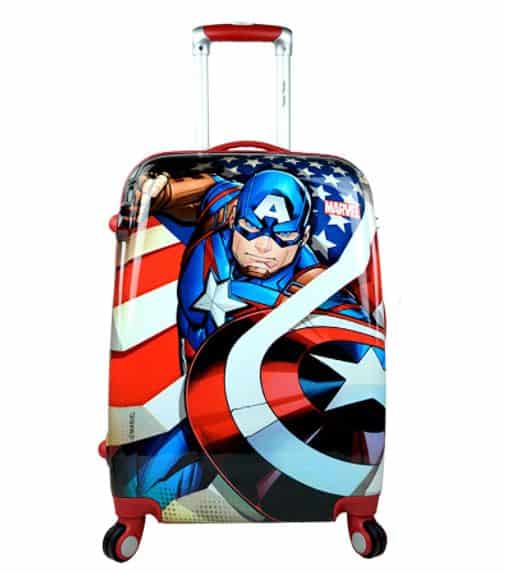 *Some links included in this post might be affiliate links. If you purchase a product through one of them, I will receive a commission (at no additional cost to you). I truly appreciate your support of my blog.
Also, enjoy a short video on our stay in Yog Niketan Hotel and things that we explored around it.
You can subscribe to Mubaigloss for more such articles: