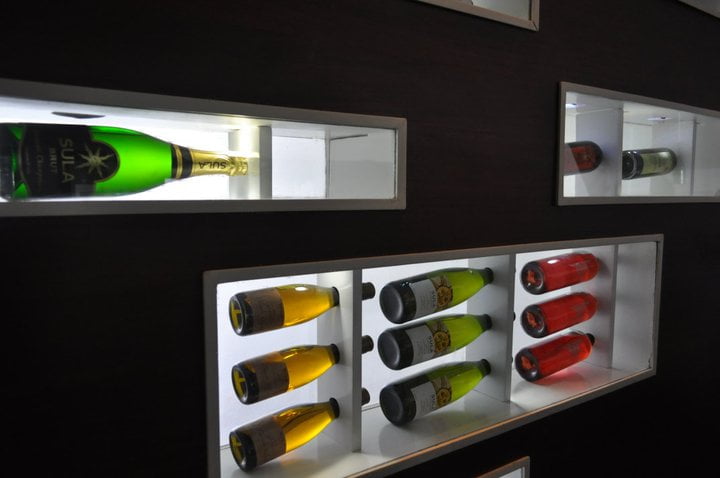 Sula Vineyards is located approximately 230 kms from Mumbai. It is a perfect getaway on a Saturday morning; acres of land with wine grape plants, a wine factory and wine tasting. Perfect! Those who are not willing to spend a night at Beyond, Sula's guest house or at Nasik can easily make a day trip to this countryside vineyard. Average time to reach Sula from Chembur, Mumbai is 3 to 3.5 hours.  If you leave by 8 am, you reach there by 11.30 am, can spend the day around wine tour, wine tasting, at their rooftop restaurant as well as restaurants Little Italy and Soma which is adjacent to the main building. It also houses an amphitheater and landscape gardening which can become an alternate picnic spot if you are not interested to drink wine.
I left for Sula at 8.30 am but didn't reach Sula Vineyards till 1 pm as our driver missed the service lane exit for Ambad MIDC on Mumbai – Nasik expressway which goes via Shahpur – Goti. You have to be very careful for that exit otherwise you reach Nasik city and keep on spinning around that area. The locals guide you through different routes which might not be suitable for an outsider. Therefore, make sure to get off at the Ambad MIDC exit. From this exit, Sula is 7 kms inside the Nasik countryside. You will have to again take a left from Papaya nursery. From there onwards, you will find boards directing you to the Sula Vineyard. Once you enter the countryside, its beautiful, near to nature, with hillocks covered in green shrubs, trees fencing the barns, village children fishing at the local pond. You will find greenery and fresh air in abundance. We entered Sula Vineyards which is built on 30 acres of land. The minute we entered, we saw wine grape field on both the sides of the entry road which was leading us to their factory and wine tasting unit.
Tickets for wine tour and wine tasting can be bought at their first floor reception which also houses their rooftop restaurant. It gives an excellent view of the vineyard. We ordered for a cheese platter along with glasses of their popular Dindori Shiraz red wine. This wine is matured in oak barrels for 9 months and has a woody flavor to it. 
The ground floor houses the wine tasting hall and the souvenir shop. You can buy wines, chocolates, t-shirts, mugs and other wine accessories at this shop. We also took a wine tasting and wine factory tour. We payed Rs 150 pp for wine tasting (4 wines) and wine factory tour. For non-drinkers, only factory tour is also available which costs Rs 100. A guide met us at the ground floor reception who gave us a brief history of the company and then took us through various steps of wine making, tank maturing, barrel maturing and procedure for bottling, etc. in the factory located behind the main building. Towards the end, he lead us to a large hall which has on ambience of a vintage bar with wooden barrels as the theme. Here, we were given a brief understanding about the types of wines and also we got to taste white, red and rose wines. 
After this we headed straight to the restaurants Little Italy and Soma. We weren't sure if we wanted to eat Italian or Indian after an engrossing wine tasting session. We had our lunch and left for Mumbai by 6 pm. Reached home by 9 pm. We had an excellent day. The only person complaining was our driver who had to drive carefully on the Mumbai – Nasik Expressway. Return drive was not smooth after Shahpur.