Are you a woman and planning to do a solo trip from Mumbai to Mysuru, the city of palaces and perfumes? Then read on.

I travelled to Mysore from Mumbai as a solo woman traveller for the first time in December 2016.
I have always travelled with friends and family but never alone. When I decided to travel alone, I wanted to ensure that I go to a city that allows me to observe and experience without any hassles. I wanted a safe destination. Therefore, I chose Mysuru in Karnataka.
Moreover, Mysuru is a magnificent city that holds a big chunk of our history and has always been on my wander list.
Travel from Mumbai to Mysore over the weekend
I was traveling on an extended weekend. Therefore, wanted to optimize my travel time. I took an early morning flight from Mumbai to Bangalore.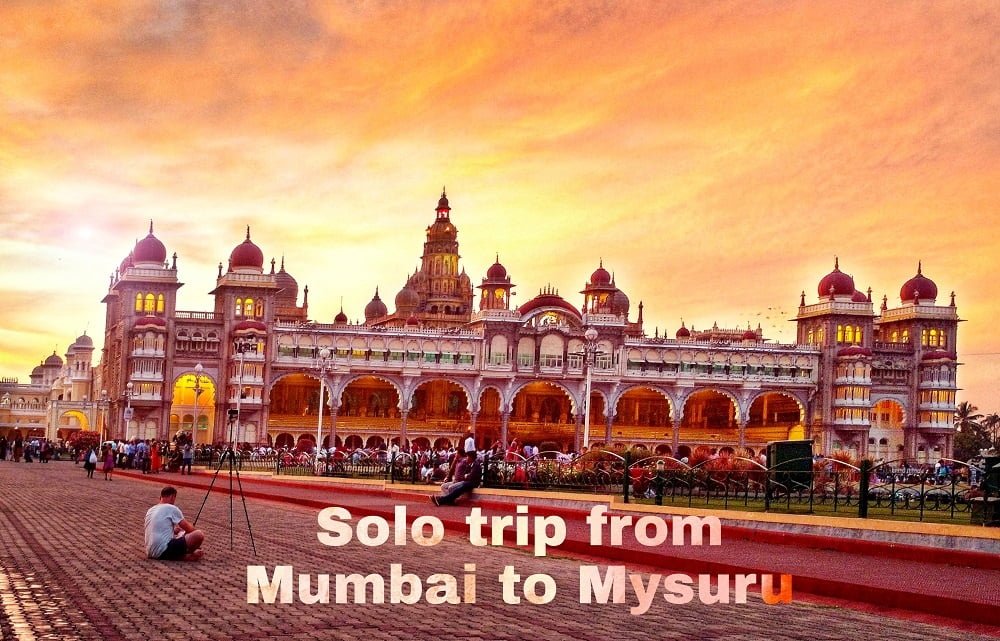 By flight: Mysuru has excellent bus connectivity from major cities of Karnataka. I took a Golden Flybus from Bangalore airport at 10:30 am and reached Mysore Bus Stop within 4 hours. The buses run every 2 hours and is a comfortable ride from the Bangalore airport.
From there I took a prepaid auto to reach the palace that is 15 minutes (4 kms) away from the bus stop. The prepaid auto stand is right outside the bus stand.
By road: You can also take an overnight bus from Mumbai to Mysuru that leaves at 2 pm in the afternoon and reaches Mysuru at 9 am the next morning. You can leave on a Friday afternoon to reach on Saturday morning.
By rail: Train travel not recommended as it takes more than 28 hours to reach from Mumbai to Mysuru.
Stay at Mysuru
I was going to the city of palaces, therefore I decided to stay at the Lalitha Mahal Palace in Mysuru.
This simple and elegant palace is 100 years old and boasts of projecting porch, spherical domes, a large central dome and iconic columns. Interiors are done with immaculately polished marble floors, highly crafted rosewood furniture, majestic staircases, imported carpets, intricate chandeliers and curtains. Stately upper floor offers breathtaking views.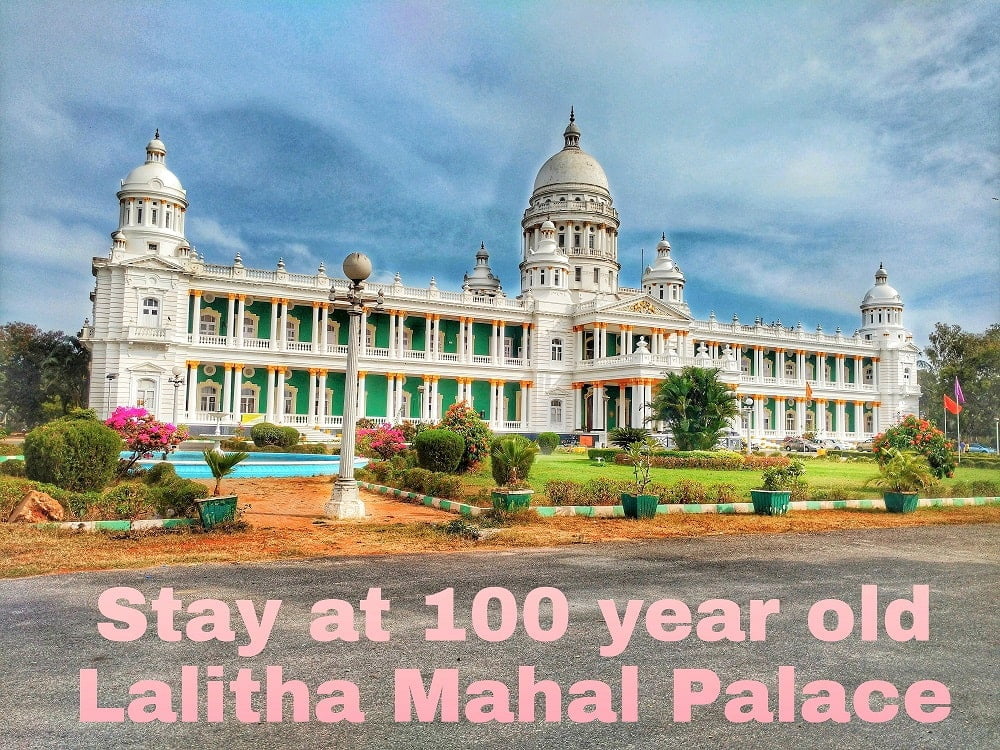 You can read about my stay at the Lalitha Mahal Palace here.
You can book the hotel here.
I quickly checked into my hotel, grabbed a bite and went out to explore the city.
My travel itinerary
Saturday
I tried to cover most of the things as I knew that a few places are closed on Sunday.
1. St. Philomena's Church, a gothic marvel
My first point of exploration was St Philomena's Church, a beautiful gothic structure which can give competition to many European churches.
Unfortunately,  it was under renovation so I couldn't see it completely. But I was glad to visit it for sure. The nearby area also has mosques and temples and it was a good example of religious tolerance in our country.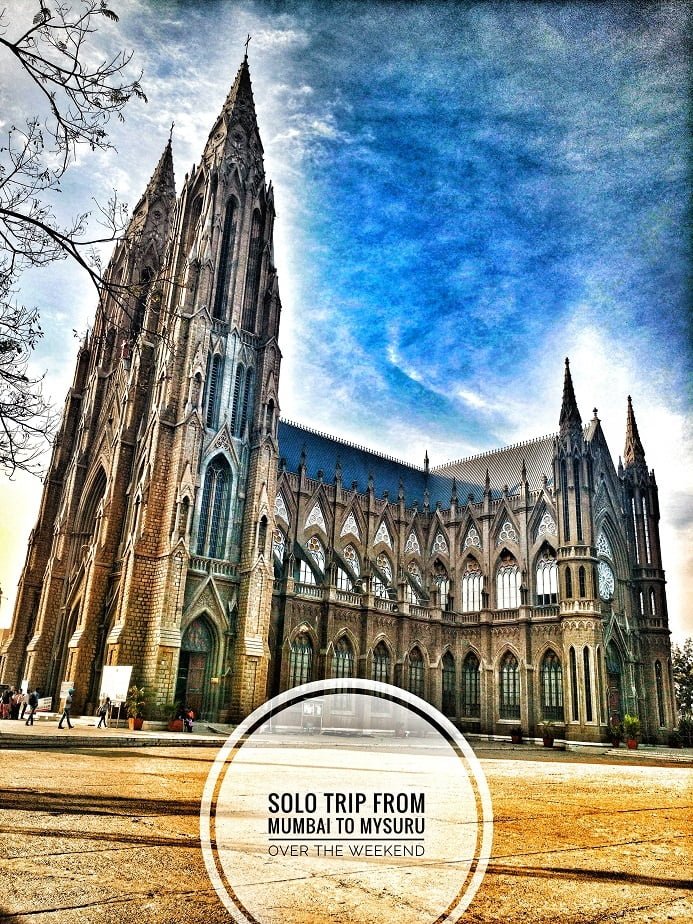 2. Mysore silk and sandalwood
From there I visited the Mysore Silk Factory and Mysore Sandalwood Oil Factory. These are closed on a Sunday and are open till 5 in the evening on other days. The entry is free and the tour is very knowledgeable. So try to cover it on Saturday itself.
I learnt a great deal about the process of extracting silk from a silkworm and oil from sandalwood tree bark. A must visit if you are interested to explore the famous things of Mysore city.
3. Devaraja Market
I also visited Devaraja Market in the evening to see the famous Adil and Azam brothers who deal in perfume oils. They are always busy with foreign tourists but took out time to explain to me the various benefits of the perfume oils. Paid Rs 100 for 10 ml for each bottle of oil.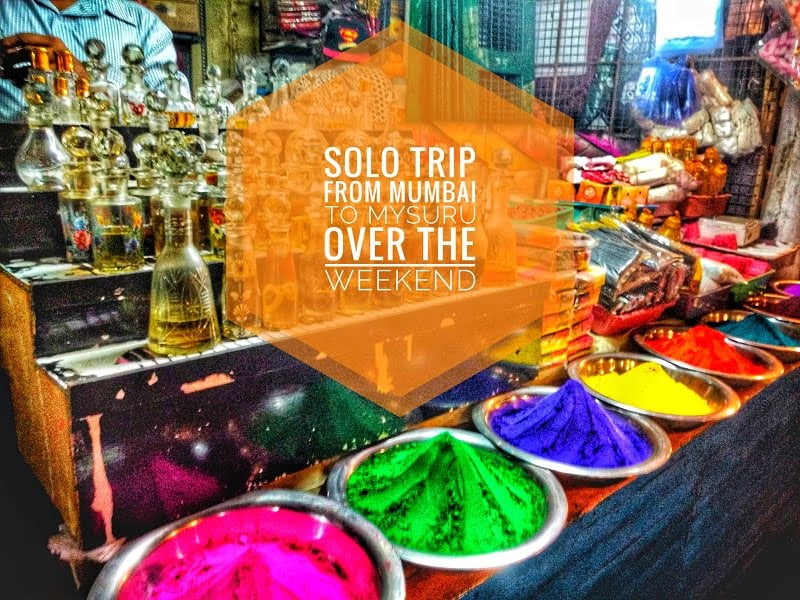 The oils are brilliant. Their shop is in the alley selling coconuts. Beautiful experience if you want to explore local market and buy reasonable incense sticks and perfume oils. Adil speaks many languages and claims to have incense sticks that burn for an hour. Gave me a few samples too.
4. Brindavan Gardens
Later in the evening I decided to visit Brindavan Gardens which is approximately 25 kms away from the city. Uber and Ola do not operate there. Autos are not allowed to go so you need to hire a private taxi. The taxi charged me Rs 800 for the to and fro ride from the city. But when I reached there, I felt that all the trouble of reaching the garden was not worth it.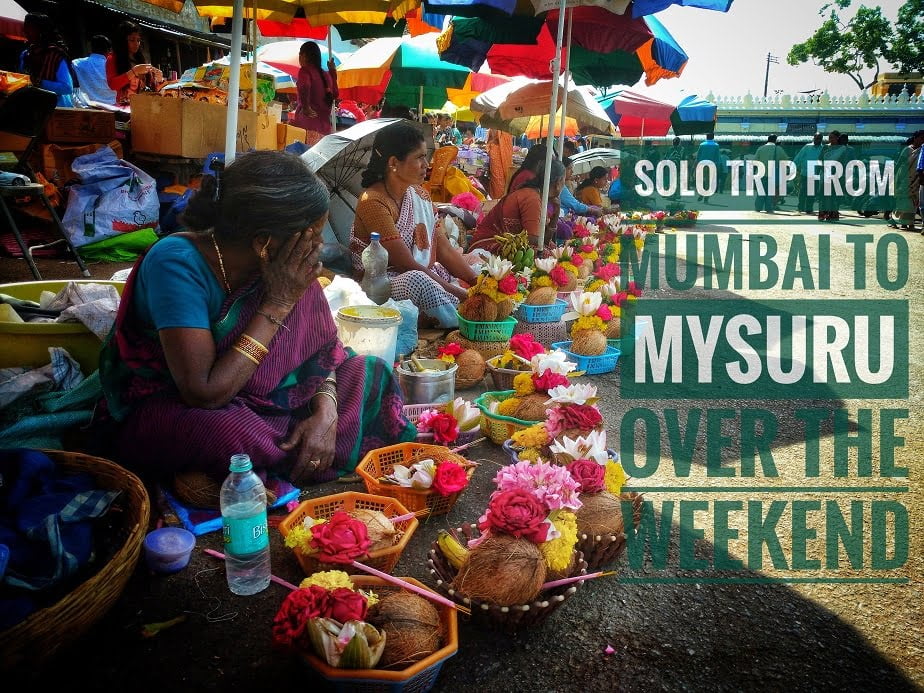 I have witnessed better gardens around the world. The musical fountain show was average. So all those who are planning to visit Brindavan Gardens should go there with very low expectations.
Over the weekend, the place is over crowded and you have no space to move. I suggest to visit it on a weekday instead (in case you are traveling on a weekday then visit, else give it a miss). I came back to my hotel and crashed as I was extremely tired. You can see a video about my trip to Mysore here.
Sunday
The next day I hired a local auto driver who decided to take me around the city by meter.
His incentive was to take me to sandalwood oil and silk shopping which anyway I was planning to do and earn commission. Autos in Mysore are notorious for over charging unsuspecting travelers. But thankfully my auto driver was a decent guy.
1. Chamundi hills
I started my journey by visiting Chamundi Hills the next day. It hosts the famous Chamundeshwari temple and the giant Nandi.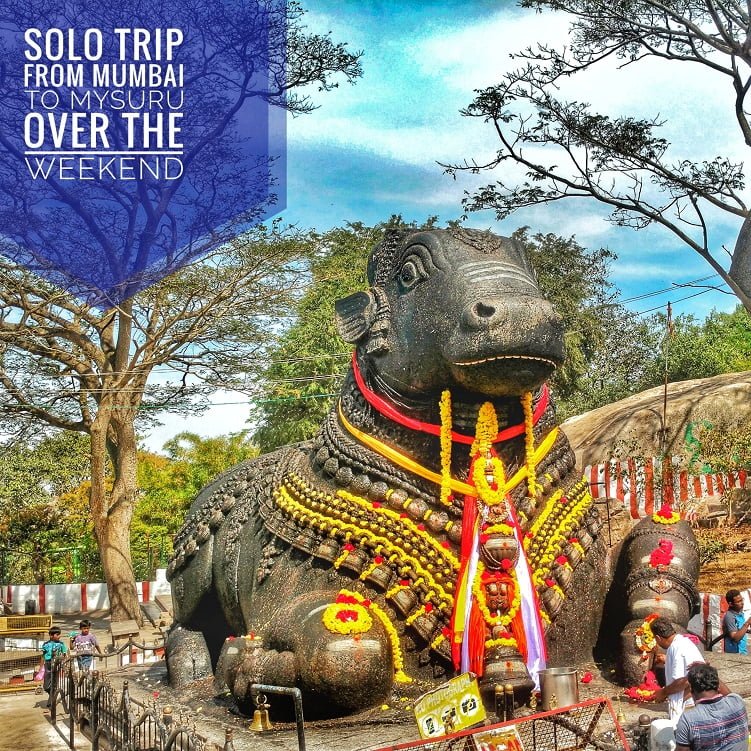 2. Sand art and sculptures
On my way back I also visited a quaint little museum of sand sculptures. It was pretty interesting. I was done with it within 20 minutes.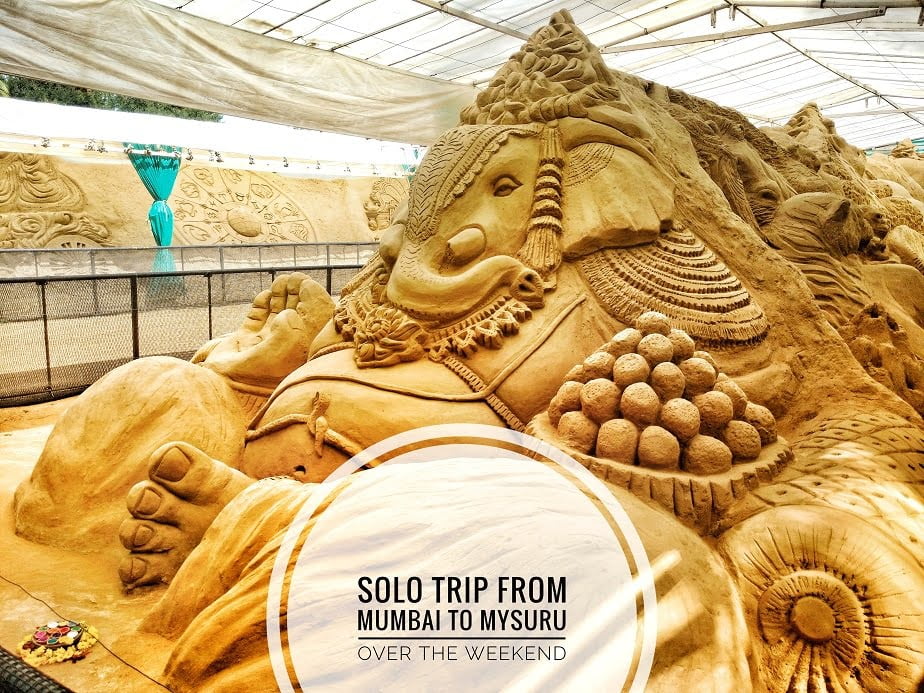 3. Jagmohan Palace
Jaganmohan Palace instead which has a huge artifacts collection from Mysore kings and royalties as well as paintings by Raja Ravi Verma. It has hand painted wall paper which is pretty impressive for that era.
4. Railway Museum
I went to the Railway Museum that exhibits a bespoke carriage used by the queen of Mysore and her entourage.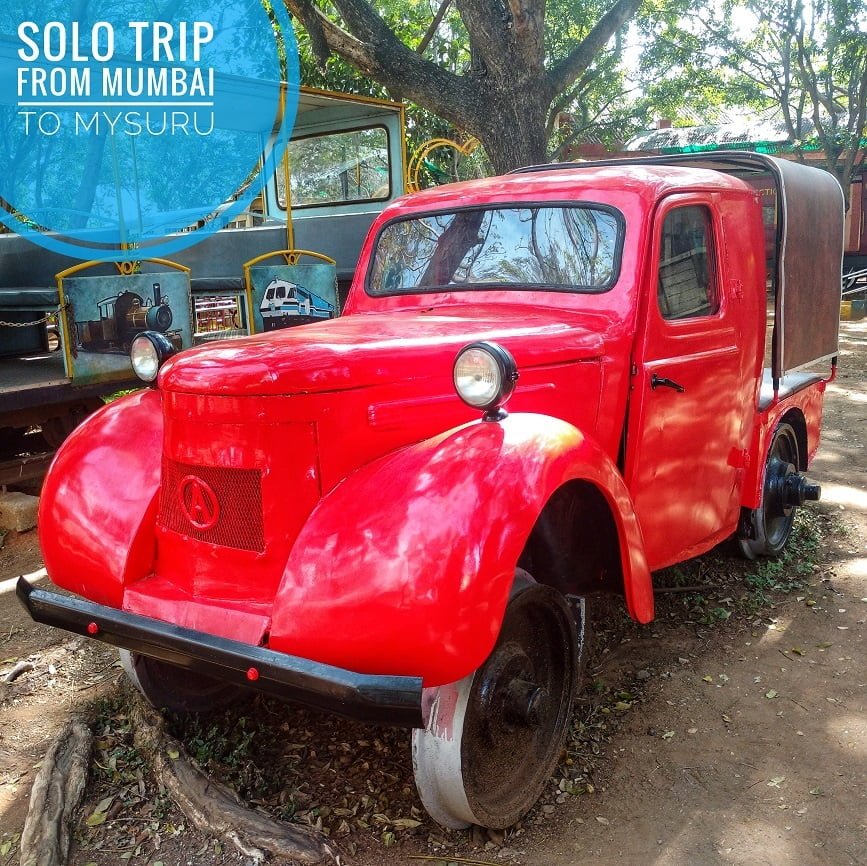 5. Lakshmi Villas or the Mysore Palace
My last stop was the magnificent Lakshmi Villas or the Mysore Palace. It is truly astounding from inside as well as outside. Luckily, I was there over the weekend and the palace is lit up between 7 pm to 7:45 pm on Saturdays, Sundays and public holidays.
Royal musicians perform classical music after the palace is lit up. The palace is over crowded during the weekends. You will be pushed along the crowd and will not be able to see each and everything properly. But the glimpse inside the royal palace makes it worth your time. So much of opulence and beauty.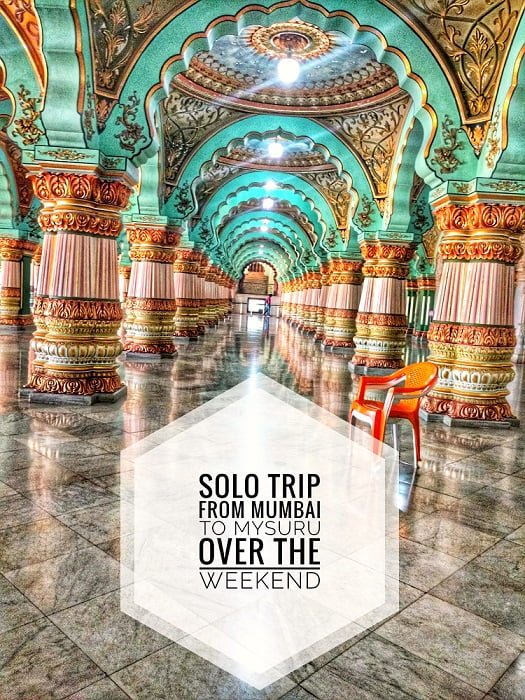 Once outside, you can explore the huge palace grounds and wait with baited breath for it to go all twinkle twinkle.
It houses the famous Lakshmi temple where you can offer puja after 6 pm. The paintings on the temple wall are story based and colorful. You must not miss them. It looks truly amazing.
I was elated to see the Mysore palace, one of the best palaces in our country.
6. Mysore Zoo
I skipped the Mysore zoo as I was not traveling with the kids, but have heard that it boasts of some very exotic collection of animals. If you have time, you should definitely visit.
What to eat in Mysuru?
I tried Mysore Bonda and Mysore Dosa from Nalpak. Needless to say, it was extremely delicious. You can try fried ice cream too.
My auto driver took me to Guru Sweet Mart, a small corner shop to buy authentic Mysore Pak which is no where close to what we eat and like. Natraj, owner of the shop is a descendant of the royal chef who invented Mysore Pak. I bought some Mysore Pak for home. A piece of history brought back with me, literally.
I came back to my hotel Lalitha Mahal Palace by 8:30 pm and decided to go for their royal thali. I couldn't finish all the food but got a glimpse of the gluttony that prevailed in the royal families.
Next morning I stayed inside the hotel exploring their beautiful suites and hotel grounds. I also took a ride on their royal carriage.
Post lunch I started for Bangalore on a Flybus. Reached Kempegowda Airport on time and took a flight to Mumbai.
All I can say is that this trip was very adventurous and educational as well as it boosted my confidence to do more solo trips in the future.
Have you ever been on a solo trip? Do leave me your recommendations for my next trip in the comments section.
You can explore more travel articles here.
For more such articles, please subscribe.