Are you planning to apply for Lakme Fashion Week as a model? Do you want to know how to participate in Lakme Fashion Week as a model? Then read on.

This year, Lakme Fashion Week, India's most established fashion week was jointly conducted by Lakme, FDCI (Fashion Design Council Of India) and Rise Worldwide (formerly known as IMG Reliance).
Many coveted designers and models participated in this event that was concluded on 21st March, 2021. The best part was that FDCI decided to conduct a model hunt #GetNoticed for male models and the finalists walked the ramp during Lakme Fashion Week.
700+ registrations were received, out of which 15 were shortlisted to go through a three day workshop by Wilder Bee Talent Camp owned by model Laxmi Rana. Post this workshop, top 3 models were chosen to walk the ramp.
This intensive program included sessions on various aspects to make the male models ramp ready, like:
The business of modelling
Ramp walk training and artistic posing
Personal branding
Effective communication
Grooming and self-styling
Agency and contracts
BEST CAREER OPTIONS AFTER RAMP MODELING
Who should I approach to become a model in the Indian Fashion industry?
FDCI has the 'Industry category' of membership under which all fashion professionals including models, hair stylists, choreographers, etc. can apply. The portfolio of these members is uploaded on the FDCI website.
Other than this, the aspiring models can drop in their portfolios to the FDCI office and the Council can keep it in the database for easy reference for the designers for any forthcoming events.
Not only that, every year Lakme Fashion Week auditions over 100 girls who aspire to become a model and walk the ramp. Out of those 100, may be 4 or 5 get selected to walk the ramp.
These auditions are mostly held at St. Regis hotel in Mumbai in the month of June or December. The auditions are held in other major cities like Delhi, Bangalore, among others.
With the inclusion of plus size dresses, Lakme Fashion Week also auditioned for plus size models a few years ago.
This year also they invited registrations from aspiring models like the past years.
If you want to be a model, the first thing you should do is to follow Instagram handles of both FDCI and Lakme Fashion Week so that whenever they roll out such announcements, you can register for the event.
You can attend workshops or training conducted by various experienced models so that they can help you on how to approach agencies and sign a modeling contract.
What attributes do they want in a model?
There are a few international standards for ramp models:
Height: 5'9″ and taller in bare feet
Age 18-25
Dress size 2-4
Must be healthy, in good physical shape
Clear unblemished skin ( No pimples on face or body)
Straight white teeth
No tan lines
No obvious scars
No excessive piercings or tattoos
You will be asked to walk
Toned and clean legs, arms and upper back (to see if you can model open back gowns)
Bust, Waist, Hip measurement should be as per the standard industry measurements
Shoe Size as per standard industry measurement
An impressive portfolio with good social media fan following
In India, the model selection is done almost on the same lines, with a few relaxation in terms of height.
5′ 7″ and above
Charming features
Confident walk in the heels
Poise and elegance
International models can apply who have a valid work visa of 6 months and above
How can I register for the modeling auditions?
Usually, the Instagram or Facebook announcement will give the details or a link for registration.
You will be required to send an email to the concerned person mentioned in the announcement or fill all your details through a link.
You need to fill in your details like full name, city, height, mobile number, email address, body measurements, social media profile links, etc.
If you are shortlisted, you will receive a call or an email with further instructions, date and venue of the audition.
#RampAlert Open call for Female Model Auditions (Indian & International Models).
3rd March 2016 at Delhi .@FitbitIN pic.twitter.com/mivWiywfdK

— Lakmé Fashion Week (@LakmeFashionWk) February 26, 2016
What should I wear to the auditions?
A tank top or sleeveless top
Shorts or short skirt
You favorite stilettoes/heels
Lots of confidence
No jeans or dress
No over the top make up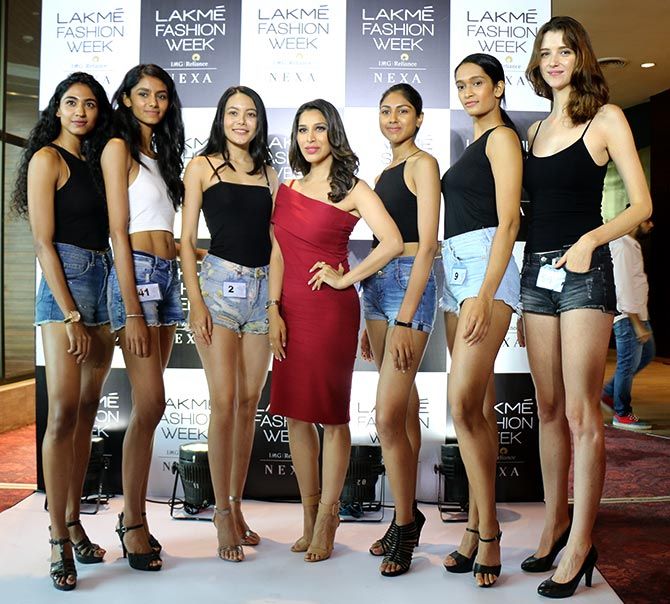 What should I carry to the auditions?
2 sets of pictures or composite cards mentioning your name, height, body measurements and mobile number written on it.
Any other things as requested by the organizer.
What happens during the auditions?
On the day of auditions, the participants are required to report on the given date, venue and time.
The participants are given a token number and then they are made to sit and wait till their name and number is announced. Their height measurement is recorded to ensure that they are over 5 feet and 7 inches.
The judges are seated and the scrutiny begins.
The participants strut the ramp in heels to show their confidence on the ramp.
They are marked on different parameters.
Eventually, 4 or 5 participants are chosen as finalists who go for further training/practice sessions with show director to walk the ramp.
Beverages, water and light snacks are provided for the participants.
How much does a model earn during Lakme Fashion Week?
A male model can earn between Rs 6000 to 8000 for a show as a starting salary. A female model can earn Rs 10000 for a show as a starting salary. It depends on the popularity of various fashion weeks and budget of the designers.
As per Glassdoor, a model earns between Rs 27,812 – Rs 29,925 per show. This is as per the data entered by one participant into their system.
Once established, models can earn upto Rs 1 Lakh or more per show.
How can I become the showstopper in Lakme Fashion Week?
Unfortunately, in India only a TV or movie actor can become a showstopper. It also depends on the show director, who he or she wants to cast as the showstopper.
You can also read about Hamleys Ramp Camp, kid's fashion during Lakme Fashion Week here.
For more such articles, please subscribe to the blog.