Do you want to know about the Hamleys Ramp Camp selection process? Kids fashion week is popular among many parents but do you know what it takes to be there? Then read on.
My 7 year old daughter participated in the Hamleys Ramp Camp last year and walked Lakme Fashion Week as a child model. Many mothers were curious to know how did she get through the prestigious Lakme Fashion Week. And that's when I decided to write a blog describing the details of the event. This blog will help many parents understand the process of getting into such events.
Here is my daughter's Instagram page where you can see her brand collaborations and other activities. She is wearing a Mothercare dress as selected by the Hamelys Ramp Camp team during Lakme Fashion Week 2019 Autumn Winter collection.
Young children as models – is it ok?
Children as young as 6 months participate in the commercials and advertisements. Most of the times, it is the parents who are eager for their child to start their modeling career at a young age. And there are critics who frown upon such ambitious parents. But in my opinion, if your child is talented, is showing interest in these kind of assignments, then they should be allowed to experiment.
We as parents can provide them exposure to such things at young age, so that they can decide if this is something they want to do later in life. I cannot say much about very young models. But children who are 5 years old or above are well aware about the job of modeling. They are honest. If they don't like something, they are quite vocal about it.
I saw a series called Mentalhood on Zee5 where the main protagonist is Karishma Kapoor. She is a budding mommy model and is happy when her youngest son who is 5 years old is chosen for a noodles commercial. But when the child refuses to eat the noodles on the set and makes it clear to the crew that he is not interested in the so called drill for the advertisement, she swiftly removes the child from the set. Post that she never forces him to go for any auditions.
That should be the approach. They have a whole life to do what they desire. We as parents can only facilitate what makes them happy. And if working in commercials or modeling is something that they want to pursue then so be it. But one should never force their child into it. Also, never pay a hefty fees to get entry to such activities. I know a couple of crooks who are looting parents in the name of their child's exposure to the fashion world.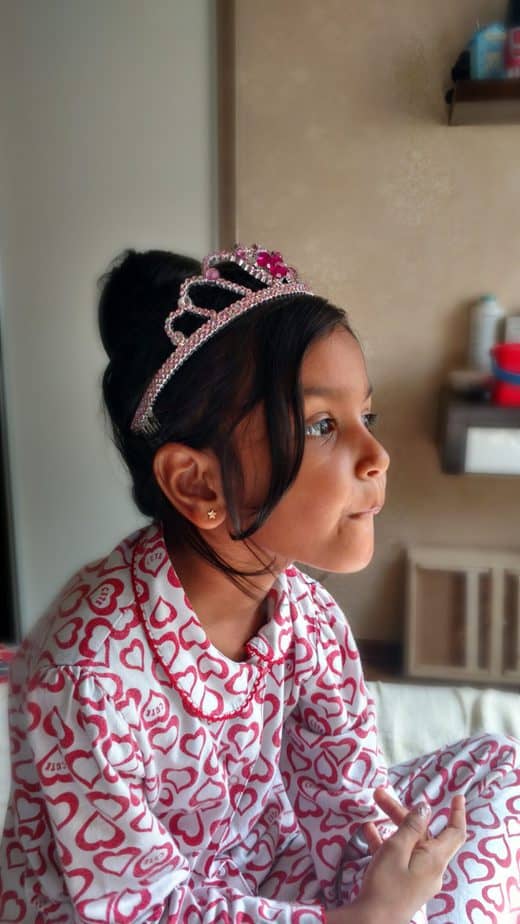 Nurture your child's interest
Coming back to my daughter, she is a little diva since childhood and I know her love for beauty and fashion from a young age. It can also be attributed to my work profile that she observed very closely while growing up. So when I took my kids for a casual visit to Hamelys for their birthday gifts, she saw a podium for aspiring kid models called Hamelys Ramp Camp and was instantly interested.
All I had to do was purchase products for a particular amount so that she could get a ticket to participate. I was anyway planning to buy products so when we met the purchase requirements, we registered my daughter for Hamelys Ramp Camp 2019. I made those purchases in April.
Hamleys Ramp Camp selection process
In the month of July, I received a link in my email where the Hamley's team informed that Tvisha's profile has been uploaded and she needed maximum votes to participate in the Hamley's Ramp Camp. We circulated the link to our friends, families and the contacts to gather maximum votes on her profile. Her name was spelled incorrectly. I wrote to the team to rectify it and they did.
In the month of August, we were called for the audition for Hamelys Ramp Campin the Hamleys store located in Phoenix mall, Lower Parel. Tvisha joined the second lot of children who were supposed to get trained by ace fashion choreographer and India's Next Top Model mentor Neeraj Gaba that day. Neeraj Gaba connected with the children at their level and exuded a lot of energy. He showed a lot of patience while training the kids.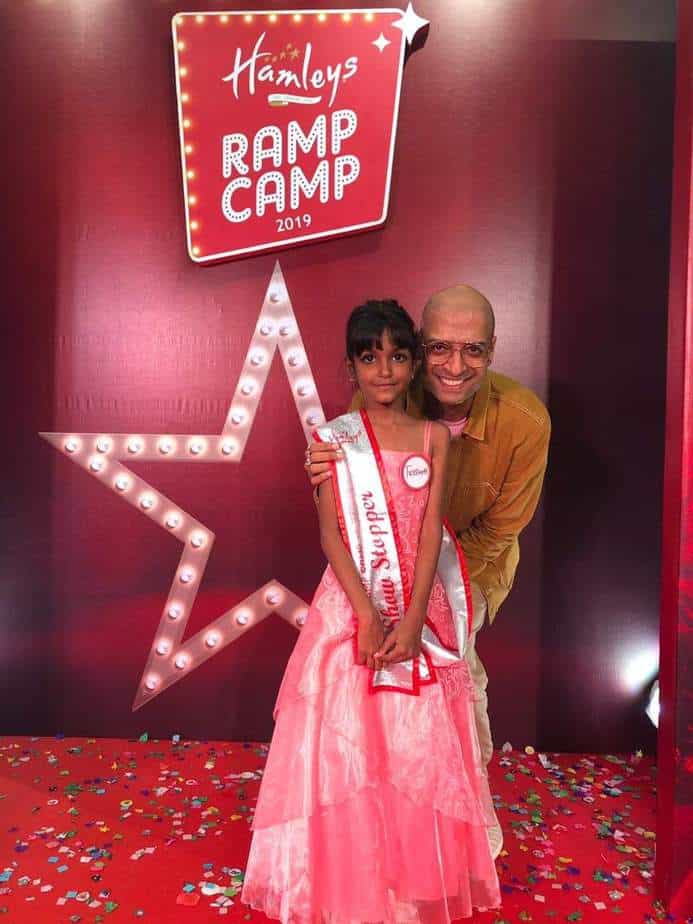 Winning the title at Hamleys Ramp Camp
Out of the 20 shortlisted children that day, she was chosen as the Show Stopper for Hamelys Ramp Camp. She was one of the 7 children who received a title that evening. Our whole day was spent on auditions that day. We received a call in the next two days that Tvisha will have to go for her measurements/fittings to Hamelys, in Lower Parel. A tailor took her shoe size, head circumference and all the body measurements.
She was asked to report one day prior to the D Day for rehearsal at Pallazio Ballroom in St. Regis. Many parents had accompanied their children who had come to attend the event from out station. For Hamleys Ramp Camp, one parent was allowed to travel with the child. Airfare and hotel stay was provided by the Hamley's team as well. There was a big group of parents waiting for the children to finish their rehearsal.
D Day – Lakme Fashion Week – Hamleys Ramp Camp
Finally, she walked the ramp on August 26th, 2019 during Lakme Fashion Week for Hamleys Ramp Camp. She walked along side Esha Deol and her daughter Radhya and another 20 finalists. That was a proud moment for us. Later, we came to know that there were almost 5000 entries across India and Tvisha was among the chosen 20. She loves to face the camera and we saw how confidently she walked the ramp.
Is Hamleys Ramp Camp a beginning of your child's modeling career?
Many parents thought that Hamleys Ramp Camp was the beginning of the modeling career for their children. But the truth is that it is just a glimpse of the modeling world. All those who seriously want to pursue modeling will have to get a portfolio created for their child and circulate it with the child modeling coordinators and agencies. These people then inform the parents about the upcoming auditions. Every child has to go through auditions – be it novice or seasoned. Each requirement is different. If the child fits the role, then only the agency will hire him or her.
Every child is great and every child is special. But parents should understand that if the child didn't get through audition then it doesn't mean that your child is bad. It just means that his/her personality didn't gel with the role requirement. Parents should not push their children to perform in a certain way. Many children are great on the ramp or print media campaigns but they are not good at acting. But this quality can be cultivated through proper training and classes later in life.
My daughter is very comfortable in front of the camera, posing. But not that good in acting. So I would prefer her to go where she is comfortable which is ramp and print shoots rather than ad films. And when she will grow up, she can decide what should be her career path.
Don't stop a child from exploring. Be it cosmos or cosmetics. After all, we are here to guide. We don't own their lives. We are only here to nurture their dreams.
What do you think about this post? If you have any questions, do let me know in the comments section below.
Read about fashion brands that upcycle saris to create cool, and fashionable products.
Read about Masaba Gupta, the queen of collaborations.
You can see her entire journey in this small video.
For more such articles, please subscribe to the blog.