Are you wondering which career options after ramp modeling exists for models in India? Read on.
Modeling is a coveted career option for many. It promises glamour and money. Ramp modeling is one of the sought after career option for youngsters as they feel besotted by the beauty and fashion industry. Many popular actresses like Deepika Padukone, Aishwarya Rai, Priyanka Chopra, Sushmita Sen, Bipasha Basu, Lara Dutta, Neha Dhupia were once ramp models.
HOW TO APPLY FOR LAKME FASHION WEEK AS A MODEL
But not many are aware that it is a serious business which requires a lot of hard work and commitment. Moreover, the shelf life of a ramp model is less than other career professionals. So how do you survive post ramp modeling? What do you do post modeling? What are the career prospects after ramp modeling?
Here are 9 super models, who show that ramp modeling can be used as a platform to achieve further major successes in life and not all models turn to acting.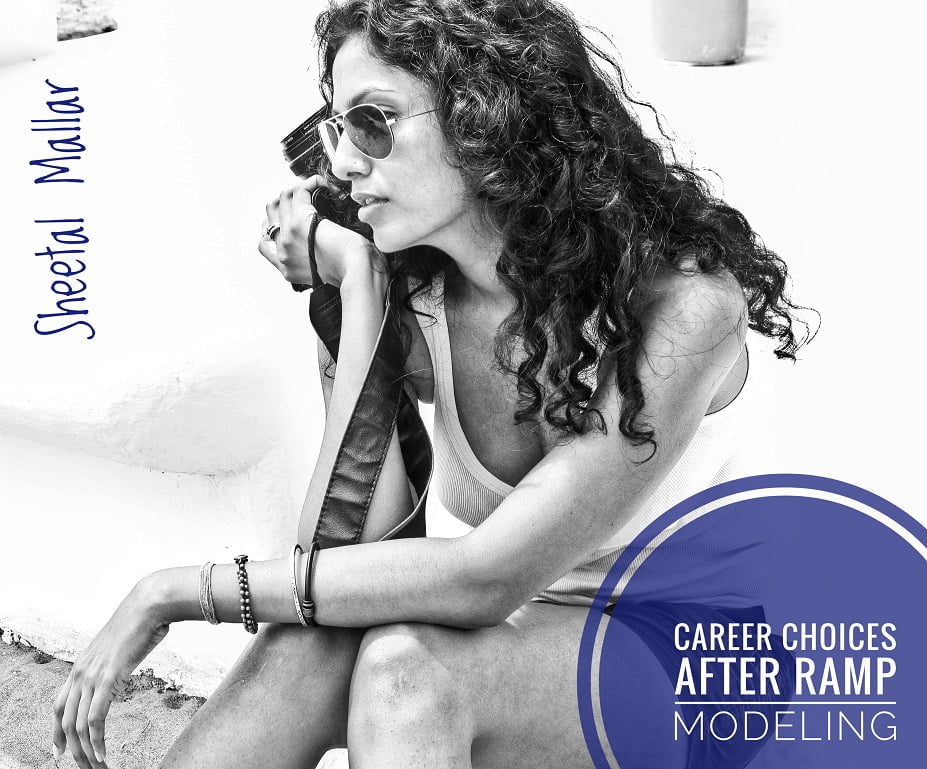 There are several veteran supermodels who have carved a niche for themselves, post ramp modeling days. You can take inspiration from their journey.
1. Sheetal Mallar – Photographer
The curly haired dusky beauty Sheetal Mallar was a popular name in the 90s. She was placed among the 12 finalists in the Elite Supermodel Contest held in 1994 and worked for Armani and Fendi. She won the Femina Look of the Year and the Elite Look of the Year in 1994.
She was also the face for Maybelline cosmetics. Post her ramp modeling days, she has successfully transformed into an Indian photographer and gets commissioned for various projects.
2. Laxmi Rana – Wilder Bee Talent Camp
Laxmi Rana made her debut on the ramp in 2001-02 and has 20 years of experience walking the ramp. She is still going strong with her ramp modeling career. Today, she also owns the Wilder Bee Talent Camp, a talent management and grooming company for future models.
She collaborated with FDCI during Lakme Fashion Week 2021 ( a joint effort by FDCI, Lakme Fashion Week and Rise Worldwide) to select and groom 3 male models who walked the ramp during the fashion week.
3. Anu Ahuja – Show Director
Yesteryear's popular model Anu Ahuja is now a Show Director with India's most sought after fashion week. She has been part of the fashion industry for more tan 20 years.
She takes model auditions, choreographs shows, creates budgets and plans, hires staff, oversees rehearsals for a successful show.
As the director of a fashion show, she oversees every aspect of the event, from its conception to the final presentation.
4. Lubna Adam – Event Director & Producer
Lubna Adam, popular model from the 70s was the face of brands like Vimal and Kodak. She has been in the Indian fashion industry for almost 30 years.
She has been a sought after name when it comes to event direction and production. She conceptualizes and executes set design. She has directed numerous fashion shows and pageants.
She has also been the Creative Director for Zee Trendz, Zee Muzic and ETC, revamping the channels with her unique perspective and insider's knowledge of the industry.
5. Alesia Raut – Cocoaberry Talent & Academy
Alesia Raut, top ramp model and fashion choreographer turned entrepreneur with Cocoaberry, a talent management, show curation and modeling training academy along with her sister Anjali, who is also a ramp model. The Raut sisters are going strong with their academy, training more than 500 modeling aspirants till now.
6. Milind Soman – Sports Person
Super model Milind Soman became a sports person much before his modeling career took off. He was a national and international level swimming champion. Soman represented India in swimming in the inaugural South Asian Games (then known as South Asian Federation Games) in 1984 held at Kathmandu where he won a Silver medal. He resumed being a sports and youth icon after his modeling days were over.
In 2015, Milind completed the Ironman challenge in 15 hours and 19 minutes , in his first try. The triathlon includes a 3.8-km swim, a 180.2-km cycle ride and 42.2-km run raced in that order without a break which the participants are required to complete within 17 hours to win the title of 'Ironman'.
He is also a TV actor. Ramp modeling encourages individuals to look aesthetically and physically fit. That fitness is achieved by engaging in sports.
7. Arjun Rampal – Actor, Producer & writer
Arjun Rampal is one of the best examples of a ramp model making it big in Bollywood. He has worked along side superstars as well as delivered some noteworthy performances in movies like Rock On, The Last Lear, etc.
Arjun is also a movie producer and screenplay writer. He has been in the Indian movie industry for more than 20 years.
8. Dino Morea – Entrepreneur, Investor and actor
Dino Morea was a successful ramp model before he turned to not so successful Bollywood stint with handful of movies. But the model turned entrepreneur by investing into fantasy gaming companies.
He became a key investor for LivePools.com in 2019, a sports-tech venture in games of skill within the fantasy space that was fairly new in India.
9. Padma Laxmi – Chef, jewellery designer and activist
Indian origin super model Padma Laxmi turned chef, author of a cook book, a jewellery designer and an activist after her stint in the modeling industry.
She is bringing awareness about Endometriosis as well as many other social causes. She found more success after her modeling days were over.
There are several examples which prove that a ramp modeling stint can give shape to a unique career path for an individual.
For more articles like this, please subscribe.