Guest blog by Navita Hakim, owner – baker at the Pink Penguins: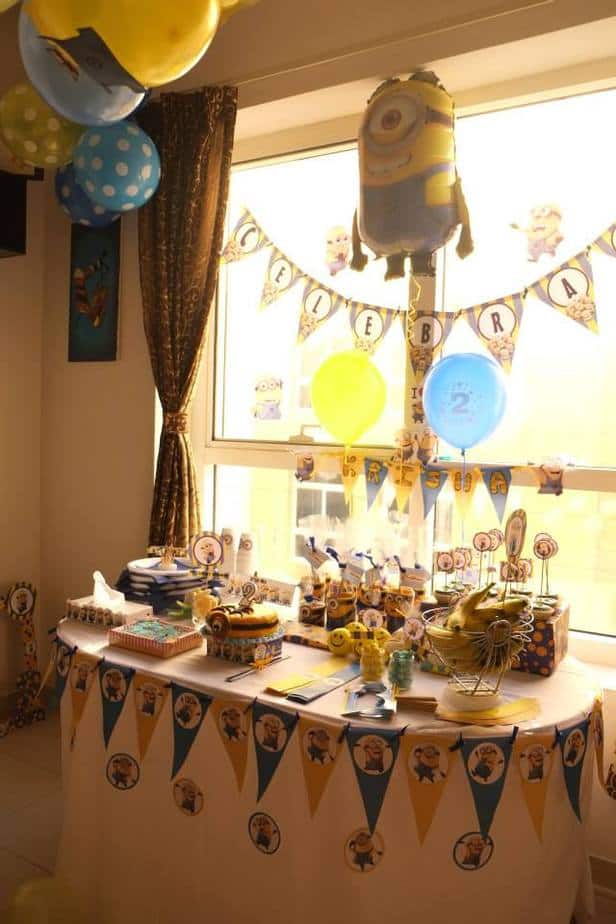 After having successfully blogged at my food blog Zaayeka (almost half a decade ago) I am returning to share my story over the net once again. Sometimes all you need is a request from a dear friend to shun the laziness and do something that you love. Thank you Parimita, for making me realize how much fun it is to blog….all over again!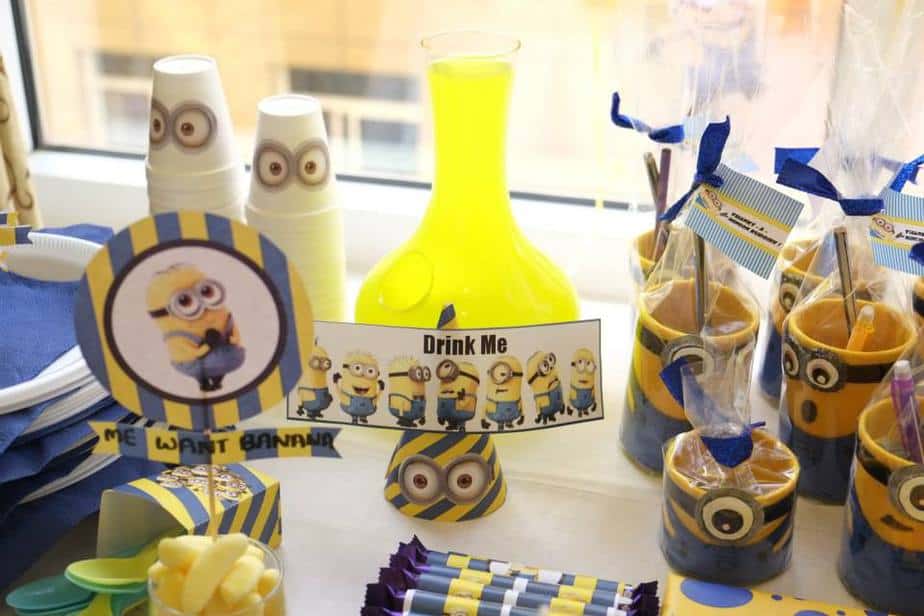 Around 4 months ago, as I was researching on the internet for the birthday party for my toddler complete with butterflies, bees etc. on my laptop, while DD sat next to me on the couch. She saw an image of a bee with yellow and black stripes and her little brain interpreted that as her favorite animation character "Minion!" and she squealed with joy.
You can order minion birthday party supplies here.
You can order minion soft toys here.
You can order minion kid tent, bottle, tiffin box, cushions, bedsheet, travel bags and other articles here.
That's when I froze on the theme and decided to plan the party Minion style. The gleam in her eyes and the happiness in her voice were good enough to convince me that I will have to plan a Minion themed birthday party for her.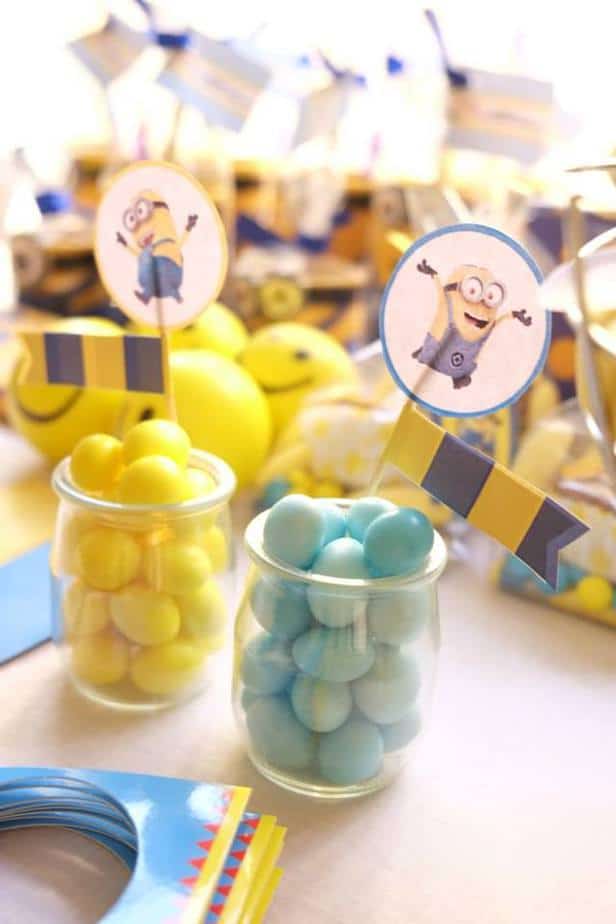 The Austrian shop owner and the Minion balloon:
Our first buy for the party was the Minion shaped helium balloon that we located floating in the skies in an Austrian fair two months before the party while we were on our Euro trip. The i-only-understand-French-balloon-shop-owner wasn't ready to part with the deflated Minion balloon in his shop.
But an animated request by yours' truly, to the point of pleading to get a deflated minion balloon made him melt and finally he gave in and did sell us the only deflated minion balloon he had (so the trip was worth it after all….lol).
I later realized that such balloons can be ordered on Amazon.com and cost approximately around $10. You can also check your local party stores who might have it in stock.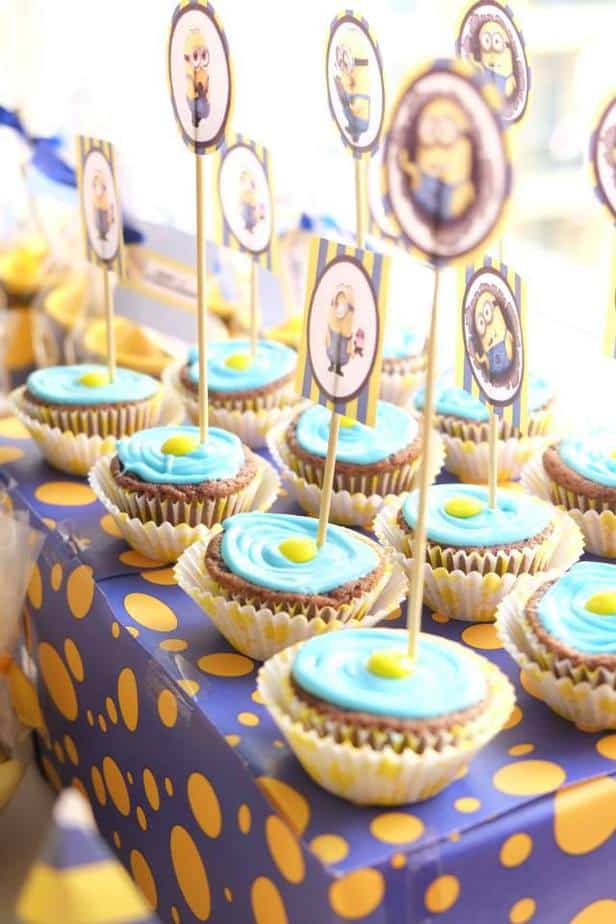 Invite:
I made a list of all the guests that we were to invite. Made the invites first and distributed, so that we knew exactly how many were surely going to make it. This helped in making the return favors, as they had to be handmade too. (Not much choices available in the market that was minion and toddler worthy.)
I took a print out of the invites. Cut them with scissors. If craft is not your forte then you can get them printed on line. You can also create e-invites with the basic knowledge of MS Office or online invite creators.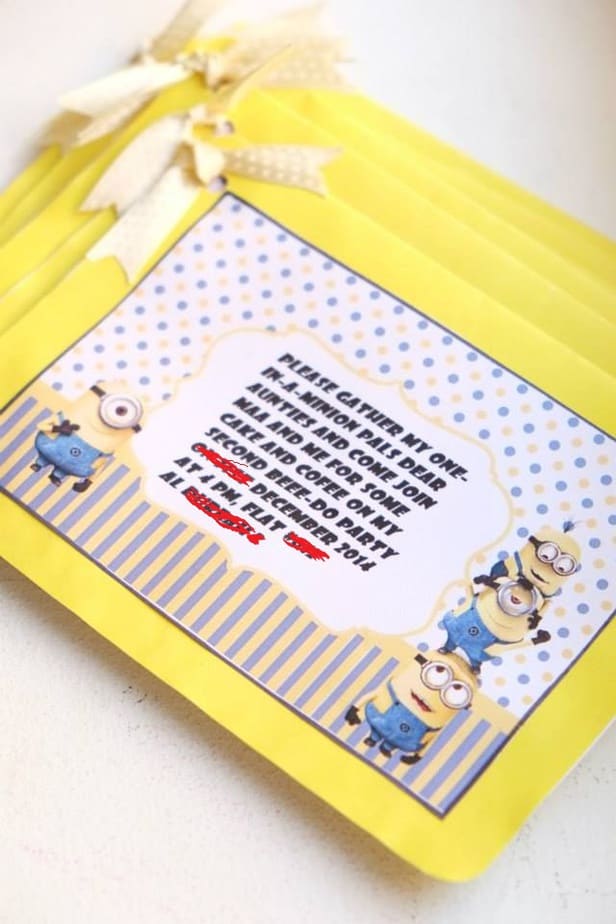 Decoration:
Now coming back to the party décor, I decided to have everything with a Minion feel. Everything had to have the minion imprint, right from tissues, toothpicks, plates to glasses and for that I required a lot of cut outs and print outs. So I got hold of a good colored printer and set out to print the cut outs.
I got some high quality images from the net, prepared a folder and then according to the requirement (number of guests, food, return gift, etc.) Printed them. 
For the décor, I decided on the yellow and blue theme. I purchased the polka yellow/blue balloons, candle, banner paper, etc. from Party Centre and Day-to-Day stores in Dubai.
Also, I couldn't find minion balloons in large numbers, so I made a minion cut-out online, printed it, cut it and pasted it on solid yellow colored balloons. I bought my craft stuff like felt, etc., from Arabian Centre.
Cut outs were also used to decorate tissue boxes, tooth picks, drink glasses, paper plates, etc.
Photo prop and photographer:
Photographs are memories and to create good memories you need the loved ones and a great photo prop. Next for a good photo prop, I created a 'Minion Frame'. Again a lot of print outs, concept design, cutting and pasting was involved but eventually it come out really well. It became an excellent activity to entertain the guests as well as to capture the images of the guests present at the party. Asked DH to become the official photographer for the evening!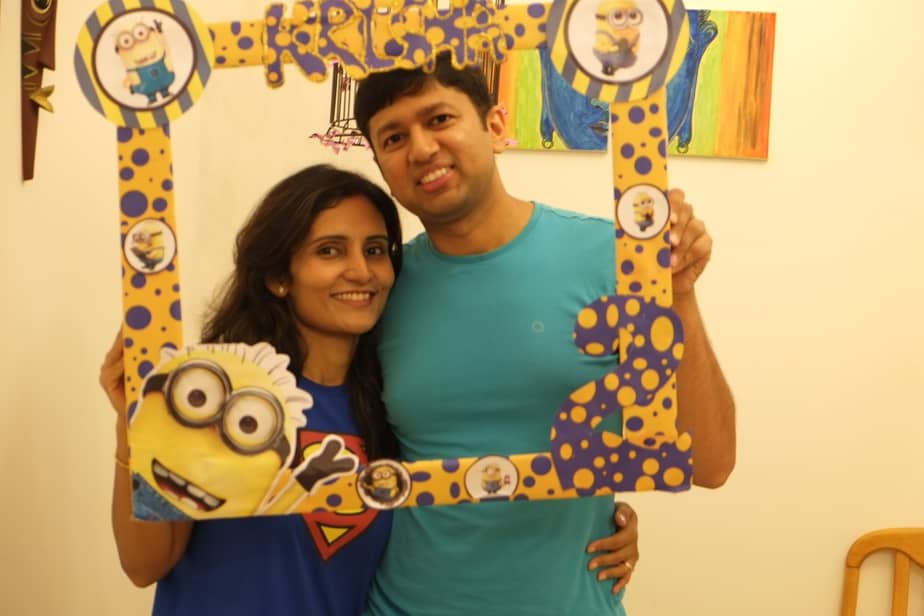 Minion themed hand bands, masks, birthday caps
I also bought Minion themed birthday caps from the Party Centre. And created Minion hand bands and face masks myself. Blue and yellow colored paper strips with Minion sticker in the center was as easy one to create and was loved by the children.
For the face mask, I printed blue envelops, cut the eye area, pasted an ice-cream stick in the middle bottom of the envelop and decked it up with Minion eye cutout at the corner. Children loved the idea of using it during the party just like Venetian masks.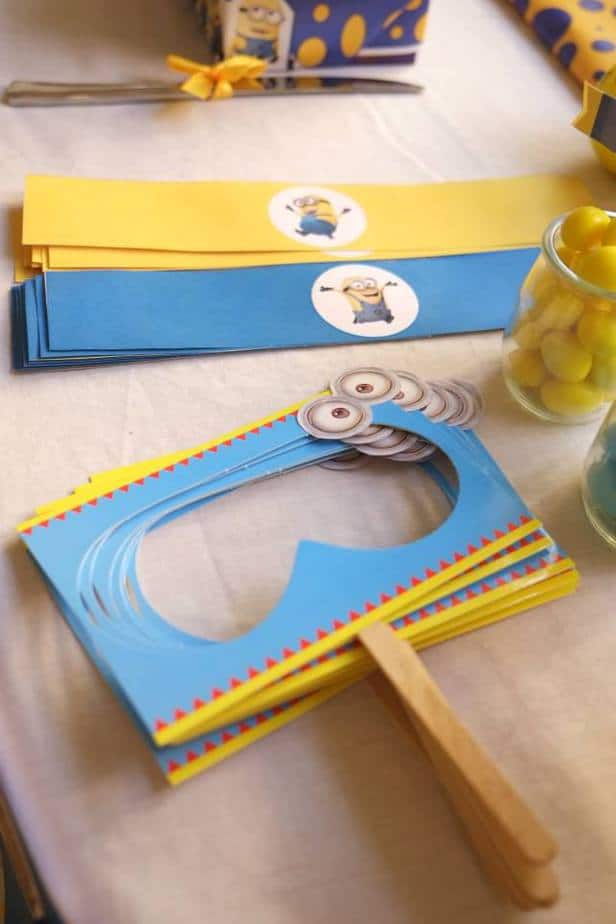 Party menu:
Speaking of Menu, you need to decide on items that are ok to eat even if they aren't steaming hot; and of course you need to keep in mind the guest list and time of the day, i.e. lunch, dinner, etc. I decided to host a hi-tea. I decided on things that could be made ahead of time and refrigerated. So, I planned this menu.
Hi-Tea menu (all homemade):
• Food: Schezwan Idli, Mini Dhoklas, Soya Canapés/Pizzas, Aloo Bondas and Basket Sprout Chaat
• Drinks: Lemonade and Chai Latte
You can order all this at https://www.facebook.com/thepinkpenguinpartyplanners
The table runner and other table decoration had Minion cut outs as well. Do you think it is overdose of Minion? Nah..! I bought the theme matching almond candies in yellow and blue from the candy store. Jelly bananas, cupcakes, candy bowls were decorated with large wooden skewers decorated with a Minion cut out.
Chocolate were wrapped in a Minion themed printed paper. Also, I placed a few smiley yellow balls to add to the color scheme and make the table more interesting for the kids. Later, the kids played with the smiley balls.
Minion themed birthday cake and cupcakes:
The birthday cake had to be the star dessert. I made it two days before the D-day. It was a dark chocolate cake with raspberry filling, covered in marzipan and marshmallow fondant. (Recipe given below.) Cupcakes were eggless chocolate genoise, as there were few strictly vegetarian guests and you have to account for allergies too.
I made 2 dozen of them a day prior to the event. You can order all this at https://www.facebook.com/thepinkpenguinpartyplanners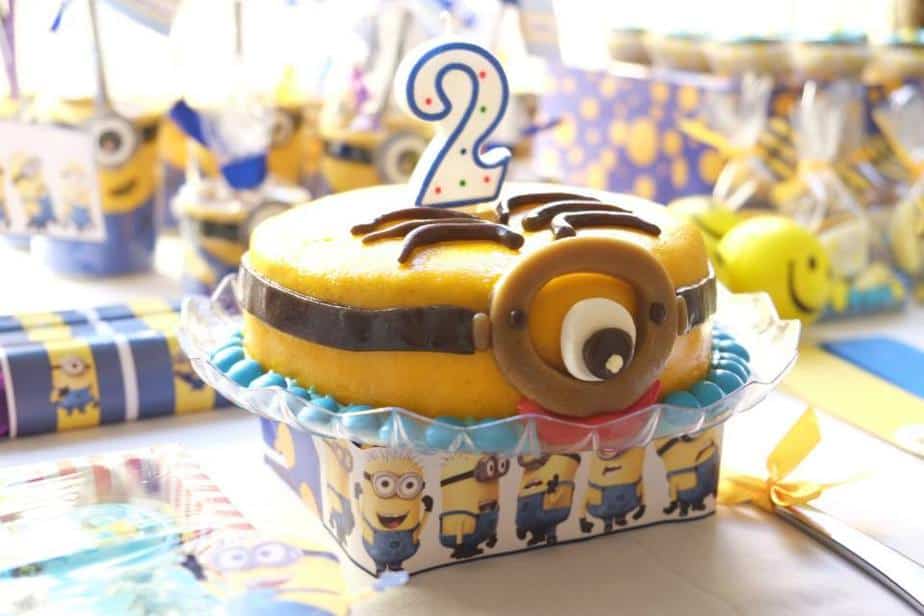 Return favors/gifts:
My return favors were all handmade for toddlers (you need to use your imagination or order online) and some yellow and blue toys for really young ones/infants. I created a goody bag filled with almond candies in blue and yellow color and a Minion themed cupcake. Along with it I created pen holders. I bought yellow plastic cups.
I used blue, black and white felt to create Minion cut outs. Pasted the cutouts on the cups and finally painted each cup with black markers to give each cup a distinct Minion expression. It takes time, but it is worth it. Also, bought some clear plastic sheets to pack them. You will be required to use a lot of glue, scissors, scotch tape, stapler, ribbons, glitters, colors to make this theme work.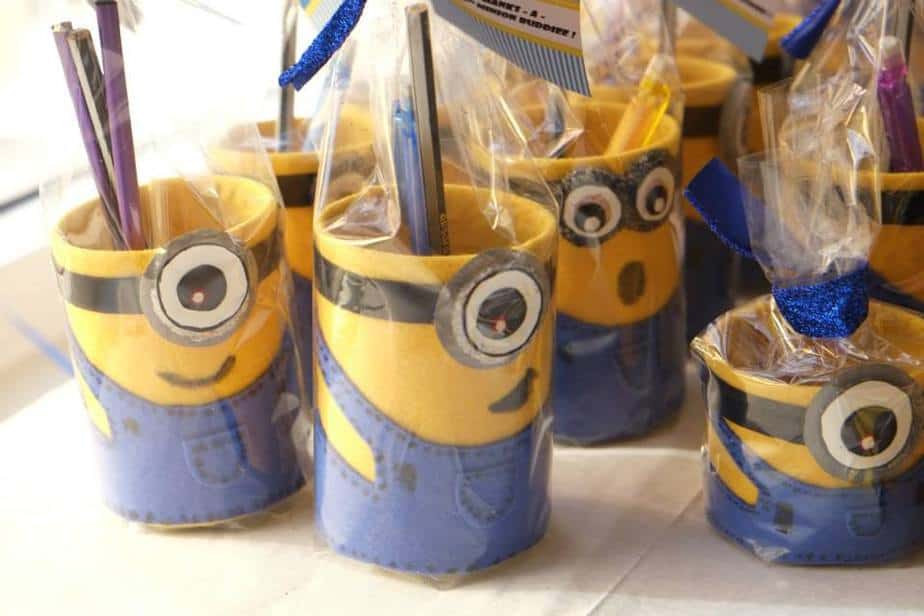 The Minion Birthday cake recipe: (Makes 1 kg approx.)
Dark chocolate cake with raspberry filling, covered in marzipan and marshmallow fondant
Ingredients:
• 1 ½ cups of plain flour
• ½ cup whole wheat flour
• 4 eggs, separated
• 1 tsp baking soda
• 1 tsp baking powder
• 1 ¾ cups fine sugar
• 1 tbsp corn starch
• ½ cup cocoa powder
• 1 tbsp curd
• 1 tsp vanilla extract
• ¼ cup oil + 1 tbsp
• Water, if needed
Method:
• Preheat the oven at 180 deg. C for 10 mins.
• In a big bowl, beat the sugar, egg yolks, oil and curd till creamy. Add the vanilla.
• Now in another bowl, sieve all the dry ingredients.
• Put the wet ingredients into dry, add water if the batter is too thick.
• Now beat the egg whites till they form soft peaks.
• Fold this into the cake batter carefully. Pour in greased 8 inch baking tin and bake for around 35 mins at 180 deg c, till the cake is done and springy to touch.
• Slice, once cake has cooled, spread filling of your choice. Sandwich the cake and cover in buttercream, fondant or any of your favourite frosting.
Hope you found this post informative. I am sure it will help you to plan a Minion themed birthday party. If I have missed out on something, do leave a comment below.
Navita Hakim is a baker and party planner based out of Dubai who runs her company called 'The Pink Penguins'. Her company makes customized birthday cakes, cupcakes, tarts, cake pops and other bakes to make your party memorable.
Also, she can help you plan and host a party on the theme of your choice. Her company specializes in hosting smaller parties customizable as per your budget. For more information, visit https://www.facebook.com/thepinkpenguinpartyplanners
You can also read about how to throw a PJ Masks birthday party here. You can read about 10 unique birthday ideas for grown ups in Mumbai here.
*Some links included in this post might be affiliate links. If you purchase a product through one of them, I will receive a commission (at no additional cost to you). I truly appreciate your support of my blog.
For more articles like this, subscribe to our blog.