My love for a fluffy, hot Keema Pao one weekday morning took us to Koolar & Co. which is at the Matunga Circle, not very far from where I live. Though, South Bombay, the older part of the city is still populated with old Parsi joints but Koolar & Co. is the only one serving Parsi breakfast in and around the area of Dadar, Sion, Matunga, etc.
At first husband was a little reluctant to try Keema Pao early morning but he gave in to my persistent requests. I said, "Parsi's eat this all the time. We should try." For us Keema meant a hot, spicy gravy made with minced meat, potato and peas. Usually, Keema is part of the main course in either lunch or dinner but never for a breakfast.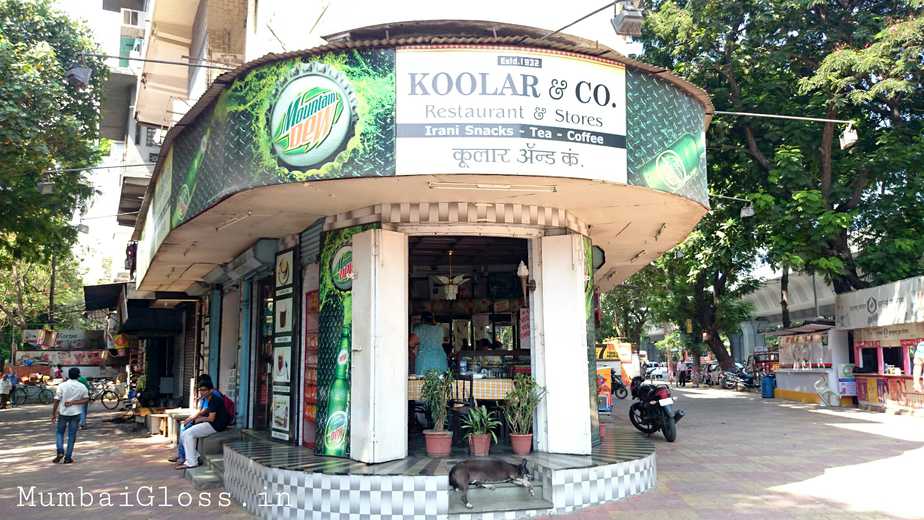 We drove down to this small Irani café which is located in one corner of the Kings Circle. The place has no valet and parking is a problem. You need to park at your own risk in one of the lanes nearby. The place is small, old and looks run down at first glance. Typical, wooden furniture found in various Parsi joints is still used here. You will find vintage telephone, lamp and wall cock in the café which will make you wonder if they still work.
But actually they all are in working condition. The store is adorned with vintage posters of 'Grease' John Travolta and Dolly Parton; even a newspaper cutting showing Titanic's unfortunate capsize also adorns the walls. Smart one liners from a soft drink company are painted as banners and it feels that time moved back by 20 years.
There is a small dessert counter comprising of some bakery goods and a large counter which houses medicines, biscuits, khari to mawa cakes. Mawa cakes here are not that great. I tried it on one of my visits and can suggest that you give it a pass.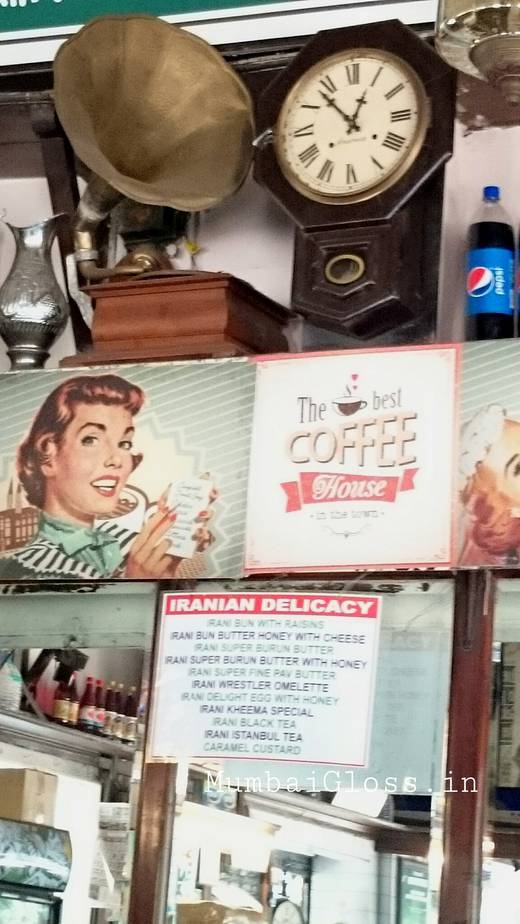 So, coming back to the food at the café, it has limited menu which lists mostly Parsi breakfast items like Omelettes, chicken cutlets, Brun Maska and tea, Keema pao, etc. The food is delicious, especially the Keema which is flavourful and light. I and husband gorged on that guiltlessly as we ordered for two Irani Chai (tea) to go with it.
The view of the Kings Circle and the road right across the café gave it nonchalance and freeness of a vagabond. I saw people travelling whereas I was sitting still watching people go by trying to catch some breath before I start again. You know that feeling? Don't you? Am I deviating from the main concept, which is food? Pardon me! So to conclude, we loved the Keema pao and plan to try the cutlets next time.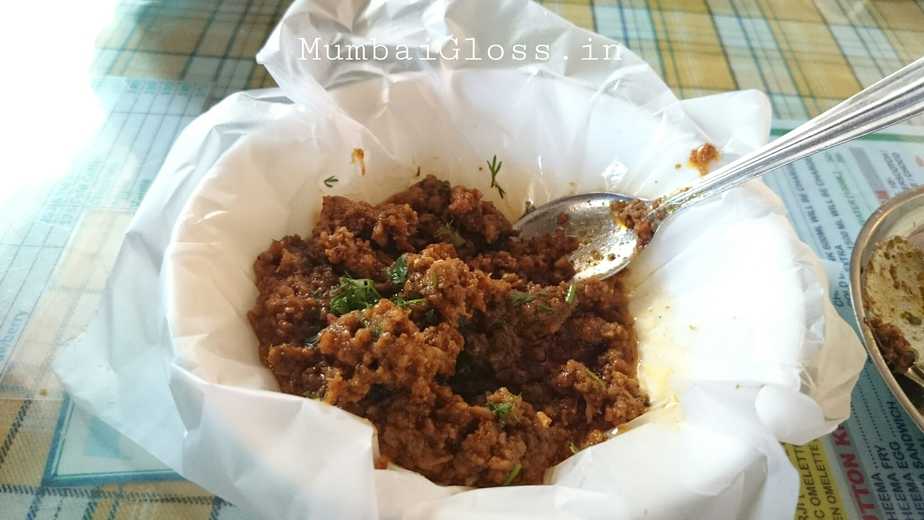 There is an old limping waiter whom you will find every time you visit. He might come out loud but otherwise a caring guy. Don't expect five star restaurant waiting in this cafe. Waiters still prefer to serve patrons over first time visitors. Owners Amir and Ali Koolar stay nearby, and are present in the café many a times to discuss its history.
I was stunned when he told us that the café is 87 years old and the furniture has not been changed ever since. The café was started as King George's Café by a British owner which was later bought by senior Koolar and post-independence name changed to Koolar & Co. Well, nothing beats the feeling of experiencing something old and special.
Two people can easily eat in Rs. 500. That's why you will find this place busy most of the times. So, next time you are around King's Circle, do try to visit this café. You will be surprized at how it functions the old way.
Have you visited this café? Have I forgotten to mention any special dish served here? What do you think? Do leave a comment below.
For more such articles, please subscribe to the blog.