Are you planning to travel to Maldives in half the price, then opt for off peak season?
Seasoned travelers know that the best time to travel is in off-peak season. Low fares, less tourists, better ways to explore the destination and lucrative offers from hotels and airlines make it an ideal time to visit a new place from your bucket list.
So where am I planning to go next?

Well, I am planning to visit Maldives in the month of June. The sparkling azure waters, the serene lull of the ocean, the tropical summers sound so inviting. There are nearly 80 water-villa private-island resorts in the Maldives, and many of them are similar to one another.
I have always wanted to stay in a water-villa for as long as I can remember. So this is the best time to book one as the hotel prices drop to nearly 50% during off peak season.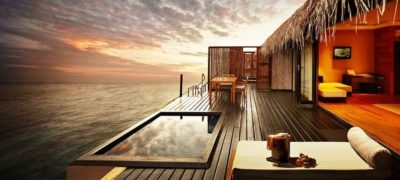 Luck by chance – Maldives in off peak season
So what am I going to bargain in Maldives during off peak season? Better rooms, better service as less tourists, better price but then there will always be a slight chance that I might not be able to enjoy my trip completely.
Weather in Maldives during off peak season
Though the weather remains almost the same throughout the year in Maldives, yet spells of rain and bad weather increase in the months of June, July and August. Bad weather is usually 8 to 9 days in a month but if your luck runs out then the bad weather could be at a time when you are lodged at the island.

Water sports, snorkeling, etc. are cancelled if the weather is not right. But that's a call that an avid traveller has to take.
Better deal vs better experience! Finances matter but what counts is the overall experience during the trip. And given that 60% of the time the weather is fair, I am ready to take that chance.
Also, don't forget the heavenly views from the room and the dip in the ocean with tiny water creatures floating around when it's not raining.
Moreover, if a traveller like me is interested only in a water-villa stay then he/she has nothing to lose. Isn't it?
Foodies heaven – Maldives in less price
On top of it the Maldivian cuisine is something I am eager to explore. Traditional fish soup like Garudiya, fish paste called Rihaakuru, Mashuni and many other hot and spicy preparations make their food drool worthy. These are usually served with a flat bread called Roshi or rice. I really want to try them all.
You can check my post on 5 exciting things that you can try in Maldives.
You can also view videos on Paradise Island Resort in Maldives, What to eat in Maldives, Male City Walking Tour, Maagiri Hotel Male.
Do you have any suggestions for me, where can I stay? Which is the best water-villa that I can book at the best price for the month of June? Do leave you recommendations in the comments section below.
For more such articles, please subscribe to the blog.