Looking for the best BB cream in India below 500 for your skin? I did my research and bought a few samples to give you an accurate picture. This is not a sponsored post. I have compared Belora BB cream, Garnier BB cream, Lakme 9 to 5 CC cream, Spinz BB cream, Nykaa Skingenious, and Iba.

What is a BB Cream? 
BB Cream or Beauty Balm is a blend of chemical and natural products that give your skin sun protection, a natural glow, mild coverage, and a doze of skin nutrition. It's a daily use face moisturizer that, brightens, smoothens, protects, and clarifies your skin. Most of the BB creams are infused with brightening minerals, vitamin C, and hydrating extracts from avocado or almonds to give a radiant look.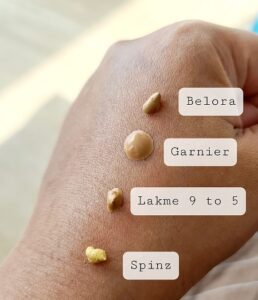 Why a BB cream is better than a normal moisturizer?
A BB cream makes your skin look instantly clearer and radiant apart from moisturizing and protecting your skin from sun rays, pollution, and dryness.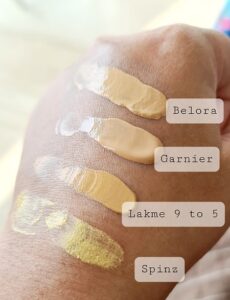 What is the difference between a BB cream and a CC cream?
BB and CC creams are multipurpose products. They combine makeup and skincare in a single formula. The "BB" stands for "beauty balm" or "blemish balm." It offers sheer coverage, so it's best for concealing minor blemishes. The light finish also makes it ideal for "no makeup" makeup looks. The "CC" means "color control" or "complexion corrector." It has more coverage than a CC cream with the benefits of BB cream.
Here is a list of the best BB creams in India below 500 for different skin types:
Spinz BB Cream for older skin:
If you have older skin with fine lines and wrinkles but fewer blemishes, you can go for Spinz BB Cream. It comes in 2 quantities, 15 gm, and 29 gm tubes. This yellowish color BB cream smoothens your fine lines and doesn't settle in the creases. The coverage is very mild so it won't cover your blemishes and under-eye dark circles. But will make your skin look smoother and hydrated. It gives a silky finish to the skin. It also offers sun protection. If you have acne-prone or oily skin, you can also opt for BB talc. It has a mild fragrance.
Price: Rs 105 for 29 gm and Rs 65 for 15 gm tube.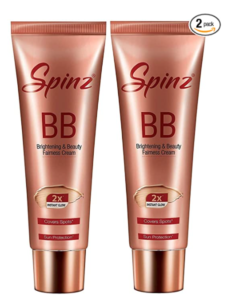 Ponds

BB+ Cream

for combination skin:
Ponds BB Cream has been my personal favorite for many years. It gives medium coverage, has a mild fragrance, and blends well with the skin. It comes in 2 shades – Light for light to medium skin tone and Medium for medium to dark skin tone. It works like a light foundation which also provides sun protection.  It has SPF 30 PA++ which works as a sunscreen. It covers dark circles, pores, and minor blemishes providing an instant glow and light makeup look. It is suitable for all skin types. It comes in two quantities, an 18 gm tube, and a 30 gm tube. 
Price: Rs 249 for 30 gm and Rs 129 for 18 gm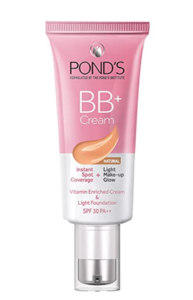 Garnier Skin Natural BB Cream for dry to normal skin types:
Garnier Skin Natural BB cream is easily blendable, but it is not ideal for oily skin. Though it is best for dry to normal skin types. The texture is runny. It comes in only one shade. The tint is suitable for light to medium skin tones but might not look good on dusky tones. It gives a glow to the face but doesn't cover the imperfections for fine lines. It has SPF 24 for sun protection and vitamin C to boost the natural glow on your skin. You can use this as a daily moisturizer or as a makeup base. It can work as light makeup but do not expect that it will make your skin flawless.
Price: Rs 69 for 9 gms, 103 for 18 gms, and 144 for 30 gms.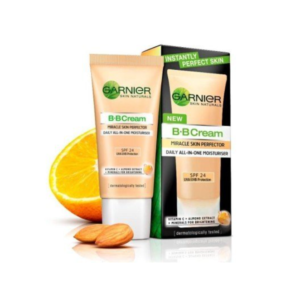 Belora Paris BB Cream Naturelle
Before Paris BB Cream Naturelle is an all-rounder vegan, non-comedogenic product. It is non-toxic and cruelty-free. It is made from natural ingredients like aloe vera, grape seed oil, olive oil, etc. It protects from the sun with SPF 30 as well as pollution. It evens the skin tone and gives a natural glow. If you are one of those people who are conscious users, who like natural makeup over chemicals then this BB cream will give you the desired glow while nourishing your skin with antioxidants and vitamin B, C, and E, mulberry, and daisy extracts.
It also has Blue Shield to protect your skin from blue light from phone and laptop screens. Hyaluronic acid helps to keep your skin plump and moisturized. It comes in 3 shades, Ivory Love for light skin, Mild Dew for medium skin tone, and Honey for almond to dusky skin tone. I personally like to use this product. It gives a matt finish to the skin.
Price: Rs 599 for 30 gms (usually find deals and discounts where it comes below 500)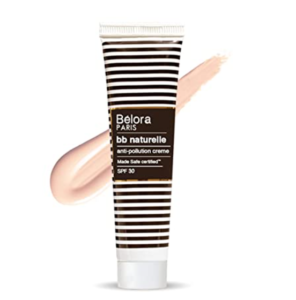 Lakme 9 To 5 CC Cream for all skin types
Lakme 9 to 5 CC (Complexion Care) Cream has been in the market for quite some time now. After Ponds BB cream is one of India's most popular daily makeup creams. It comes in 4 shades to suit different skin tones – beige, bronze, honey, and almond. It has SPF 30 for sun protection. The texture is creamy so use less product and gradually build up the coverage. You might find that it settles in skin creases, especially around the eyes, so be careful with the application.
It is a light makeup base and can even out your skin tone but won't hide dark circles. You will have to use a concealer to hide those. It is one of the best bb creams in India below 500 but it won't cover the freckles or blemishes on your skin. Though, they may appear lighter.
It comes in two sizes – 9 gms and 30 gms. Only beige and bronze is available in the 9 gms size.
Price: Rs 99 for 9 gms and Rs 349 for 30 gms
Nykaa Skingenious SPF 30 BB Cream
Nykaa Skingenious SPF 30 BB Cream is a high-performing cream suitable for Indian skin tones that give radiance post-application. It comes in 5 shades Fresh Fawn, Soft Beige, Rich Honey, Spiced Cinnamon, and Classic Tan. (light to dark). I went for rich honey for my wheatish complexion. The texture is apt and it blends well on the skin. It covers lighter blemishes. It nourishes your skin with aloe vera, green tea, cucumber, and jojoba extracts. This cream gives a boost of antioxidants to your skin, making it naturally healthy and radiant. This light makeup is good for daily use. It comes in a 30 gm tube.
Price: Rs 349 for 30 gms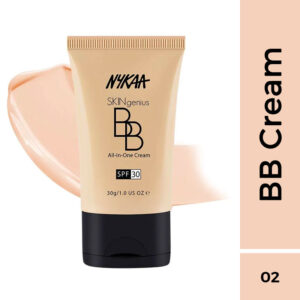 Iba Perfect Look BB Cream with 24 Karat Gold
Iba Perfect Look BB cream is another vegan and cruelty-free product that I would like to feature in this list. It is infused with real gold and other skin-nourishing ingredients like vitamin e, b3, and almond oil. It easily blends on the skin, giving it an instant glow. Looks natural because of its neutral yellow tint and doesn't leave a white cast. It comes in 2 shades – light and medium and gives an even coverage and the blemishes look lighter. It gives sun protection with SPF 24 and provides a matte finish. Anyone keen to use vegan bb cream should go for this.
Price: Rs 299 for 30 gms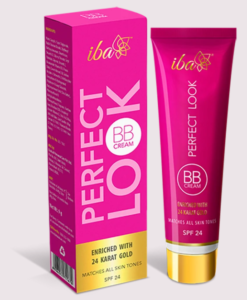 These are the best BB creams in India below 500 and I hope this list was helpful? Do leave a comment below.
You can also check the list of best sunscreens with iron oxide in India for healthy skin and a natural glow.
*Product image copyrights are with the respective brands. This blog is only for educational purposes for skincare and makeup enthusiasts.*
Now buy directly from the brands. Just add it to your basket and pay.