Have you tried under water scooter? If not, let me give you the details about the Blue Safari under water scooter Mauritius that left us thrilled.
Mauritius offers a lot of opportunities for adventure sport lovers. Be it sky diving, snorkeling, under water scooter, sea-walk, deep sea diving and other water sports. A visitor has ample of choices to indulge. It has many adventure sports unique to this island like taking a lion for a walk, or under water scooter which is specific to this place.
We decided to try Blue Safari under water scooter in Mauritius. Blue Safari, specializes in underwater activities like submarine cruise, glass bottom boat excursions, underwater sea walk, etc. It was located at Mont Choicy beach, ten minutes away from our hotel called Veranda at Grand Baie.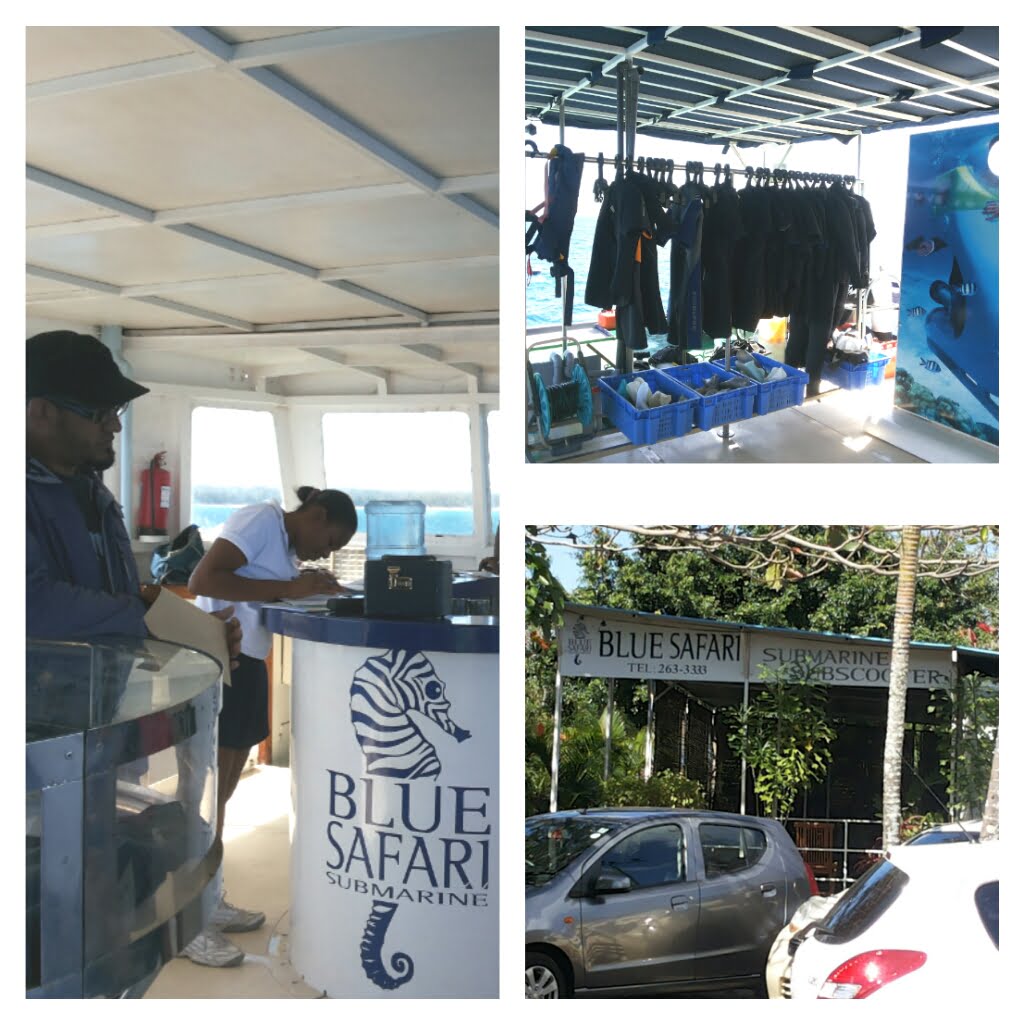 Reception at Blue Safari under water scooter Mauritius
We had made a booking in advance as it is one of the most popular water sports on the island. We arrived at the Blue Safari under water scooter's reception area where our hostess greeted us and explained us the process of how it is done.
Under water scooter is for those who don't know to swim or dive. It is another way to experience the underwater world. A person breathes normally in this vehicle. The air trapped in the helmet creates a breathing space, a medium where oxygen is circulated and a person can breathe without any outside aid. The entire episode is closely monitored by an experienced diver.
The scooters are sent down under 3 feet below sea level in a group of 4. They also have plastic locator latched to each vehicle which keeps on floating at the water surface that easily gives away the location of the vehicle to people monitoring from the outside.
Amount paid at Blue Safari under water scooter Mauritius
We payed MUR 5000 for a double seater. And an extra MUR 850 for a disposable waterproof camera. Unfortunately, they do not provide the service of a photographer under the sea.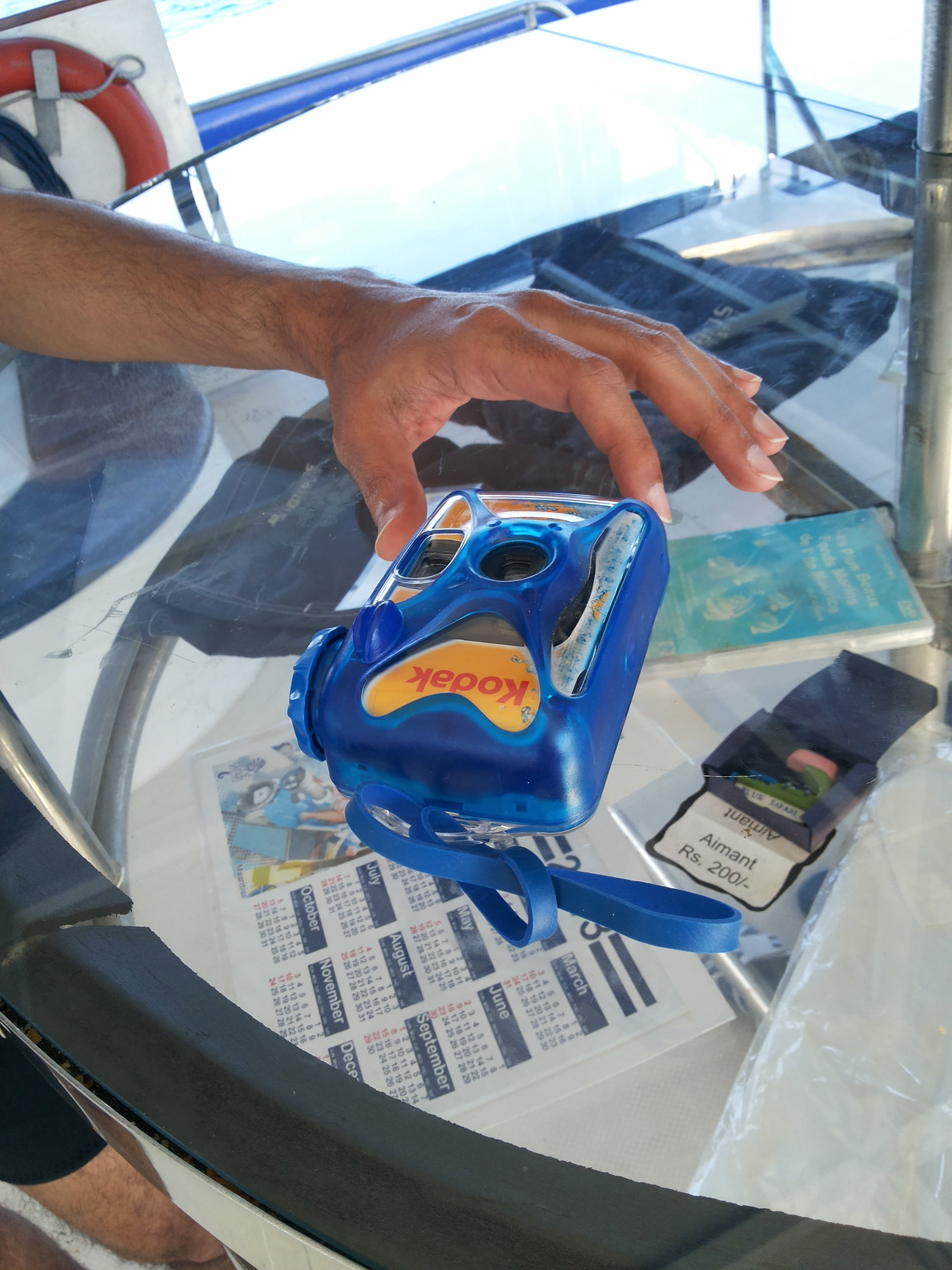 Experience during Blue Safari under water scooter Mauritius
We boarded our speedboat from the shore which is across the road from the Blue Safari under water scooter's office. It took us to the base boat just after the reef area within 10 minutes.
After reaching there, we were asked to change into our swim suits. There is a separate area to change for men and women. They also provide small lockers with lock and key where we kept our valuables. After that, we were asked to wear diving suits and rubber slippers meant for under-water walking.
The scooters were resting on a net like metal platform. The scooters were cute candy coloured vehicles where you are supposed to maneuver left or right with the help of a driving wheel and accelerate with pedals given near your foot. There are no brakes. (:P)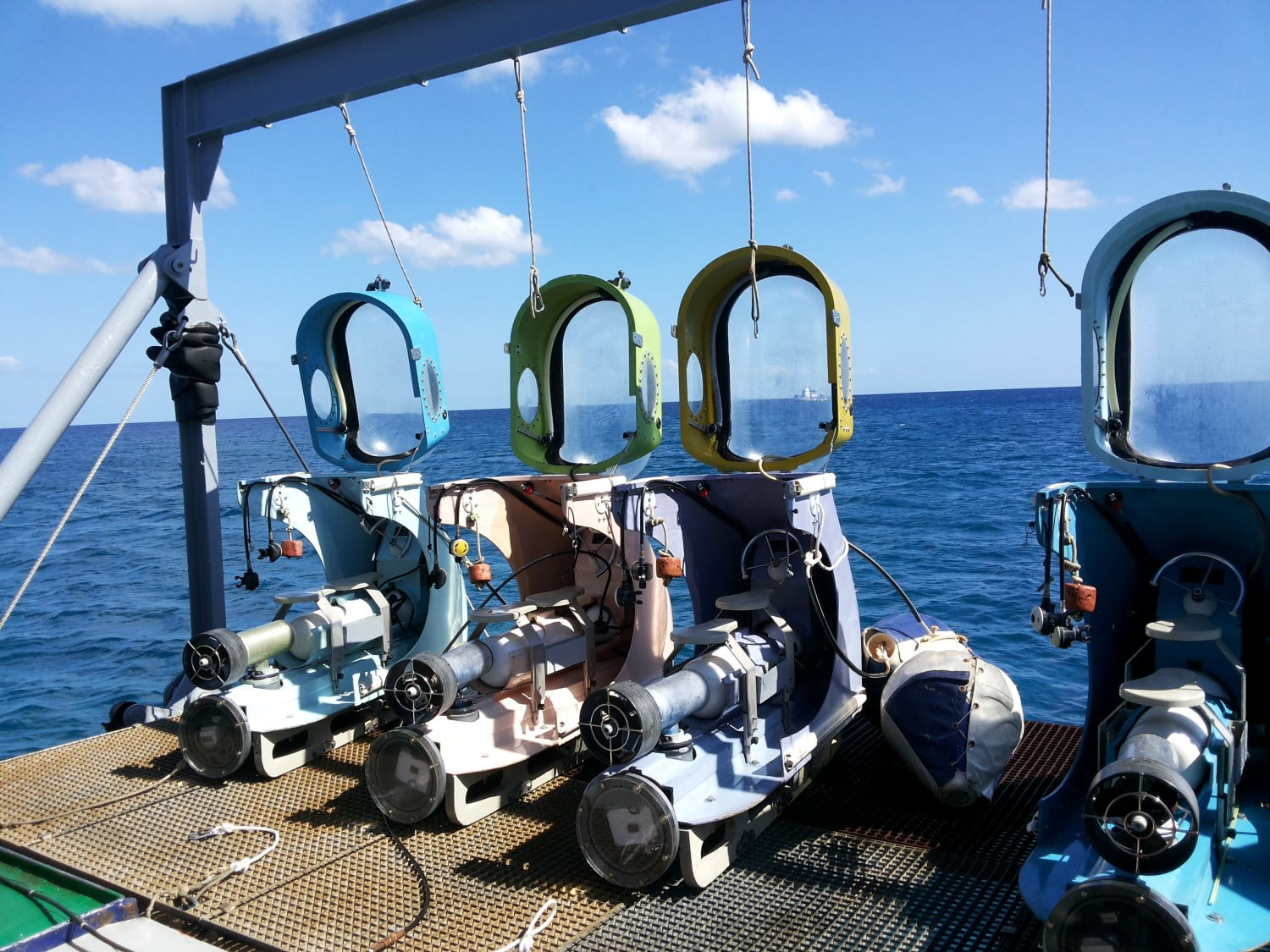 How to manoeuvre Blue Safari under water scooter Mauritius
Staff made us sit on the water scooter, adjusted the seat levels and explained us certain signs which are used under water to communicate. He also told us about the safety measures. The key (Lock and key – locker) was put on a latch created on the scooter. Be careful, not to drop it in the sea water. A photographer took pictures of all the scooters and the riders. (They sell these images for MUR 450/image)
After the initial checkup they decided to launch the vehicles in the water. I had a mixed feeling of excitement and apprehension. I have a fear of water and I do not know to swim.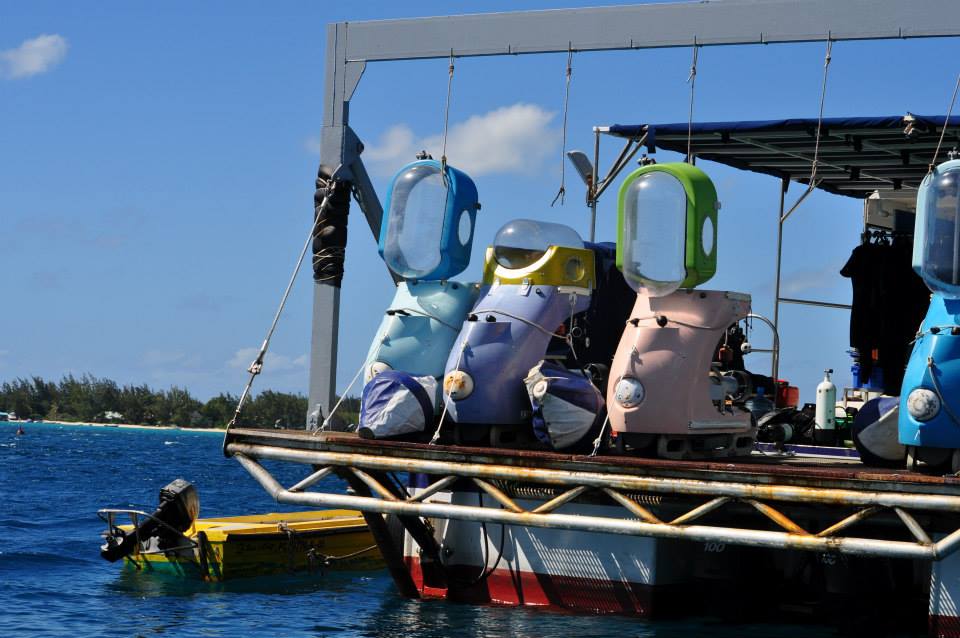 They started lowering the metal platform and I could see the water level rising. Somewhere, I was scared that I will drown in the Indian ocean while doing this sport. The water level came till our helmet and I started breathing heavy, trying to hold my breath, just in case the water came inside the helmet. But nothing happened, I was breathing normally in that controlled environment.
Amazing under sea life with Blue Safari under water scooter Mauritius
And then, I saw the best sight of my life. We were engulfed by a group of fish with zebra stripes. I could never imagine that I would experience such a thing. I had seen a sight like this on screen, on Discovery channel. But in real life it is much more beautiful. We could see the corals, though Mont Choicy doesn't have very good water to explore underwater life, especially corals.
My husband was on the driver's seat and I was sitting behind him taking pictures. Only 27 shots allowed in the disposable camera. The diver was guiding us throughout. He also helped us take a few pictures in our camera. He brought out bread from his pouch and we saw a lot of fish all over our scooter. A few brushed past my skin. It was weird.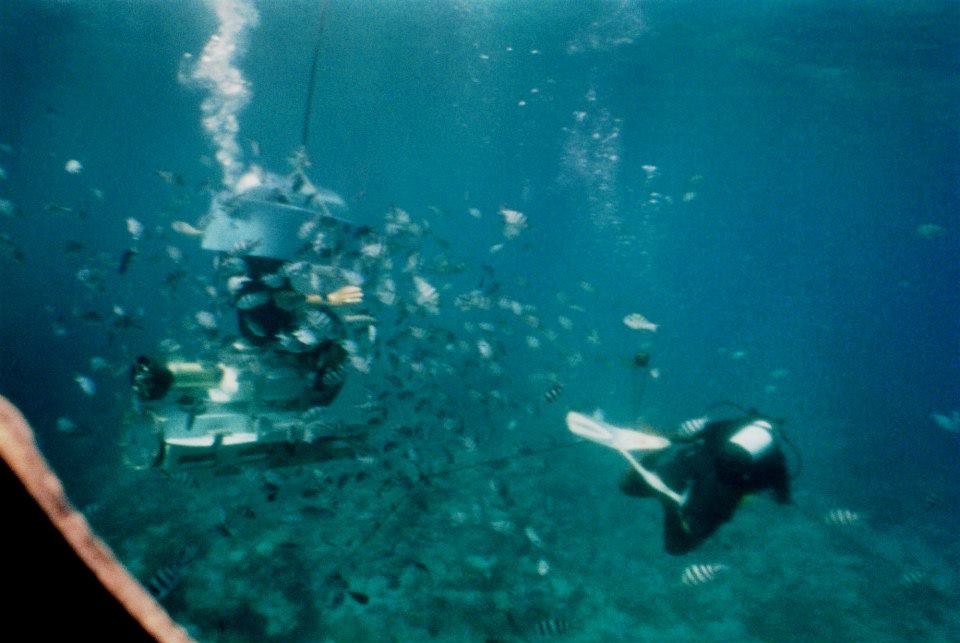 We came out of the water after 20 minutes. It was one of the most unique experiences of my life. Experiencing underwater life is so beautiful.