Sustainable fashion is the need of the hour. And upcycling sari, the most popular garment with Indian women is a wonderful way to minimalise waste and support the environment while following fashion. Indian women have been recycling sari's since ages, turning them into new outfits, baby swaddles, cushion covers and even curtains and kitchen dusters. It was an unspoken promise to use the fabric till it lasts.
Of late, there's been a steady decline in the frequency with which urban Indians wear sari. Apart from a few fashion designers like Masaba Gupta who design saris in quirky prints, the new generation hasn't shown much interest in the 6 yards of fabric. Few find it cumbersome and impractical to wear and the legacy of saris passed over by grandmothers and mothers goes waste. The stock of existing saris kept by Indian families is more than 3 billion by a recent study.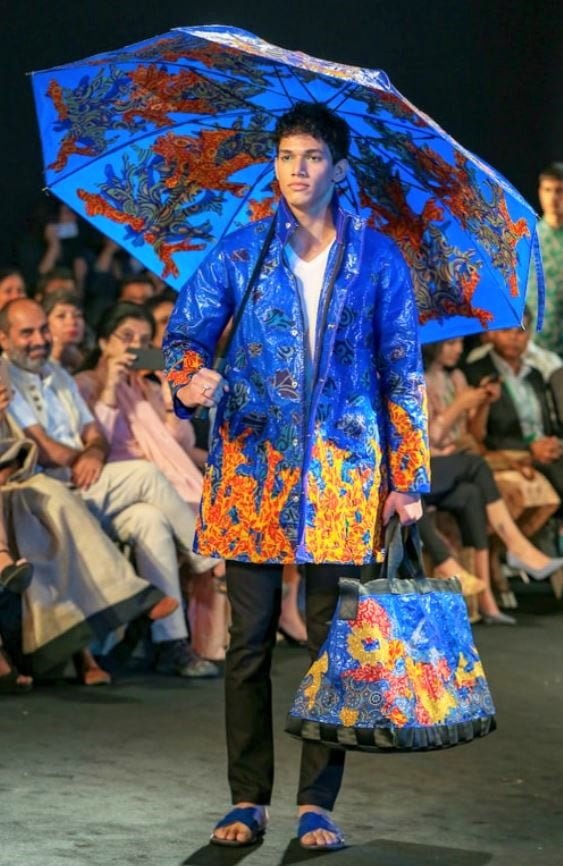 Many saris become damaged, unfit to use or are not contemporary enough. The sari business in India is approximated to be worth 38000 Crore that amounts to 33% of the total women fashion in India. 90 per cent of Indian families buy at least one sari per year, so the estimated saris purchased every years is between 250 to 400 billion. The market for sari is expected to grow at 5% to 6% CAGR by 2023. People invest heavily in wedding wear, but hardly use those garments apart from a few occasions.
1.5 trillion litres of water is used by fashion industry every year. 70 million trees are cut down each year to make plant based fibres. 57% of these garments end in landfill while 100% of these garments can be put to better use or can be recycled.
This is where circular design and sustainable fashion initiatives come into picture. The idea is to cause less stress on the environment by producing long lasting products from pre-used garments.
What is circular design and sustainable fashion?
Circular Design: Circular design is about creating products and services that no longer have a lifecycle with a beginning, a middle and an end. The purpose is to design products that can made and remade into something else. This will result in less wastage and more value added to the ecosystem.
Sustainable fashion: Sustainable fashion concerns more than just addressing fashion textiles or products. It addresses the whole system of how clothing is produced, who produced it, how long the life span of a product is before it reaches landfill. This means dealing with interdependent social, cultural, ecological, and financial systems.
The idea is to discourage fast fashion and encourage eco friendly products that last long and do not impact the environment.
There are several brands that are working in this direction by upcycling saris.
How are these saris collected?
Rejected saris with holes and tears are discarded by the users. Either they give it to their servants or exchange it for utensils. These Bhandewalis (women who take old clothes in exchange of steel utensils) then sell it to vendors who buy either to sell them on the roadside or recycle to make new clothes, bags or just fabric. Many such vendors also collaborate with brands who upcycle these saris into fashionable and useful items like stoles, scarfs, bags, etc.
Some brands also connect with local artisans that create sari and take the leftover sari scraps to use it for upcycling.
Process of upcycling
Saris are cleaned and carefully checked for all defects. Working with pre-loved textiles takes an enormous amount of time in terms of quality control. Where possible, the saris are cut into pieces sized to reduce wastage and remove defects. If a section of sari has too many defects to make into larger products, it goes for upcycling sari process.
The smaller pieces of sari are converted into beads for fashion jewellery, bright and interesting patterns are sent for patch work and quilting, few are made into carry bags and pouches. Kantha stick work from West Bengal gives these saris a new life and shape.
Top 5 Indian brands that upcycle sari in India
Mishcat Co
Mishcat Co is a Delhi based, award winning upcycled sari silk carpets company that makes sustainable luxury home items, gorgeous, one-of-a-kind carpets from leftover sari scraps. The founder of the label, Ishrat Sehgal works with independent artisans in Rajasthan and Uttar Pradesh and sources finest leftover silk fibres and scraps from the sari manufacturers. She was featured in Forbes Asia 30 under 30 in 2018. Her carpets are supplied across the world.
View this post on Instagram
House of Wandering Silk
HOWS, or House of Wandering Silk is the brainchild of Australian designer Katherine Neumann. She sources her pre-loved saris from Gujarati sari traders in New Delhi, who in turn source from a network of scrap collectors across India. She has a team who segregate the fabric under various quality parameters.
Full saris with fewer defects are sent to a cooperative in West Bengal, where they get converted into chic scarves with beautiful kantha stitching all over. Half saris or scraps of fabric are converted into vibrant neckpieces.
LataSita
LataSita is owned by Meghna Nayak from Kolkata who has been upcycling old saris since 2012. She believes in Zero Waste fashion. She sources saris from women all over India. Her 'Send Us Your Saree' campaign encourages women to discard their preloved sari in a more environmental friendly way. She creates skirts, jackets, blouses, and many other items. She was also shortlisted as one of the 6 Finalists of Circular Design Challenge 3.0 during Lakme Fashion Week 2021.
Hunting down fabric from diverse and sometimes unexpected sources – ranging from treasured private heirloom collections to the wardrobes of everyday women and even a Durga Puja pandal, she supports the circular economy by putting a special focus on using anything old and off the grid.
I Was A Sari
The brand was conceptualized by Italian entrepreneur Stefano Funari in 2013 and it debuted in Lakme Fashion Week in 2019. He founded a company called Second Innings Handicrafts (a second chance for the sari and the woman repurposing it), that would be the parent company of I Was A Sari. While roaming in the streets of Chor Bazar, he came across a second hand sari shop. He contacted his designers friends at Milan's leading design university, the Politecnico di Milano, and got their designers to make chic lifestyle products from the saris. The result were earrings and necklaces, yoga mats, shoes and cloth bags — contemporary objects that could be sold in boutiques across the world.
In 2013, a young Italian designer came to Mumbai and trained 22 women from Dharavi and Wadala to turn the saris into accessories. In 2018, I Was A Sari entered a partnership with Italian luxury label Gucci. In 2019, I Was A Sari won the Circular Design Challenge, an award of Rs 20 lakh, by Lakmé Fashion Week.
Doodlage
Doodlage is a fun brand that produces fashionable clothes through scrap, industrial waste and rejected fabrics. They also use old saris to create contemporary fashionable clothes like jackets, dresses, etc. Owned by designer Kriti Tula, a London College of Fashion alumnus, who strongly believes in sustainable fashion and circular design.
Kriti works at redesigning, reconstructing and recycling good quality industrial waste which majorly comprise post-production waste, dead stock and rejected shipments.
An Another Chance
An Etsy shop based out of Delhi helps in getting vintage fabrics and old saris that can be converted into unique fashion staples. It is a vintage textile sourcing agency and boutique manufacturer that will help you to find the most beautiful vintage textiles and trims to convert them into clothes of your choice.
Did you like this post on upcycling sari? Do you think that we should support zero waste fashion? Please leave your comments below.
You can also read about Hamley's Ramp Camp selection process here to know about kids fashion show during Lakme Fashion Week.
You can read about a beauty queen's journey to the f4 car racing here.
*Some links included in this post might be affiliate links. If you purchase a product through one of them, I will receive a commission (at no additional cost to you). I truly appreciate your support of my blog.
For more such articles, please subscribe to our blog.