Do you know about instant gluten free snacks that you can stock at home?
Going gluten free has helped many PCOS and Endometriosis sufferers. It helps them to manage their internal inflammation better. Gluten free snacks are in demand by people who suffer gluten intolerance and are busy to cook gluten free dishes regularly.
Most of them try and make pop corn when you feel peckish and want an instant snack. But there are many other options that can come handy when you want to snack. The Green Snack company offers a gluten free snacks package that includes quinoa puffs, kale crisps, roasted vegetables, etc. You can order it here. But if you are looking for more variety then here is a list of gluten free instant snacks available in Mumbai that can help you with your sudden hunger pangs.
Quinoa Poha: instant gluten free snacks
Pink Harvest has a range of upma made from quinoa in masala and chipotle flavour. The upma is seasoned with cardamom, bay leaves, star anise, curry leaves and contains vegetables. It is vegan, gluten free, diabetic friendly and has no added preservatives. With 200 calories and 8 gms protein per cup, this is a sure shot winner. Currently, available for Rs 700 for 4 cups. To order this, click here.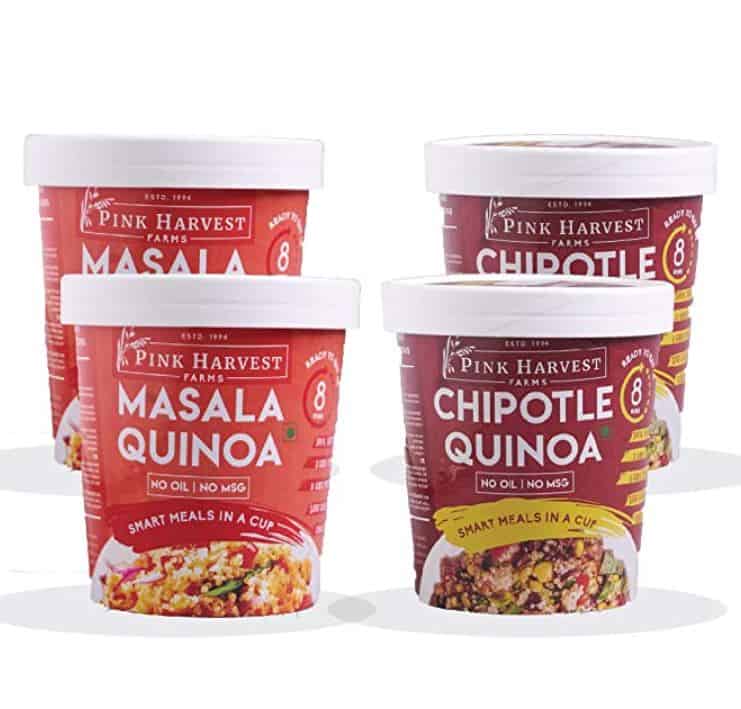 Rice Noodles: instant gluten free snacks
We all are guilty when it comes to consuming instant noodles. Made from all-purpose flour (maida), or atta, the instant noodles kill our gut and add unwanted calories to our diet. So, I figured out that for occasional treats, when I don't want to cook, I can order these rice noodles from MAMA. These are gluten free and contain 25 calories and 5 gms of carbs per packet. These are imported from Thailand and have flavours that might not be very appealing to the Indian palette so be wary of that.
These noodles aren't healthy as they contain palm oil, sugar, high level of salt but ok for occasional indulgence. After all, we are humans and need to satisfy our cravings sometimes. They come in two flavours – veg and chicken. You can buy it from here.
You can also order plain rice noodles or pho from Koka which can be cooked in minutes with your favourite sauce or broth.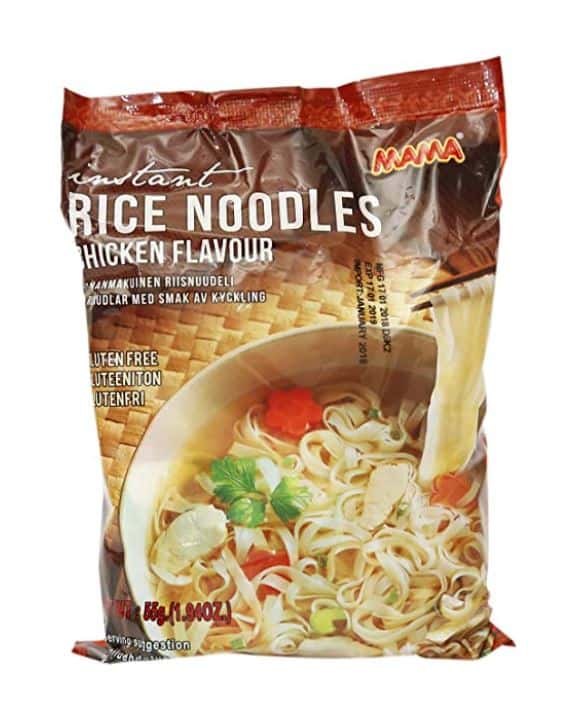 Instant cereals, cookies, crackers: instant gluten free snacks
Dr. Schar is over 100 years old; the brand was conceptualised when Dr Anton Schar decided to create food for children with special dietary needs. Now it is easily available in India. Their product range includes gluten free flour, bread, biscuits, cookies, breakfast cereals, pasta, crackers, wafers, etc. Gluten free products help to control inflammation by eliminating a protein called Gluten that is found in most of the grains like wheat, rye, barley, and products made from them.
Therefore, Dr. Schar created products using non gluten ingredients like rice and millets. I have tried their gluten free crackers and found them addictive. Thin crackers that are delicately salted are an absolute treat. To buy these click here. You can also buy gluten free, sugar free cookies from another brand called Ketofy.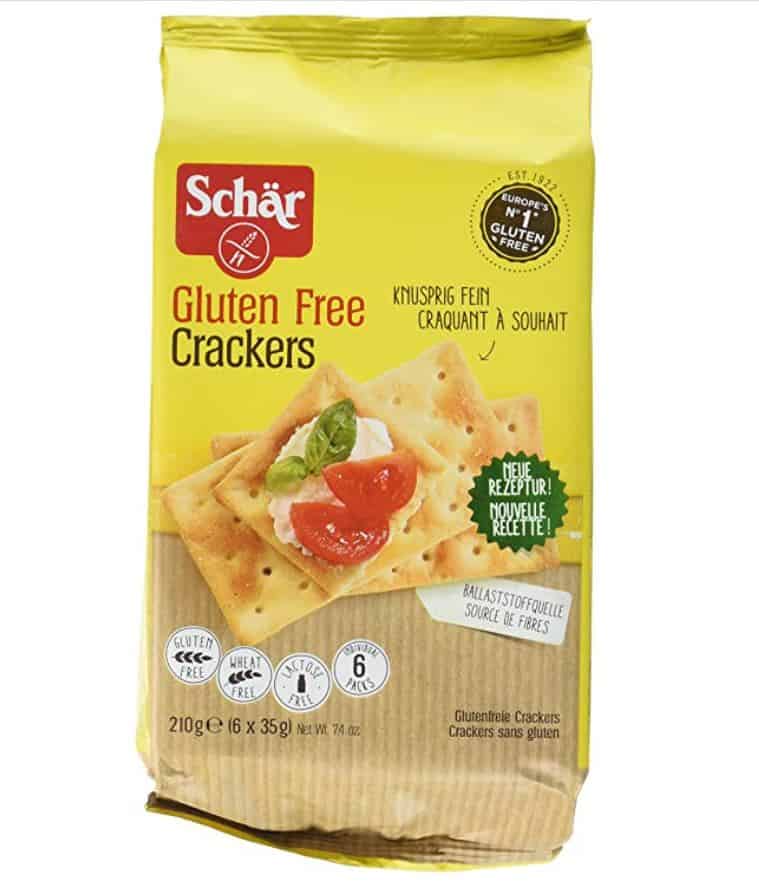 Cakes and bakes: instant gluten free snacks
Mumbai has many home bakers who are whipping out gluten free products. Bombay Bizarre Baker and Fitness Bakery are a few of the popular ones. But now several brands are catering to this demand and whipping out baked goods for the special diet followers. Brands like Baked Darzee (Food Darzee), El Postre, The Baker's Dozen, A Vanilla Bean, etc. are available on food delivery apps from where you can place your order easily. From cakes, to tea cakes, you can choose and order from their menu offering gluten free baked goods like free slider buns, Foccacia Bread, Spanish tarts and fruit cookies.
Trail Mix: instant gluten free snacks
Dried fruits and nuts are an excellent way to get nutrition and energy in an instant. Keep trail mix handy so that you can eat it over gluten free granola and yogurt or just plain with some green tea. It is a good way to get some healthy fats into your diet. There are several companies who offer trail mixes. You can buy the international quality trail mix here.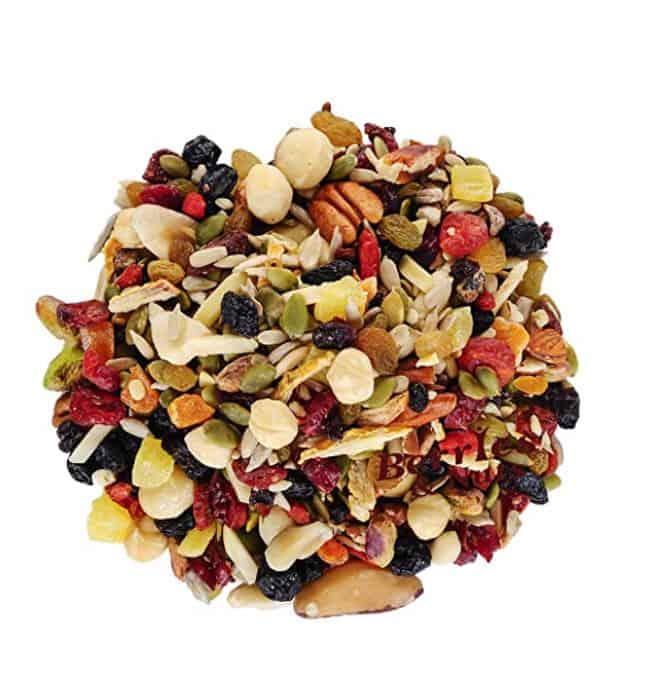 As you can see, the success of your diet depends on your preparation. Why not be prepared for a healthy and gluten free diet with the help of these choices. Don't forget to calculate your macros?
You can also check the list of 10 restaurants in Mumbai serving gluten free dishes or diabetic friendly low calorie drinks that you can try with your gluten free snacks on this blog. Let us know if you have more suggestions.
You can subscribe to the blog for more such articles.