Travelling with kids is easy if you know how to keep them occupied. We, a family of 4 went to Rishikesh recently and figured out places to visit in Rishikesh with kids. To explore Rishikesh as a tourist, you do not need more than three days. But, if you have extra few days on hand, then you can explore the following places near Rishikesh that are very beautiful and interesting.
1. Beatles Ashram
Beatles Ashram is within Rishikesh but not much popular with the tourists. The band members of Beatles practised meditation in this ashram, and that's why it is called Beatles Ashram. Now abandoned, this place is home to artists, painters and a few anti-social elements. Still, I would recommend this place to visit with the kids as it is near to nature, has beautiful graffiti made by various artists in the honour of the band.
Kids love to see these wall murals, some are huge. They can also see stone meditation caves where the band members use to meditate. Beatles ashram is near Muni Ki Reti, on the eastern side of the river. It costs Rs 150 for an Indian to enter the ashram. So, if you have extra time on hand, do visit this beautiful building and piece of history.
2. Rajaji Tiger Reserve
If you are a wildlife enthusiast, you can venture out to Rajaji Tiger Reserve, 19 kms away from Rishikesh, near Dehradun. You can enjoy bird watching, river water rafting or can just explore the heritage of Rajaji park by a safari. You can spot elephants, leopards, Bengal tiger to jackals and hyena, species of deer, birds, etc.
The park is in the Shivalik range of Himalayas and spreads over 820kms. The park is open from 15th November to 15th June. Even though the temperatures are high during April, it is the best time to visit the park because this is when you can spot most of the animals. You can even plan a stay there.
3. Dehradun Zoo
If you feel that wildlife in the open is not your cup of tea, especially with the kids in tow then head to the Dehradun Zoo which is around 19 kms away from Rishikesh. There are leopards, deer, alligators, tigers, aquatic life, elephants, lions, various birds and other wildlife that the kids can look at and enjoy thoroughly.
There is a play area for small kids that will keep them busy for a while. There is a Cactus and Succulent garden to teach children about various types of plants. A snake house to learn about the reptiles. You can also participate in adventure activities like Burma Bridge, Zip Line, Commando Net, etc. You will need half a day to explore this vast zoo which is decorated with beautiful stone, glass and metal artifacts.
4. Visit Haridwar
Haridwar is one of the popular places near Rishikesh where you can experience the Indian spirituality which is 20 kms away from Rishikesh. You can take an autorickshaw from the stand near Ram Jhula. It takes an hour to reach Haridwar in an autorickshaw, but the ride is breathtakingly beautiful. Try to reach early and make way to Mansa Devi Temple or Chandi Devi temple in colourful cable cars. Try to visit the temple in the morning so that you are free to experience Ganga aarti in the evening. Mansa Devi Temple and Chandi Devi temples are very popular with the devotees.
The cable car opens at 7am from April to October and 8am at all other times of the year; tickets are Rs. 84 return. Small kids travel free. You can walk up to the temple while treating black faced monkeys (Langoors) on your way. You also get impressive view of Haridwar city from this height. For Ganga aarti in the evening, beat the crowd of Har ki Pauri and head to Ganga Temple with just a handful of worshippers and one priest performing the evening rituals. You can try the local cuisines at Mohanji Puriwale, Chole kulche at Bhagwati, Malai Samosa, Jadu ki chaat, etc. You can check out the popular places to eat in Rishikesh on my other post.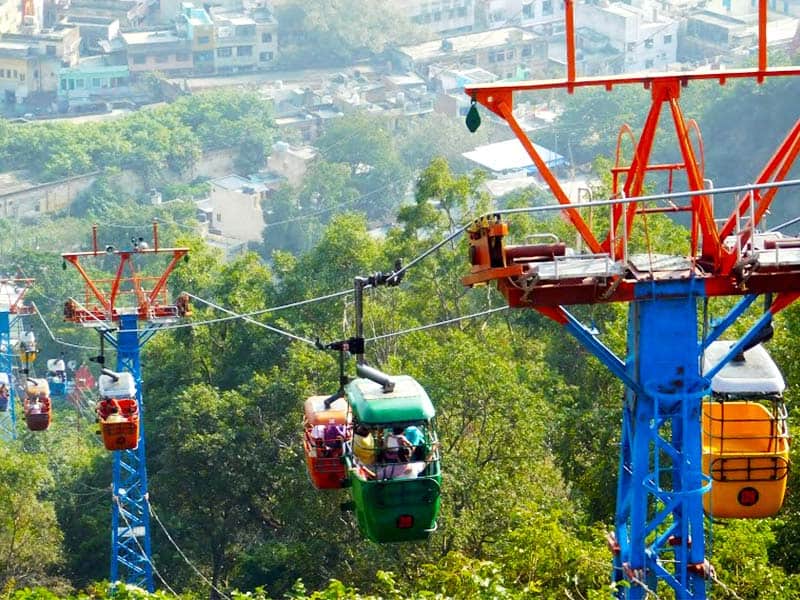 5. Take a dip at Neergarh and Patna Waterfall
Located 9 kms away from Rishikesh city centre is Neergarh waterfalls. It takes 30 mins to reach this place by road. Reaching this waterfall requires a 1.5 kms of trek on the trails passing through the dense woods. You will witness rich flora and fauna on your way.
Don't forget to carry extra clothes and rubber slippers if you plan to take a dip in the waterfall pit. Carry enough water and food as you might get hungry after the swim and the trek. Avoid going there doing monsoons. The kids will enjoy the light trek and the natural beauty of the place.
Did you like this blog? You can also check our blog on places to visit in Rishikesh with kids. You can check the shopping guide for Rishikesh to get the best gift for your friends and family.
You can also read about the 10 day Vedanta classes in Rishikesh at Dayananda Ashram.
Let us know if we missed out on anything.
For more such articles, subscribe to Mumbaigloss.