Do you have a layover in Mumbai? Are you planning to explore the city of Mumbai? Here is a guide on how you can plan your short trip to the city of dreams.
Mumbai, as you know it today, was not a single stretch of land. It was made by joining 7 islands and reclaiming the rest of the land to give it a peninsula shape. Apart from Mumbai's hustle-bustle, the city promises a heartwarming experience with its innumerable vintage cafes, monuments, bazaars and landmark places. The city thrives on the pulse of its inhabitants and the warmth of many cultures cohabitating in harmony for centuries.
The city boasts of a rich legacy from the British era. Monuments, buildings, old bungalows and other architecture reflect the glory it experienced in the past. A perfect place to explore the history, culture and people of the city.
Mumbai is also one of the most romantic places to visit in the country. It is a land of dreams. Bollywood weaves the magical dreams in cinema but Mumbai gives it shape in real-life.
Mumbai has an international airport and a domestic airport. It is well connected to other parts of the country through state transport like buses and trains.
About Chhatrapati Shivaji International Airport
Chhatrapati Shivaji International Airport (BOM) in Mumbai is India's second-busiest airport, and has both a domestic terminal, T1 (which is separated into three sections: A, B, and C) and an international terminal, T2. Most of the international flights arrive during the night and the security queues can be long. There are many hotels near the airport. There is no direct bus service to the city centre.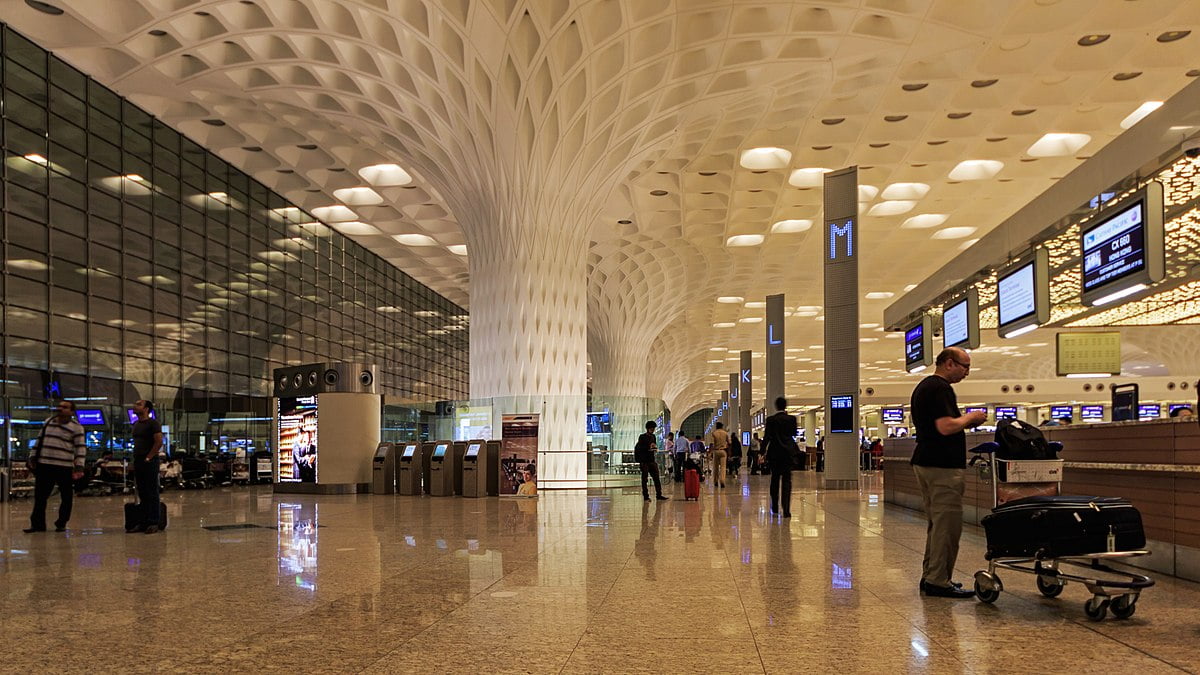 You can avail services of city buses (BEST buses) that run between morning 5 am till midnight you should figure out the route in advance to avoid getting lost. It is a big city. You can also use Metro rail and local trains to travel around the city. Certain pockets have Mono rail service as well. Therefore, check in advance the timetable, fare, stops, etc. to plan your travel better.
Mumbai's two terminals are 5 kilometers (3 miles) apart, and if you need to switch terminals, then the authorities arrange a bus. The buses might take approximately 45 minutes. You should book flights a minimum of two to three hours apart if you have to switch terminals to avoid rushing through the process. It can be very stressful if you are caught in traffic or if your luggage is delayed.
How to reach the city centre
Mumbai is a peninsula. There isn't a city centre but you can divide the city into two parts – old city and new city. The airport is in the middle. The old city includes monuments, museums, landmarks, while the new city includes other attractions. If it is first time in this city, then one should definitely go for the old world charm that it has to offer. You should aim to go to south Mumbai to cover the tourist spots like Gateway of India, Taj Mahal Hotel, Colaba Causeway, Prince Wales museum, etc. The nearest train station for all these tourist spots is Churchgate.
There is no direct train station at the airport. You can take an auto or a taxi to the nearest Metro train station called 'Airport Road Station' which is 2 kms away. You can take the metro to reach the closest local train station. The closest station for local train to T1 is Vile Parle (East), and the closest station for local train to T2 is Andheri (East). You can reach these stations by bus, taxi or autorickshaw. Here is a map of Mumbai Train Stations to help you plan your travel.
Best modes of transportation
You can book an Uber, or an Ola taxi from the airport to your starting point of journey. They take payment online. There are also prepaid taxis at the airport. You can also travel in Mumbai Kaali Peeli (Black & Yellow) taxi or an auto rickshaw to your starting point of journey. The Kaali Peeli taxi and autorickshaw prefer to take cash. You have to pay by metre.
Luggage Storage
You can avail the facility of storing your luggage in both T1 (arrival halls in 1A and 1B) and T2 (between 2B and 2C). You need to pay an hourly rate of Rs 150 – 450. ($2.35 to $7). You can store your luggage for up to 90 days.
Where can you stay?
There are many budget hotels, including a pod hotel in the city called Urbanpod. Urbanpod also has shower only and short nap package that costs between Rs 250 to Rs 500. There is another capsule hotel called Qubestay where a pod can cost Rs 500+ per night. You can check other Bed and Breakfast options in Mumbai here.
Half a day layover in Mumbai:
Half a day layover means you will have 4 to 6 hours to explore the city. You should factor in the time taken to travel to and from the airport as well. Traveling by road takes much longer than traveling by train (Local Train, Monorail and Metro Rail). On a busy day it can take up to 2 hours to reach South Mumbai from the international airport.
Either you can plan just one or two locations in South Mumbai, else go for locations which are near to the airport. Bandra and Juhu are near to the airport.
Bandra
Bandra Worli Sea Link Bridge
Bandra houses the celebrities, artists and hotshots of Mumbai. Not only that, it has several places to explore by both young and old. While going to Bandra from Western Express highway, you will find Bandra-Worli sealink bridge. It is an architectural marvel.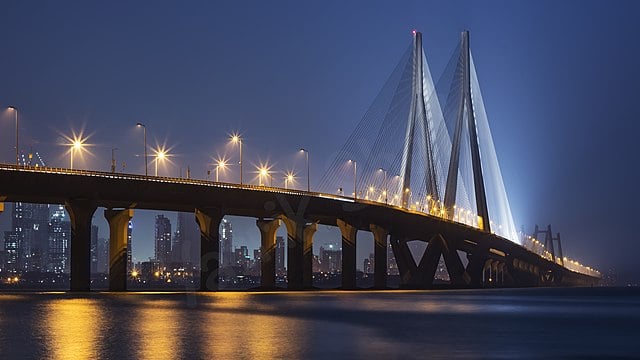 Mumbai Skyline
You will also find a stretch of road just before the sealink from where you can witness the beautiful Mumbai skyline seamlessly with little boats speckled across the water body. The sealink itself looks very beautiful especially after the sunset and the area is a popular stop-by for people who want to spend some quiet time. There is a little park where you can sit and enjoy the sunset.
Taj Lands End and Mannat
Bandra also has hotel Taj Lands End, another location from where you can get a beautiful view of the sealink. In the neighbourhood, you will find 'king of bollywood' Shahrukh Khan's house called Mannat. A crowd is usually there to greet him on the gate. It is located at Band Stand.
Ruins of Bandra Fort
Band Stand has several coffee shops and fast-food joints and the promenade is always brimming with people. You can see ruins of Bandra Fort near Band Stand. Bandra Fort, also called Castella De Aguada is a 17th century fort that was built by the Portuguese as a watchtower to look over Mahim Bay. Now, it gives a beautiful view of the landmark Bandra-Worli Sea Link.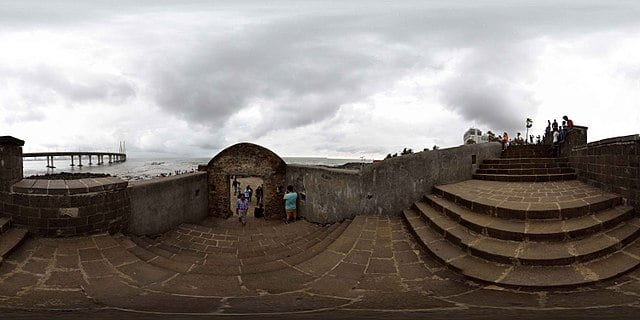 Eat at Bandra
Bandra is the heart of the city. It is full of coffee shops, restaurants and hangout joints. It also houses, clubs, hookah-bars and discotheques and is popular among the young. You can enjoy night life in Bandra with numerous pubs and cafes.
You will find restaurants which cater to different tastes and pockets. If you follow a special diet and don't know where to eat in Mumbai? Here is a list of restaurants that serve, gluten free, sugar free, dairy free and vegan food.
Walking Mural Tour
If you love art and murals, then Bandra offers many beautiful wall murals on buildings at Waroda Road, Chapel Road, Saint Veronica Road up to Mount Carmel Church in Bandra West, and Ranwar village, etc. There are also massive murals of Bollywood actors Amitabh Bachchan and Rajesh Khanna on the corner of Bandstand and Pereira Road. You can book a walking mural tour with various companies.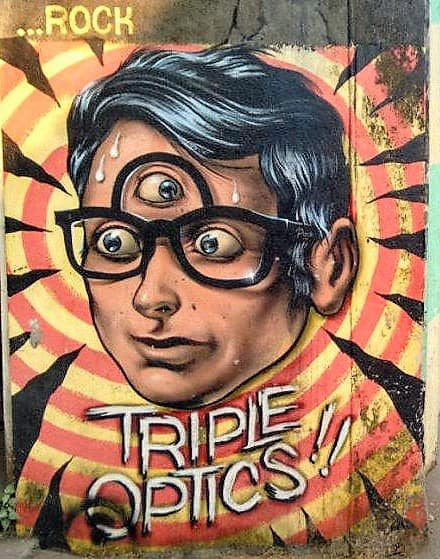 Not only that, Bandra has several vintage properties, churches (St Andrew's Church, Mount Mary Church), schools, colleges and monuments which tell a tale about its forgotten splendor.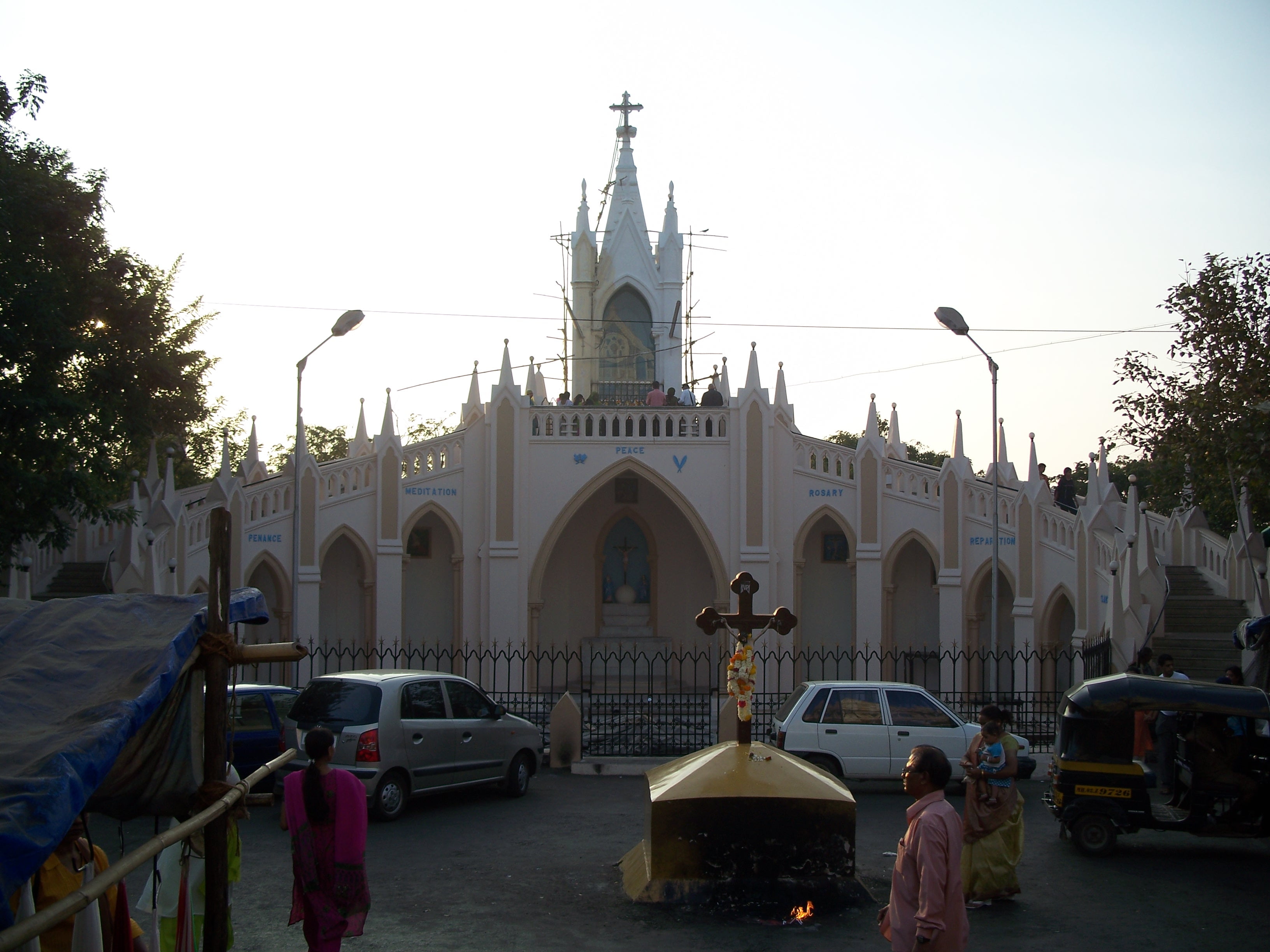 You can find a bargain for shoes, purse, bags, artificial jewelry, etc. on Waterfield road, Linking road and Hill road. You can shop till you drop on these locations.
Siddhivinayak Temple
If you still have some time left, then do visit Siddhivinayak Temple, a 19th century Hindu temple of lord Ganesha that is rumoured to grant wishes to all those who pay a visit at the temple. It is located near Prabhadevi. If you take the sealink, you can reach the temple faster. There is a fee to use the sealink. Many celebrities visit the temple to get lord Ganesha's blessings.
Juhu
Juhu Chowpatty
Juju Chowpatty has much more vigor than other beaches in Mumbai. It is bustling with crowd even on weekdays. You can take part in some horse riding, para-sailing, water-scooter riding or simply sit by the side of the Arabian Sea and savor street food like Pani Puri, Vada Pav, Gola, etc. It also has many 5 star hotels and excellent restaurants near by.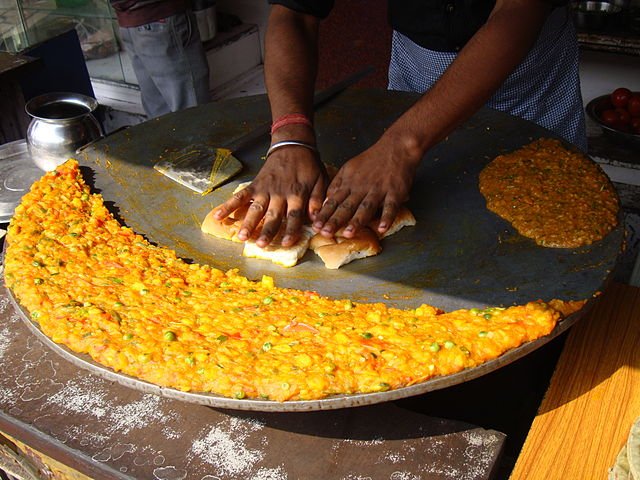 Bollywood celebrities and many famous people call Juhu their home as its busy-yet-peaceful surroundings make it a great place to live. Actors like Amitabh Bachchan, Aishwarya Rai, Hrithik Roshan among others, reside in this part of the city. It is also home to a significant portion of Mumbai's business elite. Hence, Juhu is referred to as 'The Beverly Hills of Bollywood'.
The Prithvi Theatre
Prithvi Theatres, belongs to the Kapoor family one of the most influential actor and director families in Bollywood. Prithviraj Kapoor founded 'Prithvi Theatres', a travelling theatre company in 1944. Prithvi Theatre offered Hindi theatre an affordable platform where new styles and forms could be experimented with, a new exciting venue for the performers, directors, writers of theatre in the city, and creating a new audience for the genre. If you are interested in Hindi theatre then this could be a starting point. It also has a cafe. For the latest shows, you can check this page.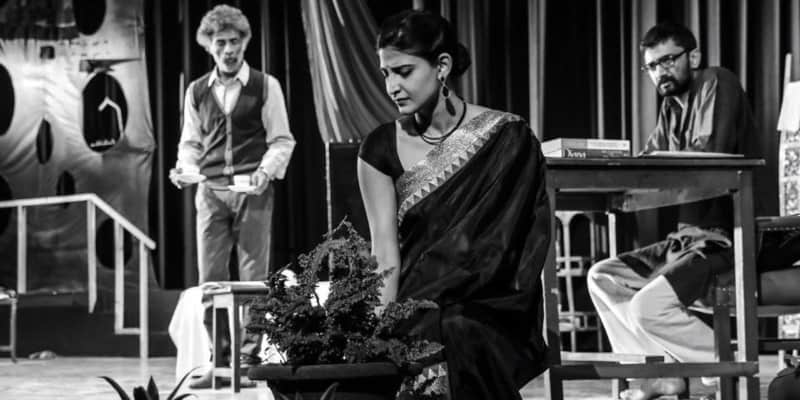 East Indian Villages
You can also go around the East Indian colonies or villages within this area to experience a mini Goa. Old style Portuguese construction, palm trees, Mother Mary and Christ podiums in the porch, and other hints to their ancestral connection with Portuguese and British era, is very evident. Villages in the area are 100-year-old and have original Christians of Mumbai who have heavy influence of the Portuguese culture. Check area near Versova beach, area between St Joseph's Church and Cooper's hospital, St Francis Road, Ville Parle, and Irla to see these communities in their vintage homes and colonies. You can walk or hire an autorickshaw to take you around. Though, Mumbai weather is unforgiving.
Khotachiwadi in Girgaon, Matharpacady in Mazagaon, are other places in Mumbai where you will find Portuguese style houses and East Indians in the city.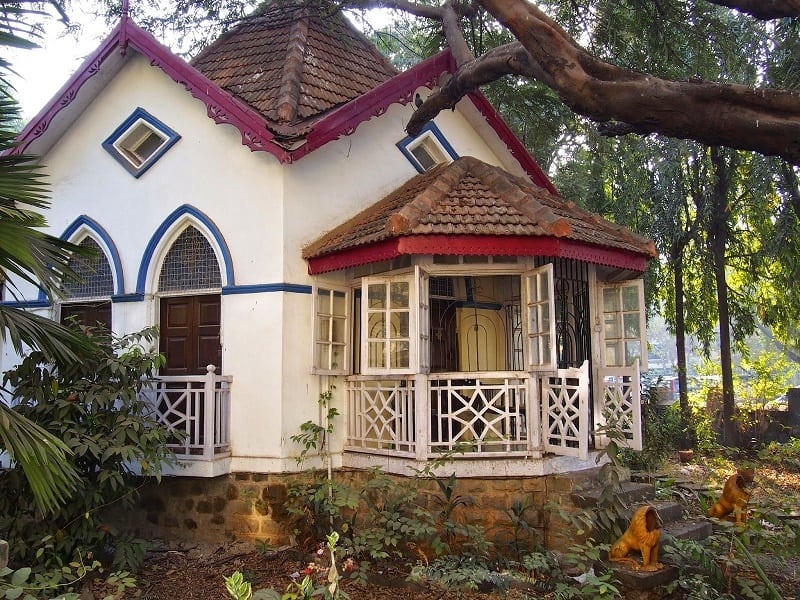 Eat at Juhu
There are several popular places to eat in Juhu. The most popular being Pali Hill Cafe, Prithvi Cafe, Grandmama's Cafe, Fable, to name a few.
For 24 hours layover in Mumbai:
Walk though history in South Mumbai
If you have 24 hours or more then you can plan for Bandra and Juhu, along with South Mumbai. South of Mumbai means area from Colaba to Worli. South Mumbai is home to two UNESCO World Heritage Sites – Chhatrapati Shivaji Maharaj Terminus and city's distinctive ensemble of Victorian and Art Deco buildings. South Mumbai's architecture includes many Victorian, Gothic and Art Deco style buildings around Horniman Circle, Colaba Causeway, Fort, Ballard Estate, Bombay High Court, etc.
Colaba
Gateway of India and The Taj Mahal Palace Hotel
Let us start with Colaba. It has an old world charm. Colaba was known as Candil during 16th century under Portuguese rule and Colio under British rule. Colaba has a list of places which scream history, beauty and elegance. Be it the Gateway of India or the lavish Taj Mahal Palace Hotel.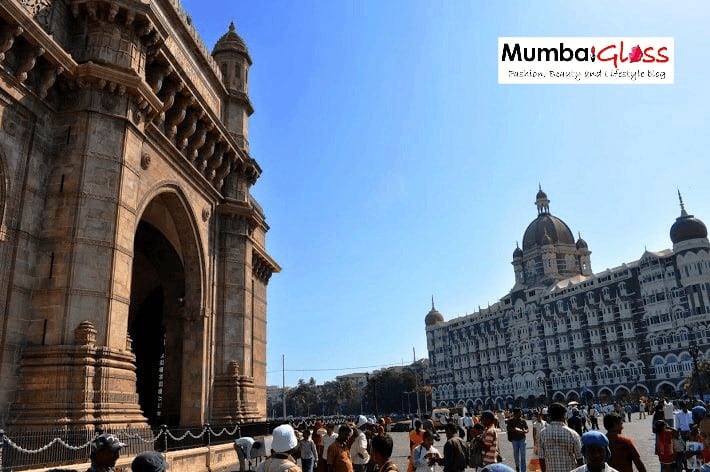 You will find a trace back in the history. Taj Mahal Palace has marvelous architecture and houses restaurants catering to world palate. It is near to the harbor line where Gateway of India stands firm since ages. You can walk around this area to explore several shops and boutiques. You will be more than happy for your layover in Mumbai exploring vintage shops, road side shops.
You can see yachts, boats and jetties speeding through the rough waters or tied at the shoreline. Around Taj Mahal Palace, you will also find deco style Regal Theatre and old cafes (Mondegar, Royal and Leopold).
You can take a buggy ride on a horse driven carriage near Gateway of India or take a boat ride. Boats leave from the jetty to go to Elephanta Caves regularly. They also go for short trips in the sea.
You can also book an early morning or late evening bike tour in this area.
Eat in Colaba
You can order sumptuous English breakfast at Café Mondegar and spend hours discussing the city and its beauty.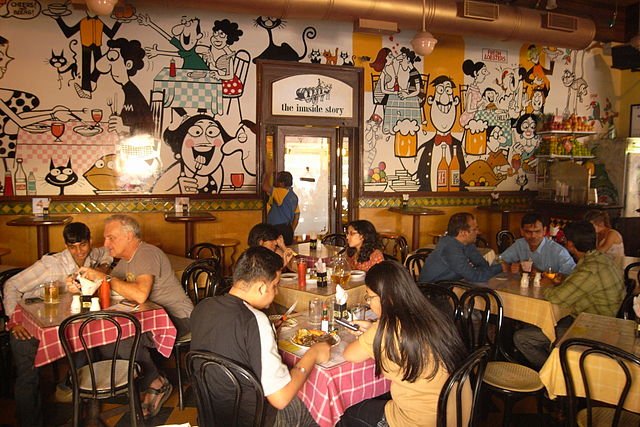 You can also go to the nearby Ballard Estate and order for mouth-watering authentic Parsi (Persian) food at Cafe Brittania. Their Sali Boti and Berry Pulao are to die for. At Horniman circle, you will find Starbucks as well as behind Taj Mahal Palace hotel. If you want to try some authentic Mughlai food then eat at Bademiya Kebab Restaurant in Horniman Circle. There are several upmarket restaurants in the Kala Ghoda area.
You can also visit the Causeway market for a good bargain in artificial jewelry, perfumes and cotton garments.
Churchgate
Marine Drive Promenade
Marine Drive is popularly known as Queen's necklace because of the lights which appear like string of beads from an elevated position at night.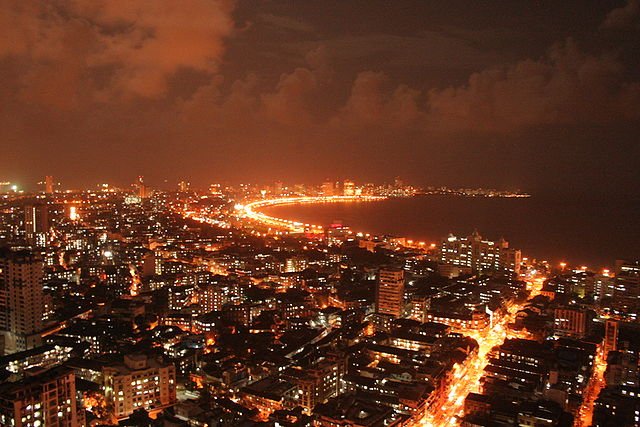 You will find romance in every step of this place. The entire stretch of marine drive has art deco style buildings. Sunset looks stunning from this end of the city.
Even at 12 am, the place is as lively as it can be. You can feel the ocean water break against the boulders kept alongside the wall. Listen to the sound of waves and sit by the promenade. Take a stroll along the promenade which hosts posh 5 star hotels at one end and Girgaun chowpatty on the other.
Girgaun Chowpatty (beach)
Chowpatty, might be a bit crowded but here you can try the authentic Pav Bhaji (bread and savoury minced vegetable), chaats, and other local delicacies. You can sit by the beach and see locals enjoying with food and friends. This area has a food court that serves local food like paan, falooda, chinese food, ice-creams, sodas, bottled water, etc. The prices are cheap but the quality is good. You might be disturbed by local vendors selling tea or renting mats to sit on the sand. No boating is allowed on this beach. It is for families who want to spend some time together on the beach.
Plays and Shows
The National School of Performing Arts also hosts plays and cultural programs by eminent artists. You can invest your time in watching traditional dances, plays and recitals. You can also find plays and shows at the beautiful Royal Opera House in Mumbai that was renovated recently.
You can also watch a good movie in one of the oldest movie theatres in town. Metro INOX Cinemas is an Art Deco Heritage grade IIA multiplex Movie theatre in Mumbai, India built in 1938 and initially exhibited movies made by MGM. The interior, floors, walls, ceilings as well as the furniture, was in shades of red and pink. Patrons were serviced by liveried ushers in the marble foyer and staircases, which led up to murals by students of the J. J. School of Art. It was built and originally run by Metro-Goldwyn-Mayer. It is located at New Marine lines at Dhobitalao.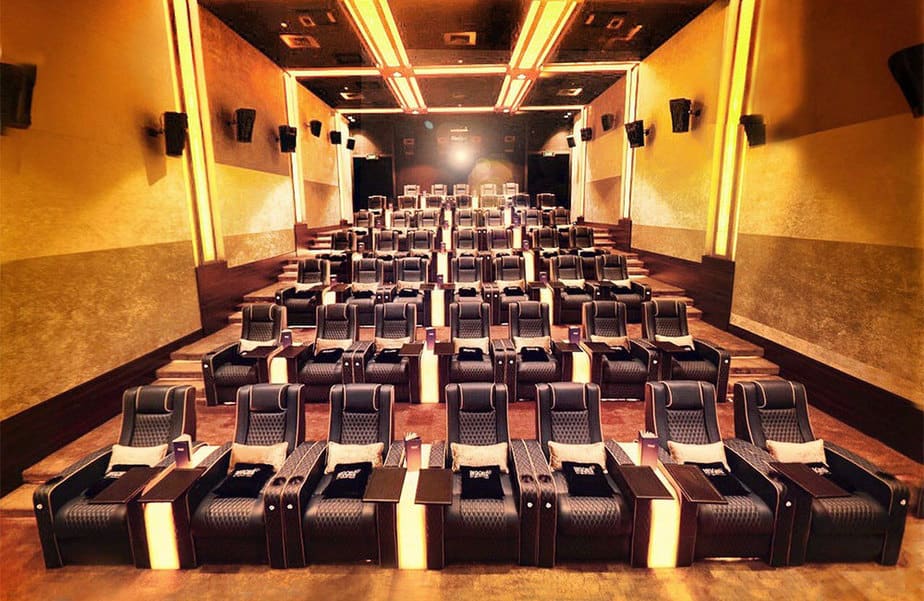 Eat in Churchgate
For quick bites and drinks you can try Pizza By the Bay, a restro-bar which is right on the promenade and if you want to enjoy a quiet romantic candle light dinner then go to Dome, an open air restro-bar in Hotel Intercontinental where you can feel complete bliss with fresh sea-side view, good music and delicious food.
You can also visit Aer, an open air pub at Four Season's Hotel in Worli, located on their 34th floor, which isn't too far from the Marine drive.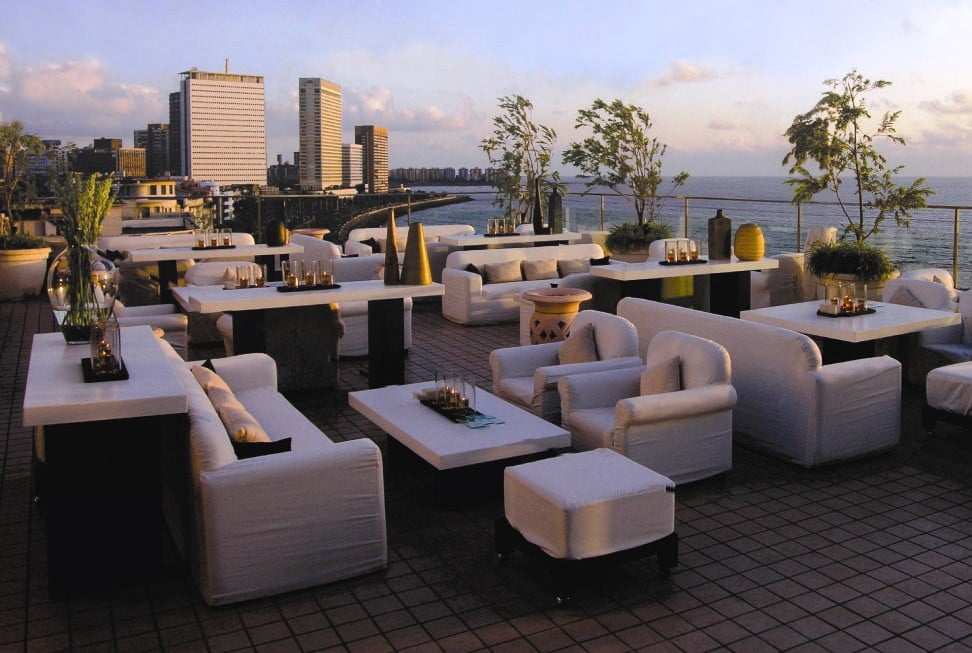 Hope you liked the list of places to visit during layover in Mumbai.
Please subscribe to our mailing list for more articles like this!