Are you looking for unique things to do in Mumbai? Are you looking for out-of-the-box ideas to spend your time in the city? If you are genuinely looking to try something different in Mumbai then you should bookmark this post.
If you are looking to spend 24 hours in Mumbai, due to a layover then click this link layover in Mumbai for half a day or a full day, which will take you to my blog post about best places to visit in Mumbai during a layover.
1. Stay in a capsule hotel
Capsule hotels are all over the world and are very popular with solo travelers. They are inexpensive, hygienic and safe. Mumbai also offers capsule hotels that also has a women only section for extra comfort and security. You can stay at Urbanpod Hotel, Qubestay Airport Capsule Hotel and Hostel and Hotel Astropods. Most of these hotels are located near to the airport in Andheri. A stay comes with complimentary breakfast, toiletries and bottled water. They also provide free wifi and locker facilities.
If you want to rest in a plush hospitable hotel then there are many five star properties near Mumbai airport. The notable ones are JW Marriot Sahar, Courtyard by Marriott, Holiday Inn, Ibis, Hotel Sahara Star etc. You can book your hotel here.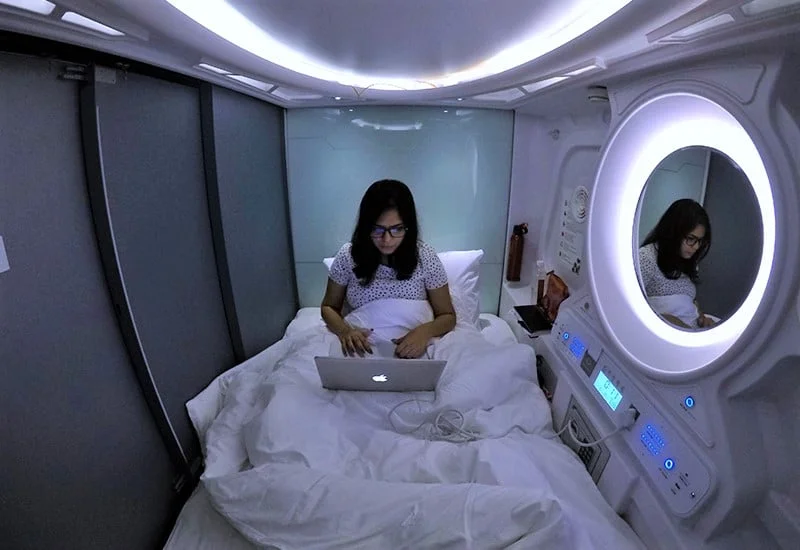 2. Book a float tank
One of the most unique things to do in Mumbai is to experience calmness in the fast paced Mumbai city. To rejuvenate the tired mind and body, if offers float tank experience at two places. 1000 Petals and Liquid Sanctuary. Sensory Deprivation Tank (also known as float tank) is a pod filled with 800 kg epsom salt and 2000 Ltrs water at skin temperature. You will float at zero gravity, which will help you to calm your nerves and relax your muscles. It reduces stress and anxiety. Helps in reducing blood pressure and improve sleep quality.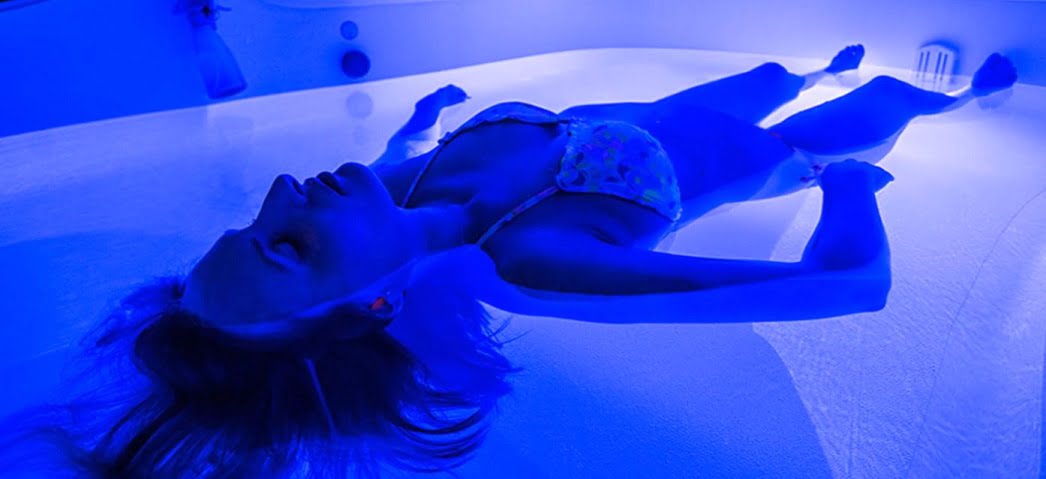 3. Lucia Light therapy, where science meets spirituality
Lucia Light no 3 is a constant & strobing light frequency based light used to take you to deep alpha to theta brain producing activity giving you an altered state of mind and consciousness. The Lucia No.3 is a neurostimulator, which combines flashing and constant light to stimulate temporary EEG brain wave patterns that help users achieve a hypnagogic trance. Hypnagogia is the semi-conscious state where the mind runs free, offering wild visions along with glimpses of lucidity into your thoughts, feelings and life. Experience a trance like state and get relief from anxiety, and fatigue. As the pineal gland is activated, your mind will create NeuroArt – an amazing visual experience that may include vivid colors, sacred geometry, and synesthesia. 
For more information, watch this video:
4. Explore street art in Bandra
If you love street art and wall murals then you can try to explore some amazing and colourful art on the walls of Bandra. You can explore yourself at Waroda Road, Chapel Road, Saint Veronica Road up to Mount Carmel Church in Bandra West, and Ranwar village area. There are also massive murals of Bollywood actors Amitabh Bachchan and Rajesh Khanna on the corner of Bandstand and Pereira Road. You can book a walking mural tour with various companies.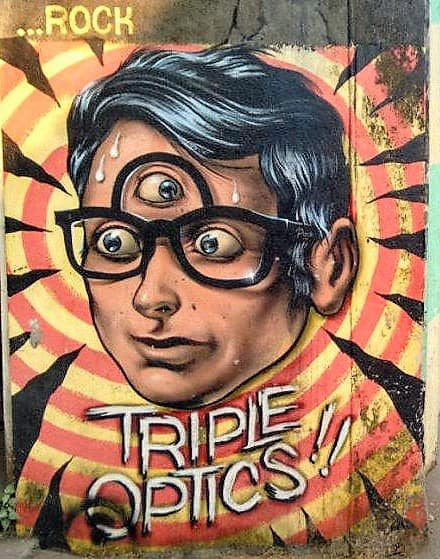 4. Explore Vintage shopping at Mutton Road
If you are looking for some exclusive souvenirs then you must visit Mutton Road near Mohammad Ali Road. From original 'His Masters Voice' gramophones, German gramophones, gramophone records to old Rolleiflex working cameras to antique furniture, clocks, door knobs, to unique vintage artifacts.
It is a treasure island for the people who like to collect antiques. And you can hit a good bargain with the shopkeepers if you pretend to walk away. Crawford Market is another place to shop where you can find good bargains. All these places are close by. You can take a local taxi to reach from point to point or walk around with the help of GPS navigation.
5. Visit rooftop restaurants and bars
Mumbai boasts of quite a few roof top bar and restaurants. The most popular one being Asilo at The St. Regis Hotel in Lower Parel, Aer at the Four Seasons Hotel in Worli, Dome at Intercontinental Hotel on Marine drive and The Marina Upper Deck in Colaba that offer a breath taking, panoramic view of Mumbai city from their uber luxe rooftop venue.
Asilo is located on the 40th floor giving a beautiful view of the Arabian sea and the race course. Aer is located on the 34th floor giving a brilliant view of the Mumbai city. Dome is located on the 8th floor giving the amazing view of the Queen's Necklace. And Upper Deck is a sea side restaurant that will provide exclusive view of the docked boats on the shore.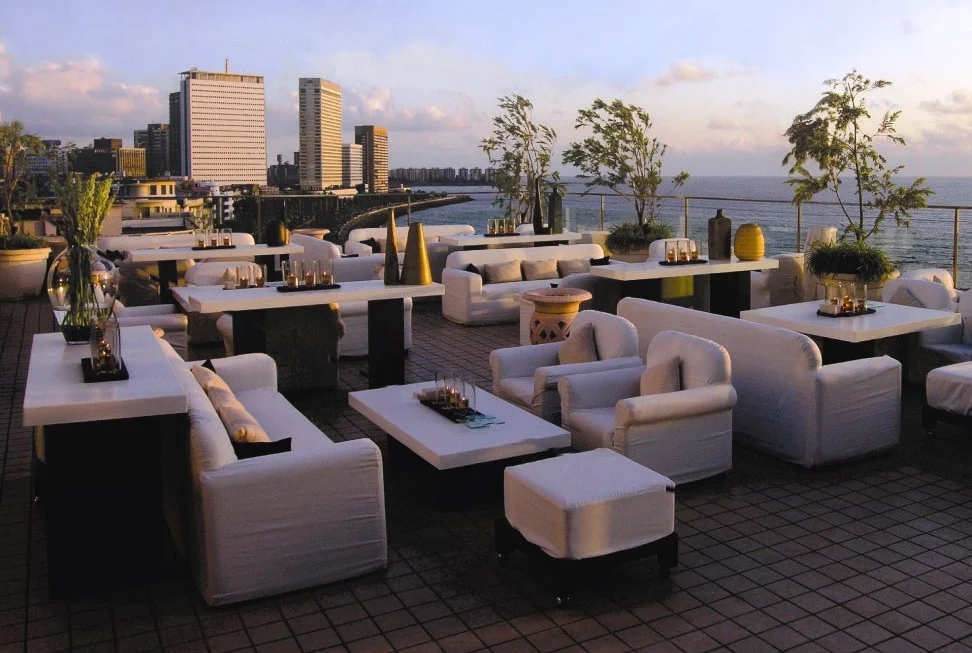 6. Try Maharashtrian and Parsi food, unique to Mumbai
Local food in Maharashtra has a distinctive taste as it is prepared with coconuts, curry leaves and spices. If you are hungry and are looking to try local food then you should eat at Mahesh Lunch Home or Highway Gomantak. Else you can eat at Irani Cafes which are slowly going extinct. They are dying out gradually because the newer generation refuses to carry on the legacy.
Mumbai has a sizable Parsi (Persian) population who prepare some finger licking food. Britannia & Co. restaurant or Jimmy Boy are the known authentic Parsi food joints if you are in south Mumbai. You can also try Soda Bottle Openerwala if you are looking for a better dining experience.
Gift idea: hand painted wooden spice box.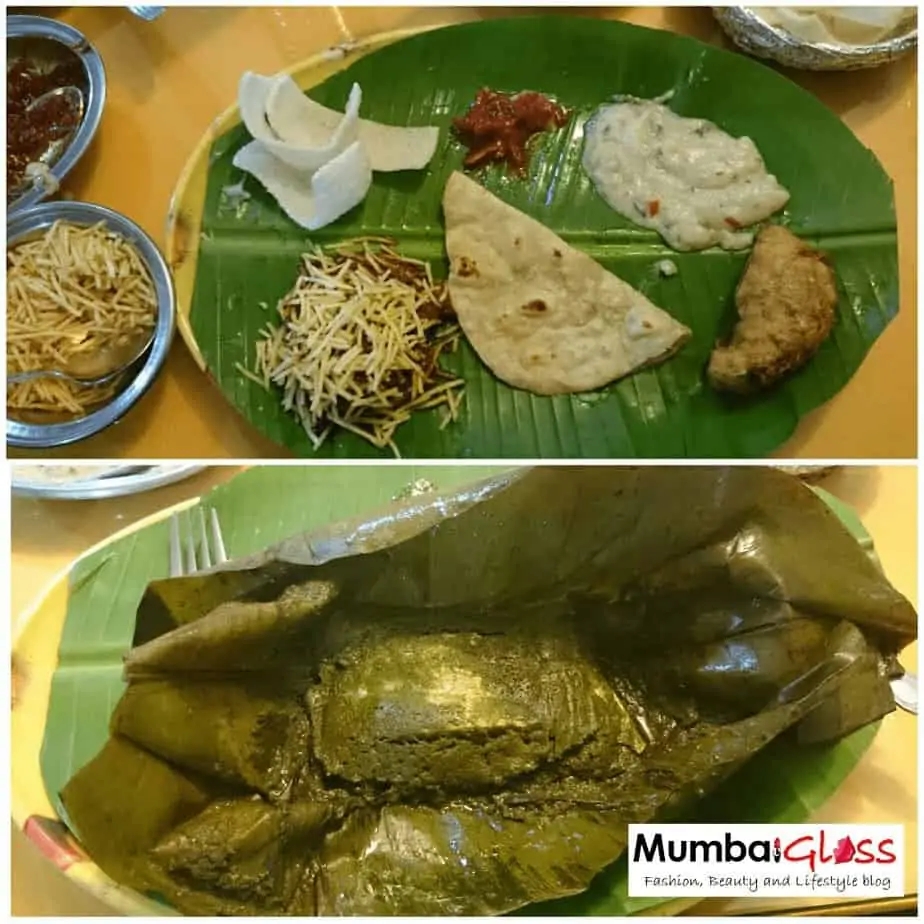 7. Stay in 200 year old Portuguese era bungalows in Khotachiwadi
Do a homestay in one of the Portuguese era East Indian bungalows in Khotachiwadi. The Ferreiras is one of the most popular home stays in this area. Owned by local fashion designer James Ferreira, this historic house is over 200 years old. The house has a beautiful garden, wooden interiors, shelves with cut-glass decanters, historic family photographs, crystalware, teak chairs, antique wickerware and lace curtains.
East Indian community in Mumbai are the original Christians of Mumbai who have been staying here since Mumbai was a cluster of 7 islands. You can also go around the East Indian colonies or villages near Versova beach, area between St Joseph's Church and Cooper's hospital, St Francis Road, Ville Parle, and Irla to see these communities in their vintage homes and colonies. Khotachiwadi in Girgaon, Matharpacady in Mazagaon, are other places in Mumbai where you will find Portuguese style houses and East Indians in the city.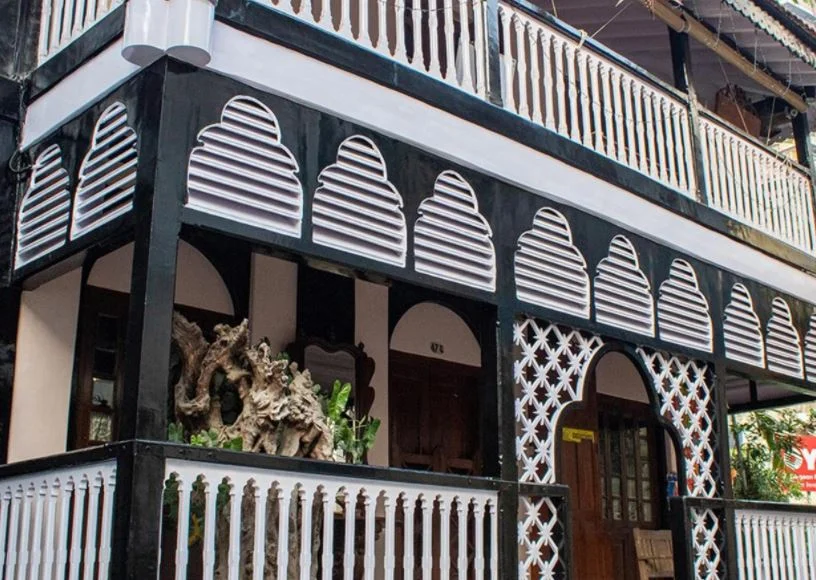 8. Dine on a floating restaurant
You can dine on a floating restaurant on the Arabian Sea over a 4 level luxury yacht. The restaurant AB Celestial, is docked near the Bandra Worli Sealink bridge at Bandra Reclamation. You can book a slot from 6:00 pm – 9:30 pm or 9:30 to 1 am. Prior booking is mandatory. There is a non refundable cover charge of Rs 2300 per person. The restaurant gives the most beautiful view of the Mumbai skyline and sunset on the sea.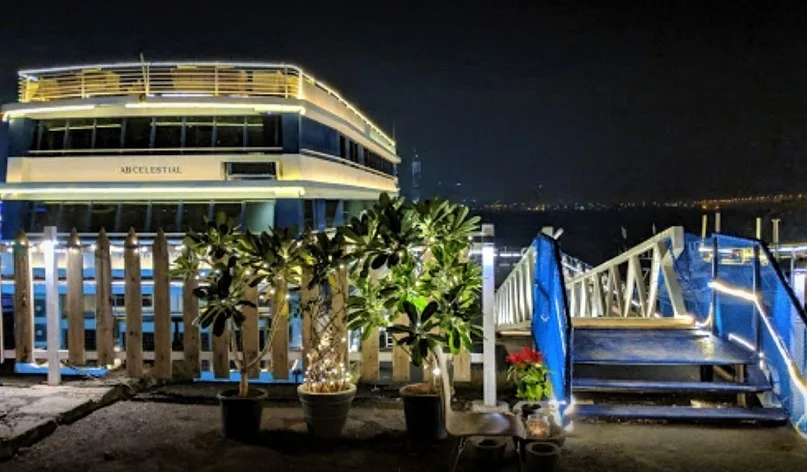 9. Watch theatre or performing arts at the only surviving Opera House in India
You can invest your time in watching traditional dances, plays and recitals. at the beautiful Royal Opera House in Mumbai that was renovated recently. The Royal Opera House is India's only surviving opera house. It is located at Charni Road, near Girgaun Chowpatty beach. A baroque design incorporating a blend of European and Indian detailing was chosen for the structure. A long frontage was created to let carriages drive up to the entrance.
Twenty-six rows of boxes behind the stalls were put up for the best view of the stage. The ceiling was constructed to enable even those in the gallery to hear every word uttered by the performers. The Royal Opera House reflects the history of the bygone era of operas in India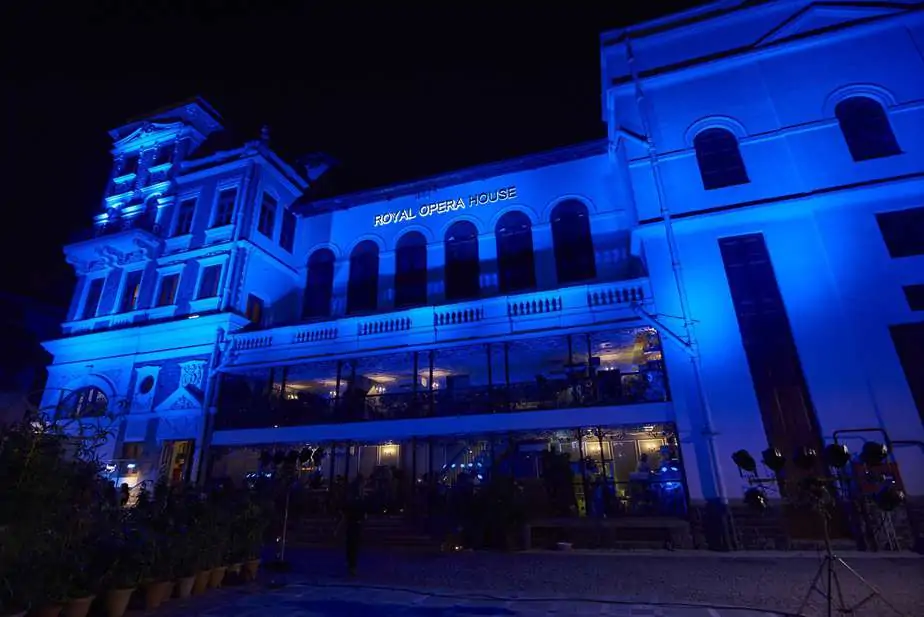 10. Take a tour of Dharavi, the biggest slum in Asia and 3rd largest in the world
An estimated 600,000 to 1 million people live crammed in Dharavi – a roughly five-square-kilometre maze of narrow lanes, ramshackle buildings, shanties and small workshops. The Dharavi slum was started by the Britishers in 1884. It was originally inhibited by fisherfolk when the area was still creeks, and swamps.
It became attractive to migrant workers from all over India when the swamp began to fill in due to natural and artificial causes. It was featured in films like the Oscar-winning Slumdog Millionaire and the more recent Gully Boy.
From leather goods to metal work, there are many involved in the production of export quality goods in their small workspace. You will find many shops selling authentic and good quality leather goods at half the price. Jackets, bags, gloves, belts, purses, overcoats, you will find many steals, if you love to wear leather. You can take a walking tour in the slum or shop for leather goods from an array of shops lined up selling various goods.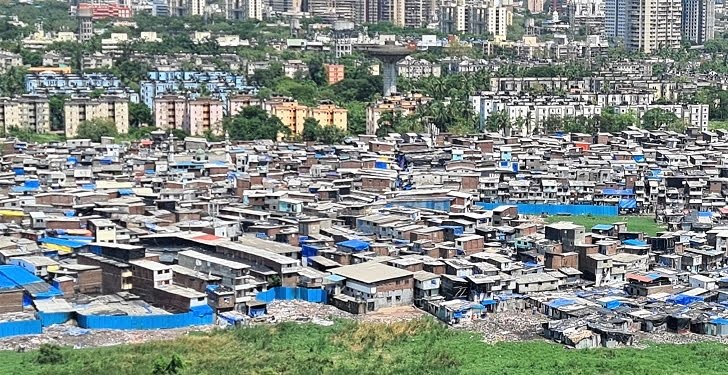 11. Take an open air bus tour of south Mumbai through MTDC
MTDC (Maharashtra Tourism Development Corporation) conducts one hour open air vintage bus tour on a double decker bus called Nilambari. It covers 16 to 17 heritage structures and iconic buildings of South Mumbai. A guided tour, that is ideal for both young and old to know in-depth information about the centuries old historic structures of Mumbai. The guide speaks in both English and Hindi. You can pre-book your ticket near the MTDC counter near Gateway of India, (MTDC Reservation Counter No 7, Gateway of India). There are two slots, 7:00 pm to 8:00 pm and 8:15 pm to 9:15 pm ( Every Saturday & Sunday ). The price for Upper Deck are Rs 180/- per head and Lower Deck are Rs 60 per head (above 3 years full fare).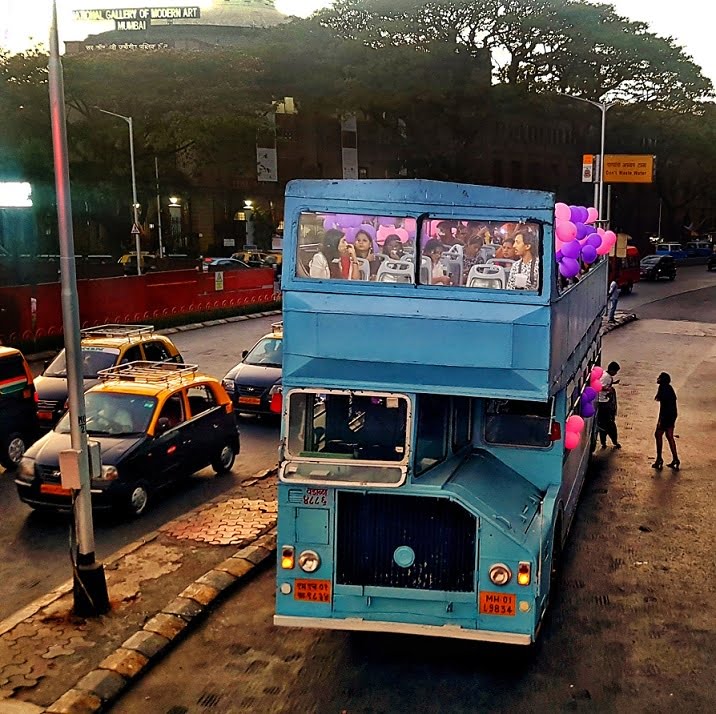 12. Midnight cycle tour of south Mumbai
If you are an avid cyclist and would like to explore the city's monuments on a bicycle and that too at a time when traffic goes to sleep then you can opt for a 4 hour midnight bicycle tour in south Mumbai. You will visit must-see Mumbai sights like the Gateway of India and CST Station as well as some hidden gems like Sassoon Dock and Bombay Panjrapole (cow sanctuary).
Some other attractions that you will cover on the way will be Mumbadevi Temple, Marine Drive and Crawford Market. You will get a cycle, safety equipment, a bottled water and an expert guide services. You will be riding through all the beautiful lanes and bylanes of the city on your bicycle. The tour will end with an early morning south Indian food breakfast, serving idli, dosa, uttapam, etc.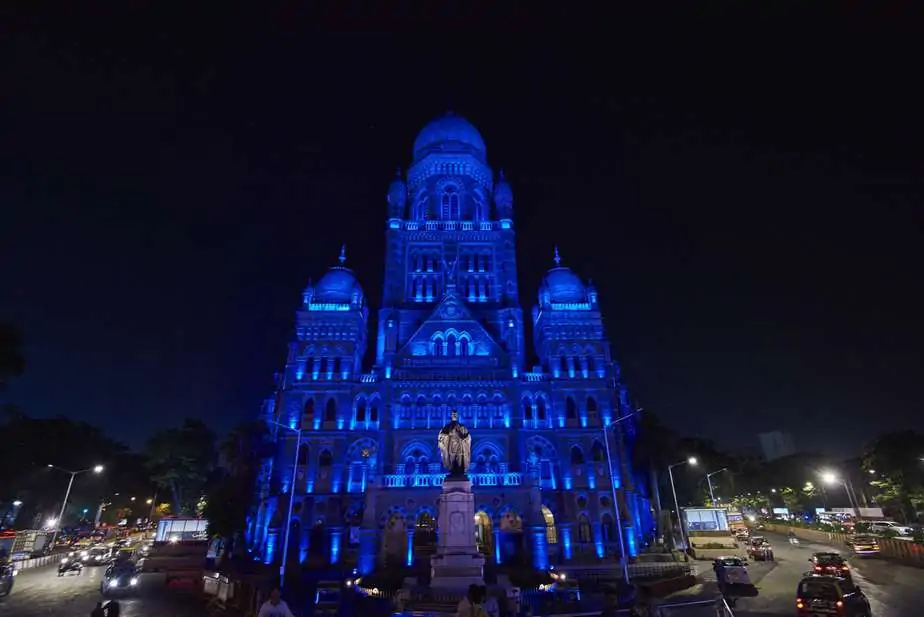 13. Visit world's largest 140 year open air laundry at Dhobi Ghat
Dhobi Ghat garnered a Guinness Book of World Records entry under 'most people hand-washing clothes at a single location' in 2011. Dhobi Ghat is the city's 140-year-old, open-air laundry where more than a million pieces of clothing are sent there from hotels, hospitals, and homes everyday. The best time to see the 'Dhobis' in action is between 6:00 am to 8:00 am. You can take a local train to Mahalaxmi station to witness thousands of washers, washing, ironing and folding clothes at Dhobi Ghat.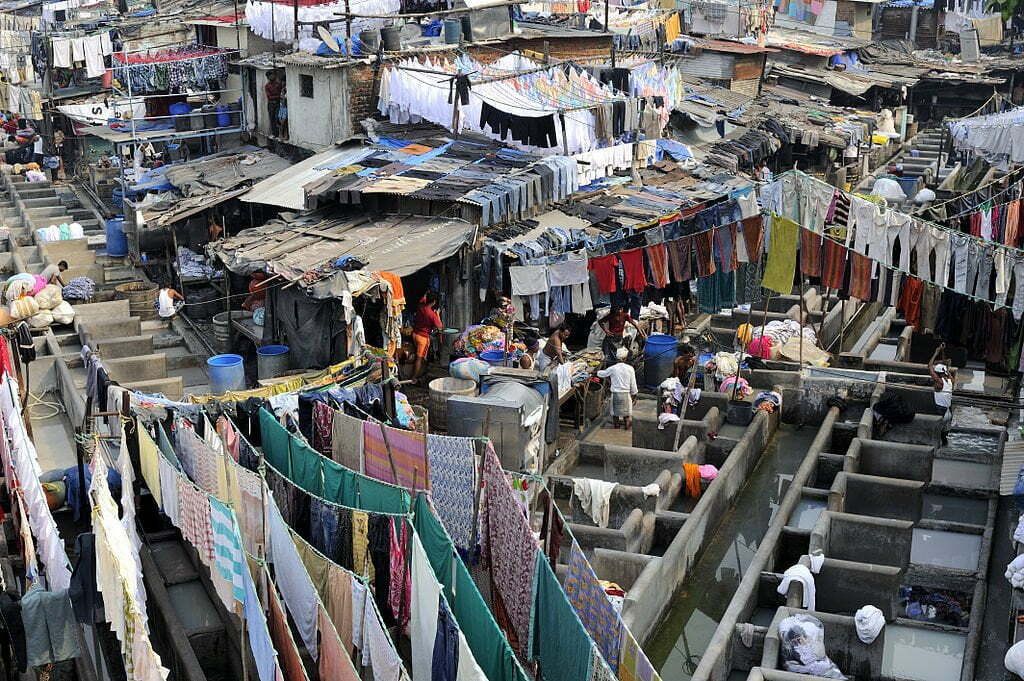 14. Visit Chhatrapati Shivaji Maharaj Terminus, a UNESCO world heritage site
Formerly known as Victoria Terminus (and still called "VT" by many), this train statio, a UNESCO World Heritage Site, is best known for its over-the-top Indo-Saracenic architecture, which blends neo-Gothic elements with Mughal and Indian features. It's Asia's busiest train station—one you may have seen in the film Slumdog Millionaire.
But not many know that apart from appreciating its beauty from outside (looks marvelous at night, when completely lit up), you can also book a tour inside the building. The best part is admission is free. The station was designed by Frederick William Stevens, a British born engineer architect, attached to the Bombay office of the Indian colonial Public Works Department. Work began in 1878. It took 10 years to build CST. You can also book guided tour of the building where you can learn more about the history and architecture of the building with Khaki tours. They charge a nominal fee of Rs 399 for two people.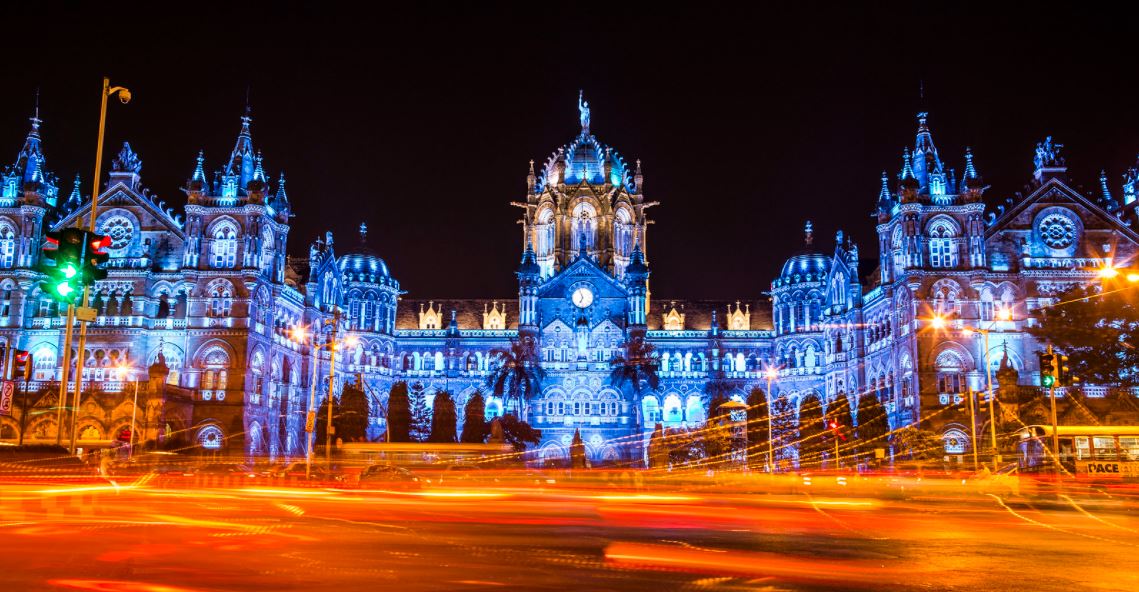 15. Kalaghoda Arts Festival
If you are arriving in the first week of February, then you should definitely go for the Kalaghoda Art Festival where local artisans display and sell their art. In the evening, artists from all over the country perform cultural art in the form of dance and music recitals, famous Bollywood celebs and politicians participate in various ceremonies. It is a good way to understand the art and culture of the country. Kalaghoda Art Festival is conducted in South Mumbai around Kalaghoda area.
 

 

 

View this post on Instagram

 

 

 
Buy Mumbai coffee table and travel books here.
Buy Mumbai Indians (Cricket Team IPL) jersey here.
Did you find this post on unique things to do in Mumbai useful? Do leave your comments below.
If you have any special diet requirements, then Mumbai has many restaurants serving sugar free, gluten free and vegan food. Check this post for more details. You can also try delicious, finger-licking street food of Mumbai.
You can try go karting at Wadala or try cultural theme park called Choki Dhani where they serve Rajasthani style food and perform local dances and acrobats. You can also do a day trip to a vineyard in Nasik.
*Some links included in this post might be affiliate links. If you purchase a product through one of them, I will receive a commission (at no additional cost to you). I truly appreciate your support of my blog.
For more articles like this, please subscribe to the blog.