Are you planning to go to Snowmagica, the snow world in Imagica located at Khopoli? Read the Snowmagica review here. It is a 1.5 hours drive from Mumbai city centre.
Snowmagica was a free add on to our package during the Independence Day long weekend. I thought it was a great add on to my theme park visit. I had visited a couple of indoor snow parks in the past and had a good time so I thought that it would be a fun event.
Did we have fun? Not exactly. It was over before we knew it. Imagica, please gear up. Your snow park has got nothing inside other than the rubber toboggans.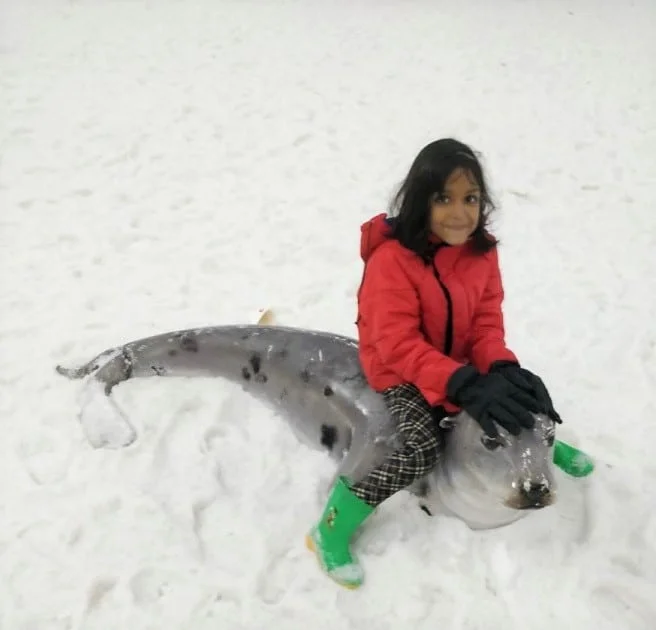 Place description
It is a huge hall with a few props thrown here and there. Like a big refrigerator, that stocks up everything but there is no planning. You go inside with a lot of expectation, only to come out within 10 minutes due to lack of activity and unsatisfying winter gear. You feel super cold and then you want to scoot out without enjoying the time inside. The floor is slippery at many places, so beware when you walk on the hardened snow.
Charges and amenities
The Snowmagica tickets cost Rs 399 but if you purchase it along with theme park tickets then it costs Rs 249. I didn't pay any charges due to Independence Day offer. At the entrance they charge you Rs 50 to take your mobile camera inside. Pay another Rs. 80 for socks, in case you are not wearing one. At -10 degree the jackets are not well equipped as the Velcro closings keep on opening from time to time. My daughter froze because of bad clothing gear. The rubber shoes were not good enough to handle freezing temperatures. With basic socks, her feet become numb after a while.
Plastic and rubber sculptures at Snowmagica
There is one plastic igloo which has a very narrow entrance and everyone was trying to get inside at the same time. It was attractive for children but not easy for adults to crawl inside with all the winter gear. A few plastic sculptures of polar bears, seals, penguins, etc. were also kept on the floor but they were only adding to the photo-op than anything else. There weren't any elaborate ice sculptures, activities or other attractions that could keep a child engaged for sometime. A few visitors engaged in snow ball throwing, that was annoying. There were no marshals on the floor to guide people from doing activities that might be dangerous to others.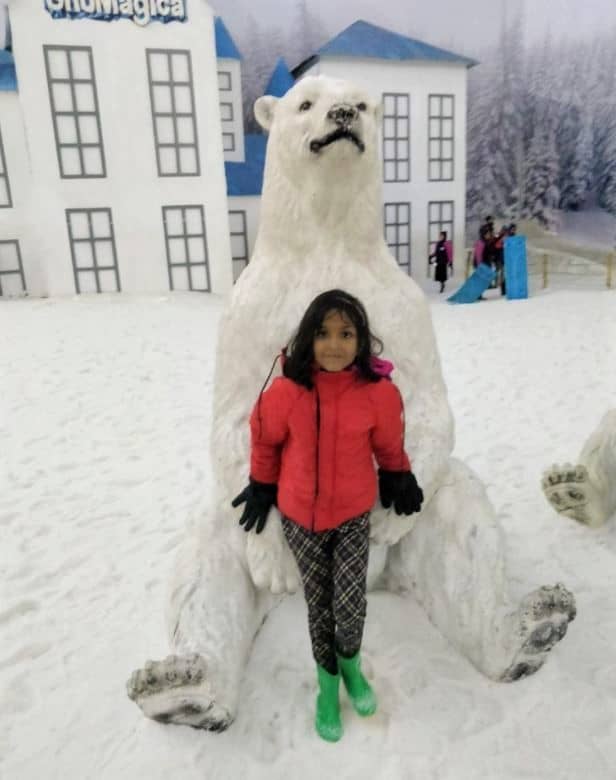 Ice sculptures at Snowmagica
At a hidden corner, I found a few ice sculptures of cars. They looked like ice-lollies. They were not adding any value to the place.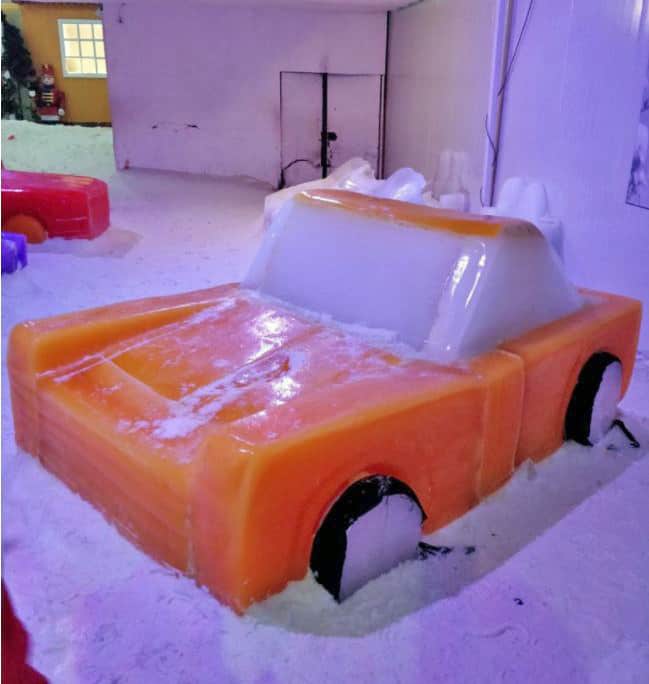 Safety and first aid
The ice was hardened on the floor at many places that invites free fall for people who are not careful while walking. The first aid kit was available at the counter. People throwing hardened snowballs was definitely not safe. I would have loved to give a better Snowmagica review but these incidents just put me off.
We were out in no time. Having seen good snow parks in other cities, I felt that it was a big disappointment. Not worth the money, time and efforts. There is a big room of improvement if Imagica wants this attraction to be world class. I was expecting adlabs to do better than this. My children do love their theme park and I wish that Snowmagica becomes an equally lovable attraction for them.
I recently took my son to Imagica Theme park on his 5th birthday and he totally enjoyed.
I hope you liked the Snowmagica review.
You can read review about Imagica theme park here.
Read about Tubby's Secret Party at Imagica here.
Read about Eyelusion at Imagica here.
Read about House of Stars wax museum at Imagica here.
Please subscribe to this blog for more articles like this!
[email-subscribers-form id="1″]